The COVID-19 pandemic may have disrupted the auto industry in many ways but some activities have been planned months in advance and cannot be cancelled unless forced to. In the case of the all-new Hyundai Elantra, the carmaker used The Lot Studios in West Hollywood, California for its global debut online and broadcast worldwide. Given the current situation in America, this approach was probably the best.
This is the seventh generation of the Elantra and the 4-door sedan as the pictures show, the new  Elantra has a sportier coupe look. It is longer, lower, and wider compared to the sixth-generation model with the front cowl point moved back around 50 mm. These minor changes dramatically changed the shape of the car but had limited impact on cabin space. In fact, most key interior dimensions increased.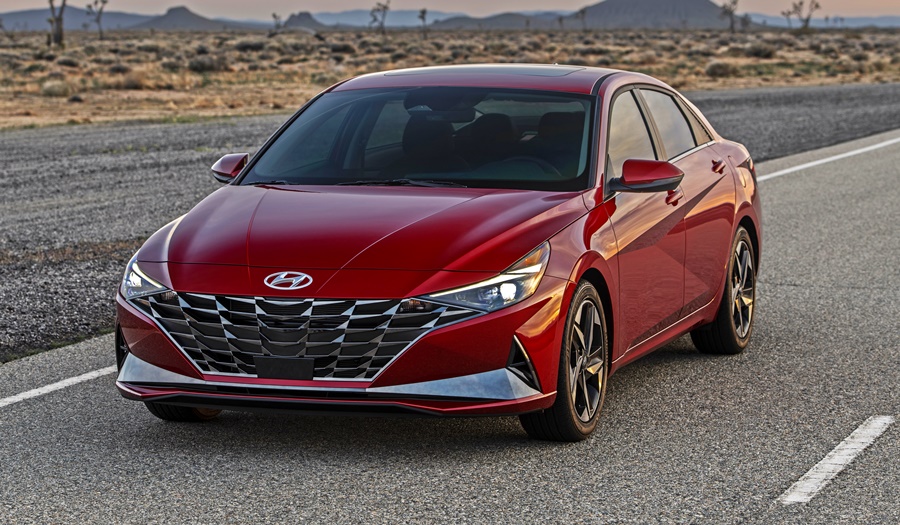 Parametric Dynamics Design
'Parametric Dynamics' is the phrase Hyundai designers use to describe the dramatic look of the new Elantra. Like the first generation, the seventh-generation Elantra/Avante has a bold character," said Luc Donckerwolke, Executive Vice-President and Chief Design Officer, Hyundai Motor Group. "The fresh aesthetic was completed through unconventional lines and a face that broke a taboo in automotive design. The new Elantra is highlighted by its stance that looks like geometric crystals and divided body surfaces to get a strong emotional response from the customers."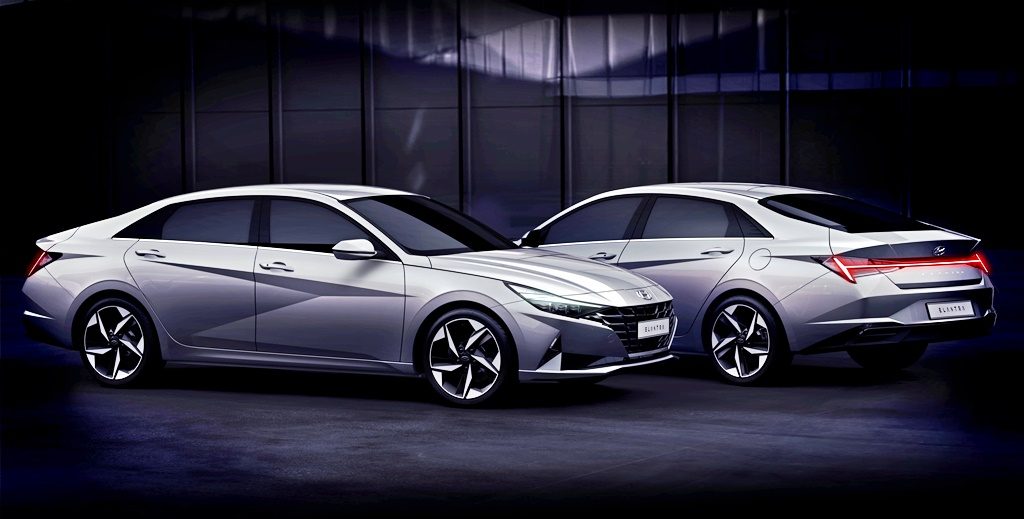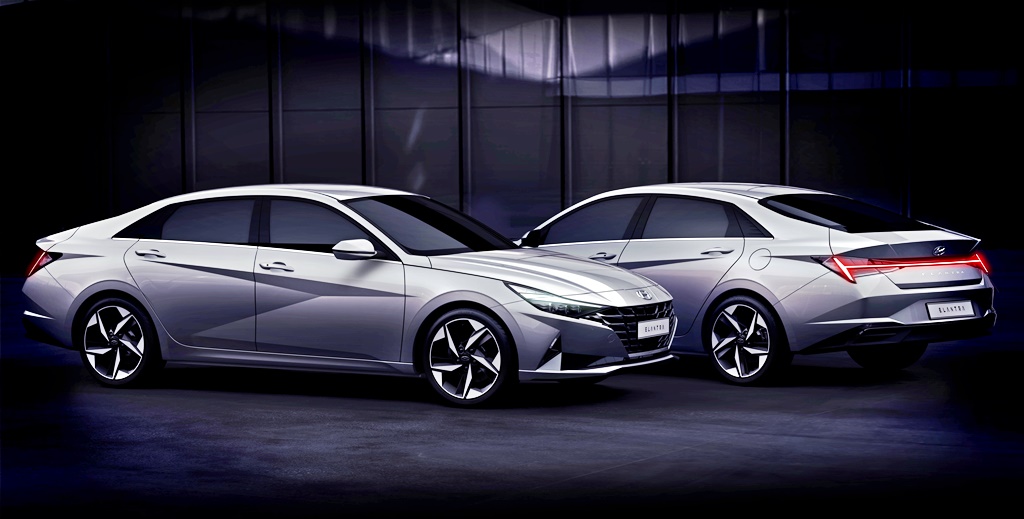 The new Elantra sit on Hyundai's third-generation vehicle platform and besides weighing less, this new platform also allowed the engineers to lower car's centre of gravity for more agile handling. The multi-load path structure also improves occupant safety during a collision.
'Immersive cocoon' cabin
The cabin has been packaged like an 'immersive cocoon' which envelopes the driver like an airplane cockpit. Low, wide structures go from the door all the way to the centre console. The low, wide structure also provides ample interior room. A large interface consisting of two connected expansive 10.25-inch touchscreen displays enhances the futuristic feeling.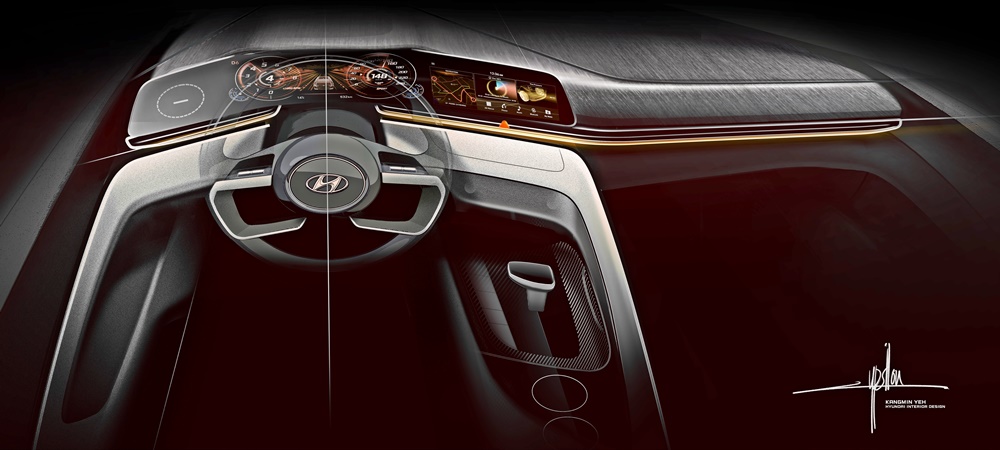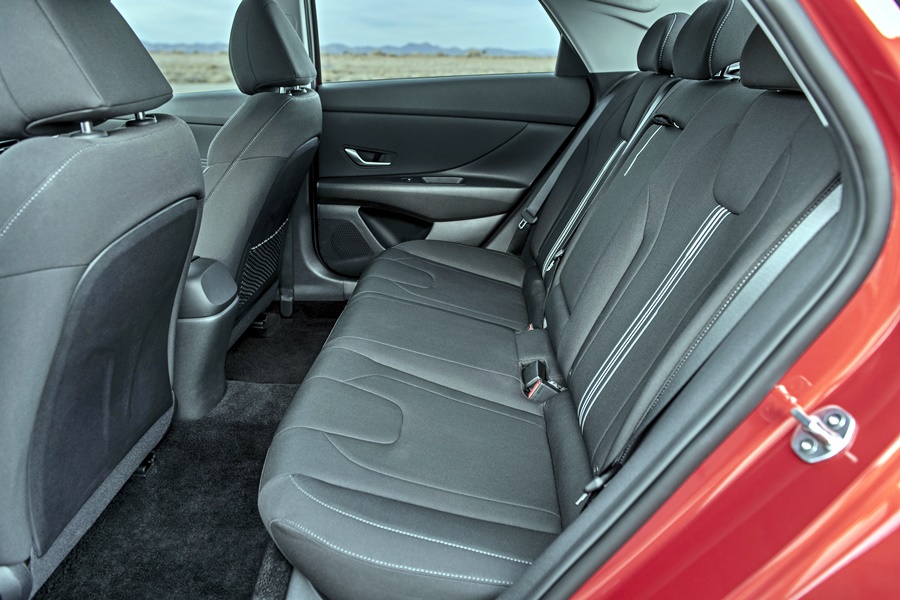 A coupe-like profile typically compromises headroom but not so with this new model. With 1031 mm of front headroom and 947 mm of rear headroom, the latest Elantra actually has more front headroom and no less rear headroom than its predecessor. The longer wheelbase also provides best-in-class rear legroom and the wider track width means improved shoulder room in the front and rear.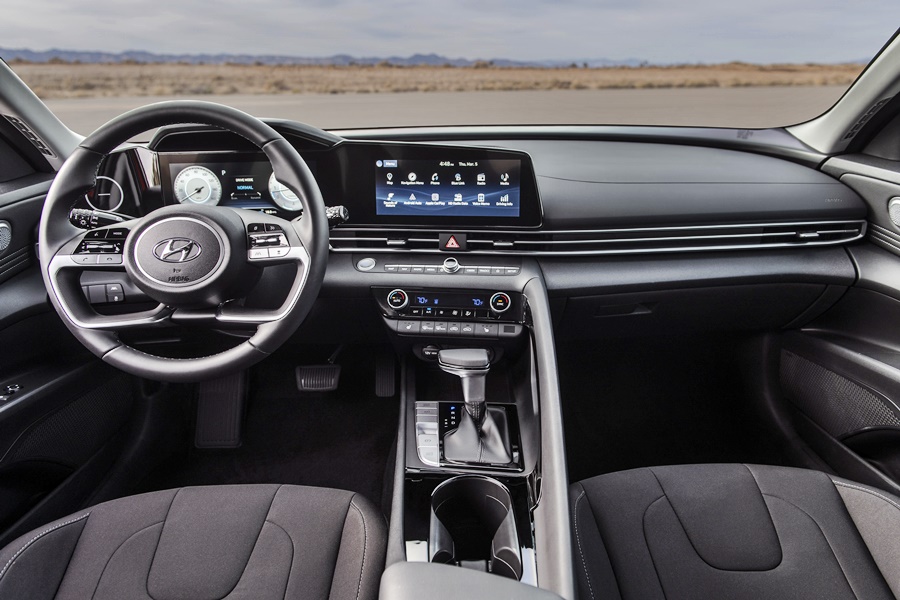 Besides having Apple CarPlay and Android Auto to put smartphone apps on the dashboard, dual Bluetooth support is also available, so two devices can be paired at the same time – one for phone calls and one for streaming audio.
Digital Key and Voice Recognition System
Depending on the market, customers can also include an optional smartphone-based Hyundai Digital Key. This uses a dedicated mobile app, Near Field Communication (NFC) and Bluetooth Low Energy (BLE) technology to allow the car to be unlocked, started and driven without a physical key via applicable Android smartphones.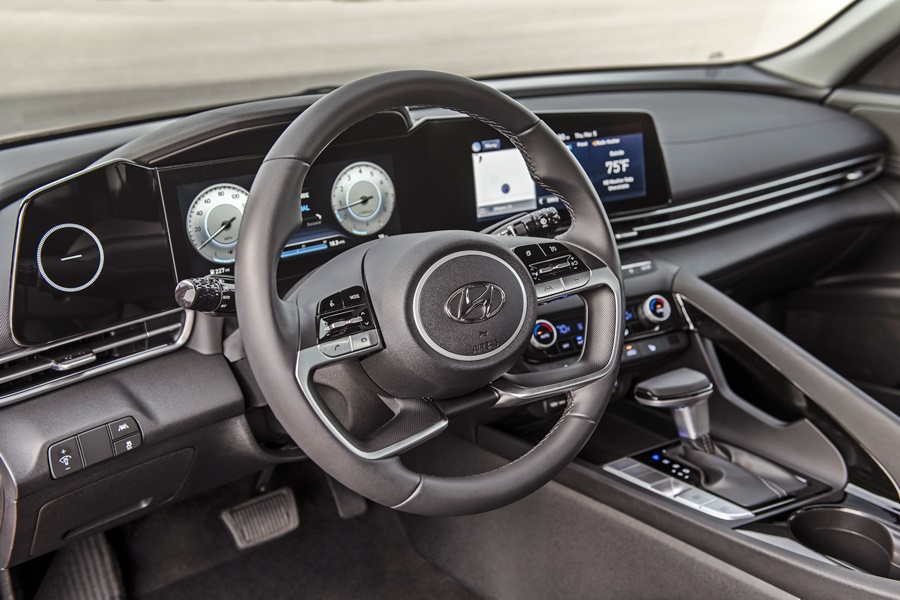 The enhanced natural language voice recognition system has more and better feature control. This system includes Speech-to-Meaning and Deep Meaning Understanding technologies, delivering speed and accuracy in voice recognition and responses, and an ability to understand context, such as the user's location to support natural interactions.
Hybrid powertrain for the first time
A hybrid powertrain is now available in the Elantra line-up. This powertrain uses a 1.6-litre GDI Atkinson-cycle 4-cylinder petrol engine that works with a 32-kW electric motor. Total system output is 139 bhp with up to 264 Nm of torque. Powered by a 1.32 kWh lithium-ion polymer battery pack, the high-efficiency electric motor has an electric-only driving mode that delivers instantaneous torque at low speeds, with available power-assist at higher vehicle speeds.
The powertrain is mated to Hyundai's quick-shifting, 6-speed, dual-clutch transmission, said to be a differentiating point between the Elantra Hybrid from its key competitors. Hyundai claims that the estimated fuel economy will be over 21 kms/litre.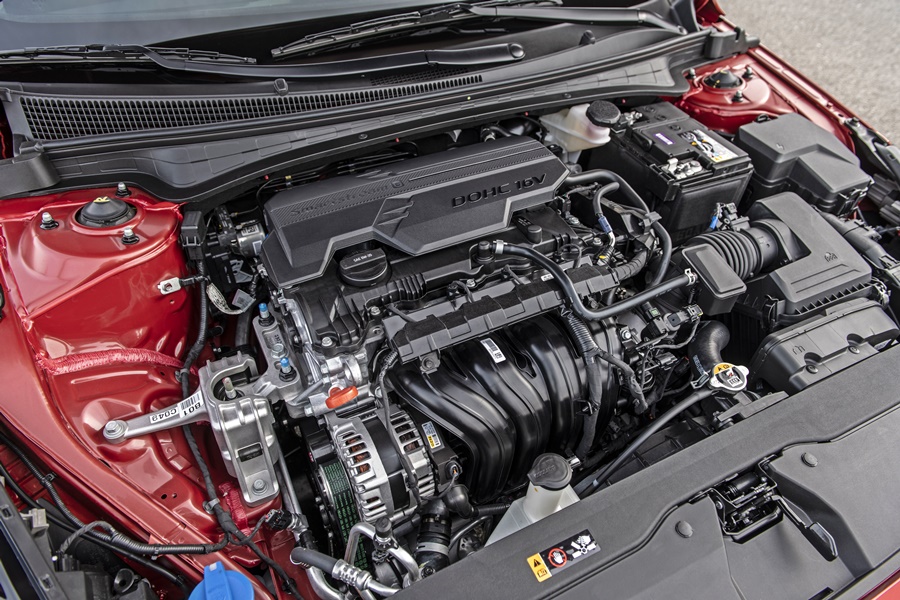 As for the petrol version, this uses a 2-litre MPI unit that produces147 bhp/179 Nm. Hyundai says that a best-in-class consumption figure will be achieved, due in part to an Intelligent Variable Transmission (IVT). This transmission, developed in-house, has superior efficiency and replicates gearshifts like those in the automatic transmissions that customers are used to.
The transmission performs continuous shifts by the modulating pressure of the transmission's pulley, depending on driving conditions and driver inputs. It uses a wide-ratio pulley system, which provides a broader ratio of operation compared with its competitors. This allows for improved fuel economy at higher gear ratios and improved performance at lower ratios.
Hyundai's new Shift Control Strategy used by the IVT improves linearity between driver inputs, vehicle behaviour and acceleration. Shift response closely replicates automatic transmission step shifts.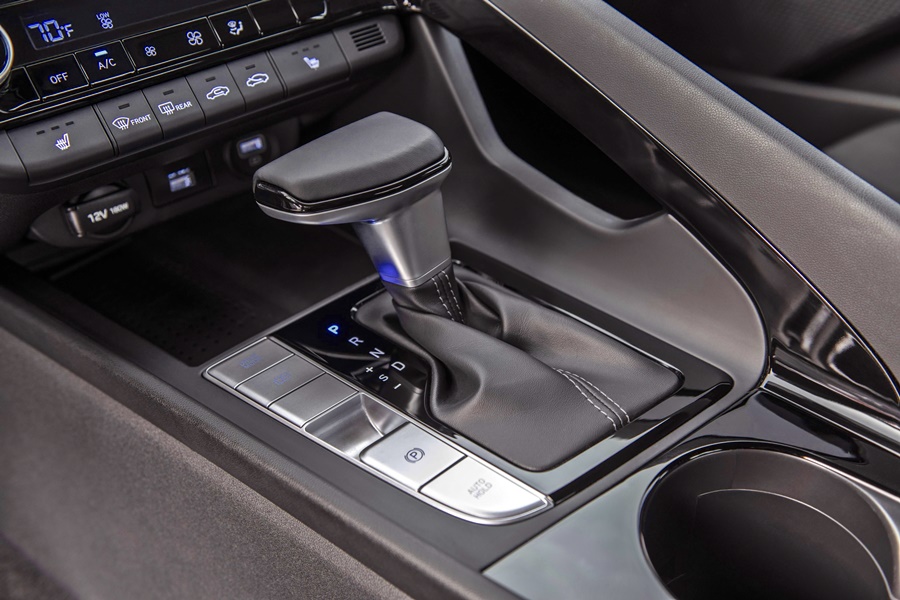 SmartSense Safety
Hyundai's safety suite is known as 'SmartSense' and comprises a new array of standard advanced safety technologies such as Forward Collision-Avoidance Assist with Pedestrian Detection; Lane Keeping Assist; Lane Following Assist; High Beam Assist; and Drive Attention Warning.
A more advanced package (at extra cost) Blind-Spot Collision Avoidance Assist; Rear Cross-Traffic Collision-Avoidance Assist; Smart Cruise Control; Highway Driving Assist; Safe Exit Warning; and Reverse Parking Collision Avoidance Assist.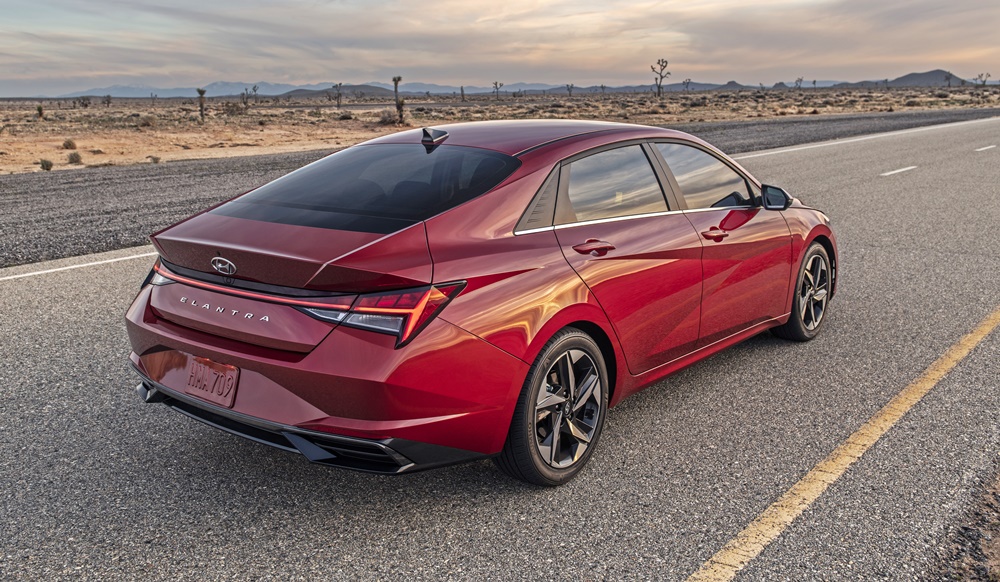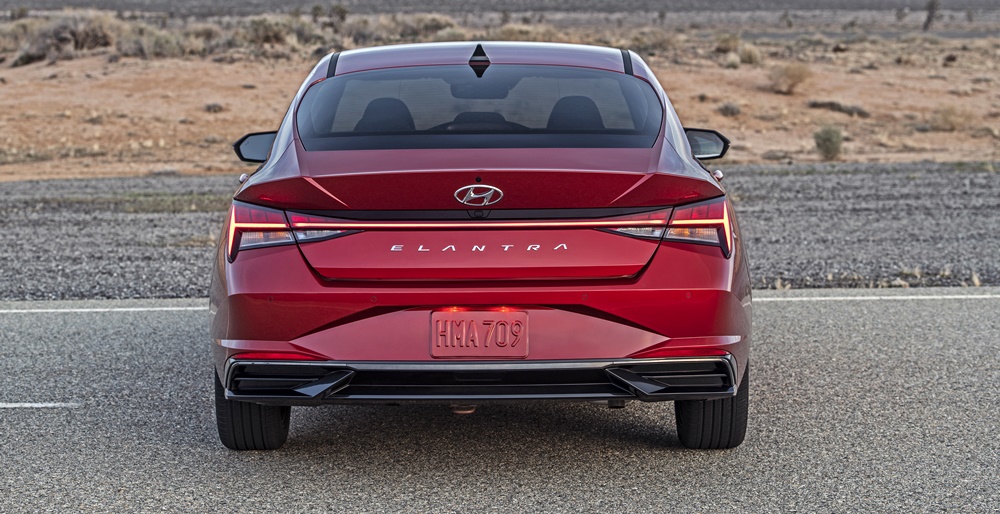 Production of the new Elantra begins in Korea and America in the second half of the year with shipments starting in the fourth quarter. It's not known when the new model will be available in Malaysia though it would almost certainly be in 2021 if it continues to be assembled locally at the plant in Kedah.