Perodua recently provided additional support for the ongoing efforts of the staff at the Sungai Buloh Hospital which has been designated a major medical facility to handle COVID-19 cases. The carmaker sent 150 mattresses, 200 pillows and 250 pairs of rubber shoes to the hospital for use in its war against the coronavirus pandemic.
Paying tribute to the frontliners who have been working non-stop to save lives, the carmaker said on its Facebook page: "As a caring, People-First company, we're committed to supporting our national heroes and heroines. You guys are amazing!".
As part of its Corporate Social Responsibility, Perodua has often provided support to hospitals. Last year, it provided the pediatric ward at the Selayang Hospital with medical equipment which included pulse oximeters (oxygen measurement devices) and portable screens.

RM1.25 million from Naza Group
Meanwhile, the Naza Group of Companies has donated RM1.25 million to the government's COVID-19 fund. The cheque was presented to the Prime Minister by SM Nasarudin SM Nasimuddin, Group Executive Chairman & CEO, Naza Corporation Holdings.
Encik SM Nasarudin commended the government on the initiatives it has currently undertaken.  "We hope the contribution by Naza Group will help alleviate the plight of those financially impacted by job disruptions and loss of earnings resulting from this global pandemic. We are all thankful for the selfless commitment shown by our medical practitioners, the police and armed forces and other frontliners in helping to manage this situation and keep us safe," he said.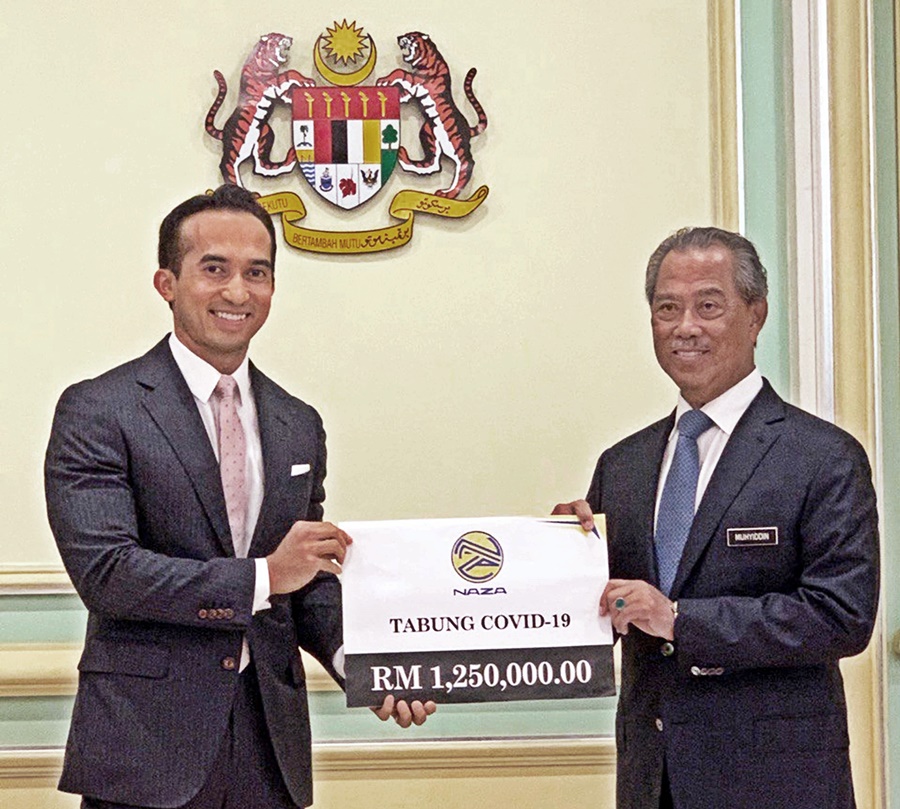 "Apart from this monetary contribution, Naza Group will actively look at ways we can leverage through our businesses to assist the Ministry of Health in managing this unprecedented crisis. As Malaysians we must come together during this critical period to overcome the adversities that lie ahead," he added.