Following our earlier report about Proton producing face shields for frontliners, the carmaker has started shipping out the first batch of 8,000 units to Kelantan and other East Coast states.
The face shields are an initiative by the company which designed and tested prototypes as well as obtained feedback from end-users to ensure the final product met their needs. While that process was underway, a project team planned for a production line that was both safe and efficient to meet with health protocols.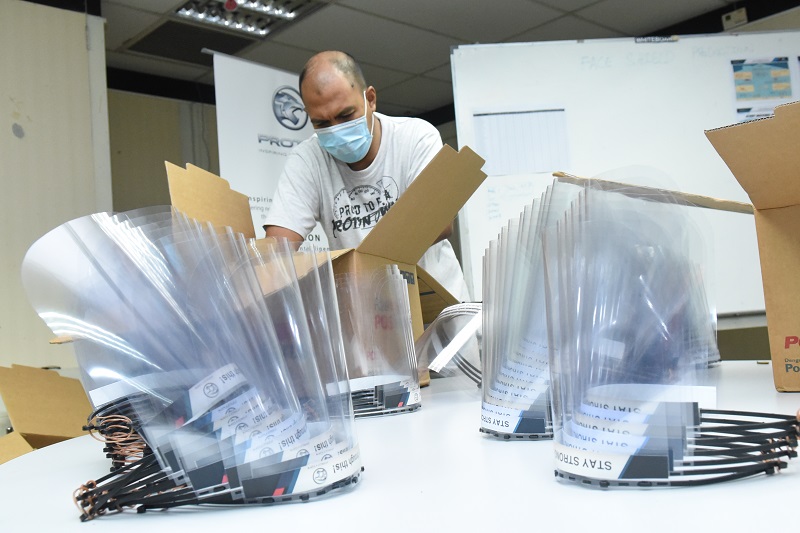 50 people, picked from a pool of volunteers, work on an assembly line in the factory at Shah Alam, Selangor, which had been quiet since March 18 when the Movement Control Order (MCO) started virtually all factories and businesses had to cease operations.
Up to 3,000 face shields can be produced in a single day, and Proton is expected to take approximately 20 days to produce the 60,000 units it has committed to deliver. Face shields are part of the Personal Protective Equipment frontliners need to protect them when attending to COVID-19 patients. They have to be constantly replaced and the Health Ministry said that at this time, the stocks available can last for 25 days.
Contributions from other companies
While Proton is responsible for the assembly and distribution of its face shields, the company has received contributions from its vendor community who are eager to get involved. One such contributor is Pos Logistics Sdn Bhd, one of the biggest logistics service providers in Malaysia, which supplied over 2,000 large carton boxes to pack the face shields. and make it easier to transport them.
Automotive component supplier, HICOM-Teck See Manufacturing Malaysia Sdn Bhd, contributed 1,500 kgs of polypropylene, one of the main components in the car bumpers which it makes, that will be used to produce the frame of the face shields.

The original design for the face shield was contributed by Universiti Teknologi MARA (UITM). The designers at Proton Design then developed the frame based on feedback from users and also added the slogan 'STAY STRONG! We will get through this!'.
"Proton is humbled by the response received both internally and outside of the company to our face shield project. The number of staff volunteering their services was overwhelming, despite inherent risks involved in leaving home and coming to work. Therefore, we have taken steps to ensure everybody is kept safe by providing Personal Protection Equipment and maintaining a minimum distance between each workstation to maintain social distancing," said Dato' Radzaif Mohamed, Deputy CEO of Proton.
War on COVID-19: Proton to produce 60,000 face shields for frontliners