Although the Movement Control Order (MCO) has prevented events and gatherings from being held, TC Euro Cars (TCEC) today held a press briefing – online. The virtual media event by the franchise holder for Renault was the first by a car company in Malaysia.
"To stay ahead of the curve, here at TCEC, we kick-started our transformation journey last year. With the current COVID-19 pandemic and MCO, digital-first has been accelerated and we believe we are headed the right direction towards future-proofing our business," said Wong Hoe Mun, CEO of TC Euro Cars.
Mr. Wong said its Renault Subscription and E-Store offerings have been updated with the addition of the Renault Subscription Trial Plan, adjustments to the Subscription Fixed and Switch Plans and an attractive deal for Renault vehicles purchased via the E-Store.
"Be it for short-term, medium-term or long-term usage, there is a subscription plan available to suit customer needs," he said. He added that more than 80% of TCEC's customers prefer the Renault Subscription Plan and a 2-year term is the most commonly chosen.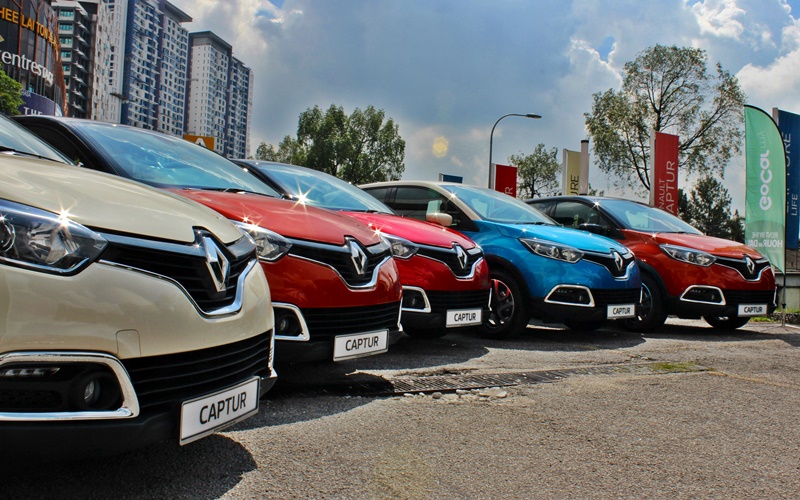 Renault Subscription Trial Plan
The Trial Plan is now available across from all Renault showrooms nationwide. Piloted early this year from the Renault PJ showroom in Selangor, the Trial Plan offers the Captur at RM399 per week.
More importantly, customers are now allowed to sign up unlimited times as opposed to the previous one-time only offer. The company hopes that the move will help customers who may have had their budgets impacted by the current situation, or who are not keen on long-term commitments in this time of uncertainty.
Fixed and Switch Plan
The Fixed and Switch Plans have also been adjusted to better meet customer needs and wants. To balance affordability and customer confidence, the Fixed Plan now includes a 3-year plan for the Captur and Koleos models. Previously, a 3-year subscription was offered only for the Megane R.S. 280 Cup.
While all monthly rates under the Fixed Plan are still inclusive of roadtax, insurance, regular servicing costs and an annual mileage cap of 20,000 kms, the new updates, allow customers to now top up for a total 40,000 kms, instead of the previous 30,000 kms.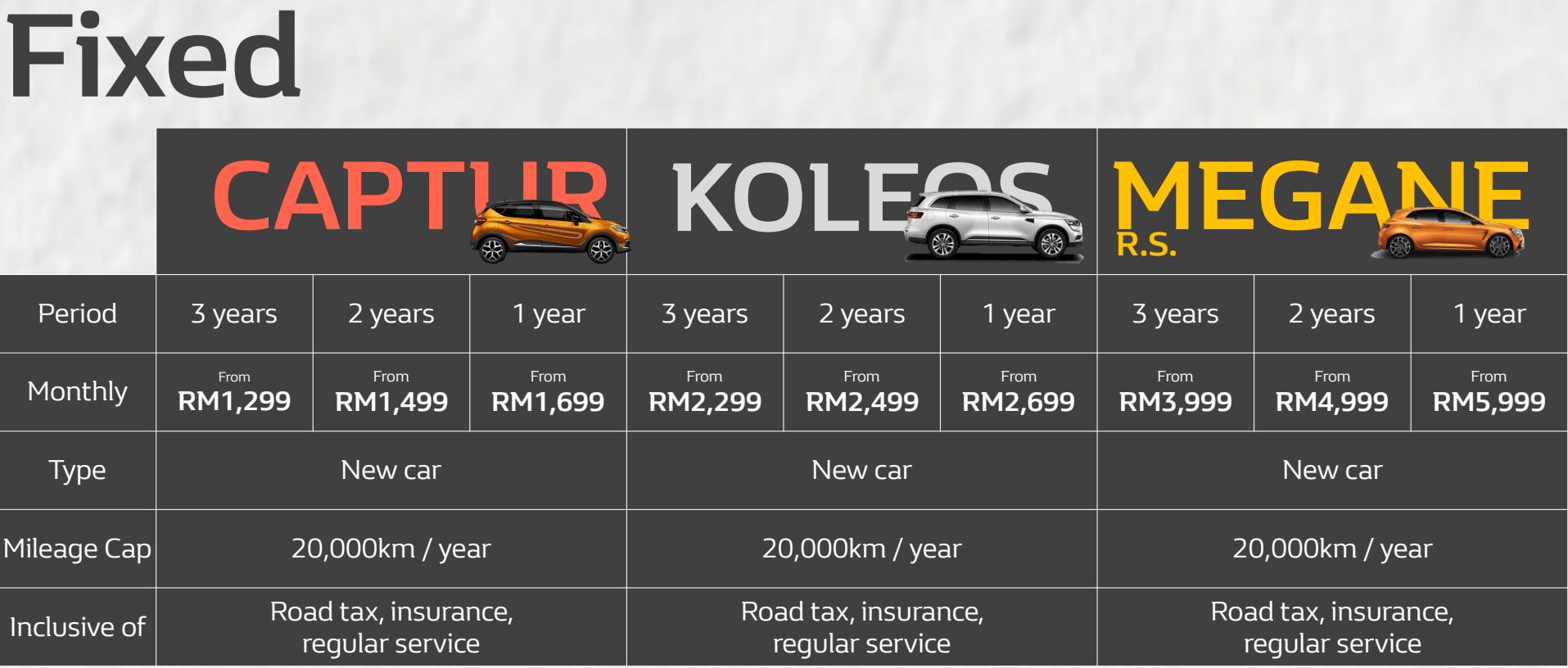 As for the Switch Plan, this has been updated with the inclusion of the Switch Base Plan (Captur Trophy at RM1,999 per month) and Switch Prime (Koleos at RM3,199 per month). Under this new Prime Plan, customers will have 2 months of Renault family access. Both Switch Plans continue to offer all-inclusive costs and flexibility with no mileage cap, wear and tear coverage and the option to cancel at any time with no penalties.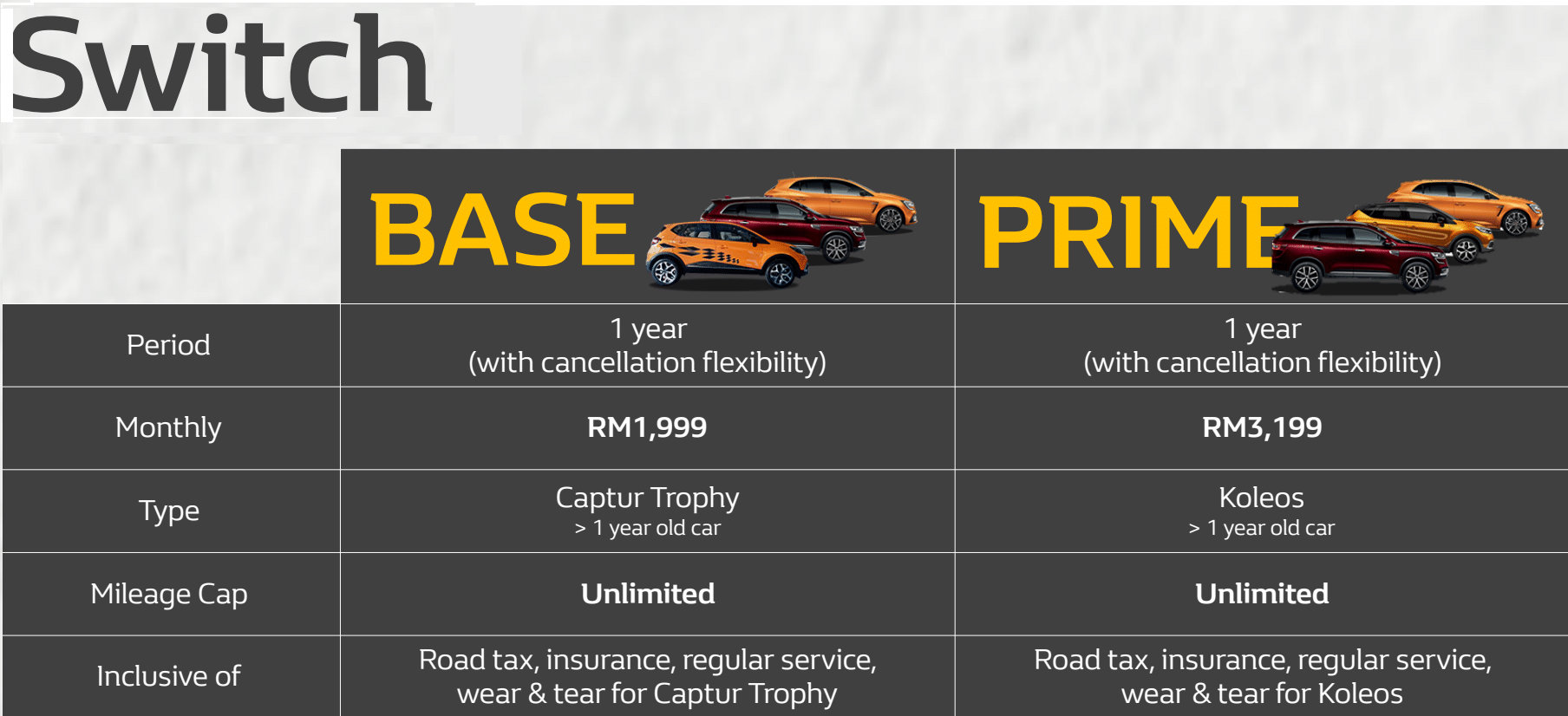 Also available is an expanded list of optional accessories and access including security and solar films, child seats, digital video recorders and Singapore access. For affordability, the cost can be included in the monthly fee across the subscription duration instead of having to pay one lump sum initially.
There is also a Pre-Owned Captur Subscription which was launched on Renault E-Store and Shopee on last week. It has been well accepted with more than 100 paid bookings within 3 days and at present, all available units have been taken up.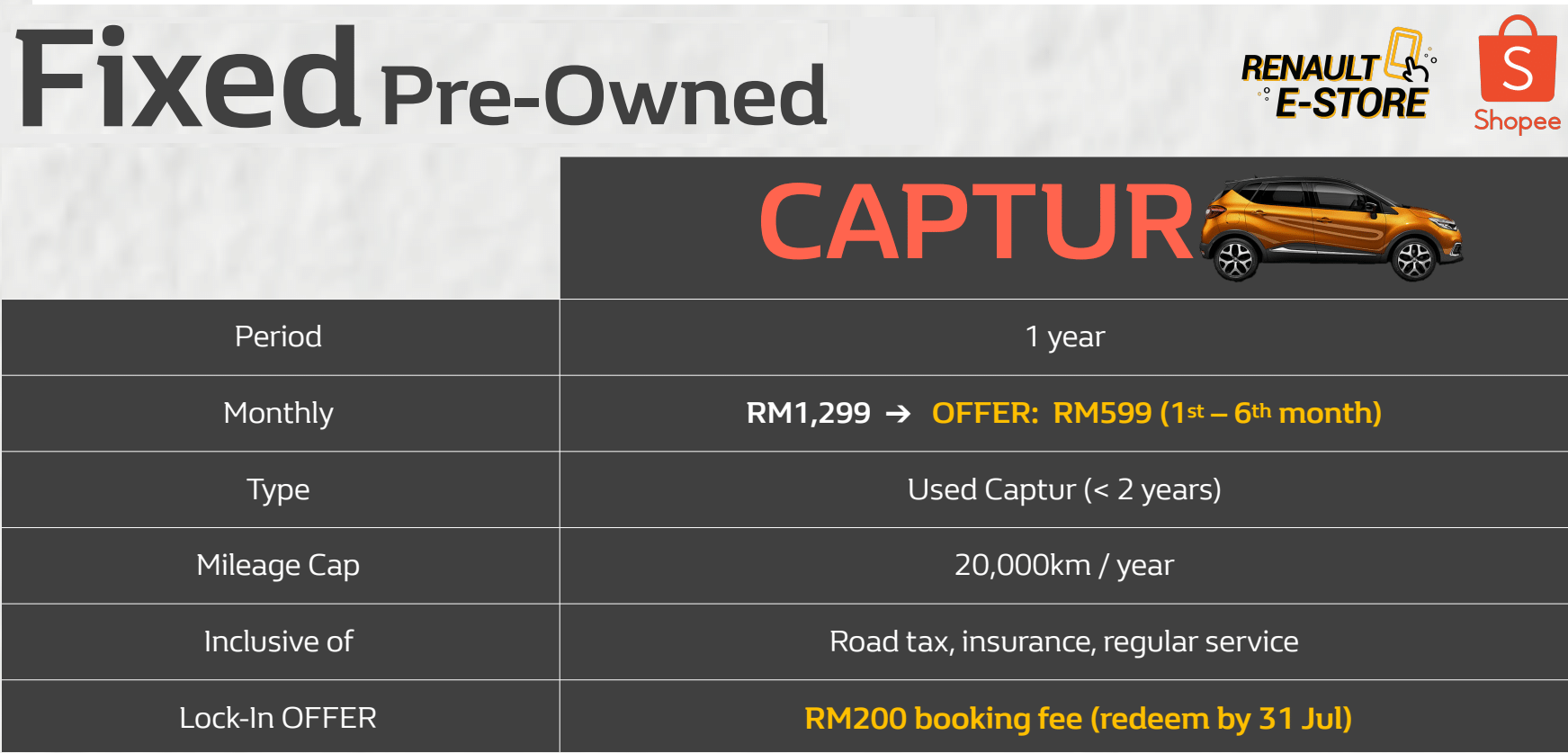 Exclusive Online Deals
The Renault E-Store was launched in Malaysia early this year, a timely move considering how the MCO has prevented customers from going to showrooms. Special deals can be offered periodically on this platform and the latest, until May 31 2020, can save more with rebates equal to instalments for 6 months. Other online exclusives for new customers include free 5-year (or maximum of 100,000 kms) scheduled service and trade-in rewards worth up to RM8,000.
Customers who choose to Subscribe to a new Renault (Fixed or Switch plans) will enjoy a one-month free subscription. Those who opt for the Pre-Owned Captur Subscription plan will continue to enjoy 50% off in the first 6 months of their subscription fee.
Easy Life for Renault owners
Besides offering test-drives of up to 3 hours (in collaboration GoCar), as many customers may look to keep their vehicles for longer, TCEC is enhancing aftersales support in various ways. These encompass door-to-door service with vehicles collected for servicing and returned, promotions for tyres with a 25% discount, over 10% off on batteries and extended warranty for customers who need additional time to catch up on their servicing needs. There will be extended operating hours at the service centres once MCO is lifted.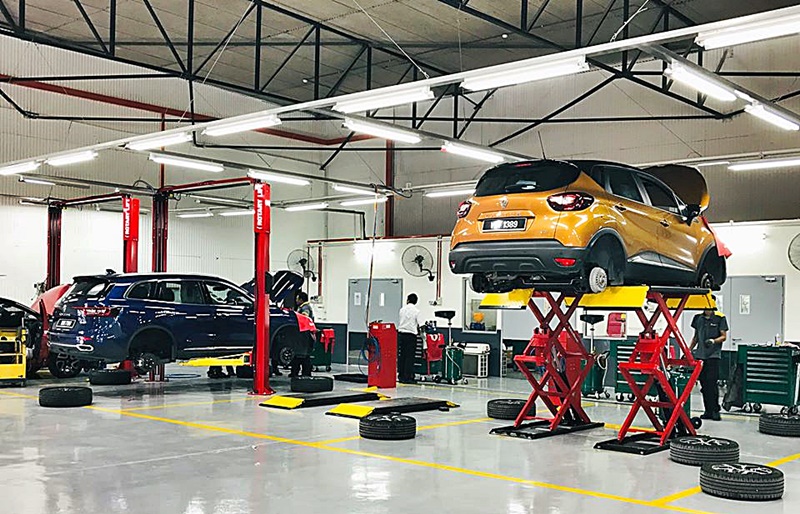 Coming soon
TCEC will also be offering a new mobile application for Renault Subscription customers. Using this, customers will be able to manage their Subscription vehicle. Key functions will include location tracking, digital key to lock/unlock the car, trip history, car-sharing and other features. More details will be available when the app is launched in June.
"We are proud that no other offering in the industry is further ahead in the digital journey than Renault Subscription and Renault E-Store. The new norm will require social distancing. Consumers will need their personal transportation more than ever and we believe the revised subscription plans will be more appealing to them," Mr. Wong said.
"I believe customers will still come to showrooms as there may be those who want to see and touch the cars, but appointments may be planned to reduce crowding. Customers will be wary of physical contact, of course, and for their peace of mind, showrooms will be sanitized at least 3 times daily. At all times, we will keep protective measures in mind. And as mentioned, we also have the 3-hour test-drives available – and no salesman will be in the car," he added.
TC Euro Cars offers full online purchasing process for Renault vehicles