During the 1990s, Toyota launched two models that created new market segments almost overnight. The first was the RAV4, which started the small passenger-car based SUV trend but the second was of great significance. It was the Prius, the pioneer of mass-produced hybrid vehicles.
Today, many carmakers have models with hybrid powertrains too and of the many millions on the roads all over the world, over 15 million have been made by Toyota.
Toyota's decision to develop hybrid electric vehicles started over 25 years ago when Takeshi Uchiyamada (the company's Chairman today) led a team to develop a car for the 21st century. Concern for the environment was growing, with momentum coming from the Kyoto Protocol to address climate change, which many nations committed to.
"When we launched Prius, no one even knew what a hybrid was but thanks to early adopters, hybrids have ridden a wave of success into the mainstream," said Mr. Uchiyamada.
Toyota focussed on reducing greenhouse gas emissions (specifically carbon dioxide) and other harmful pollutants. With more than 15 million hybrids already in use, Toyota believes that it has made a significant contribution to the environment by reducing carbon dioxide emissions by more than 120 million tonnes worldwide to date (compared to sales of equivalent vehicles with internal combustion petrol engines alone).
The first generation of the Prius was launched in 1997 and in the years that followed, more Toyota (as well as Lexus) models gained hybrid powertrains. There are at least 44 models available globally today.
More than a numerical milestone, the continued and increasing use of hybrid powertrains demonstrates the staying power of the technology. It is a mainstream solution to reduce environmental pollution and also consumption of fossil fuel. This achievement builds on the belief that widespread adoption of more environmentally-friendly vehicles can make a significant positive impact worldwide.
Hybrid leads to BEV and FCEV
While Toyota believes that hybrid vehicles are an essential part of the future overall mix of electrified vehicles, two decades of electrification experience also feed into the company's multi-powertrain strategy. The company does not see a 'one winner takes all' scenario but a future where the different electrified technologies – hybrids and plug-in hybrids, fuel cell (FCEV) and battery electric (BEV) vehicles – all play a part.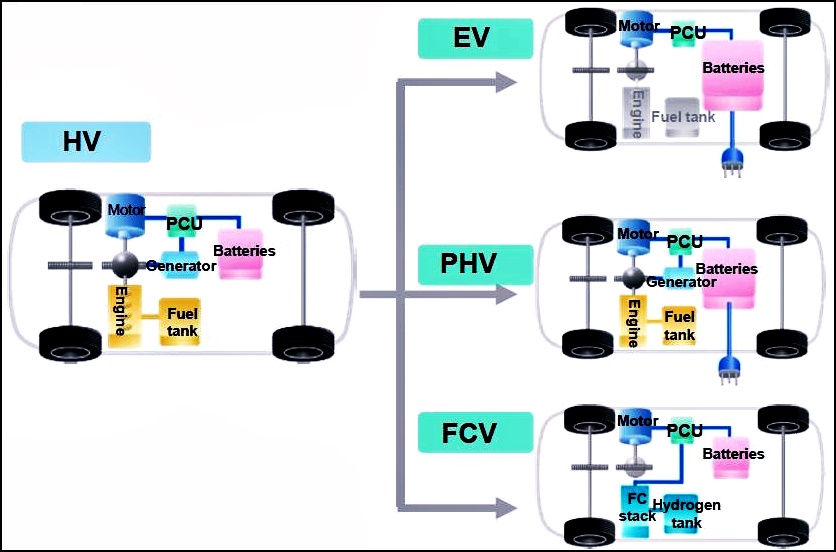 As a result of its long hybrid electric vehicle experience, the company has deep transferable expertise in the core electrification technologies which are common across all form of electrified powertrains. Over two decades of continuous development of electric motors, batteries and power control units has taught Toyota how to manage and reuse energy efficiently, providing a range of electrified options for customers.
Toyota hybrid models in Malaysia
UMW Toyota Motor (UMWT) began selling the Prius when it started its third generation in 2009. Due to the heave taxes on CBU (completely built-up) vehicles, the earlier generations were unable to be attractively priced. However, in 2009, the government provided full import and excise duty exemption of hybrid and electric vehicles which made them more affordable.
The move was to demonstrate Malaysia's commitment to reducing its carbon footprint as well as to help the carmakers introduce hybrid technology to motorists in the country. It was hoped that some companies would then assemble their hybrid models locally.
A 4-year period of duty-exemption was given, during which time sales of such vehicles was quite high as their prices were attractive. Besides the Prius, UMWT also imported the smaller Prius c.
Following the withdrawal of the duty-free exemption, the price of the Prius jumped from RM139,900 to RM216,400 while the Prius c which entered the market at RM97,000 rose to around RM153,000. Not surprisingly, sales declined very quickly and imports of the Prius and Prius c ceased. However, Lexus Malaysia continued to offer hybrid variants for its CT, RX and LS models for customers who appreciated the advanced technology.
Four generations of hybrid power and still moving forward with technology