In these times of the COVID-19 pandemic, a lot of messages to the public focus on social distancing and personal hygiene to help stop the spread of the coronavirus. However, traffic accidents still happen and road and car safety are still important.
Volkswagen Passenger Cars Malaysia (VPCM) has not forgotten this and is taking an initiative to educate the younger generation on the importance of road and car safety. The company has created the 'Buckle Up' animation series on YouTube for children.
Targeting children 3 – 7 years old
Part of the brand's social responsibility here in Malaysia, the entertaining series brings online the much-loved Volkswagen mascot, a familiar face and adored by children at roadshows and events. Specifically targeting children aged between 3 to 7 years old, the content is communicated in a fun and entertaining way and covers topics such as how to cross the road, understanding traffic lights and the importance of wearing a seatbelt.
"As a responsible brand, we are socially accountable to our stakeholders and the public – at the same time not forgetting the little ones. It is never too early for us to teach children how to keep safe, and we believe that in the long run, this will help them develop the right attitude and behaviour on the road. Of course, with children being more internet-savvy, the perfect avenue to communicate this is online" said Erik Winter, Managing Director of VPCM.
The Malaysian Institute of Road Safety Research reported that road accidents are the fourth common cause of death in Malaysia, and more than 1,500 children under the age of 10 died in road accidents from 2007 to 2017. Last year, Malaysia had the third highest fatality rate from road accidents in Asia, behind Thailand and Vietnam.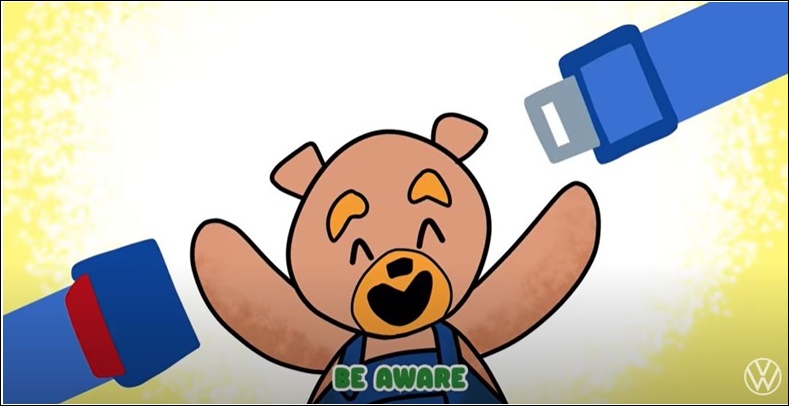 A follow-up campaign
Volkswagen first launched the 'Buckle Up' campaign in 2015 and partnered with the Association of Registered Child Care Providers Malaysia or PPBM to educate the general public on the importance of child passenger safety through training modules across 280 childcare centres nationwide.
Since then, Volkswagen has constantly communicated child safety through training modules to dealers at the Volkswagen Academy in Selangor, to customers and owners via dealership events, and on social media platforms.
The Volkswagen 'Buckle Up' campaign series is available on Volkswagen's YouTube channel here. Parents are encouraged to subscribe to receive the latest updates and notifications when new episodes are added.
Volkswagen and Tarik Jeans collaborate to save the Malayan Tapir