The last time a Ford Mustang Mach 1 was displayed for sale in showrooms in America was 17 years ago. It's never been forgotten by Mustang fans and there must also have been people within the company who wanted to see it revived with the latest generation.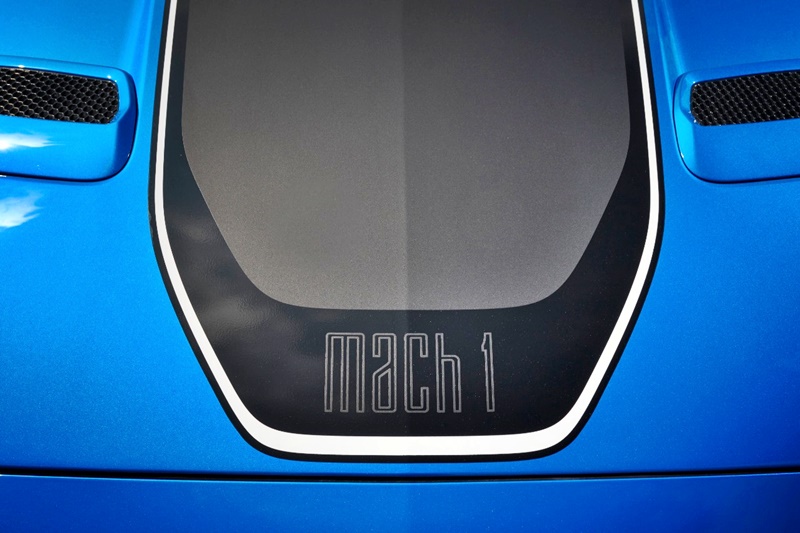 Now it is back and like the original Mach 1 in 1969, the all-new descendant bridges the gap between Mustang GT and Shelby models. "Bold styling, great acceleration and speed – Mach 1 says it all," said Jim Farley, Ford's Chief Operating Officer. "This is one of those special Mustangs that truly brings a smile to the faces of our owners, enthusiasts and fans – including me – so there's never been a better time to bring back Mach 1 and have it go global too."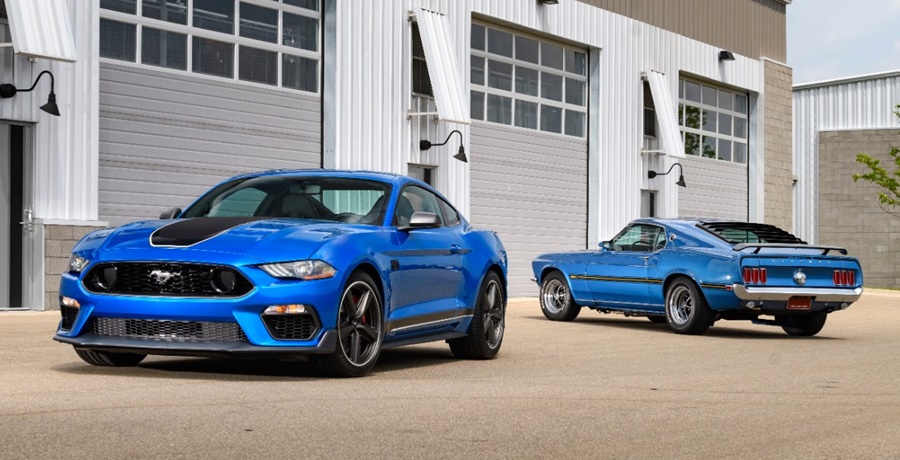 Most track-capable 5-litre Mustang
The all-new Mustang Mach 1 is set to become the most track-capable 5-litre Mustang ever, thanks to a newly designed front end, plus Ford Performance parts from the Mustang Shelby GT350 and Shelby GT500 models as well as an optional Handling Package for greater at-limit handling.
The specially tuned V8 engine has a projected 480 bhp at 7,000 rpm and 570 Nm of torque at 4,600 rpm. Integrated into the engine are revised Shelby GT350 components including the intake manifold, oil filter adapter and engine oil cooler, increasing engine oil cooling capability by 50%.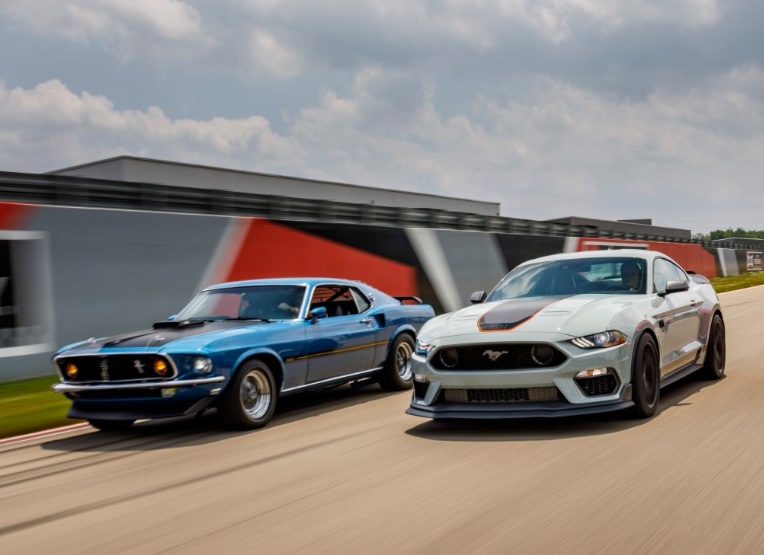 The Mach 1 also comes standard with a Tremec 3160 6-speed manual transmission from the Shelby GT350. And for the first time, Ford has added rev-matching while the transmission is paired with the GT350 oil cooler system and the Mustang GT's twin-disc clutch and short-throw shifter.
Drivers can also opt for the 10-speed SelectShift automatic transmission with an upgraded torque converter and unique calibration that enables optimizing torque capability, shift character and overall enhanced performance. A second air-to-oil cooler increases cooling capacity by 75%.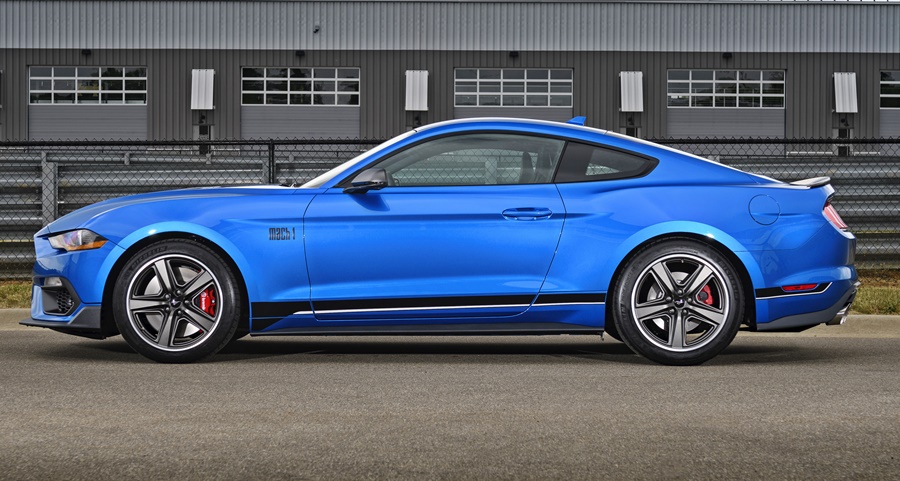 Recapturing Mach 1 style
The new Mach 1's grille harkens back to the original with a deep 3D mesh, shark-nosed section and faux lamp elements. Flanking the fascia are new side grilles below each turn signal lamp. A low-gloss Magnetic pony badge is centered on the grille, with low-gloss magnetic and black accents providing a premium look. Yet everything is true to Mach 1's bold heritage, including low-gloss Magnetic mirror caps and the rear spoiler.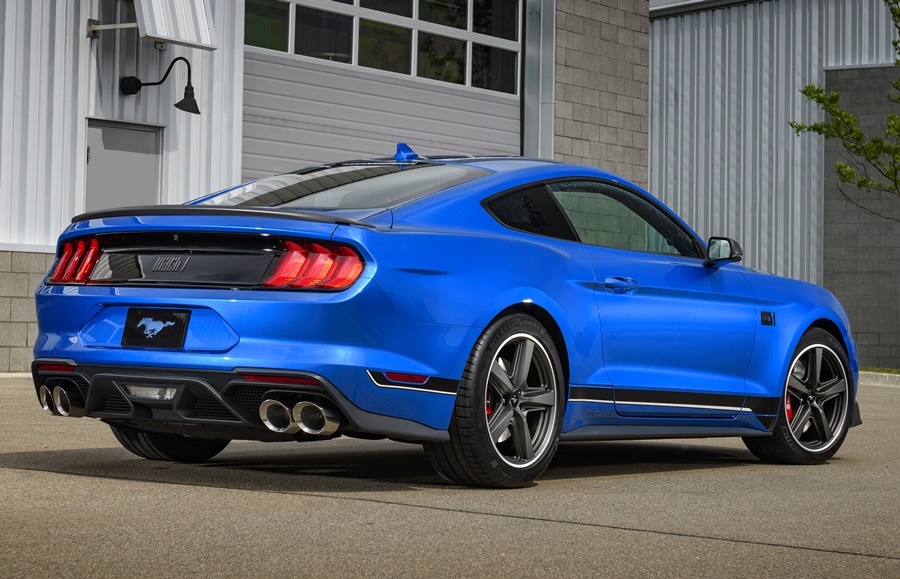 Focus on downforce
A front splitter optimized to the fascia shape improves track performance and provides a more aggressive appearance, while a matched rear spoiler works in concert to create ideal lift balance. Mach 1 features 22% more downforce than a Mustang GT with Performance Pack Level 1 and the downforce improvement jumps to approximately 150% with the Handling Package.
A new underbelly pan, the car's most aerodynamically important upgrade, extends further rearward than on a Mustang GT Performance Pack to smooth and increase the airflow under the front of the car. Large underwing features in the belly pan increase downforce, while special belly pan airfoils in the brake cooling ramps improve downforce and assist the brake cooling flow – a first for Mustang.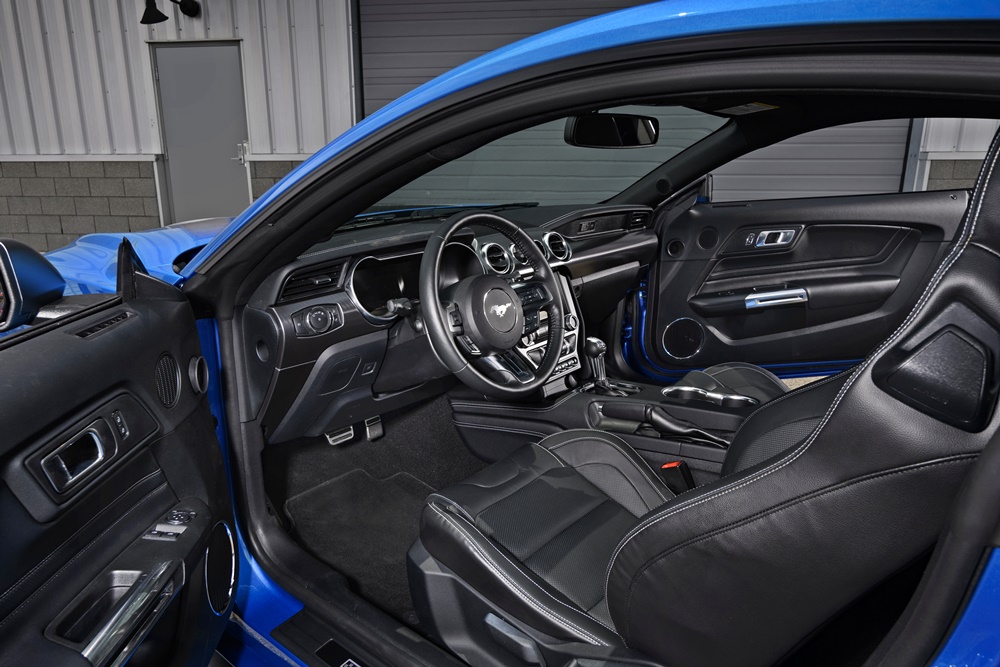 The interior features a unique Dark Spindrift instrument panel with aluminium accents. Ebony seats with an accent stripe hint at Mach 1 heritage in cars equipped with a leather interior. Other interior upgrades include new door sill plates, an updated splash screen on the 12.3-inch all-LCD instrument cluster, a white cue ball shift knob, and engraved badging that displays the vehicle's unique chassis number.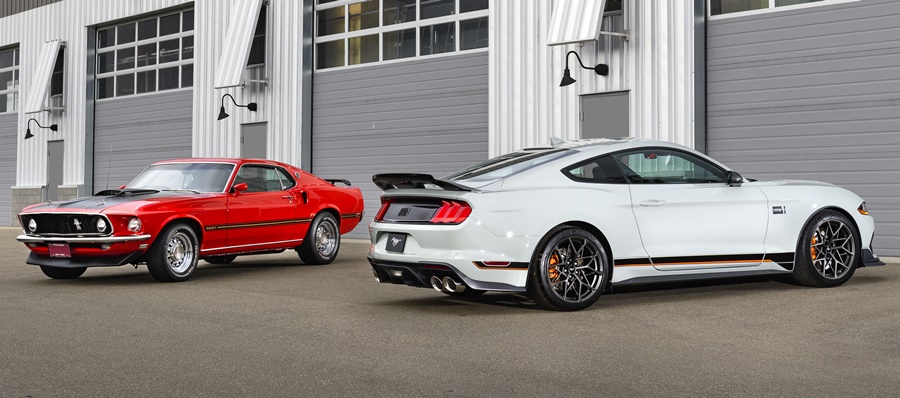 This generation of the Mustang is the first one which has righthand drive variants engineered and built at the factory for wider global sales. However, for now, Ford will only concentrate on supplying to the North American market.
Sime Darby Auto ConneXion also offers the latest Mustang with 2.3-litre EcoBoost and 5-litre engines. Visit www.sdacford.com.my to know more.
Ford Mustang is bestselling sportscar in the world – for the fifth consecutive year