'Black' is mentioned a lot in the news these days and it's become controversial in the social and political context. But not all black subjects are controversial and the Black Badge family of cars from Rolls-Royce are desirable products for those  an emerging generation of super-luxury consumer.
Launched in 2016, the Black Badge cars for a permanent Bespoke range that, in the words of Torsten Muller-Otvos, CEO of Rolls-Royce Motor Cars, 'reflects the desires of a distinct group of Rolls-Royce clients: men and women who take risks, break rules and build success on their own terms'.
Appealing to new, younger generation of customers
Since being launched, demand for the Black Badge offering has been growing as the bold theme attracts new – and younger – customers to the marque. It appeals to the new generation of customers – or 'clients' as Rolls-Royce refers to them – who would consider the 'silver badge' Rolls-Royce too conventional and traditional. The approach is not new to Rolls-Royce as there have been offerings in the past which inverted the 'silver badge' to black as a means of creating uniqueness (apparently there was even a 'red badge' tried out at one time).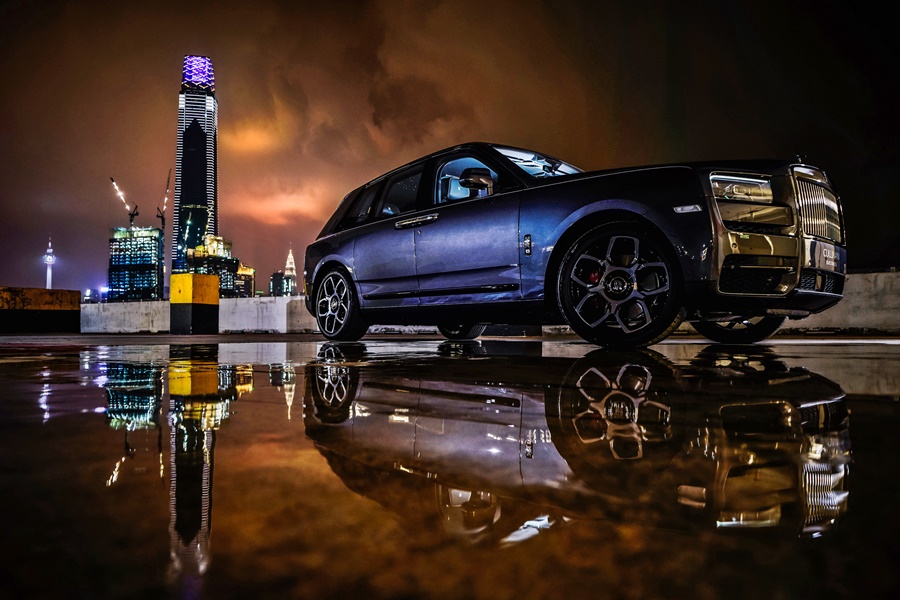 This 'alter ego' is codified by the mathematical symbol that represents a potential infinity, placed discreetly within the motor car's interior. This marking, known also as the lemniscate, was applied to Sir Malcolm Campbell's record-breaking Rolls-Royce-powered Blue Bird K3 hydroplane, denoting that it belonged to an insurance class reserved for boats with unlimited and therefore infinite engine power. Rolls-Royce Motor Cars selected this hallmark for its Black Badge cars to reflect its own unrelenting pursuit of power.
Full Black Badge range
Rolls-Royce debuted the Black Badge range with the Wraith and Ghost in 2016, followed by the Dawn in 2017. Today, the family is completed for the first time in Malaysia with the introduction of the Black Badge Cullinan by Rolls-Royce Kuala Lumpur (RRKL). It is rare for a distributor to have the full range but RRKL does, perhaps a reflection of its notable presence in the Rolls-Royce global network.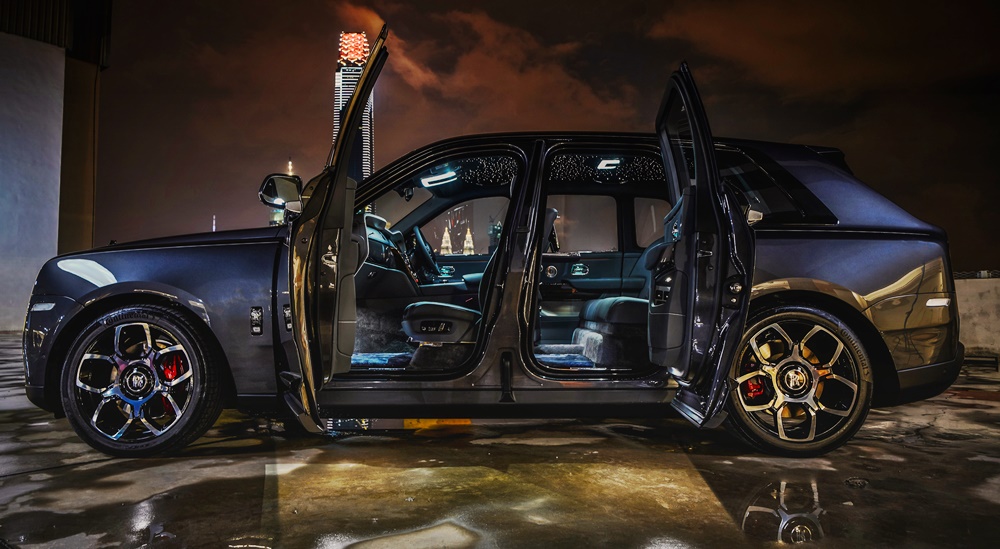 Introducing the Black Badge Cullinan SUV this afternoon, Anas Zawawi Khalid, Executive Director for Quill Motorcars Sdn Bhd, which operates RRKL, said: "We are seeing a distinct change in the Super-luxury arena within Malaysia. Increasingly, we are welcoming younger, adventurous Rolls-Royce customers alongside our more established clientele. We have refreshed our Black Badge range for 2020 and have already seen strong interest from customers who are looking for something very contemporary and bold."
The Cullinan, which is the first SUV from Rolls-Royce, has been in the market for two years now. It may have been late into the luxury SUV market but then again, a SUV bearing the Spirit of Ecstasy on the bonnet has to be the best in every aspect – including off-road capability – so that would have taken the engineers a while to achieve. The end result is a vehicle that is 'Effortless, Everywhere' as the company describes the true 'Rolls-Royce of SUVs'.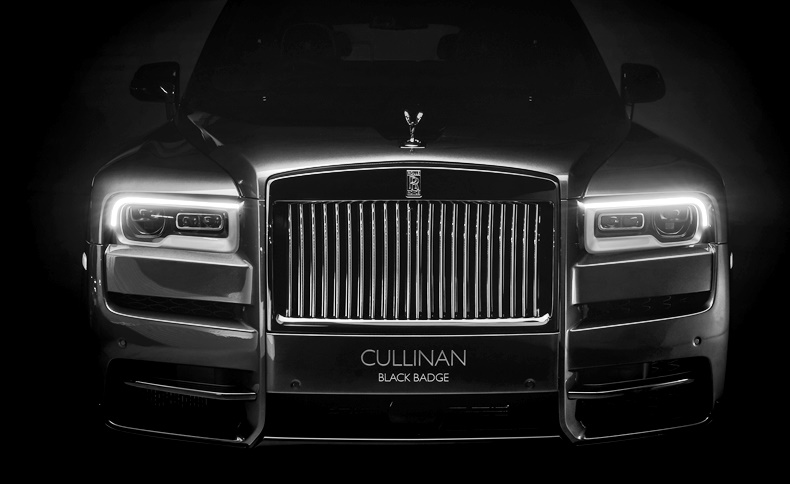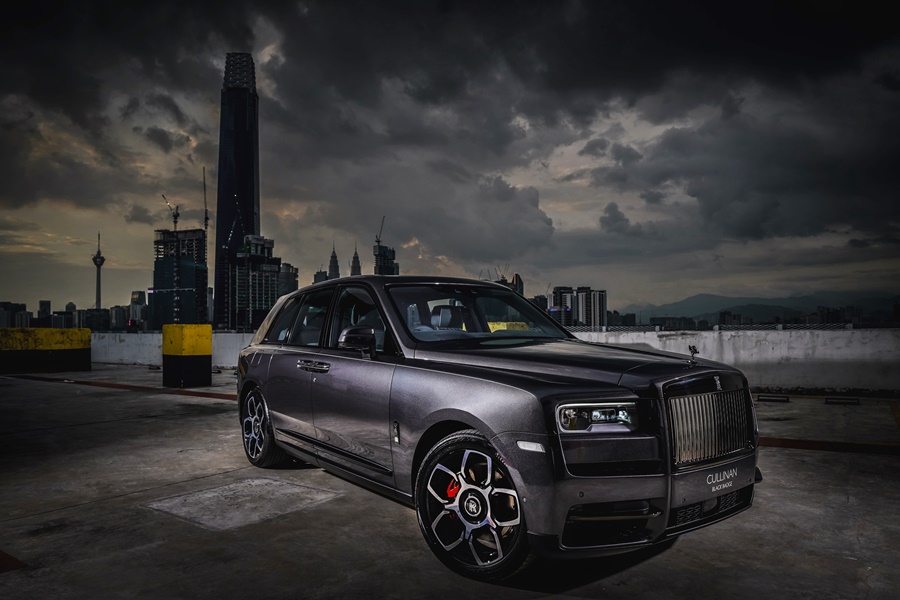 It doesn't have to be black…
Black is, of course, the dominant theme of the Black Badge Cullinan and while most customers will choose this colour, Rolls-Royce also offers no less than other 44,000 colours to choose from. And if the colour cannot be found, the customer can provide a sample of a colour desired and it will be developed for his or her car.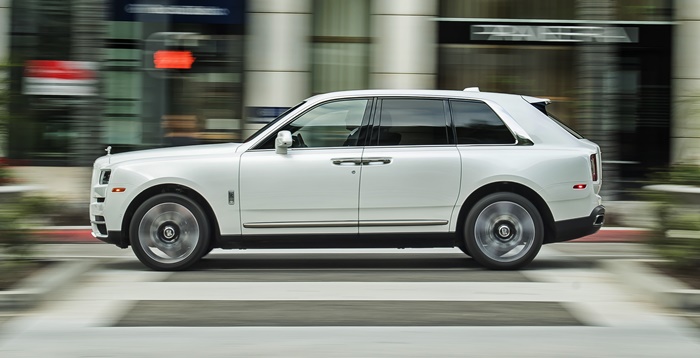 Multiple layers of paint and lacquer are meticulously applied and hand-polished 10 times, the most comprehensive surface finish process ever applied to a solid paint colour. The depth and intensity of Black Badge Cullinan's coachwork serves as the perfect canvas upon which to throw a contrasting hand-painted Coachline into stark relief.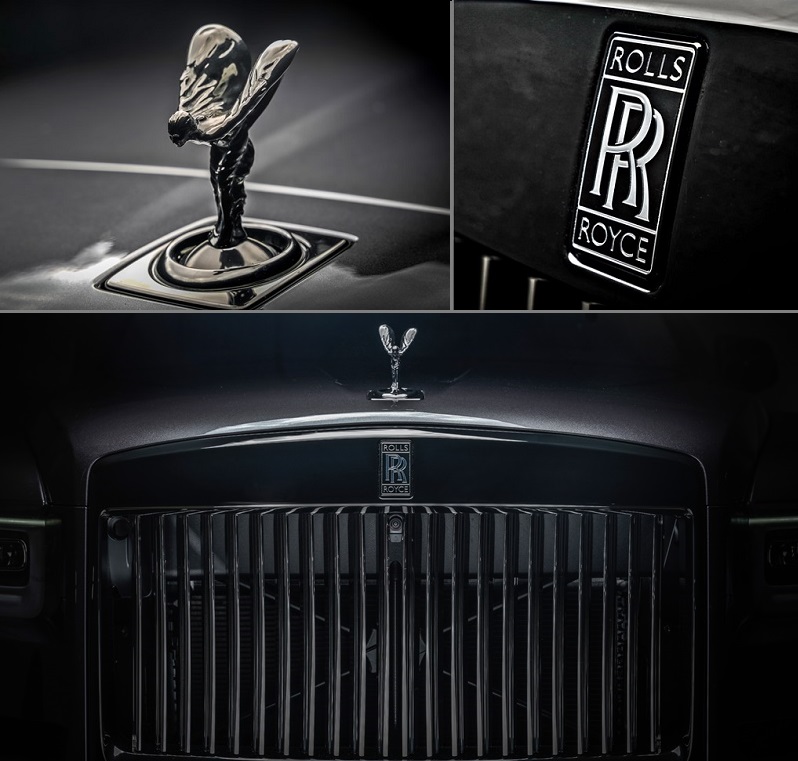 Exclusive core elements
Core elements are in black or black chrome, including the Spirit of Ecstasy mascot (including its mounting plate). The 'Double R' badge on the front, flanks and aft invert to become silver-on-black, while chrome surfaces such as the front grille surround, side frame finishers, boot handle, boot trim, lower air inlet finisher and exhaust pipes are darkened. While they appear black, the vertical grille bars remain polished, reflecting the blackened surfaces that surround them to add a frisson of movement that hints at the motor car's dynamic intent.
The overall effect artfully simplifies and enlarges SUV's exterior design graphics, further dramatized by all-new 22-inch forged alloy wheels, reserved exclusively for Black Badge Cullinan.
The gloss black and polished design also creates the perfect stage for the marque's first ever coloured brake caliper finished in high gloss red paint.
Incidentally, many of the core items on a Black Badge model are exclusive. They are not offered by as Bespoke items so customers cannot personalise their car to be like a Black Badge. If they want a Black Badge model, they have to buy the whole car but they can personalise it as much as they want too.
'Amplified' V12 engine
The Black Badge Cullinan isn't just about the dark aesthetics. The boldness of the theme is supported by 'amplification' of the 6.75-litre twin-turbocharged V12 engine. It was deemed unnecessary to make changes to the ample internal capacity but tuning adjustments have generated an extra 29 ps for a total output of 600 ps. The sense of a single, infinite gear has also been enhanced with the addition of a further 50 Nm of torque, bringing the total to a 900 Nm.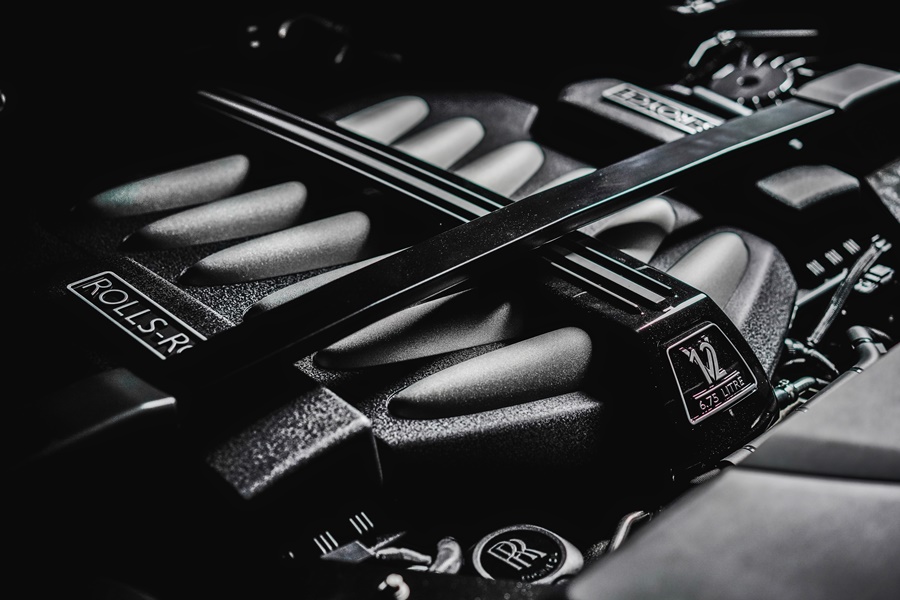 There's also an entirely new exhaust system, announcing the vehicle's arrival with a deep, authoritative basso profundo. It's not the sort of sound that will disturb the neighbour's baby but it will signal the presence of the Black Badge Cullinan.
The drivetrain, ZF 8-speed gear box and both front and rear steered axles work collaboratively to adjust the levels of engagement depending on throttle and steering inputs. Changes to suspension components and settings add to the suite of dynamic technologies that ensure an appropriate balance between dynamism and refinement.
To bolster confidence, the braking bite point has been raised and pedal travel decreased. Redesigned brake disc ventilation also allows consistency in these changes while braking at elevated temperatures.
Whatever the customer wants…
It is unlikely that any two Black Badge Cullinans will have similarly equipped interiors. Apart from a  near-infinitely configurable interior colour palette, just about anything a customer wants to install can be done provided it does not compromise safety. For those who prefer to leave it to the professionals, the Colour and Trim designers have created a bold new leather colour, Forge Yellow, to offer as part of the brand's curated collection.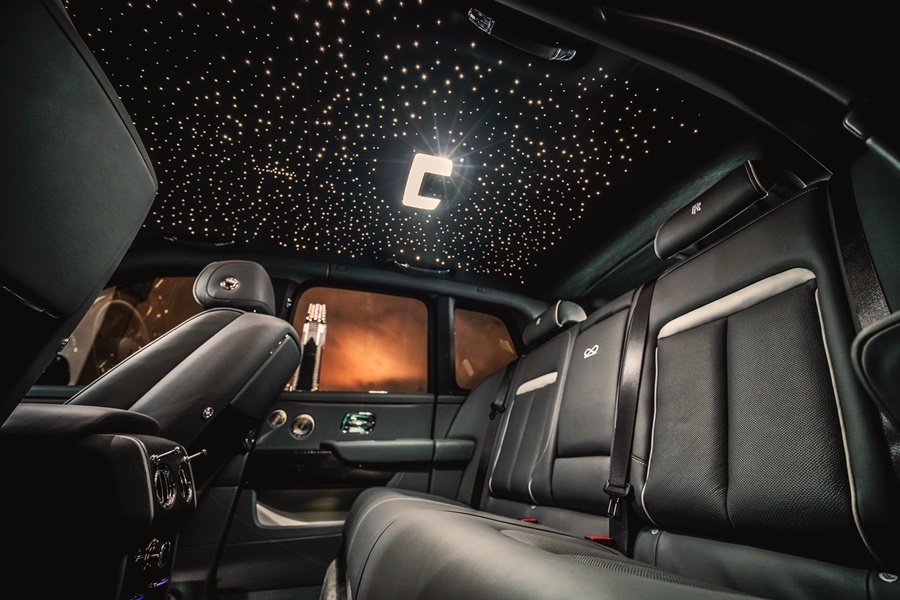 One increasingly popular feature is the Starlight Headliner and its presence in Black Badge Cullinan intensifies the cabin's ambience by casting a low light over the whole cabin. Presented in fine Black leather, handwoven with 1,344 fibre-optic lights in the ceiling, it can show the sky at night with 8 brilliant white shooting stars that dart at random around the ceiling. Or the customer can specify a personal design and the tiny lights can be arranged to show it.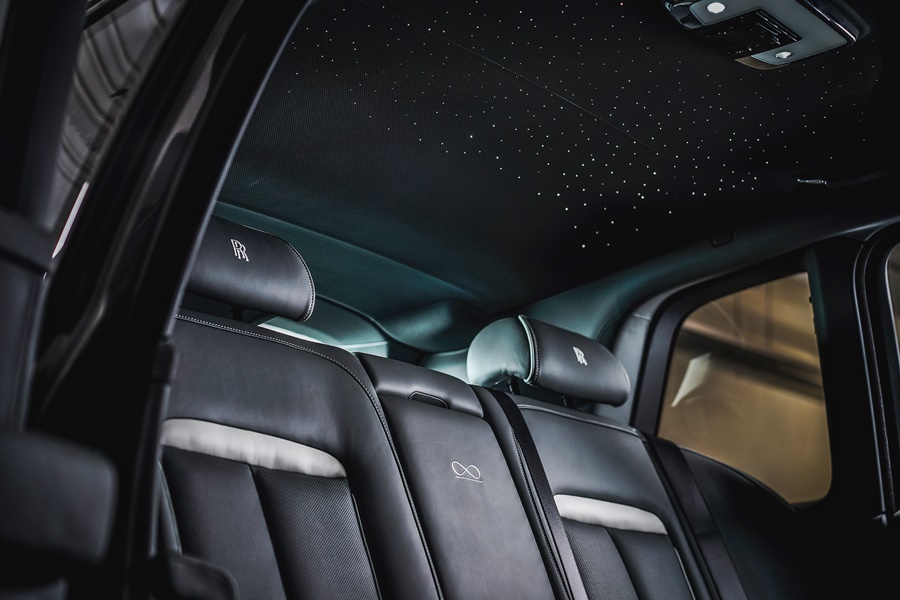 A person who is ready to buy a Rolls-Royce is unlikely to be overly concerned about its price but for those who are interested to know, the price of a Cullinan in Malaysia at the time of its launch in January 2019 started at RM1.8 million (without tax). A Black Badge version would be considerably more although the present exemption of 5% of Sales Tax has also brought it down. According to Encik Anas, the Sales Tax exemption – which has obviously meant significant savings for a buyer – has encouraged more people to 'come through the door' and discuss a purchase.
The customers, he revealed, are as young as in the early 30s, while the global average is in the 40s. In any case, Rolls-Royce is seeing its clientele becoming younger and has therefore responded with offerings like the Black Badge range.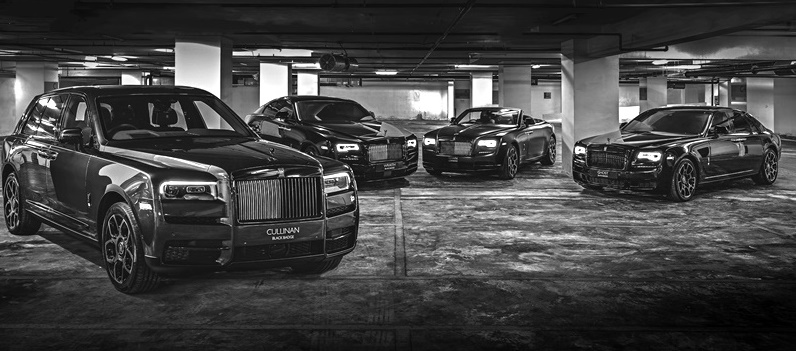 "This remarkable motor car is creating tremendous amounts of interest amongst younger, affluent customers who are new to Rolls-Royce but who value adventure and freedom of travel without compromise," he said, adding that RRKL is seeing an increasing number of customers from East Malaysia. As for aftersales support, RRKL has been progressively enhancing its service centre and its practices and services are optimised.
The Starlight Headliner – Bringing the starry sky inside a Rolls-Royce