In spite of the Movement Control Order (MCO) – which is still in effect as the Recovery Movement Control Order (RMCO) – reducing motoring for two months, BHPetrol's Kaya Raya promotional contest still received half a million entries from around the country.
This was revealed by Leslie Ng, CEO of Boustead Petroleum Marketing Sdn Bhd, which distributes and markets BHPetrol fuels, lubricants and other services. The contest, which began on March 15 was on until June 20, 2020. It was open to customers at BHPetrol stations who made a purchase of RM30 of BHPetrol Infiniti fuel or purchased items from the BHPetromart convenience store.
During the contest period, there were weekly prizes of 100,000 ePoints given to 10 winners each week, for a total of 140 winners. The ePoints can be redeemed for BHPetrol fuel or various products at the stations. 1 ePoint is normally given for every RM1 spent at BHPetrol service stations or partner outlets. Motorists can redeem 550 ePoints for RM5 worth of fuel or 950 ePoints for RM10 worth of fuel.
12 Malaysians, randomly chosen from those who submitted all-correct answers on the entry form, became the finalists and were invited to attend the ceremony for the final draw. Mr. Ng and his senior colleagues drew the winning names for the big cash prizes and BHPetrol eCard loyalty points.

The prizes were one Grand Prize of RM100,000 + 200,000 ePoints; two 1st Prizes of RM50,000 + 100,000 ePoints each; three 2nd prizes of RM20,000 + 40,000 ePoints each; and six 3rd prizes of RM15,000 + 30,000 ePoints each.
"I would like the congratulate all the lucky winners and express my gratitude to all customers who have participated in the contest. This is one of our ways of rewarding our valued customers who have been supportive to the brand all these years," said Mr. Ng.
He gave assurance that the company is committed to bringing more exciting promotions while providing excellent products and services at our network of 400 service stations.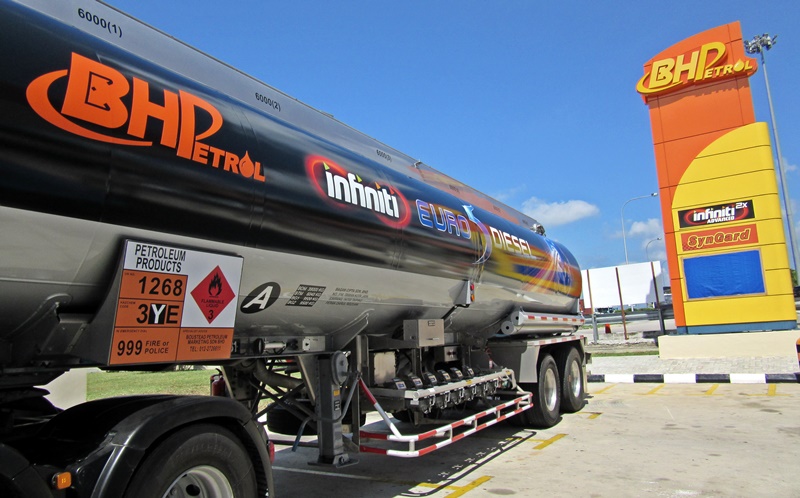 While Infiniti fuels are the most prominent products, Boustead Petroleum Marketing is also involved in the distribution of Liquified Petroleum Gas (LPG) which is branded as BHPetrogas. It is available in a range of capacities, from 12-kg and 14-kg cylinders, to 50-kg industrial cylinders for home or commercial use
Engine lubricants under the SYNGARD brand are also available in different grades and formulations to suit a wide variety of vehicles on Malaysian roads. They are developed with advanced US additive technology sourced from one of the world's biggest specialists in additives.
To know more about BHPetrol products and services and to locate a station, visit www.bhpetrol.com.my.
Click here for other news and articles about BHPetrol