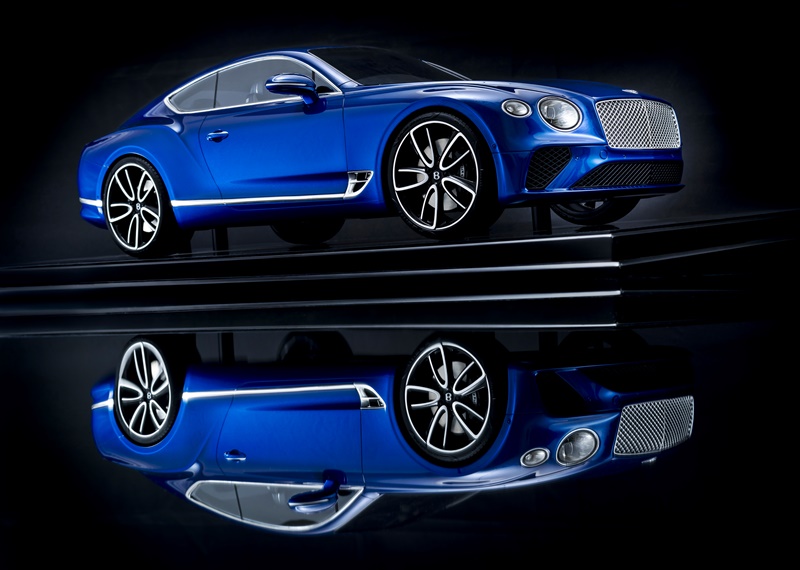 The Bentley Continental range was born in 2003 and with each new generation, the boundaries of technology and power continue to extend. The third generation, unveiled at the 2017 Frankfurt Motorshow, is currently one of the brand's most popular models globally. It is this generation, with its sporty design and sleek silhouette that is the basis of a miniature collection created by the company.
The collection of Continental GT model cars put a piece of Bentley history in the home or office, and would certainly be a perfect accompaniment to an owner's full-size Continental GT, if he or she already owns one.  The collection is available in a variety of scales – 1:8, 1:43 and 1:64 – and meticulous attention to detail and thousands of hours of work go into crafting the exquisite models.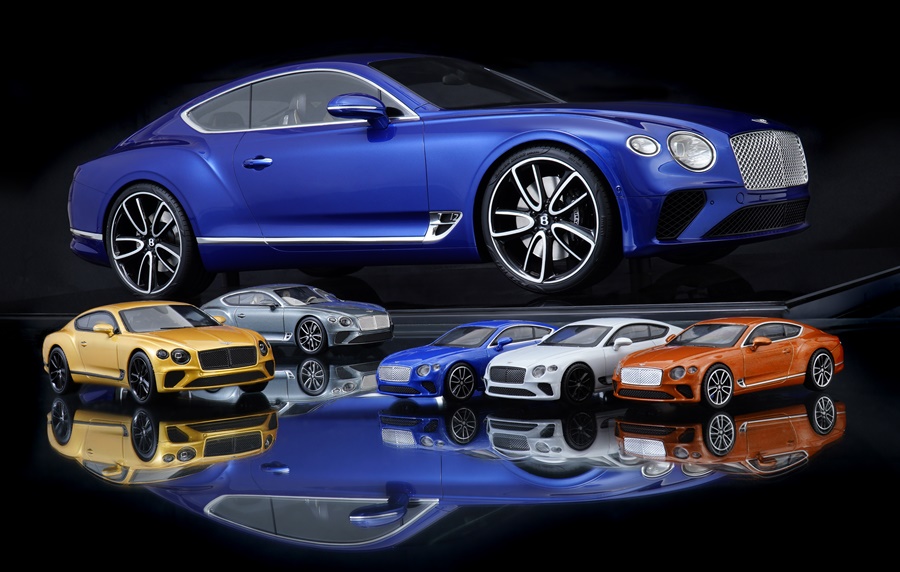 The 1:8 scale model, priced in the UK at £6,995 (RM38,700), is offered as a bespoke product, allowing customers to commission their own unique replica car in the same way a customer would personalise their Bentley. The intricately detailed scale model is made up of over 1,000 individual pieces, assembled by hand and takes over around 300 hours in total to build.
The bespoke options cover a variety of aspects available to customise including paint, mock veneers and seat details. Every detail selected is executed and installed to the same superlative quality that is guaranteed with each full-size Bentley.
Measuring 78 cm in length and 40 cm in width, the exacting details of a full-size car are mimicked in miniature throughout the carefully-crafted replica cabin. The tiny steering wheel features impeccably-copied cross-stitching, the iconic seat quilting and fluting is mirrored on the small yet detailed scale. The model car even mimics the lustrous wood veneers and plush carpets that characterise the original. All colours and finishes are precision-matched to Bentley's authentic paints, leathers, woods and other materials.


The full list of options includes exterior paint colour, wheels and alloys, lower grille, brake calipers, number plate, left or right driver position, interior colour split, main hide colour, secondary hide colour, seat quilting, seat fluting, veneers, and carpets. The option for the iconic Blackline Specification is also available.
To ensure complete accuracy, each 1:8 model ordered is developed under the close supervision of the Bentley Design Studio from the moment of order to final delivery. The model is crafted in resin and placed on a varnished plinth. It is the largest of the Continental GT collection of miniature models.

For those who do not choose the 1:8 scale model, the 1:43 and smaller 1:64 die-cast models are also of high quality commensurate with the brand image. In the UK, they are priced at £85 and £12 (RM470 and RM66), respectively. Orders can be placed from Bentley Retailers or via shop.BentleyMotors.com.
The fastest Lamborghini is now available as a LEGO Technic model (w/VIDEO)