For the first time, Porsche Asia Pacific and Porsche Cars Australia have teamed up with Forza Motorsport 7 to run a simulation racing tournament. Known as  the Porsche Asia Pacific Forza Cup, it will see some of the best sim racers in the region compete on the Forza Motorsport 7 tracks of Bathurst, Nurburgring, Le Mans, Silverstone and Hockenheimring.
Qualifiers
The races will begin in a Porsche 918 Spyder which holds the distinction of being the first series production car to beat the lap record of 7 minutes at the Nurburgring Nordschleife in 2013. The race will take place on the rollercoaster Bathurst track which offers an extraordinary mix of 23 fast and slow corners, and gradients of up to 16%.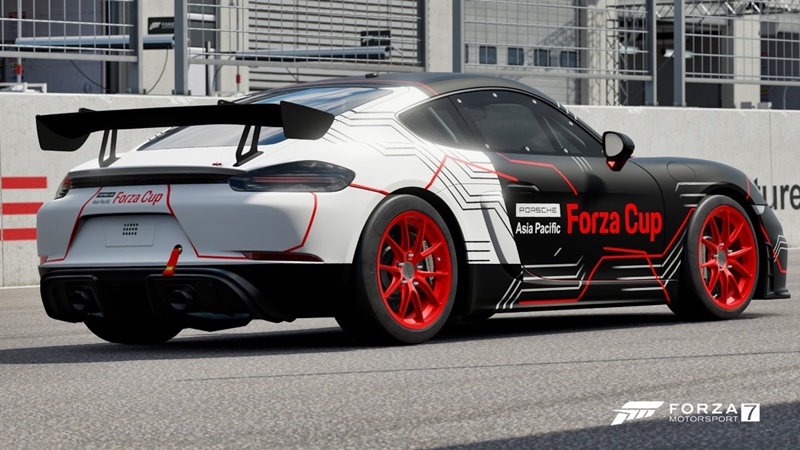 Subsequent qualifying rounds, to be held in October, will use the legendary Nurburgring Nordschleife, in the 911 GT3 RS, and then Le Mans with the 919 Hybrid. Finally, the top 16 players, limited to a maximum of three from one country, will compete to bring home the first Porsche Asia Pacific Forza Cup over two races in a Cayman GT4 Clubsport.
The Finals
The first of the final races will be at the Silverstone track after which the finalists will then go head to head for their second finals race at the Hockenheimring. All 16 finalists and the top 3 participants of the finals will win prizes from the Porsche Driver's Selection and HUGO BOSS, the official sponsor of the Porsche Asia Pacific Forza Cup.
The titleholder will win an opportunity to race on a real track during a track experience at the Porsche Experience Centre in Hockenheimring, Germany, in 2021.
The tournament is currently open for registrations online from players from the Asia Pacific region. They must hold a Xbox game pass and have either access to a PC, Xbox One, Xbox One S, or Xbox One X. Click here to sign up, or find out more about the race details and points scoring system.
Porsche in Esports
Porsche's involvement in Esports or sim racing – also referred to as digital motorsports by the  FIA – goes back some 3 years and has been growing in recent times, especially this year when real-world racing was suspended due to the COVID-19 pandemic.
"Racing games and Esports connect the real and virtual worlds and enable us to gain further access to the young target group. It means that they can develop a passion for Porsche even before buying their first sportscar", said a senior executive of the company.
One of its major sim racing events – the Porsche Esports Supercup –  was included in a gala event to honour the successes of the teams and driers in motorsport. Porsche was the first major carmaker to recognise the achievements of virtual racers at the same event as their real-world racing peers.