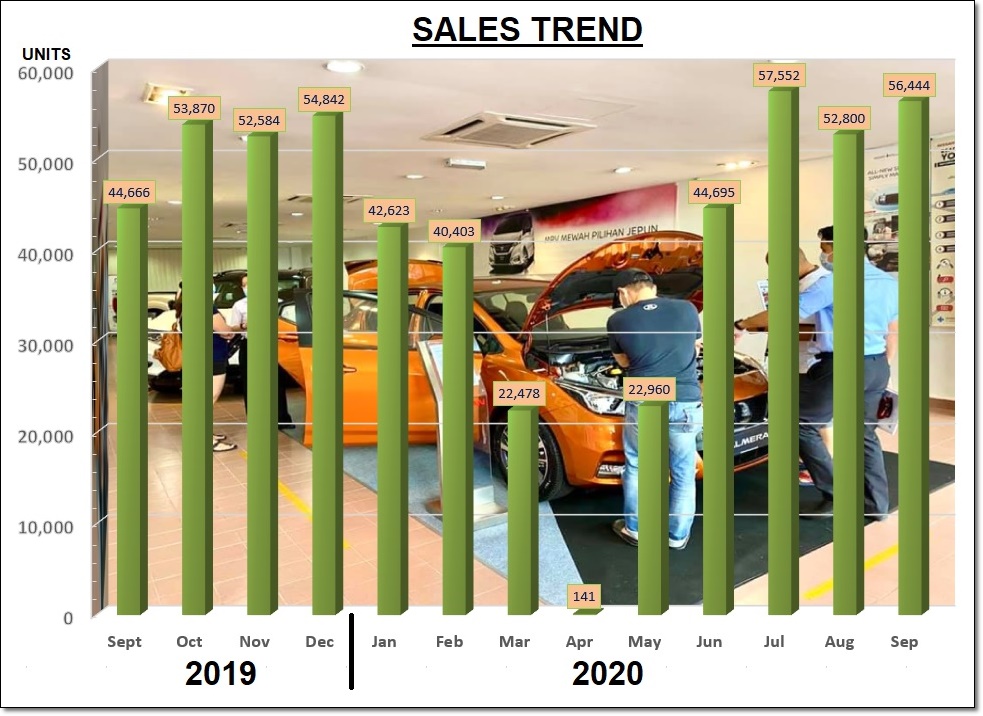 ♦ The government's Sales Tax exemption incentive continued to encourage many to buy new vehicles in September, pushing the Total Industry Volume past 56,000 units. In fact, it was 26% higher than the same month in 2019.
♦ Of the 56,444 units registered, 9.7% were commercial vehicles which includes pick-up trucks.
♦ Cumulative sales after 9 months have reached 341,489 units, To achieve the MAA's 470,000-unit forecast for 2020, the industry must sell an average of 42,837 units in the remaining 3 months. Since July, the monthly sales have been over 50,000 units so the question will be whether this level can be sustained until the end of the year?
♦ Production rose slightly as most plants assembled as many units as possible to meet the higher demand. The output rose of 51,987 units was 15% higher than the same month in 2019, but output of commercial vehicles was lower by 26%.
♦ October numbers could be lower as the burden of making monthly instalments has resumed with the cessation of the loan moratorium that was provided by the banks as a form of assistance during this pandemic period. Furthermore, the imposition of the CMCO for two weeks in the month (if not longer) in the region with the most new vehicle sales may have an effect too. However, unlike the situation in March when all car companies had to suspend all activities, businesses can presently continue operating and relevant government agencies also process new vehicle registrations.