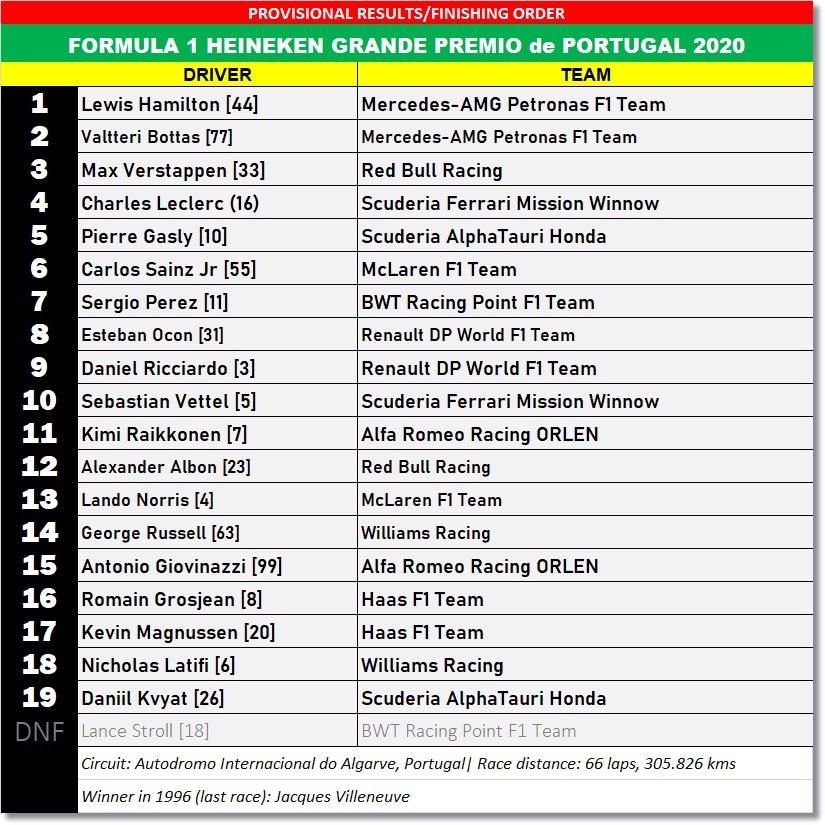 ♦ The first casualty right after the race began was Sergio Perez whose encounter at Turn 4 with Max Verstappen forced the BWT Racing Point driver to head back to the pits.
♦ When the race started, winds were strong and rain was forecast. As the cars completed half a lap of the circuit, the first drops of rain began to fall.
♦ Lewis Hamilton had gotten off to a good start but was overtaken by Valtteri Bottas who was caught by surprise by Carlos Sainz and lost his leading position to the McLaren driver. But Sainz had only a brief moment of glory and lost the lead to Bottas who was hotly pursued by Hamilton.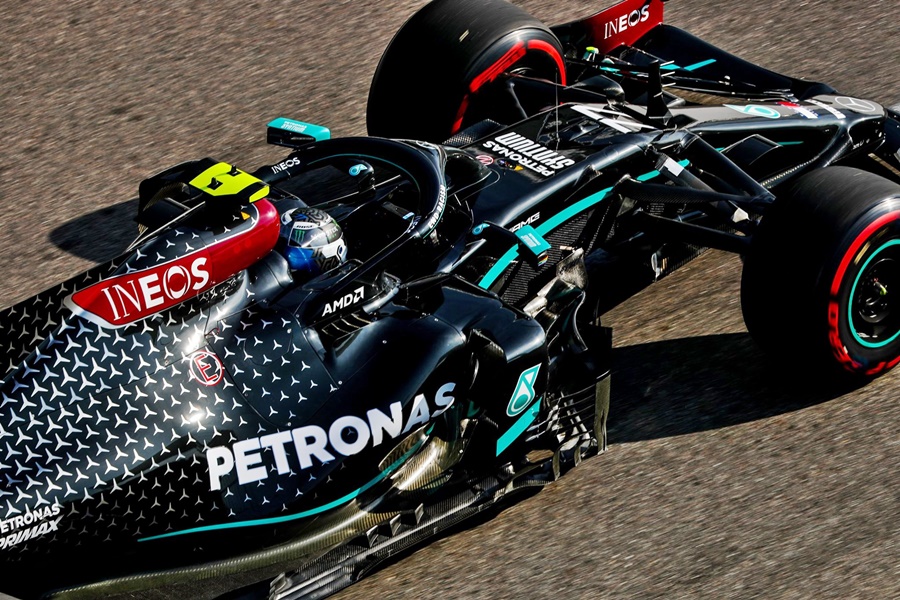 ♦ The Red Bull team wanted Max Verstappen to stay out as long as possible before bringing him in for new tyres, but by the 17th lap, it was clear that he was starting to struggle with tyre issues.
♦ A day of drama for BWT Racing Point with both cars involved in collisions. On the 19th lap, Lance Stroll turned in and collided with Lando Norris, resulting in both cars being damaged enough to have to go into the pits for new wings. The Stewards found Stroll to be at fault and gave him a 5-second penalty.
♦ In spite of complaining about tyres, Hamilton regained the lead on lap 20 and began to try to pull further away from Bottas.
♦ Before the race reached its halfway point, Stroll got another bit of bad news from his team – another time penalty of 5 seconds for driving out of track limits too often.
♦ At the halfway mark, Hamilton was in a steady lead with 8 seconds separating him from Bottas. Charles Leclerc had moved up to third but was not a threat as he was 21 second behinds Bottas. The Ferrari driver managed to slip into the pits to change tyres and lost only one place when he rejoined the race behind Verstappen.
♦ By lap 40, the Mercedes-AMG team decided that Hamilton needed to change his tyres but the British driver seemed reluctant to come in even though he was a comfortable 8 seconds in the lead.
♦ On lap 41, the Stewards decided that Romain Grosjean had been warned enough times about exceeding track limits and gave him a 5-second penalty. Bottas was also starting to get warnings as well. Alexander Albon would also get a warning later on.
♦ A slow puncture was detected on Norris' car and he began falling back on lap 43, taking care to reach the pits safely for a tyre change.
♦ With 53 laps completed, it looked like the Portuguese GP would see all cars completing the race… but then Stroll came into the pits and didn't leave again. He was already in last place anyway.
♦ With 10 laps to go, Verstappen decided not to press hard to try to catch Bottas who was about 10 second ahead. He was fairly safe in third as Leclerc was 20 seconds behind, so the sensible thing to do was to make sure he got the car to the finish.
♦ On the 58th lap, Hamilton told his team that he was experiencing cramps… a case of dehydration? But it seemed to do him good as he went on to set the fastest time!
♦ Hamilton took the chequered flag of the 66-lap race with a 25-second lead and that win was his 92nd, which means he holds the record for the most number of wins in F1 history.