Volkswagen Passenger Cars Malaysia (VPCM) and Wei-Ling Gallery successfully raised RM133,200 from the charity auction of Arteon art cars recently, with the proceeds going to the Breast Cancer Welfare Association Malaysia (BCWA).
The auction marked the culmination of the collaboration between Volkswagen and the art gallery to celebrate the launch of the all-new Arteon R-Line. Featuring the talents of 13 Malaysian artists, the collaboration provided the unique opportunity to collectors and art enthusiasts alike to own diecast scale models of the Arteon that have been transformed by the artists into unique one-of-a-kind sculptures.
"It was truly heartening to see Art and Arteon come together at the auction, and to witness how much the bidders recognised the value of owning such collectible art pieces. What more, was that their enthusiasm stemmed from their desire to contribute to charity, in this case, breast cancer awareness and support," said Erik Winter, the Managing Director of VPCM, who was delighted to see the enthusiasm displayed by bidders.
"The Arteon is more than just a car for Volkswagen. It also represented a way for the brand to engage with art fans around the world, as it has also been described many times as a true work of art. To have been able to work on this collaboration with Wei-Ling Gallery has been an honour for us, and we would like to express our sincerest appreciation to Wei-Ling Gallery and all 13 artists for this," he said.
The Arteon project was an extension of the recent '18@8 Turning Points' exhibition by Wei-Ling Gallery, curated with this idea in mind and explores the 13 artists' pasts through different philosophical, technical and aesthetic approaches, in the form of thought-provoking art pieces that reflected on this ideology.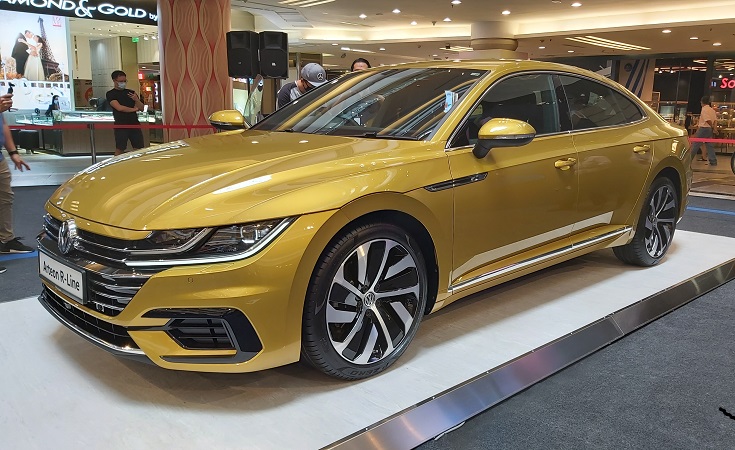 Those who want to view and experience the full-sized Arteon R-Line, priced from RM225,490 (RM220,043.28 with sales tax exemption until the 31st of December 2020), can contact any authorised Volkswagen dealership. To locate a dealership in Malaysia, visit www.volkswagen.com.my.