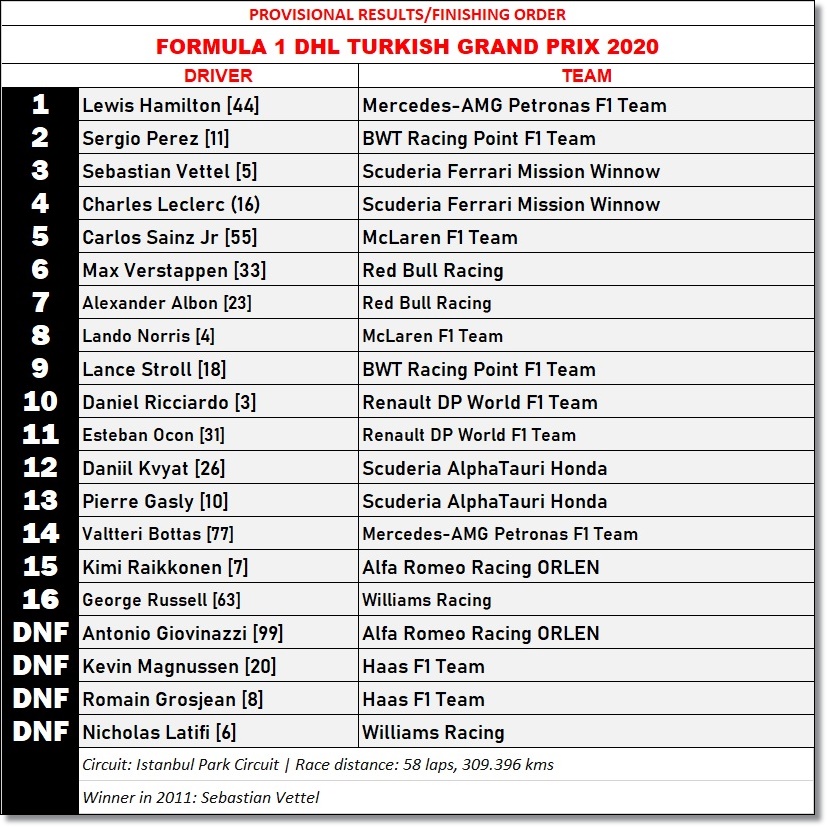 ♦ As in the days before, during practices and qualifying, rain came down and the newly resurfaced track was like ice. Even though all cars were on full wet tyres, there were still accidents on the way to the starting grid, and pit crews rushed to fix the damage as fast as they could.
♦ When the lights went green, wheels spun as expected and then, with the different levels of grip for each car, some were able to move forward while some were still or crawled – and that's when a few collisions occurred. Daniel Ricciardo got bumped slightly by Lewis Hamilton who seemed to have a good start and as a result, the Aussie's car bumped Esteban Ocon's into a spin which took in Valtteri Bottas.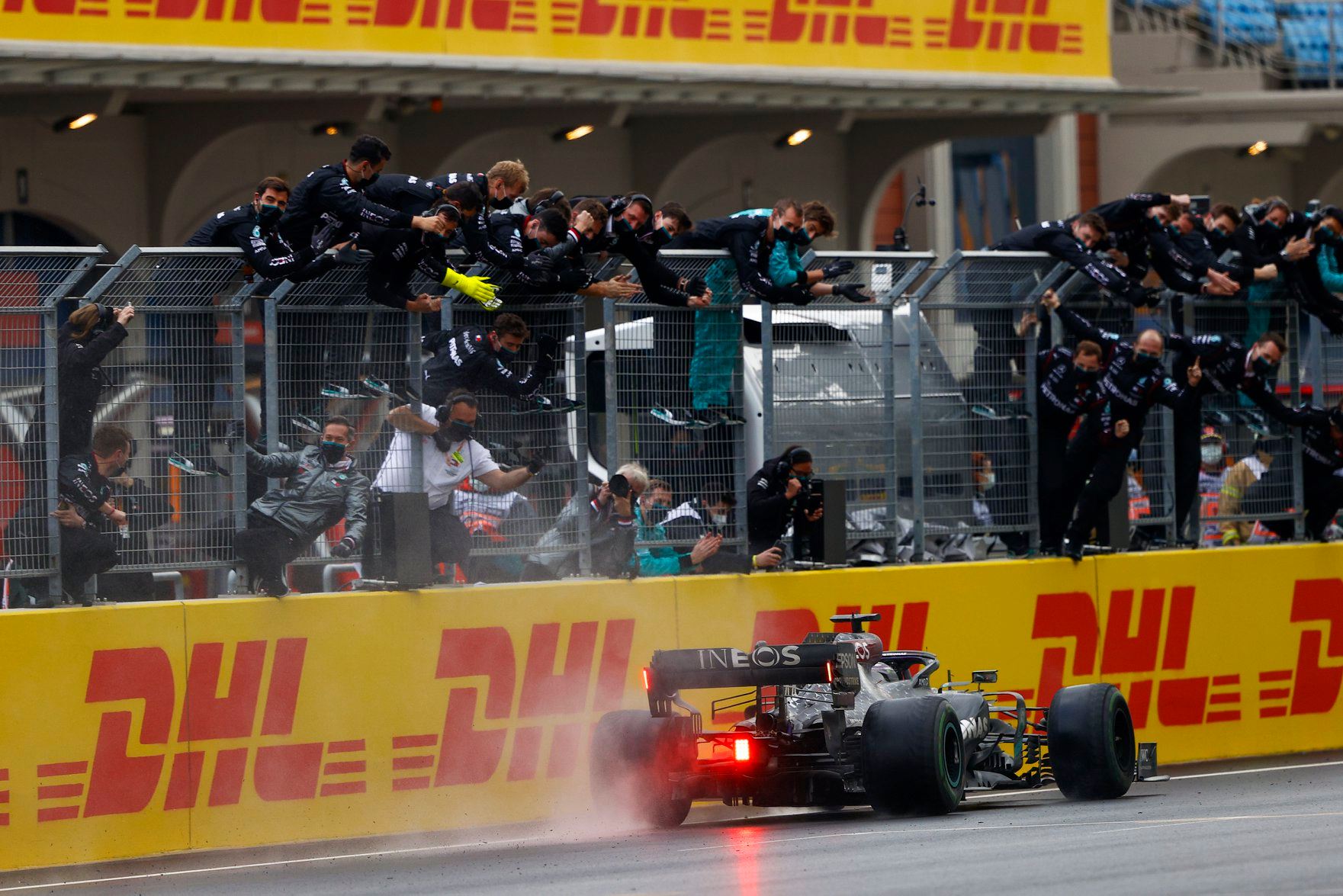 ♦ So it was a somewhat chaotic start but Lance Stroll got a good run from pole position and Hamilton moved from sixth to third for a while, although Sebastian Vettel did better with a jump from 12th to 3rd within 5 laps. However, he didn't manage to stay that high as an aggressive Max Verstappen slipped past with Alexander Albon.
♦ Albon pushed hard enough that he suddenly popped into the lead, surprising everyone and back home, his Thai fans must have been cheering as it was the first time – even for a short while – that a Thai driver was in the lead of a F1 race.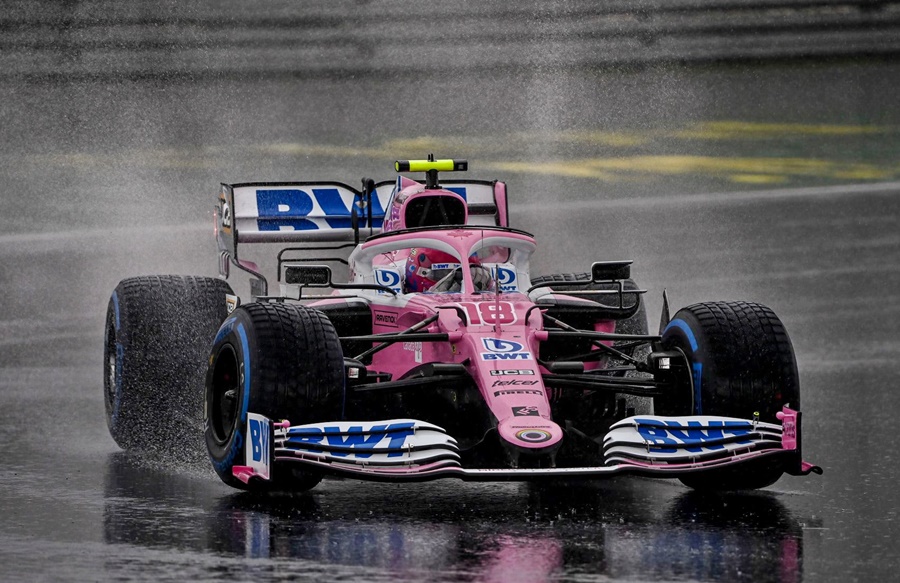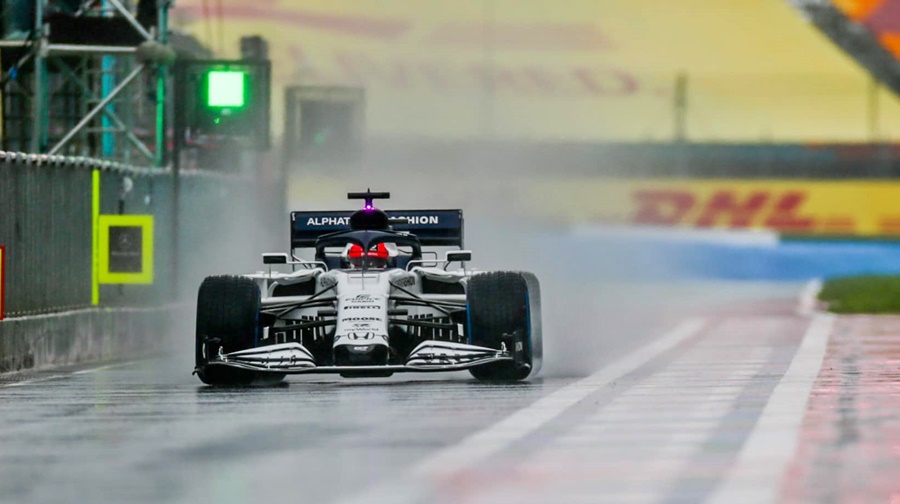 ♦ Chasing Albon and looking for a way past Perez, Verstappen lost it and spun a few times along the straight. He was lucky not to go into the barriers but dropped to 6th and had to head into the pits to change the flat-spotted tyres.
♦ Bottas was way back and trying hard to get to at least 6th place so he could still have a chance at the title. Hamilton was pushing as hard as his tyres allowed him and trying to maintain the fastest lap for that one extra point because every point counted in this unpredictable and slippery race.
♦ By the halfway mark in the race, the two BWT racing Point cars were leading, with Stroll 4 seconds ahead of Sergio Perez. The closest contender was Albon while Vettel was some 5 seconds behind the Thai driver. Track conditions were still slippery to hold back tyre changes from the intermediates being used.
♦ DRS, which was not enabled earlier, was allowed from lap 30, so things were expected to get interesting as Istanbul Park has good overtaking points.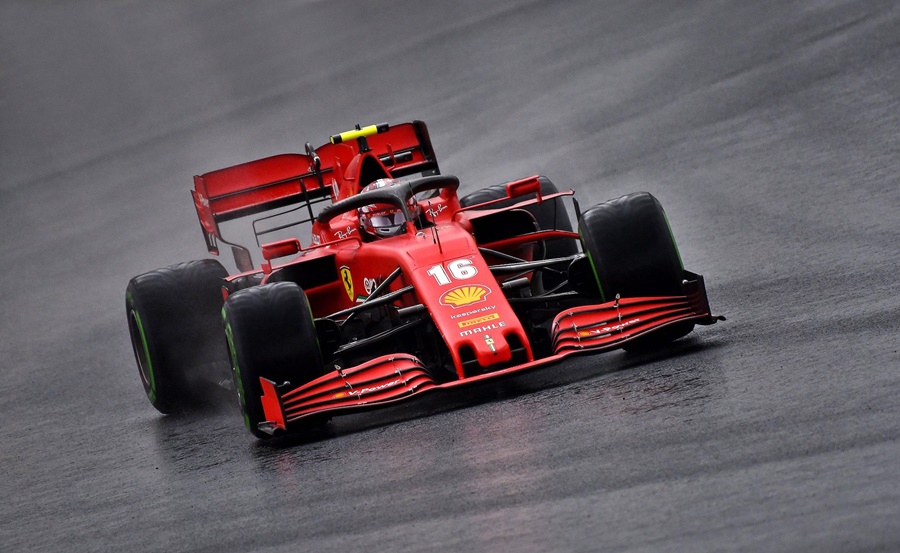 ♦ During the race, it was learnt that Verstappen was under investigation for a potential pitlane infringement (crossing the white line) but the Stewards decided to do so after the race ended.
♦ On lap 37, as Stroll entered the pits for new tyres, Hamilton shot past Perez and snatched the lead. With conditions getting less wet, Hamilton was gaining advantage and could well pull away to keep the leading position over the next 2o laps. Bottas was not having a good day, with a few spins losing him places.

♦ Perhaps too eager to fight back to the front, Stroll rejoined the race and found the new tyres not working well for him, allowing Vettel and Leclerc to get past him. His team mate, Perez, was running second but 11 seconds behind Hamilton.
♦ Despite the slick conditions, only two drivers had damaged their cars enough to have to retire – Antonio Giovinazzi and Nicholas Latifi.
♦ With 10 laps remaining, Hamilton was 20 seconds in the lead and still pulling away. A win in Istanbul would bring his fourth consecutive world championship title to make a total of 7 in all.
♦ Even with 5 laps remaining, there was still uncertainty for Hamilton's team. His tyres were already 48 laps old and rain looked like it was returning. He had a gap of 25 seconds to slip into the pits and get back out again without losing the lead.
♦ On the 56th lap – with two remaining – Hamilton was told to come in for a precautionary tyre change – and he ignored it, much to the surprise of his team which was waiting! He shot past the pit lane entrance – and took no chances to cross the finish line in one piece. A bit hard for Toto Wolff to bring up the matter of disobeying orders when Hamilton has confirmed his 2020 crown.