How often have you made a move to overtake a vehicle ahead, moved to the right lane – and got the blast of a horn from another vehicle behind? You quickly have to swerve back to your lane as the other car passes by with an angry driver glaring at you. Sometimes, you might even have looked in the mirror and not noticed any vehicle because it was in the 'blind spot' and if you are unlucky, a collision might occur.
That's why many manufacturers now install a Blind Spot monitoring system which scans the rear three-quarter zone of the car, alerting the driver if there is another vehicle. It's a valuable feature and could save expensive damage as well as injuries to others.
Ford has offered Blind Spot Information System (BLIS) technology on many models for more than a decade now. The system can alert drivers to the presence of vehicles in their blind spot using a warning light in the door mirror.

More advanced BLIS
Now, Ford is going further with a more advanced system – the new Lane-Keeping System with Blind Spot Assist. Besides monitoring the blind spot, the system can now also take pro-active action to discourage a lane-change manoeuvre if a potential collision is detected.
"Many drivers will at some point have been caught by surprise when another vehicle seemingly 'appears out of nowhere'," said Glen Goold, a programme engineer at Ford. "Lane-Keeping System with Blind Spot Assist is like having an extra pair of eyes in the back of your head, helping prevent just a second's lapse in judgement from escalating into something more serious."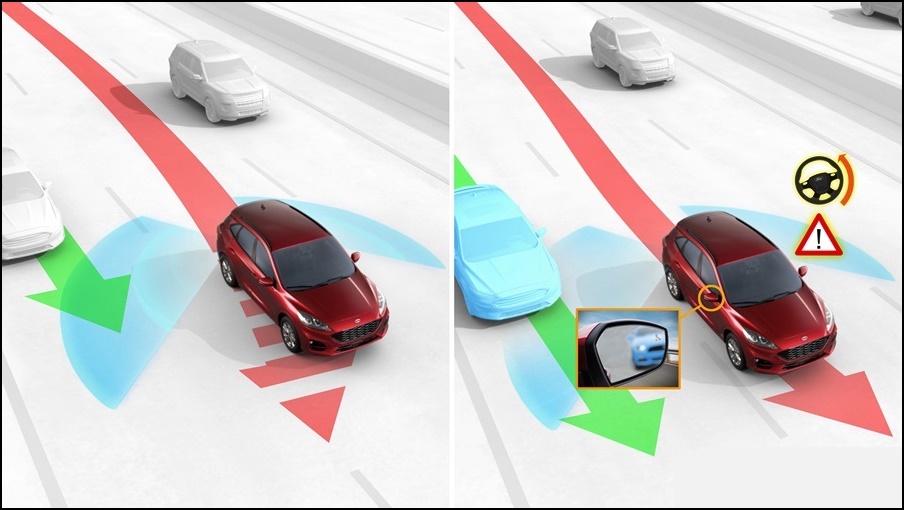 Watching your back
While the original BLIS merely warned the driver, the new system applies a gentle force to the steering wheel to discourage drivers from changing lanes into the path of another road user and even guide the vehicle away from danger.
Radar sensors scan parallel lanes for vehicles up to 28 metres behind, 20 times per second, while the vehicle is moving at speeds from 65 km/h to 200 km/h. An intervention can be automatically activated if the control system senses a lane-change by monitoring road markings using the forward-facing camera, and the technology calculates that the two vehicles are on a collision course.
The Lane-Keeping System with Blind Spot Assist can intervene to help prevent collisions with vehicles approaching with a closing speed of up to approximately 30 km/h.

Looking forward as well
Along with Lane-Keeping System with Blind Spot Assist, Ford has also developed Intersection Assist technology. This uses the vehicle's forward-facing camera, combined with radar, to monitor for potential collisions with oncoming vehicles at intersections. One study found that more than one in 10 severe accidents at junctions in Europe involved cars colliding with other cars, vans buses or trucks at cross-junctions.
The technology can automatically apply the brakes when travelling at up to 30 km/h to help prevent or mitigate the effects of accidents in scenarios where a driver is turning across the path of an oncoming vehicle, such as commonly encountered at junctions or small roundabouts.
Intersection Assist operates without the need to detect lane markings or kerbs. It can even intervene in carparks, worksites or other locations without clear markings or traffic priorities. Both technologies can operate in daylight and in darkness with headlights activated.
Ford has already introduced the two new technologies in Europe and will progressively add it to other models as time goes on. These join an already extensive range of safety technologies available in all Ford models, including pick-ups such as the Ranger.
Visit www.sdacford.com.my to know more about the safety features in Ford models available in Malaysia
Latest Ford Ranger Raptor gets added safety systems and upgrades