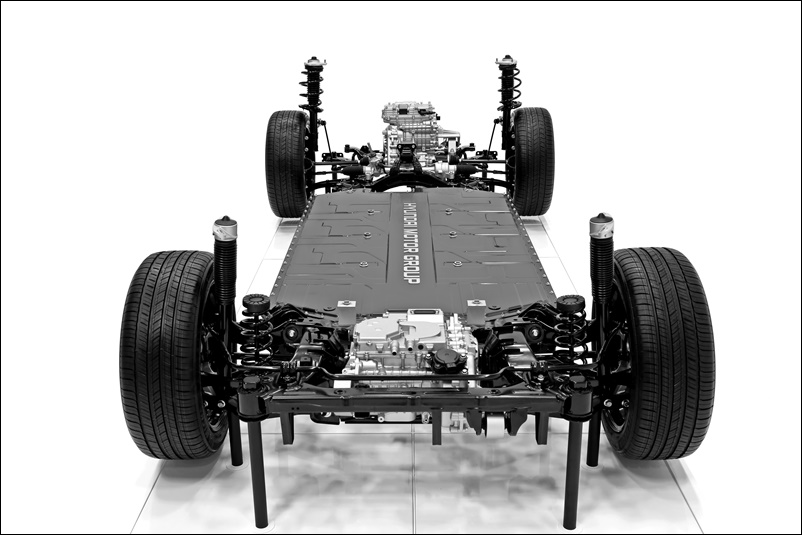 While still improving and innovating its technologies for models with internal combustion engines, the Hyundai Motor Group (HMG) is also investing substantially in battery electric vehicle (BEV) technology. Such vehicles will grow in numbers in coming years and HMG has been developing core technologies for them.
One of these is the new Electric-Global Modular Platform (E-GMP) which is specifically for BEVs. The E-GMP is ready to be used and from 2021, the E-GMP will support a range of new BEV models. These include the Hyundai IONIQ 5 and Kia's first dedicated BEV. The platform will be used for as many as 23 BEV models in HMG with the sales target of more than 1 million BEVs worldwide by 2025.
The E-GMP provides various advantages compared to the Group's existing platforms which have engineering oriented towards internal combustion engines. With a brand new approach that is dedicated to the electrified powertrain, there is increased development flexibility, stronger driving performance, increased driving range, strengthened safety features, and more interior space.
"Today our front-wheel driven Hyundai and Kia BEVs are already among the most efficient ones in their segments," declared Albert Biermann, President and Head of R&D Division for Hyundai Motor Group.   "With our rear-wheel drive E-GMP, we are extending our technological leadership into segments where customers demand excellent driving dynamics and outstanding efficiency."
Maximizing development flexibility
The E-GMP reduces complexity through modularization and standardization, allowing rapid and flexible development of products which can be used across most vehicle segments. Moreover, flexible development can satisfy various customer needs for varying levels of vehicle performance.
The new platform will also enable the company to enlarge its EV line-up over a relatively short period through modularization and standardization. This will satisfy consumer expectations of variety and choices.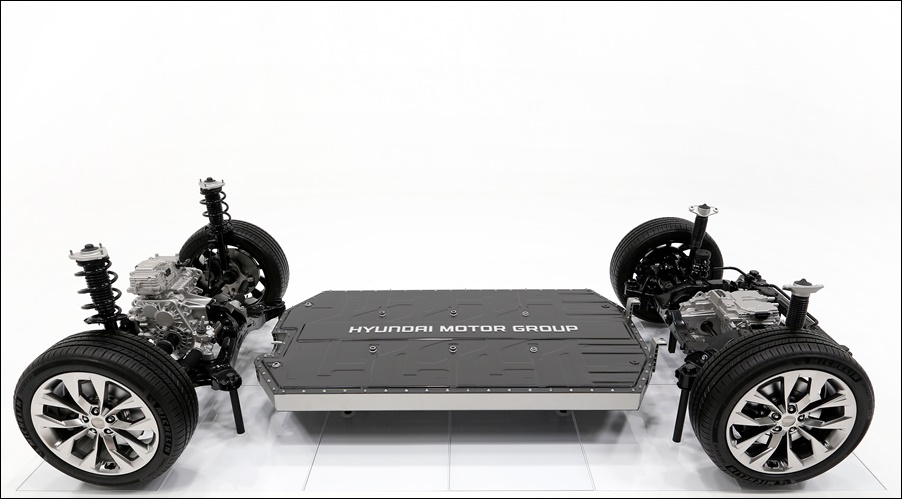 Driving performance and safety
With optimal weight distribution between front and rear, a low centre of gravity thanks to its low-mounted battery pack, and the adoption of electric motors, handling can also be enhanced. A 5-link rear suspension system, which is typically used for medium and large vehicles, and the world's first integrated drive axle enhance ride comfort and handling stability.
The platform secures battery safety through a battery support structure made of ultra-high strength steel. Hot-stamped steel components surround this structure for additional rigidity. Collision energy can be absorbed efficiently by energy-absorbent sections of the body and chassis, effective energy load paths, and a central section of the battery pack tightly bound to the vehicle body.
The battery pack itself – mounted between the front and rear wheel axles – will be the most power-dense system that HMG has ever created. It has enhanced cooling performance with a new separate cooling block structure which helps make the battery pack more compact. With energy density enhanced by around 10% compared to existing EV battery technology, the battery packs are lighter, can be mounted lower in the body, and liberate more cabin space.
From the early 1980s, the industry moved towards front-wheel drive which offered space-saving benefits. The E-GMP, however, will have rear wheel drive although there can also be all-wheel drive (with an additional electric motor).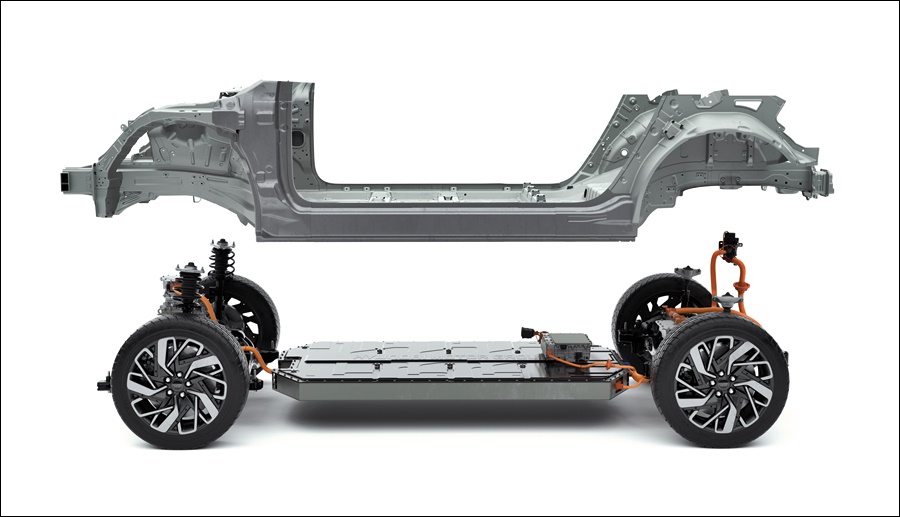 Charging System
Most existing EVs and the fast-charging infrastructure provide 50 kWh ~ 150 kWh charging for EVs equipped with a 400V system; however, the development of 800V infrastructure, with up to 350 kWh charging, will gradually enable even more fast-charging.
In line with this trend, Hyundai Motor Group has invested in IONITY, Europe's leading high-power charging network, as a strategic partner and shareholder. IONITY operates 298 high-power charging (HPC) stations – using a charging capacity of up to 350 kWh – along highways in European countries. The company plans to increase this number to 400 HPC stations by 2022, including 53 currently under construction.
The E-GMP offers 800V charging capability as standard and enables 400V charging, without the need for additional components or adapters. The multi-charging system is a world's first patented technology which operates the motor and the inverter to boost 400V to 800V for stable charging compatibility.
A BEV using the E-GMP will be capable of a maximum range of over 500 kms with a fully charged battery pack. If the pack is completely empty, it can receive a high-speed recharge up to 80% capacity in 18 minutes; up to 100 kms of driving range can be available with a recharge of just 5  minutes.
Click here for other news and articles about Hyundai.