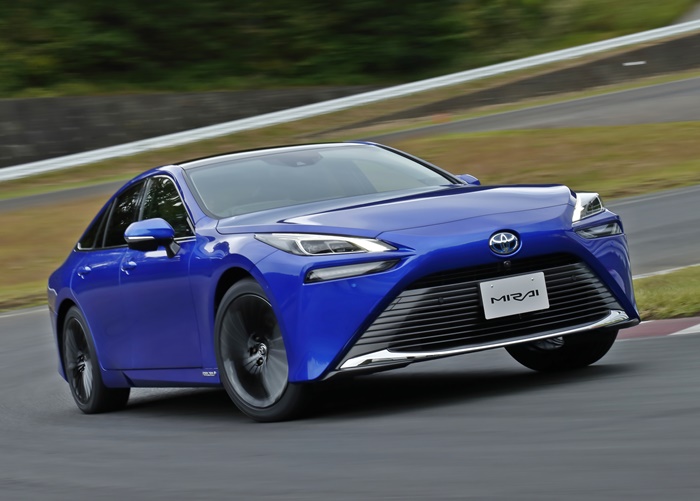 The Mirai, Toyota's electric vehicle powered by a hydrogen fuel cell (FCEV) has started its second generation with its  market launch in Japan, on schedule, today.  The company had given an early glimpse of the new model a year ago at the Tokyo Motorshow and said it would begin selling the car by the end of 2020.
After beginning serious development of FCEVs in 1992, the Mirai's predecessor was launched in 2014 and was a revolutionary model. Like the Prius hybrid, it was a global forerunner in mass production of FCEVs. However, it was sold only in a limited number of markets where hydrogen refuelling stations were available.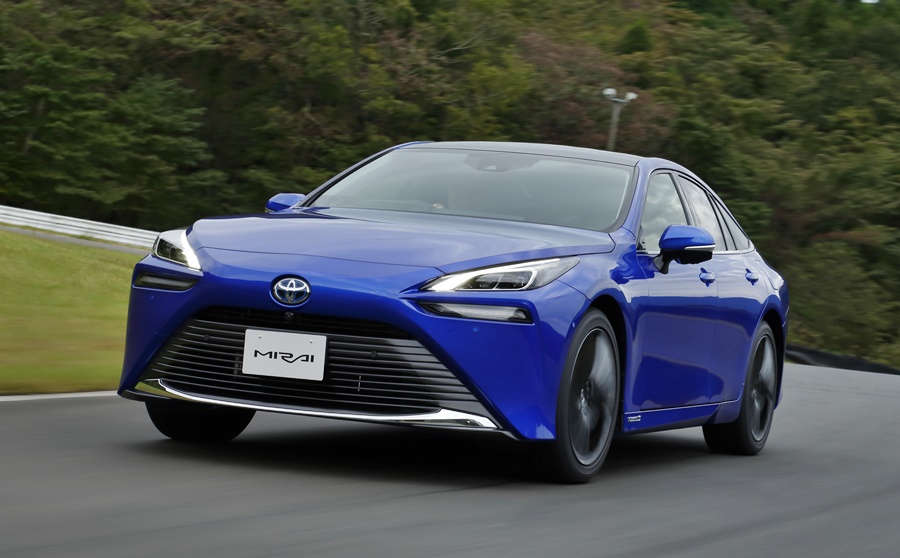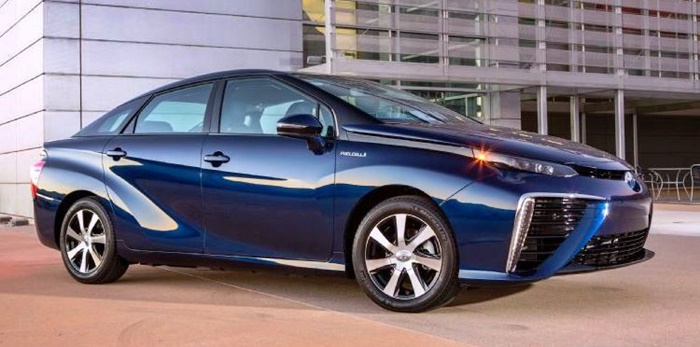 Feedback from customers indicated that more seating space was desired, so the new Mirai has space for 5 persons instead of 4. Its cruising range has also been increased by approximately 30% compared to the first generation, with up to 650 kms claimed.
Also following the way the Prius design evolved, the new Mirai's appearance is less radical and has been given a more premium image. The concept of 'silent dynamism' was incorporated into the design with the aim of creating an emotional appeal not just because it is an eco-car, but because of its styling.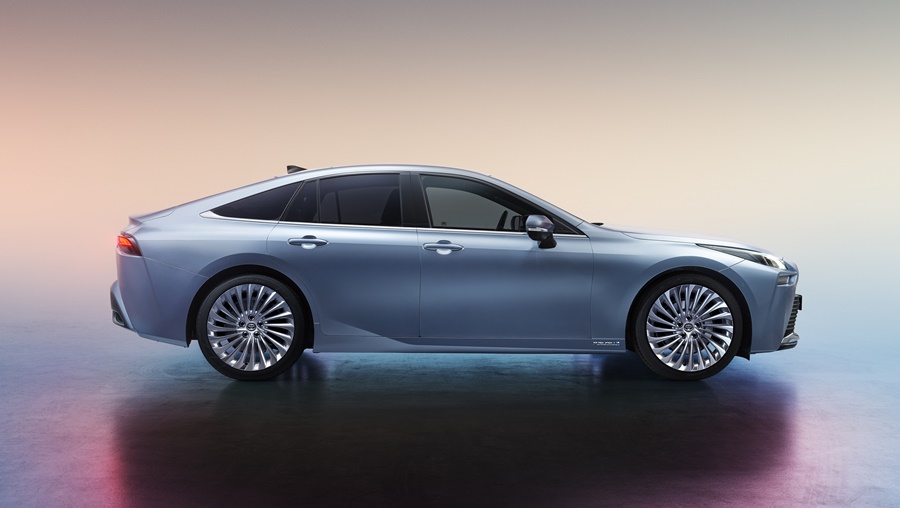 Sleeker, less radical styling
The new Mirai has sleeker proportions with overall height by 65 mm and 140 mm added to the wheelbase to extend it to 2920 mm. With the rear overhang extended by 85 mm, overall vehicle length is now 4975 mm.
"We have pursued the goal of making a car that customers will feel they want to drive all time, a car that has an emotional and attractive design and the kind of dynamic and responsive performance that can bring a smile to the driver's face," said Yoshikazu Tanaka, the new Mirai's Chief Engineer who also headed the team for the development of the first generation.
"I want customers to say 'I chose the Mirai not just because it's an FCEV, but because I simply wanted this car; it just happens to be an FCEV.' We will continue our development work focusing on that feeling, and we hope that with the new Mirai, we will be a leader in helping realise a hydrogen energy society," he added.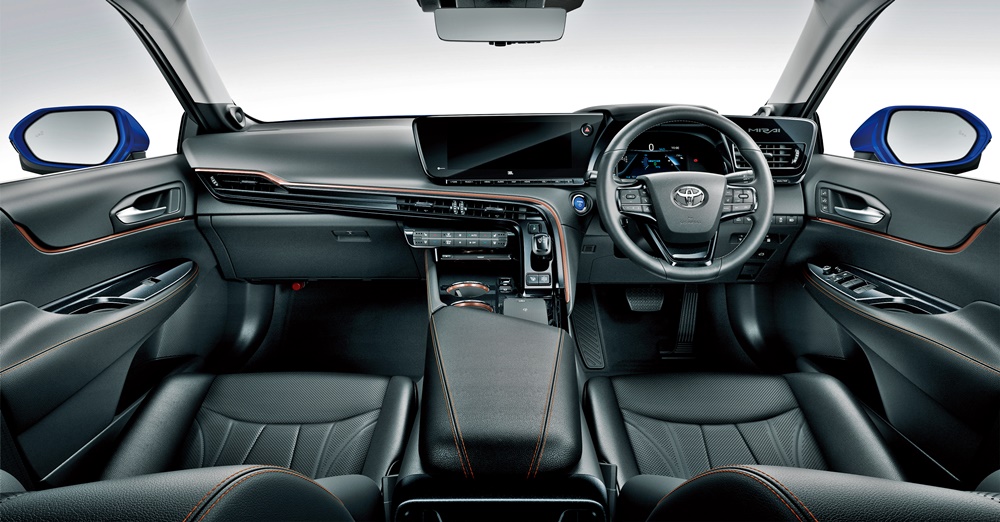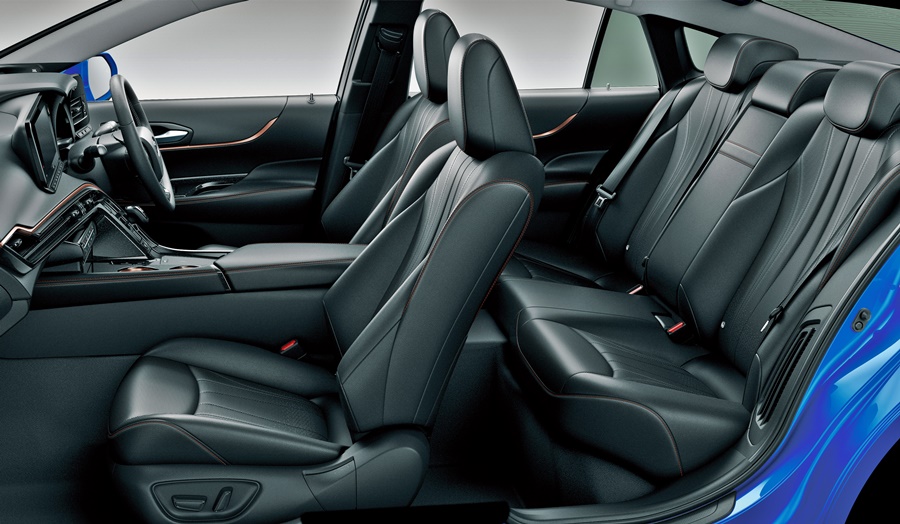 Simple, modern cabin
The interior has been conceived as a simple, modern space with a warm, comfortable. Key elements include a 12.3-inch centre display and an instrument panel that wraps around the driver. As the Mirai runs only with an electric motor, there is no engine vibration or noise and with the enhanced body rigidity and additional soundproofing measures, the low level of quietness is significant.
A Toyota innovation is the catalyst-type filter is incorporated in the air intake. As air is drawn into the car to supply the fuel cell, an electric charge on the non-woven fabric filter element captures microscopic particles of pollutants, including sulphur dioxide, nitrous oxides and PM 2.5 particulates. The system is effective in removing 90 to 100% of particles between 0 and 2.5 microns in diameter from the air as it passes into the fuel cell system.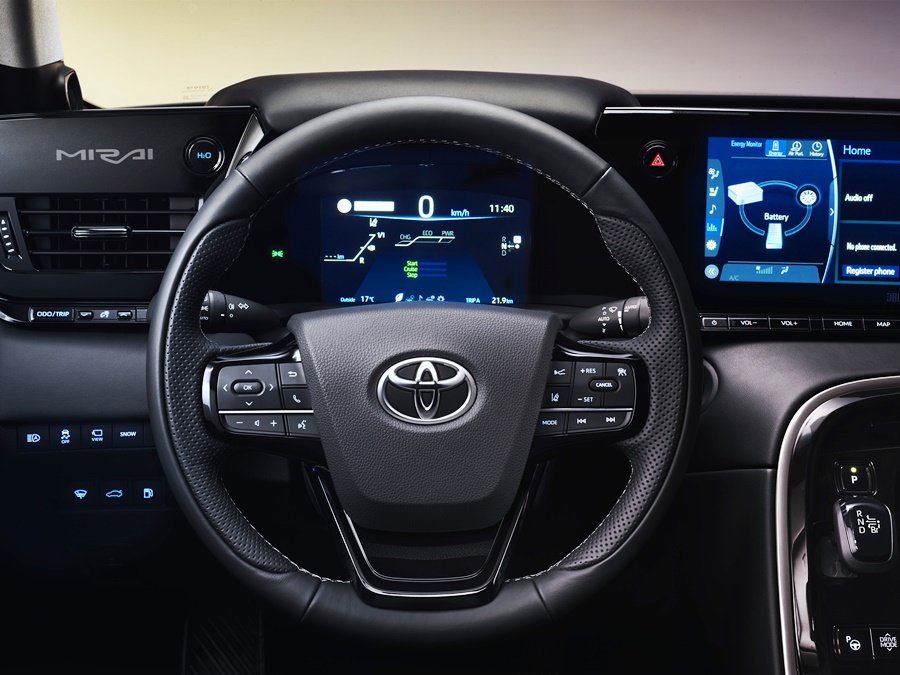 The Mirai sits on the TNGA-based GA-L platform which is intended for high-end rear-wheel-drive vehicles. The structures of various parts including the rear have been redesigned to create greatly enhanced body rigidity. This has a positive effect on ride and handling, enhancing driving dynamics and comfort.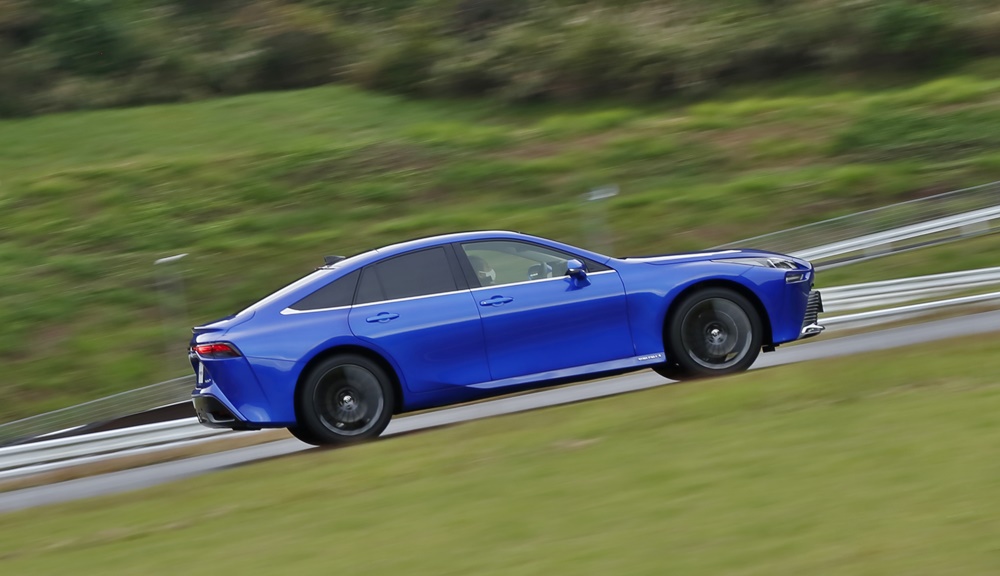 The more rigid body also contributes to better occupant protection and with advanced driver assistance systems, the Mirai offers higher standards of motoring safety than before with the latest Toyota Safety Sense suite.
The driver assist functions are based on the Mobility Teammate Concept, a unique Toyota concept for automated driving whereby the car and driver act as partners to enhance each other's capabilities and drive together. AI technology is used with on deep learning capability to forecast various situations that may be encountered while driving and provide support for driver responses.
Increased used of hydrogen for mobility
Since launching the first generation 6 years ago, hydrogen use for mobility has progressed widely to include trucks and buses. Toyota has continued to improve and advance its fuel cell (FC) systems in areas such as size, efficiency, and productivity.
There are three tanks which together increase the fuel capacity by around 1 kg (compared to the first generation), increasing hydrogen capacity by approximately 20% which, in turn, extends range. One of the tanks is now installed inside the floor tunnel space, which also helps in weight distribution for better stability and handling.
Though the Mirai is also powered by electricity, the hydrogen it uses can be pumped in much faster than the fastest recharging time for an electric vehicle which can be up to 25 minutes. The FCEV is said to be able to fully refuel in about 3 minutes from high-pressure pumps, certainly something that will appeal to potential buyers.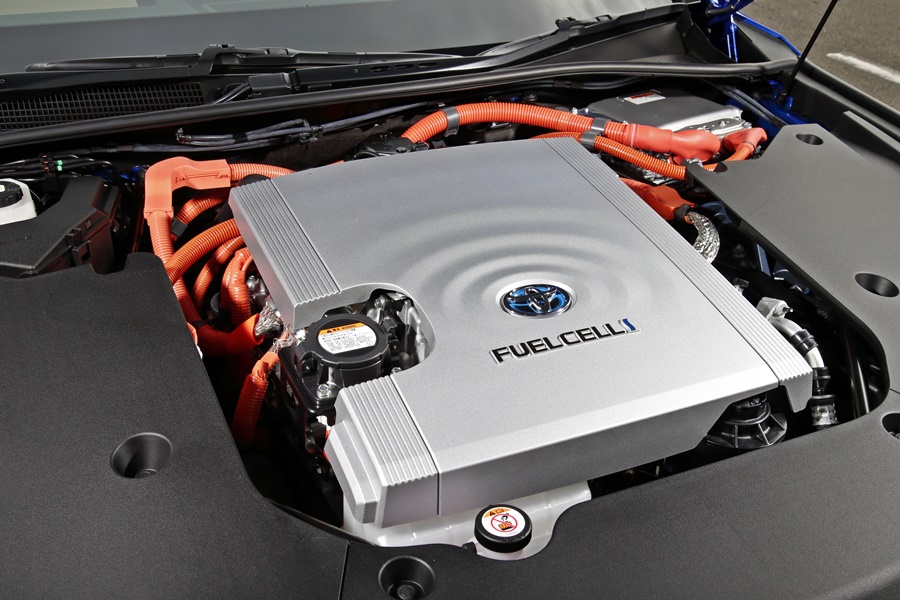 Compact and more powerful FC system
The compact, high-output FC stack is located in what is traditionally the 'engine compartment' but the motor and battery are at the rear. Toyota's new FC stack and fuel cell power converter (FCPC) have been developed specifically for use with the GA-L platform. The designers have been able to bring all the elements together in the stack frame with each part made smaller and lighter, while at the same time improving performance.
The FC stack uses a solid polymer, as in the current Mirai, but has been made smaller and has fewer cells (330 instead of 370). Nonetheless, it sets a new record for specific power density at 5.4 kW/litre as maximum power has risen from 114 kW to 128 kW. Cold weather performance is also said to have been improved with start-up now possible at temperatures from as low as -30˚.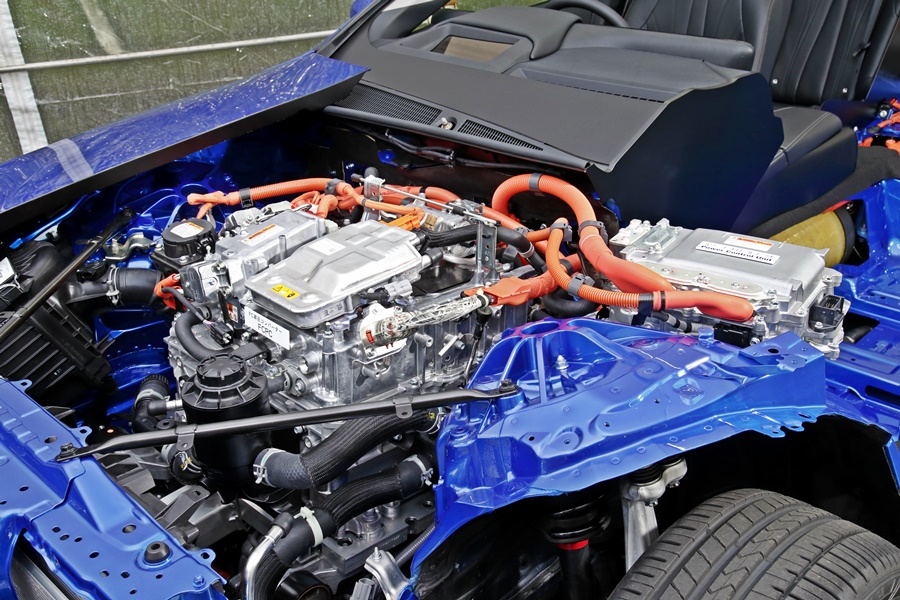 The car is equipped with lithium-ion high-voltage battery in place of the previous nickel-metal hydride unit. Although smaller in size, it is more energy-dense, giving higher output and superior environmental performance. Containing 84 cells, it has a 310.8 rated voltage compared to 244.8, and a 4.0 Ah capacity, versus 6.5 Ah. Overall weight has been reduced from 46.9 to 44.6 kgs.
Aiming for higher sales volumes
The introduction of the new Mirai will see Toyota target deeper market penetration with a 10-fold expansion in sales volume. To achieve this, the carmaker has adjusted the price downwards by around 20%. In Japan, where two grades are offered, prices start from 7,100,000 yen (about RM277,200) while the pricing in Europe is expected to start from 64,000 euros (about RM316,000) which is less than what Tesla charges for its similarly-sized EV.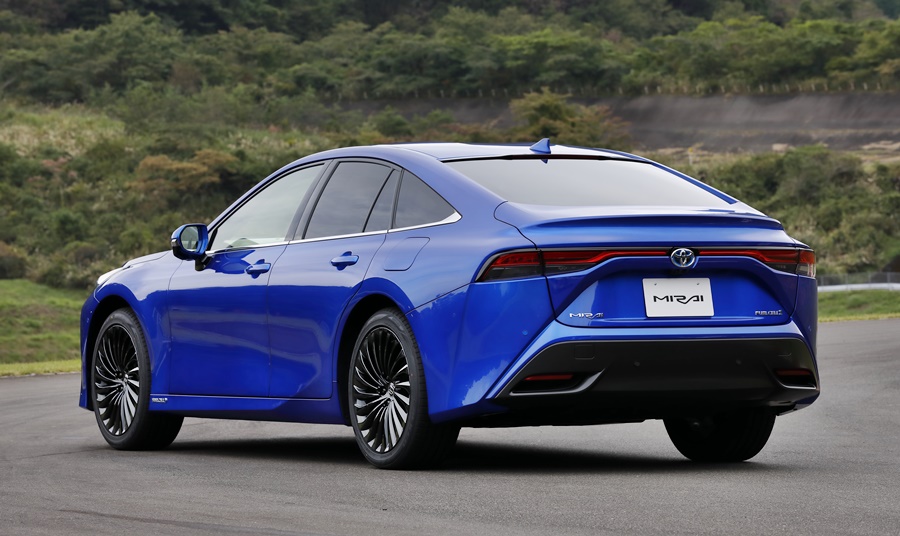 Of course, actual prices customers pay will depend on incentives and rebates that governments in different countries offer. As with hybrids, the acceptance of FCEVs will depend on how much they are sold for and right now, with the advanced technologies being new, they are expensive. Therefore, governments have to help to make them affordable while the carmakers boost volumes so that economies of scale can kick in to lower costs. This has already happened with hybrids and next would be EVs, before FCEVs.
There is also the matter of refuelling stations which is an even greater challenge because it involves hydrogen supply. Even with plug-in hybrids (PHEVs) and full EVs, the issue of recharging stations has been one that consumers think about. This is being addressed by rapid expansion of the recharging station network in some countries, as well as the improvements in technology to provide longer range.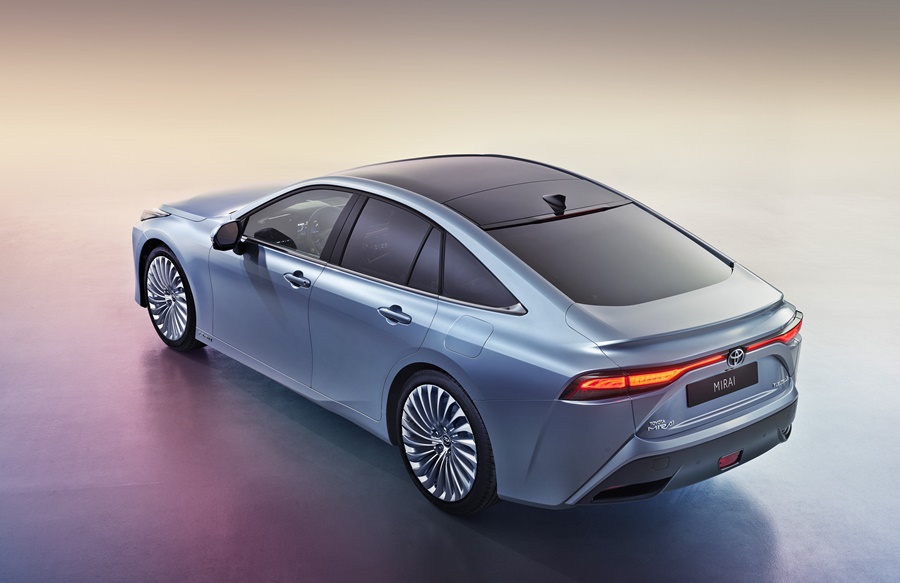 Don't expect it in Malaysia anytime soon
Vehicles with petrol and diesel engines will be phased out eventually and in fact, they will be banned in some countries, including Japan, by the end of the decade. It's uncertain how the situation will be in Malaysia given the instability of policies and the way they are executed. The aspiration to become the 'EV hub of ASEAN' is pretty much a dream, especially the governments of Thailand and Indonesia are already pushing ahead with clearly-defined programs to increase EV usage, which attracts some of the carmakers to make further investments as well.
Click here for other news and articles about Toyota.