At the request of a long-term client, Singer Vehicle Design has looked to a golden era of Porsche rallying in the 1980s, and to automotive heroes including the 911 SC/RS and the legendary 959, to reimagine his air-cooled 911s as World Rally Championship-inspired, all-terrain competition machines.
Singer doesn't manufacture or sell cars and its main business is to restore and reimagine 1989 to 1994 Porsche 911s, based on the 964 chassis for its clients. Its latest services will enable clients to go off-road racing, with a Porsche 911 modified by Singer for all-terrain use.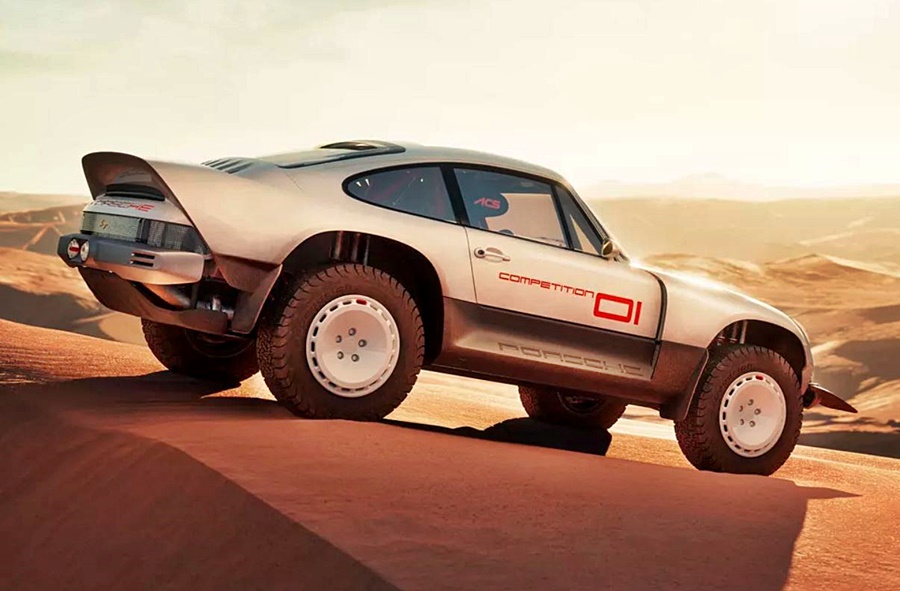 Two machines commissioned
The All-terrain Competition Study (ACS) undertaken by Singer, in partnership with renowned 911 rally specialist Richard Tuthill, in response to the request from their client for modifications to his air-cooled 911 that would enable the car to compete in off-road racing and to demonstrate extensive all-terrain exploration capabilities.
To highlight the broad repertoire of the ACS, the client has commissioned two machines, one – in Singer's iconic Parallax White – focused on high-speed desert rallying and a second – in Corsica Red – configured for high-speed, high-grip tarmac events and disciplines.
Porsche 911s prepared by UK-based off-road competition specialist Richard Tuthill have dominated rally events for decades, a recent victory being in the 2019 East African Safari Classic. It was a remarkable 4th win in the gruelling 5000-km event across Kenya and Tanzania. These successes sit alongside deep expertise from the world of WRC competition and events such as the Paris-Dakar.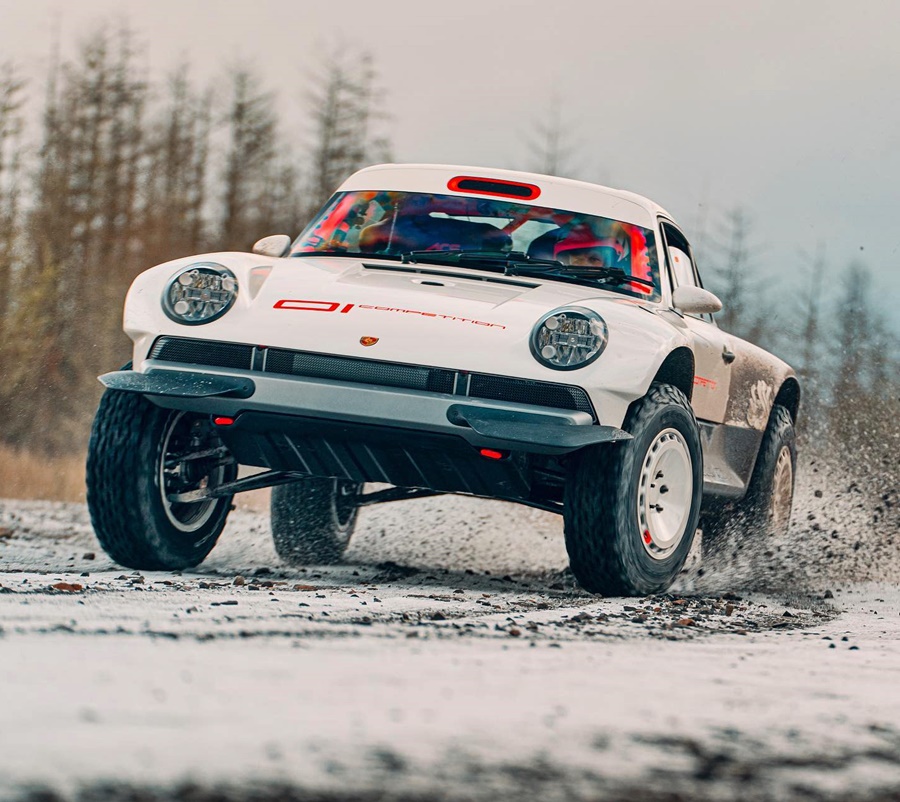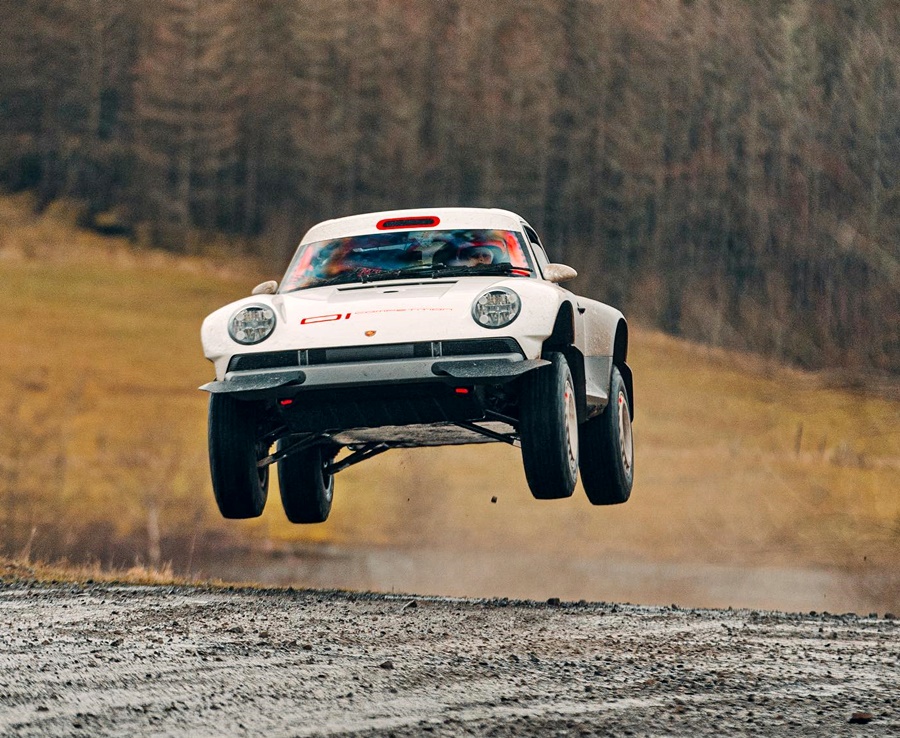 Reimagining the iconic Porsches
"We've taken particular inspiration from the iconic Rothmans-sponsored 911 SC/RSs and 959s that conquered events like the Qatar International Rally and Paris-Dakar in the mid-1980s and, at the request of our client, have reimagined these all-terrain 911's in their honour while utilizing fresh perspectives and state of the art know-how," said Rob Dickinson, Founder & Executive Chairman of  Singer Group Inc.
In developing the Porsche 911 Reimagined by Singer ACS, Singer engineers gave it off-road competition capability for events such as the Baja 1000 and Dakar Rally. This called for dramatically increased ride height, suspension travel and overall strength to cope with all kinds of terrain.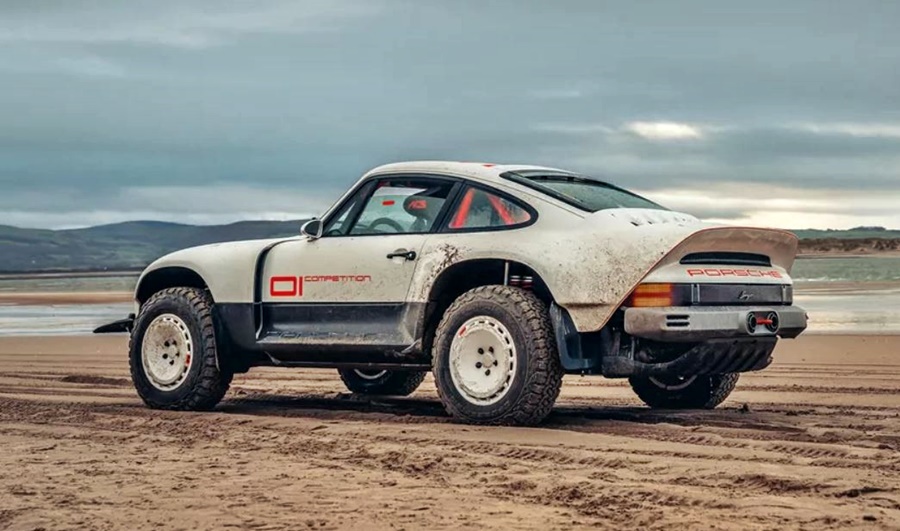 Engineered for the roughest terrain
The specialised long-travel suspension has twin, 5-way adjustable dampers per corner (8 dampers total). Forged aluminium 8×16-inch wheels with BF Goodrich All-Terrain tyres are fitted and behind them are 4-piston, monobloc steel disc brakes with a hydraulic handbrake.
The strength designed into the car's structure and components is a response to the forces  encountered during high-speed, off-road endurance events and pathfinding.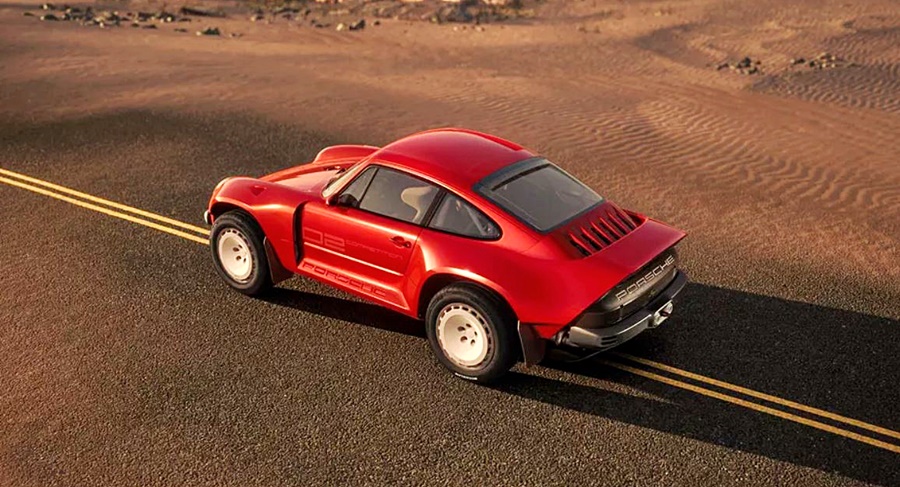 The bodywork has carbonfibre panels not only for their lightness (which offsets the extra weight of the roll-cage) but also quick replacement and easy underbody access. Carbonfibre also allows for curvatures to be formed easily. There is also effective breathing and cooling for the powertrain.
Cabin for off-road racing
Inside, the ACS reflects the demands of off-road racing. FIA specification seats and harnesses sit within a full roll cage. The car is equipped with a race GPS navigation system while both driver and navigator have access to in-seat rehydration systems.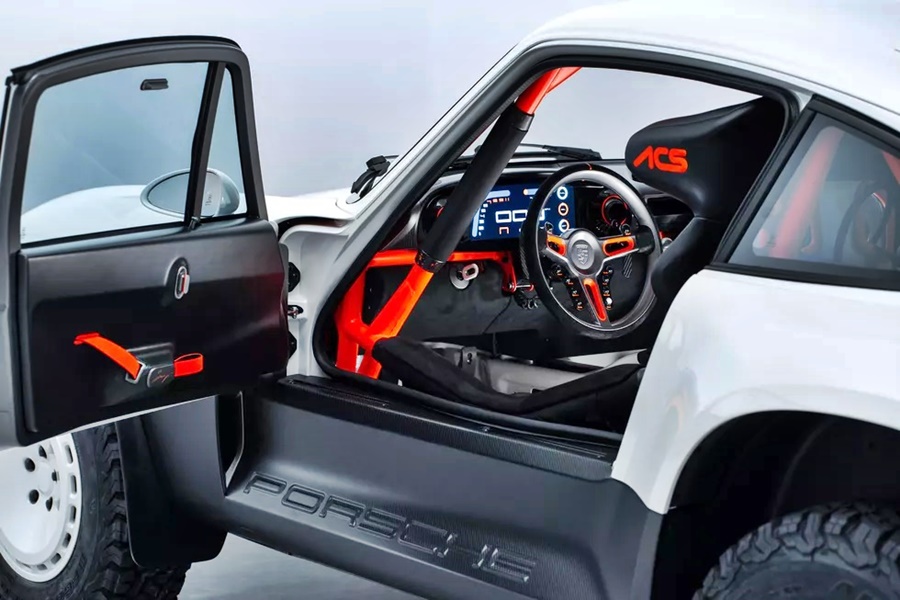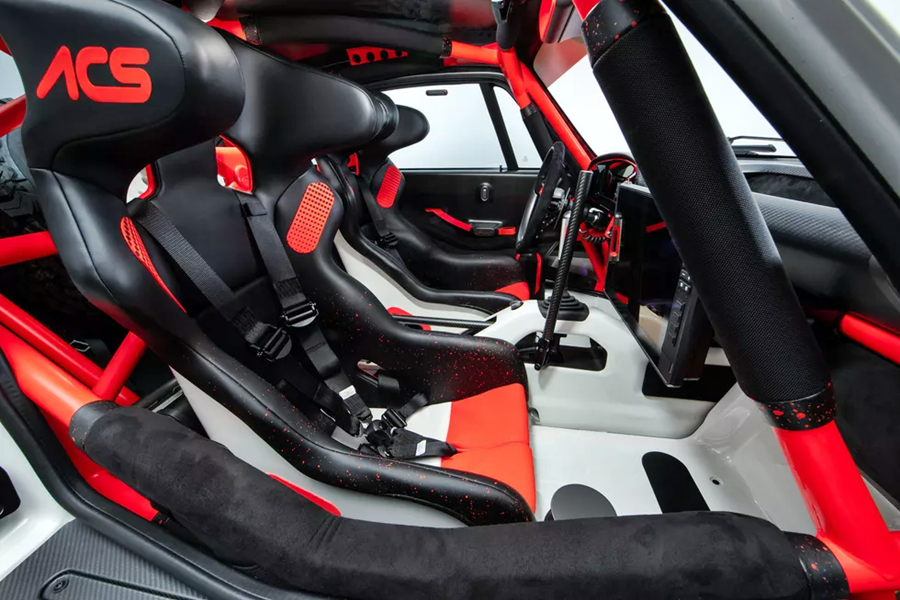 3.6-litre twin turbo engine
As with all Singer's restoration services for owners of the  911, the car takes the Type 964 generation of air-cooled cars as its starting point. At the heart of the machine is an evolution of the 'Mezger' air-cooled flat-six in 3.6-litre, with twin symmetrical turbochargers and fly-by-wire individual throttle bodies.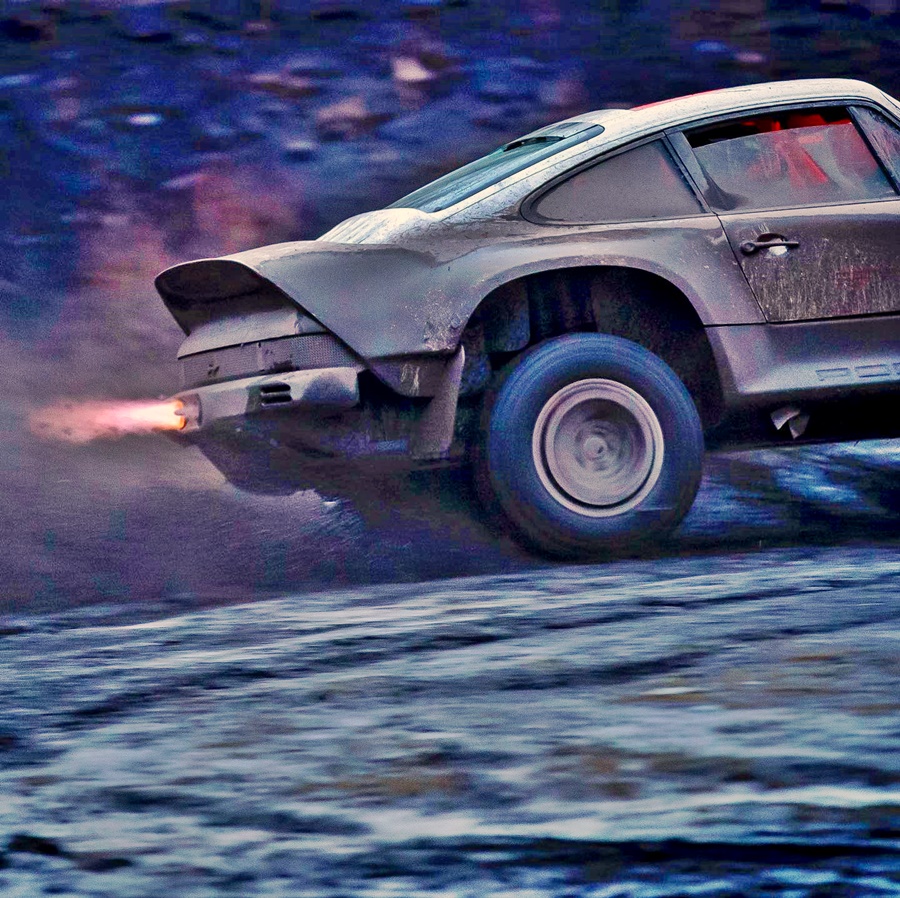 There is a sequential racing transmission with front, centre and rear limited-slip differentials and permanent AWD. The performance characteristics of the engine can be tuned depending on the demands of competition and the owner.
"We feel confident this machine can appeal to off-roading enthusiasm of all kinds, whether it be in the pursuit of professional competition at the highest level or adventure and exploration. ACS advances Singer's capabilities in forced-induction, all-wheel drive, off-road ability and dynamic response – all of which will support our ongoing mission. This pursuit of focused competition studies is something you will see more of from us in the future," said Dickinson.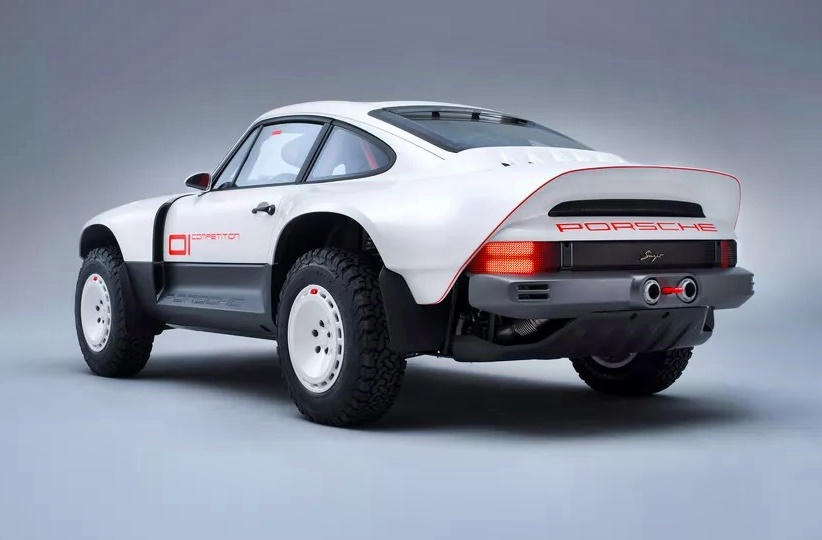 Prototypes and studies Porsche has never before shown to the public