Honda Malaysia continues to provide assistance to local communities, particularly those affected by the COVID-19 pandemic and flood disaster. Its latest initiatives are Flood Safety Kits for the recent flood victims in Pahang, facemasks for schoolchildren, and laptops for underprivileged students. The distribution of the items by Honda Malaysia were conducted in compliance with all health and safety Standard Operating Procedures (SOPs).
The laptops, in particular, are greatly needed in view of the increase in online learning sessions due to the Movement Control Order affecting school activities. To address this urgent need, Honda Malaysia arranged for laptops to be delivered to four secondary schools in Melaka. The laptops were given to students who come from low-income families who lack devices for Home-Based Teaching and Learning classes.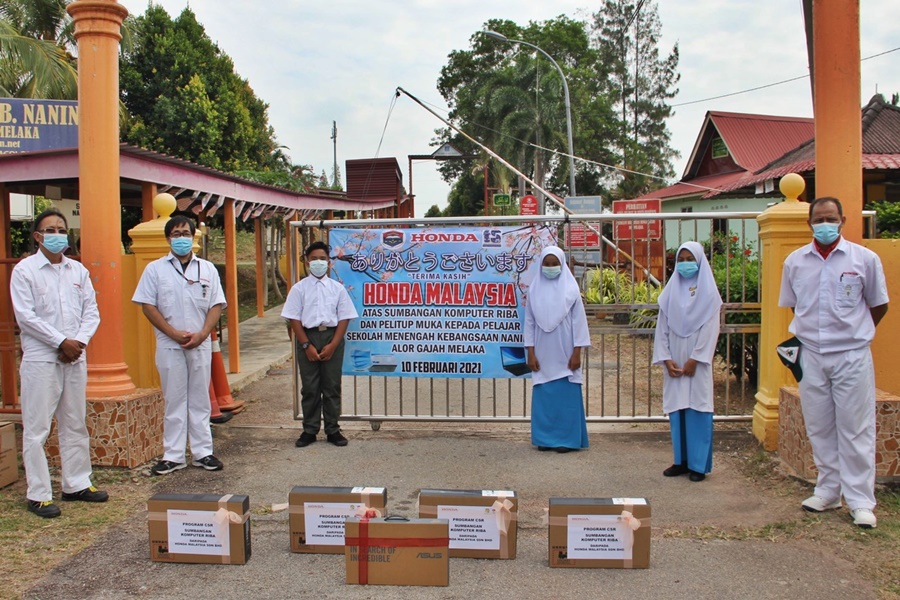 In addition to the laptops, the company provided 500 boxes of facemasks to 10 primary schools and 10 secondary schools in Melaka. Each school was allocated with 1,000 pieces of facemasks for the students to remain protected and adhere to the SOPs.
East Malaysia was not forgotten as Honda Malaysia sent essential items such as 1,000 pieces of face shields to frontliners at the Hospital Queen Elizabeth in Kota Kinabalu, Sabah.
"The on-going battle with COVID-19 has been a great challenge for students to keep up with their studies, especially those from low-income backgrounds. With the New Normal, students have no choice but to opt for online schooling. Devices such as computers become a necessity for students to cope with distance learning and this has affected students who have limited access to technology devices. We hope through our contribution the students will have a better study environment and be more motivated to continue their education," said Honda Malaysia's Managing Director and CEO, Toichi Ishiyama.
"Honda strives to be a company that society wants to exist," he added. "Thus, Honda wants to be with the community always, during good and bad times, coming 'Together As One' with Malaysians."

Safe practices implemented at all authorised Honda dealerships for customers' peace of mind