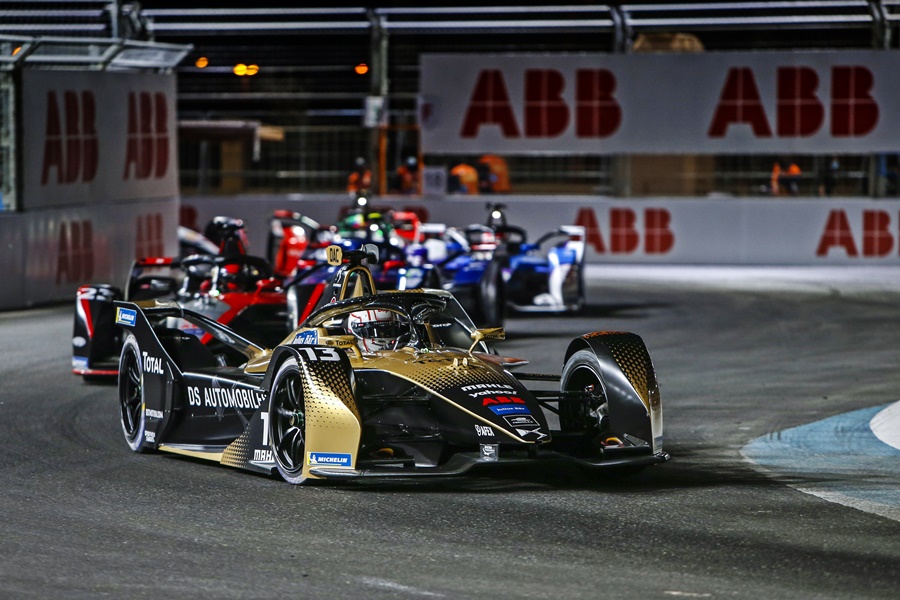 Formula E's new season – the seventh in the all-electric series – began on Friday with two night races at Diriyah on the outskirts of Riyadh, Saudi Arabia. The new season sees updates to the regulations and three rookies – Jake Dennis (BMW i Andretti Motorsport), Nick Cassidy (Envision Virgin Racing) and Norman Nato (ROKiT Venturi Racing).
To support the teams during the global pandemic, Formula E and the FIA decided to extend the next homologation period, with manufacturers only able to alter powertrain components once over the next two seasons. Teams can either introduce a new car in Season 7, for a 2-year cycle, or continue to use existing technology before homologating a new car the year after for a single season.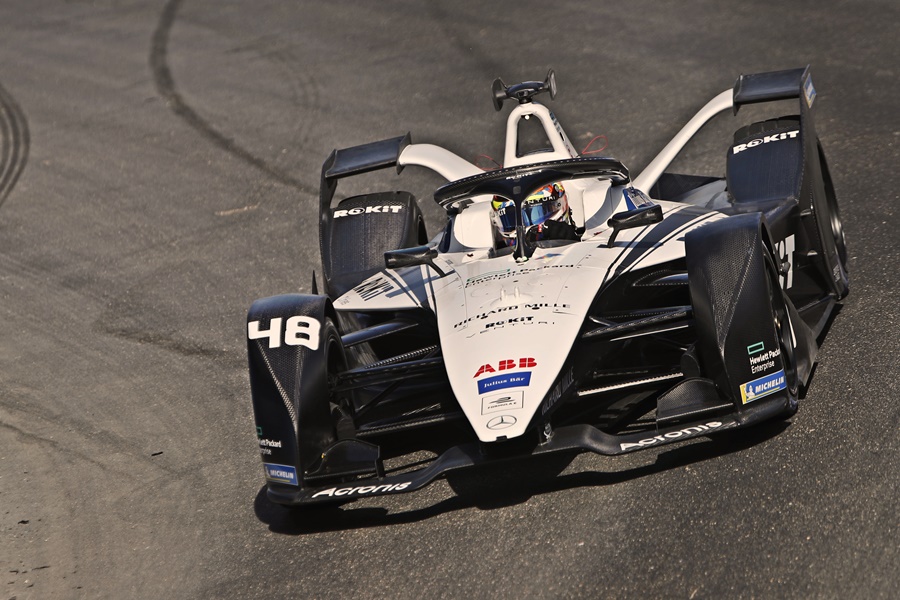 Audi Sport ABT Schaeffler and Envision Virgin Racing, BMW i Andretti Motorsport, Jaguar Racing, Mahindra Racing, Mercedes-EQ, alongside customers ROKiT Venturi Racing, NIO 333 and TAG Heuer Porsche all opted for new machines for the season ahead. DRAGON/PENSKE AUTOSPORT, DS TECHEETAH and Nissan e.dams have chosen to delay their homologation and will be using their Season 6 package for at least the opening rounds.
Also new for this season, the tyre allocation will be reduced by 25% per single-race competition and by up to 50% at double-header events. Based on the Season 5 calendar and comparing to the previous allocation, this could potentially see a saving of 720 tyres with less emissions produced, which is a 29% reduction in the overall impact of the tyres.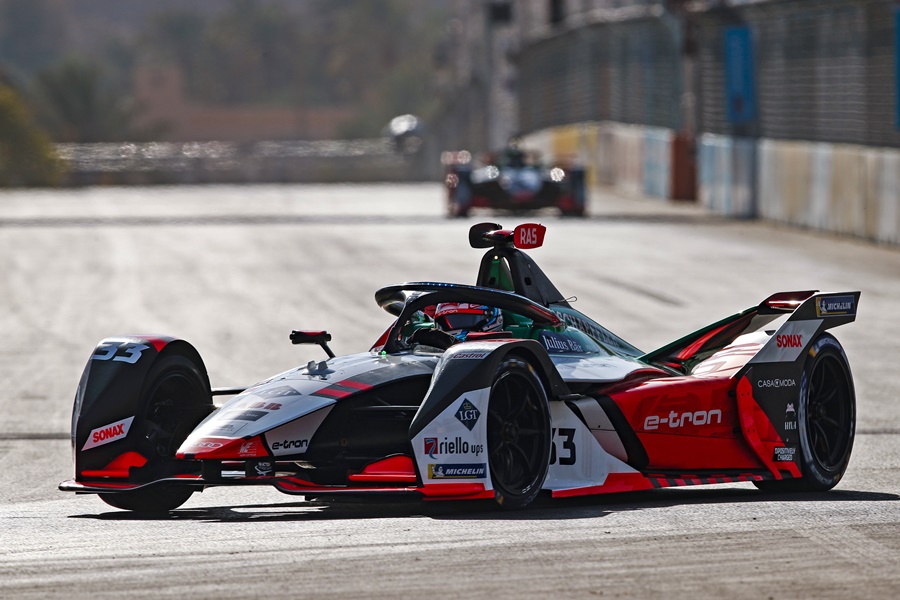 Becoming only the second single-seater championship to gain FIA World Championship status is a true honour for the sport and carries enormous significance for the teams, manufacturers and drivers battling it out to be crowned the first official Formula E World Champions.
The Riyadh Street Circuit once again provided the spectacular backdrop to the opening events of the season as Formula E ran its first night races. The fast and flowing 2.49-km clockwise circuit flanks the At-Turaif UNESCO World Heritage Site and is largely the same as it was in the previous season. Track surface work has led to the reprofiling of some turns for slightly adapted racing lines that promote closer racing.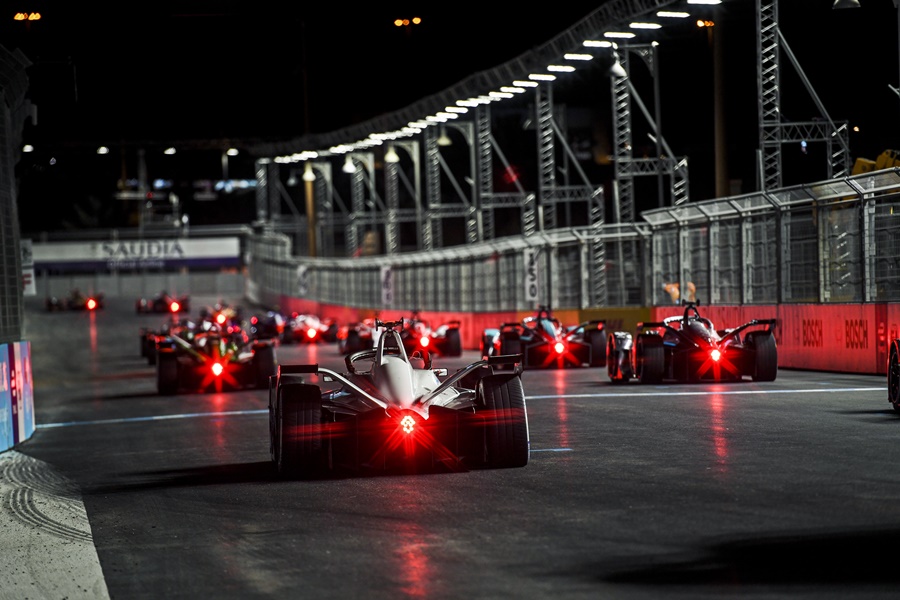 Sam Bird (Jaguar Racing) got the better of Robin Frijns (Envision Virgin Racing) – his former teammate – as the two engaged in a race-long back and forth under the floodlights. A red flag 5 minutes from the scheduled end of the race brought things to a premature end, confirming the Brit's victory with Frijns following in second.
DS TECHEETAH's Antonio Felix da Costa came home a net third after teammate Jean-Eric Vergne received a 24-second post-race penalty for failing to use his second ATTACK MODE activation, which saw the Frenchman demoted to 12th.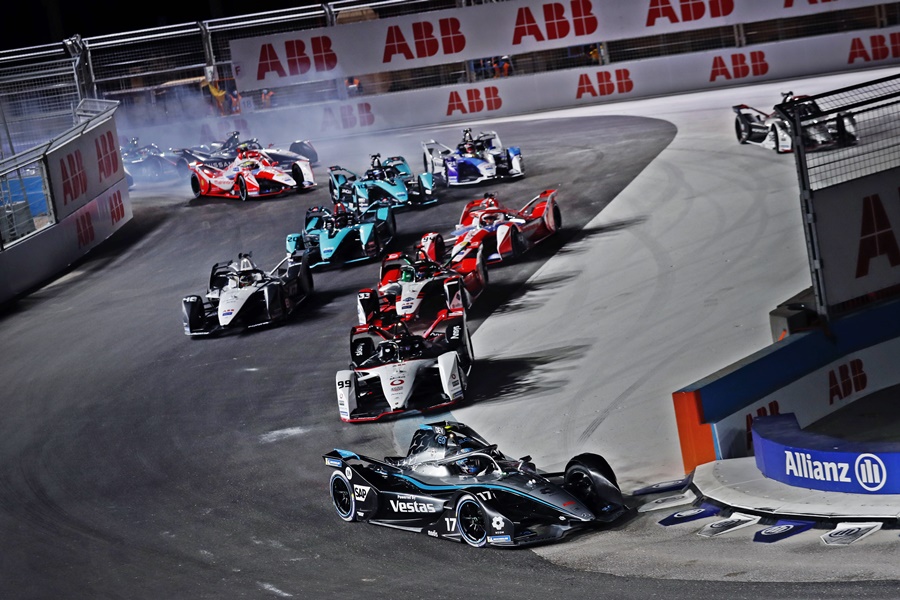 Frijns got away cleanly from pole to fend off Sette Camara into Turn 1, and Bird immediately challenged the DRAGON / PENSKE AUTOSPORT driver to make a tidy move stick for second up the inside of Turn 2. Antonio Felix da Costa banged wheels with Nico Mueller and Sebastien Buemi further back – passing the Nissan e.dams to take eighth spot with the Portuguese' DS TECHEETAH teammate a little way clear in seventh and hounding Mueller.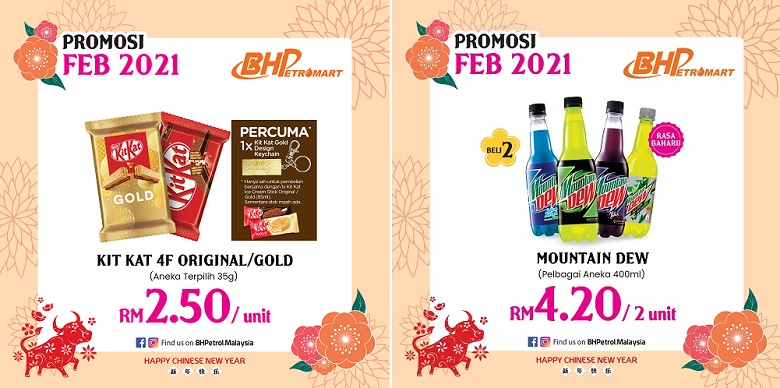 On Lap 5, Vergne pounced on an error by Blomqvist to pinch sixth and the Brit falling to eighth at the hands of the reigning champion a lap later. Meanwhile, Buemi and Cassidy diced for ninth, with the Swiss coming off best with a regulation pass into Turn 18 to set about hunting Blomqvist up ahead.
The lead pair drew out two seconds on Sette Camara in third, with Turvey running a collected race in fourth with Mueller kept at arm's length. Meanwhile, the two DS TECHEETAHs hunted in packs as the Frenchman jumped for ATTACK MODE – his teammate following.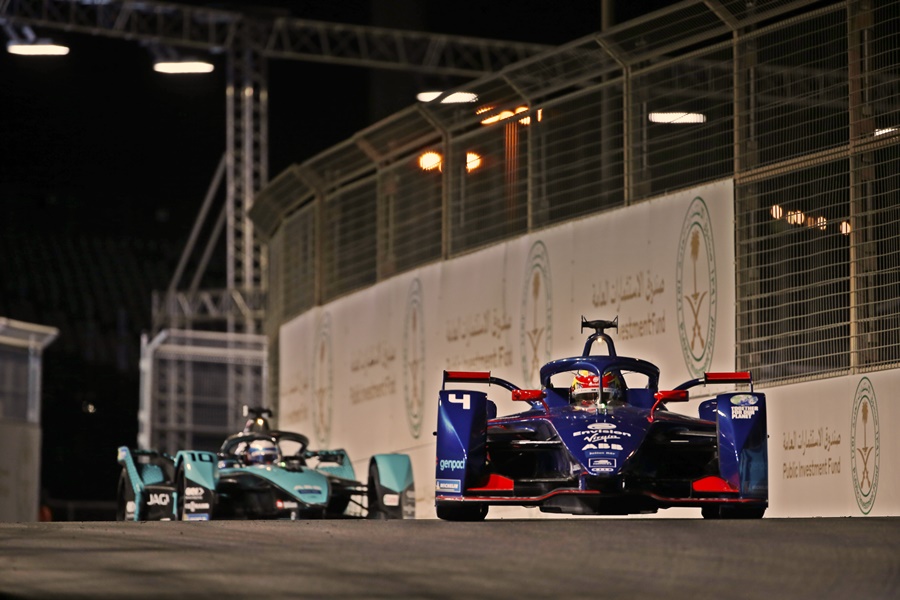 Frijns was next to dive for his first mandatory ATTACK MODE activation and importantly, he was able to hold off Sette Camara to keep within touching distance of the now race leader Bird – the Jaguar driver still to use that initial 35kW boost, and take the pain of going off-line to cross the ATTACK MODE loop.
Over the half-way mark, and Vergne's charge continued apace with another regulation pass for third, this time on Sette Camara, just as Jake Dennis (BMW i Andretti Motorsport) was crunched by Pascal Wehrlein's Porsche, which threw a Full Course Yellow (FCY) – holding the cars as they stood at 50 km/h until the circuit was cleared.
Bird had found his way beyond Frijns for the race lead just prior to that FCY, with the latter heading for ATTACK MODE number two but once again, the Virgin racer was able to bite back – despite Frijns saying he was overconsuming energy over team radio.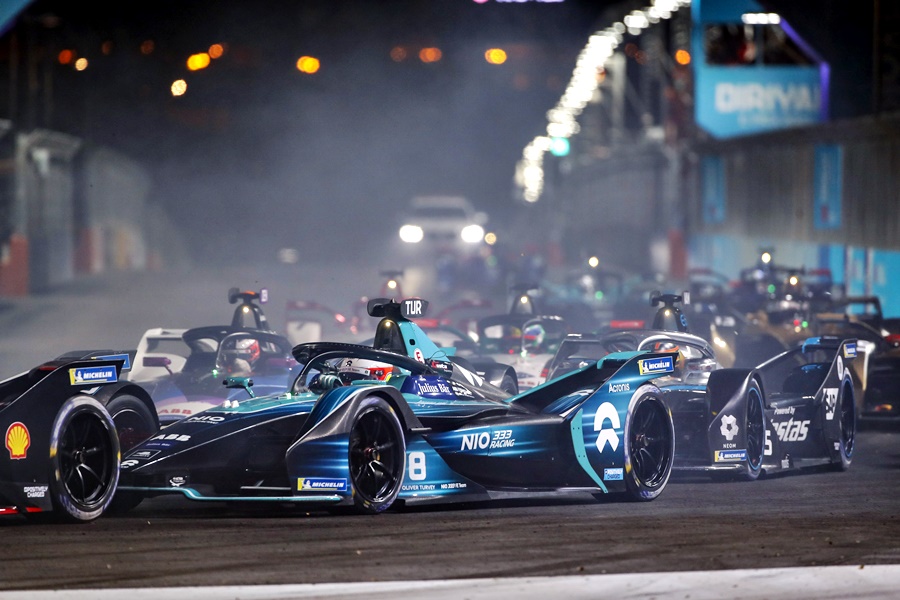 Contact between Guenther and Evans ultimately caused the end of the race via a Red Flag leaving bird to head home Frijns, Vergne, Da Costa, Cassidy, Sette Camara, Mueller, Turvey, Oliver Rowland (Nissan e.dams), and Rene Rast (Audi Sport ABT Schaeffler) on track.
Penalties for Vergne and Rast followed the chequered flag, however, as neither used their second ATTACK MODE activation. All three had not expected the sudden end of the race. This demoted the pair to 12th and 17th, respectively and nudging those ahead of them come the end of the race up the order.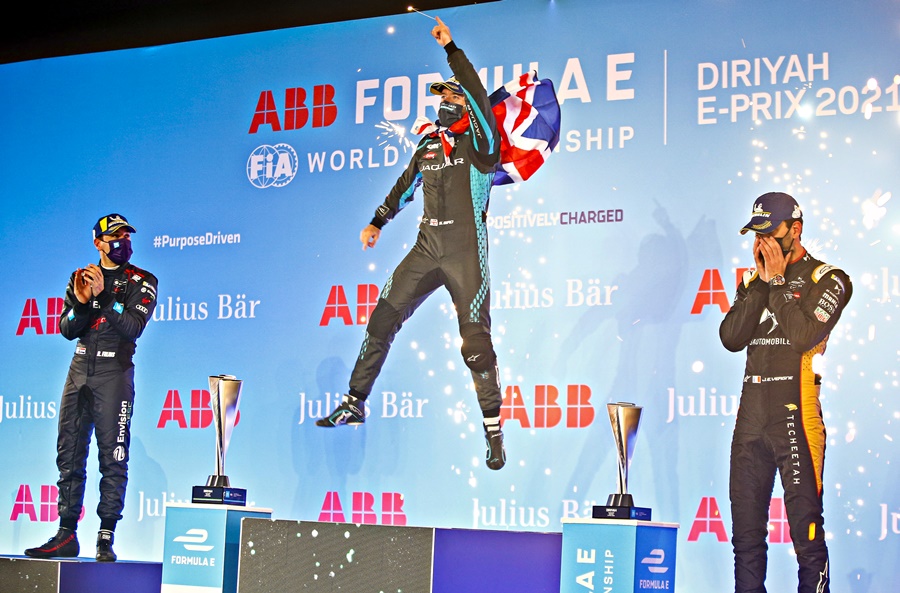 Bird has not had a win for a long time, his last being 11 races ago. The weekend's victory draws him level with Lucas di Grassi (Audi Sport ABT Schaeffler) in second on the all-time winners' table with 10 victories.
There were the usual celebrations during the presentation of awards but on this occasion, it was frightening for all those present. Yemen's rebel Houthis had launched flying devices said to carry bombs towards Riyadh and fortunately, the defence system intercepted and destroyed them in the night sky.
The ABB FIA Formula E World Championship heads to Rome on April 10 for Round 3.