The New Ranger Raptor X Special Edition is now in Malaysia, and you may visit www.sdacford.com.my to compare between the range of Ranger models available to know what the additions are in the Raptor X.
When it stormed into the Malaysian market at the end of 2018, the Ford Ranger Raptor set a new high-performance benchmark for pick-up trucks. The most powerful member of the Ranger family differed from other pick-up trucks by not just looking rugged and muscular but it actually delivered the performance that its looks promised.
Unlike other pick-up trucks in the market with bodykits to just give a sportier image, the Ranger Raptor's was specially developed by Ford Performance, the division in Ford which is responsible for high-performance models as well as motorsports. Engineers at Ford Performance took the Ranger and engineered it to deliver off-road performance and go where other trucks would dare not venture.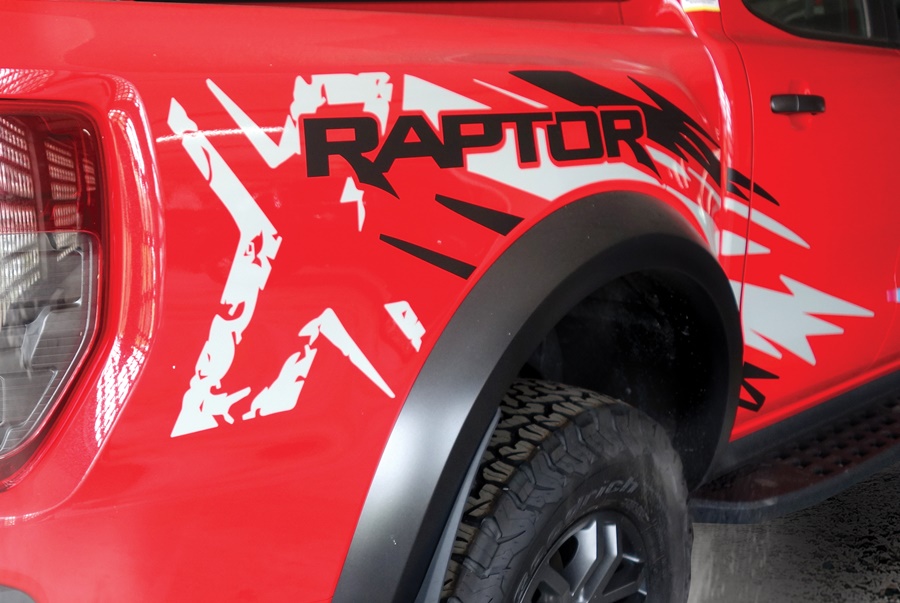 Below the rugged, aggressive exterior signature design of Ranger Raptor, a huge skid plate serves as an underbody shield over the roughest terrain. A 2.3 mm thick high-strength steel panel is used for this shield which provides protection for the engine and other parts.
Original, factory installed equipment
Every item of the bodykit which transforms the Ranger into a Raptor has been exclusively developed by Ford Performance, and then tested thoroughly in the most extreme conditions. These are not 'aftermarket' fitments but originally installed at the factory so fit and finish are of the highest quality, similar to everything else on the vehicle.
Building vehicles for and participating in gruelling races across deserts and other rough terrain, Ford Performance engineers have gained a lot of experience in suspension tuning. They drew on this experience for the Ranger Raptor and for the best performance, specified 2.5-inch FOX RACING SHOX shock absorbers front and rear. Not only do these easily handle high jumps with 30% more wheel travel than a standard Ranger set-up but they react faster to terrain changes so the driver has greater confidence over rough ground.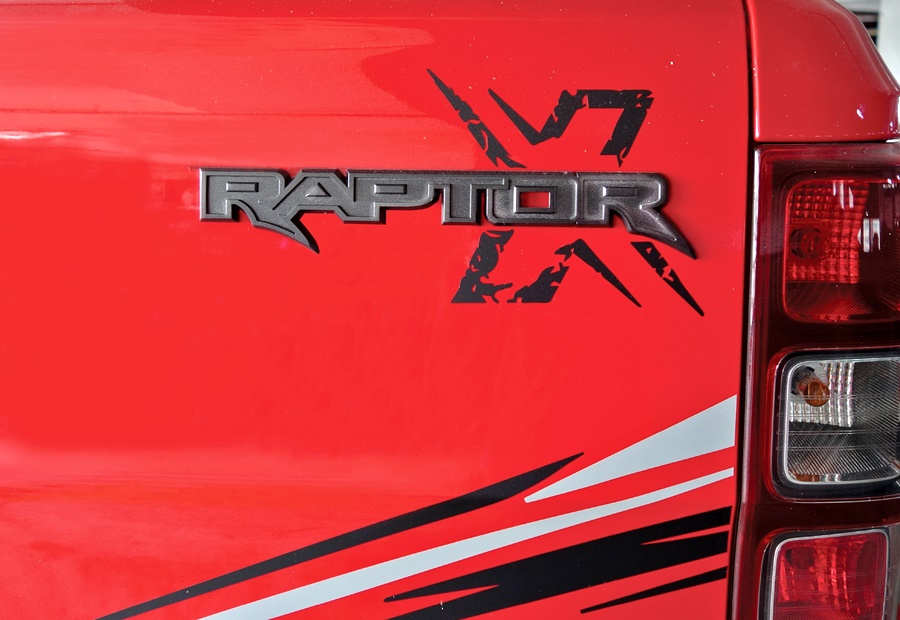 The high-strength ultra durable steel chassis rides on 17-inch alloy wheels with standard BFGoodrich All-Terrain tyres that are 285 mm wide. These wide tyres are designed to resist damage with sidewalls that are 20% tougher than standard factory tyres.
500 Nm bi-turbodiesel engine
The Ranger Raptor leaves the factory with ample performance, especially low-end torque with the innovative 2.0-litre bi-turbo diesel engine with high-pressure Commonrail Direct Injection. With not one but two turbochargers, the engine pushes out 213 PS (157 kW) of power, with a massive 500 NM of torque kicking in from 1,750 rpm.
All that power and torque flows through Ford's own 10-speed automatic transmission which has been specially calibrated to work perfectly with the turbocharged engine. Not only is power delivery smooth but gear changes are also quick and precise with advanced programming to ensure the right gear for every situation.
'Expert' co-driver
Ford Performance puts an 'expert' in the cockpit with the driver – the Terrain Management System. There are 6 modes in this system which the driver can select, and the computer will make the necessary settings for the engine, transmission and other systems to match the surface conditions.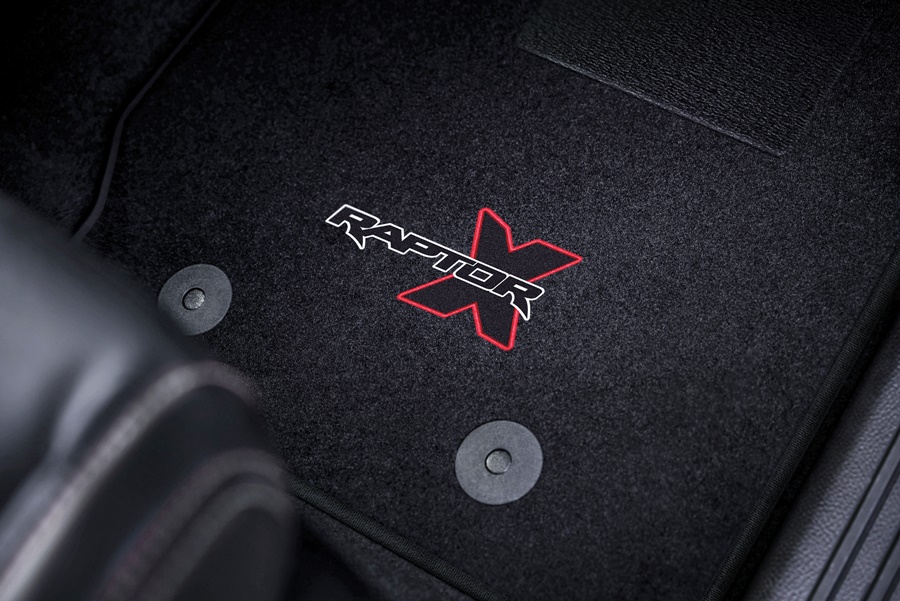 There are two modes for on-road driving, one of which is a Sport mode which can be used to get stronger acceleration, faster shifts and even sharper steering feel. The other four modes are for off-road use on sand, mud or rocks. One of the modes is called the Baja mode, named after a gruelling desert race in California. When this mode is selected, the Ranger Raptor can rocket over rough ground with enhanced responsiveness.
While selection of the High and Low ranges of the 4×4 transfer case is done using a rotary dial, selection of modes is done using the touchscreen. Gear selection can also be done using the high quality shift paddles which are made of magnesium. The position of the paddles just behind the steering wheel allow for fingertip operation while keeping the hands on the steering wheel wrapped with perforated leather.
Comfortable and convenient inside
The team that designed the cabin of the Ranger Raptor understood that comfort and convenience are just as important as performance. At the front, body-contoured sports seats hold the body in place comfortably while bouncing about on rough ground and there are lots of features which make every journey enjoyable. Features like the Dual-zone Automatic Climate Control, satellite navigation, SYNC3 Apple CarPlay & Android Auto compatibility on the infotainment system with an 8-inch touchscreen, and even a 150W/230V power supply socket.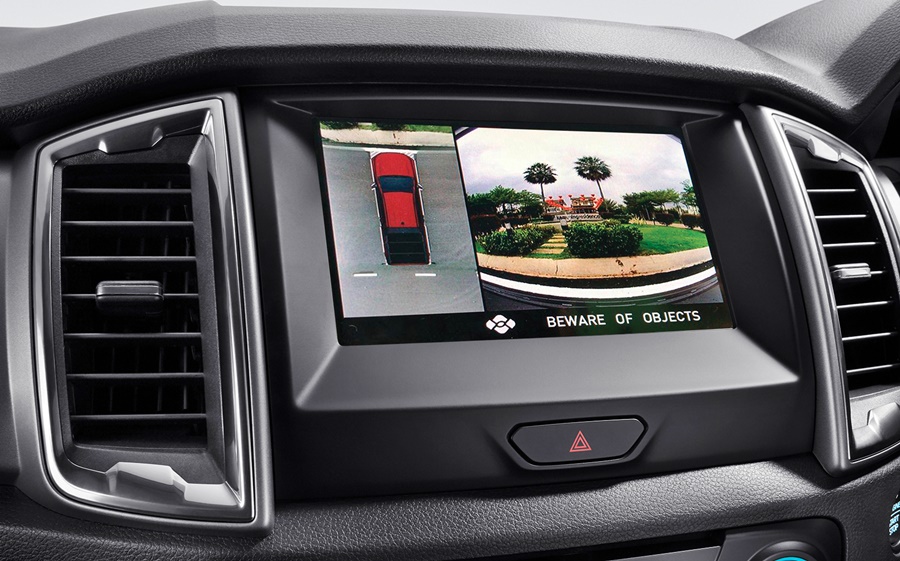 While many will buy the Ranger Raptor for its superior off-road capabilities, it's also a functional workhorse which can haul up to 600 kgs or tow up to 2,500 kgs. The cargo bed, measuring 1,549 mm wide and 1,560 mm long, has a volume of 1.18 cubic metres.
Leadership in safety
The Ranger has always been a leader in safety, often offering better features before others. With the Ranger Raptor, Ford provides an extensive range of safety systems including driver assistance systems comparable to what it available in passenger cars. Because of its height, Ford engineers developed a Roll Over Mitigation System to prevent it from tipping over in extreme conditions.
The latest version includes a Forward Collision Warning System with Pedestrian Detection, Automatic Emergency Braking and Lane Departure Warning with Assist.
ENTER THE SPECIAL EDITION RAPTOR X
For 2021, Sime Darby Auto ConneXion is offering a more premium version of the Ranger Raptor – the Special Edition Raptor X. This new version is identifiable by Ranger X Lightning Bolt decals on the bodywork as well as Special Edition Raptor X carpet mats.
The standard rearview camera (very useful for the long vehicle) is supplemented by a 360-degree display which shows all of the truck. This makes maneuvering even easier as obstacles can be spotted, especially in tight spots. It's like having a drone hovering above the vehicle and sending an image to the screen!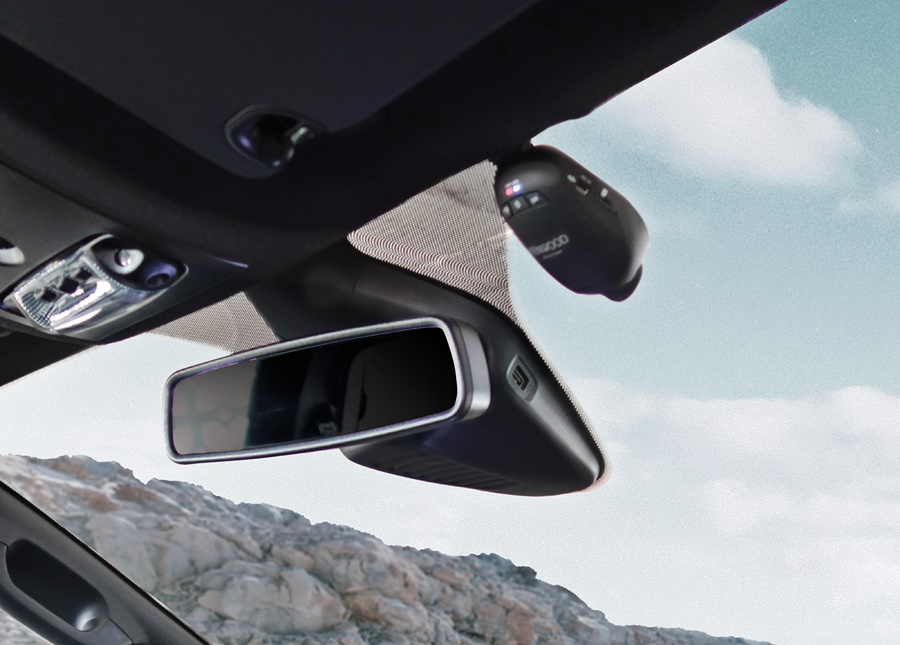 The Ranger Raptor X Special Edition also comes with a Dual Digital Video Recorder which can provide video coverage of the front as well as the rear. Apart from the video recordings being valuable evidence in the event of an accident, they can also be used to record journeys off-road for sharing with friends or remembrance.