Malaysian retail giant MR D.I.Y. Group (M) Berhad has 700 stores across the country and logistics to support the stores requires reliable transport which is also fuel efficient. Having already used a number of Isuzu vehicles since 2017 and found them to meet the demands of the business, the company has steadily increased its fleet size with vehicles from the same brand which was the No. 1 truck brand in Malaysia in 2020 and earlier years.
Recently, MR D.I.Y. tool delivery of another batch of 8 Isuzu medium-duty trucks to add to its fleet. The trucks are from the F-Series (Forward Series) range, comprising 6 units of the FSR90 model and 2 units of the FVR300 model.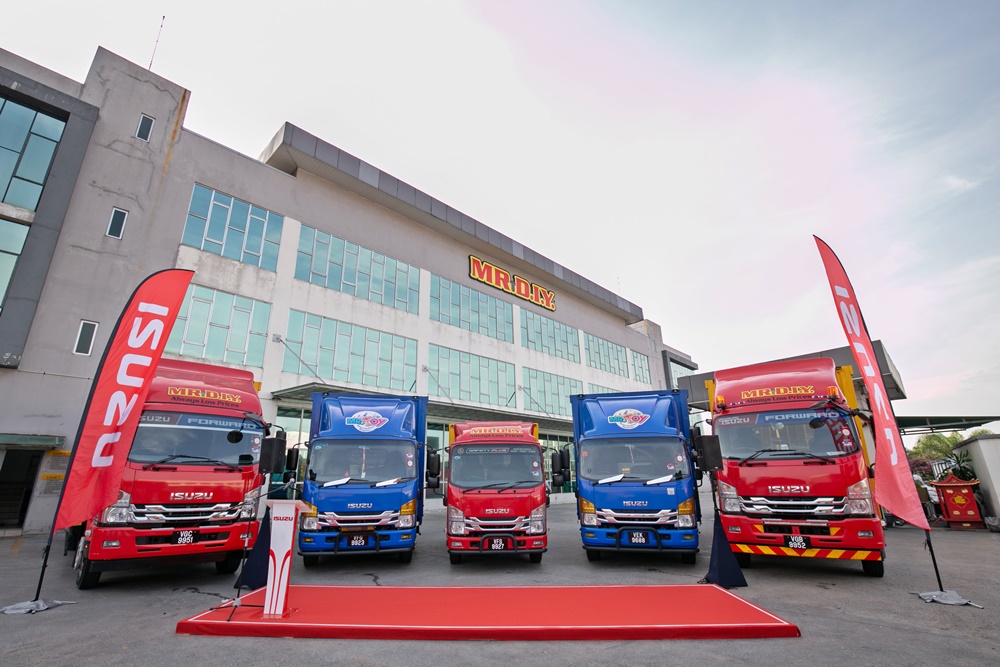 A handover ceremony with a mock key presentation marked the official delivery of the new Isuzu trucks was held recently at MR D.I.Y.'s headquarters in Seri Kembangan, Selangor. Making the delivery personally were the senior management teams of Isuzu, MR D.I.Y. and Ultra Gallant, the authorised Isuzu dealer serving MR D.I.Y.
"We are very pleased to have completed the delivery of 8 units of Isuzu medium-duty FSR90 and FVR300 trucks to our esteemed customer, MR D.I.Y., and to be able to continuously provide the support they require to operate their flourishing logistical assignments. We would like to thank MR D.I.Y. for the support and trust given to the Isuzu brand," said Koji Nakamura, CEO of Isuzu Malaysia.

Providing maximum efficiency and productivity
"As one of the largest Japanese truck manufacturers globally, it is our obligation to provide our customers with commercial vehicles that can lead the way forward for their business to achieve maximum efficiency and productivity," he added.
Mr. Nakamura said that both of the models are part of Isuzu's F-Series medium-duty commercial vehicles that the company has been producing for decades with continuous development of new trucking innovations, and where its customers around the world embrace and count on for the advance features, innovative design, and dependable performance.
"The Isuzu FSR90 and FVR300 medium-duty trucks are the ideal, adaptable, and value-added choice for meeting the requirements of any transport assignment. With the gross vehicle weight of 11,900 kgs for FSR90 and 19,000 kgs for FVR300, we are confident the trucks will be able to provide high utilization with absolute productivity, reliability, and safety for the sustainability of MR D.I.Y.'s soaring business," said Mr. Nakamura.
5 powertrain choices
"Isuzu's F-Series range of commercial vehicles feature a choice of 5 powertrains for a range of performance and torque, optimized wheelbases for greater load capacity and body-mounting capability, offering the versatility today's businesses need to be successful," he added.
MR D.I.Y. purchased its first Isuzu truck in 2017 and has been steadily adding more units to its fleet over the last 4 years. With this latest addition, the company now has a total of 100 units of Isuzu trucks in its fleet.
Commenting on the handover of the vehicles, a MR D.I.Y. spokesperson said: "We are on a strong growth trajectory, with 700 stores now, and have plans to open 175 new stores across our 3 brands in 2021. The backbone of our growth is the efficient distribution of goods via our centrally-managed distribution system. Isuzu has been a valued long-standing partner who well understands our needs, and has been supportive in meeting them."
To know more about the commercial vehicles available from Isuzu Malaysia or to locate an authorised dealership in Malaysia, visit www.isuzu.net.my.