This seems to be the month of the pick-up truck (at least for readers in Malaysia) as we have yet another new model to tell you about, following the new Nissan Navara and Isuzu D-MAX. This one is from Hyundai Motor, which has never before offered a modern pick-up truck, although it has had light commercial vehicles with a flat bed at the back.
Santa Cruz is the name of Hyundai's pick-up truck which it refers to as a 'Sport Adventure Vehicle' (BMW refers to its SUVs as Sports Activity Vehicles) and it comes after some 20 years of internal debate. As far back as the early 2000s, the company was looking for a single vehicle for the ASEAN region, and like Ford, it saw big numbers of a pick-up truck. However, it never went on to develop a model until now.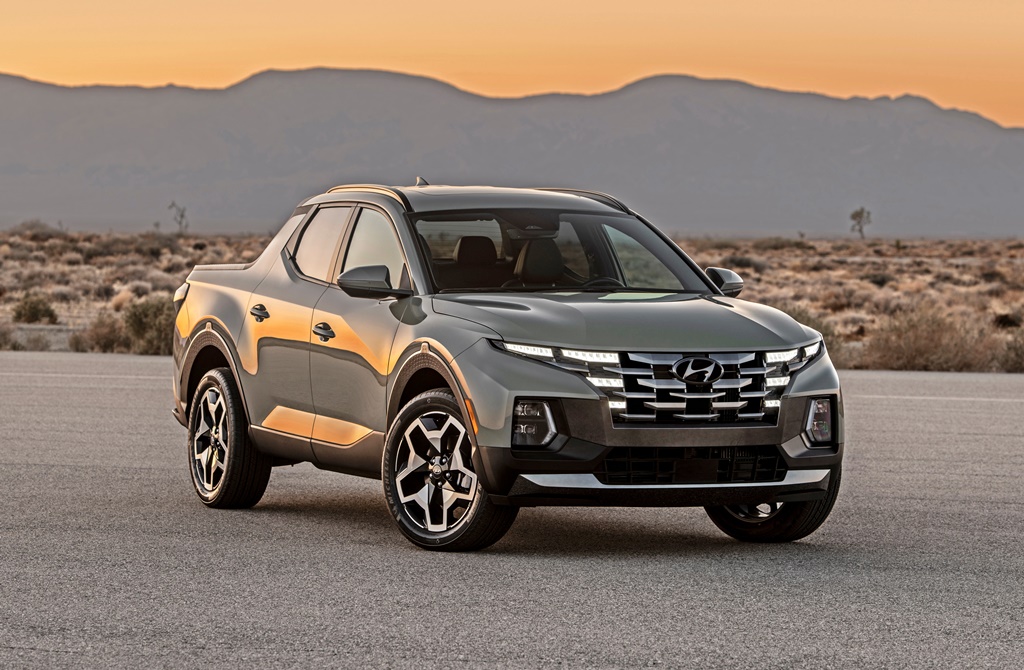 Monocoque, not chassis frame
With the Santa Cruz, the focus market seems to be the USA which is the largest market in the world for such vehicles. And like the Honda Ridgeline, the platform is a monocoque type with a unitary structure like a passenger car; typical pick-up truck construction uses a chassis frame. The Honda has been around for some 15 years, sold mostly in North America, and is currently in its second generation so the approach probably has some validity.
Hyundai doesn't highlight the monocoque structure, perhaps because it could be perceived as a weakness as chassis frames are tougher, or maybe customers just won't care anyway – the same way that today's SUV buyers are not too bothered by not having AWD. Instead, it elaborates on the driving dynamics of the vehicle which can be expected to be better than traditional pick-ups.
Big engines for US market
As the primary market is to be North America, a big engine is no problem and a 2.5-litre 4-cylinder  direct-injection unit is available with or without turbocharging. The former produces around 190 bhp/244 Nm while the turbocharged unit generates 275+ bhp/420 Nm. Like most of Hyundai's models, it is fitted with an 8-speed dual-clutch transmission which is the company's own development.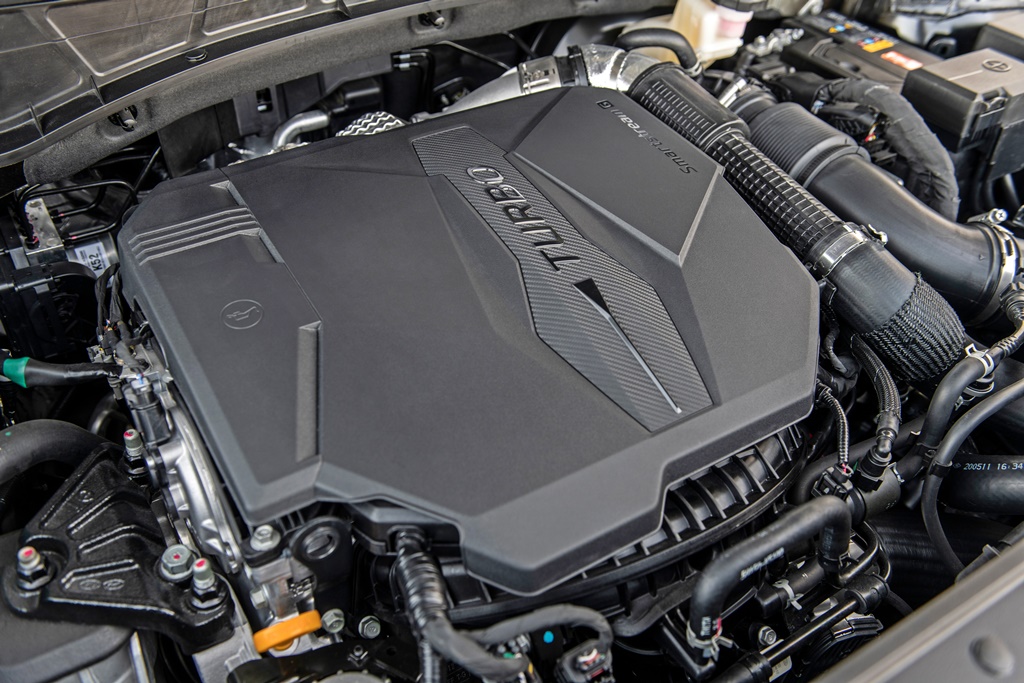 There is AWD with a system called HTRAC, a multi-mode system providing an electronic, variable-torque-split clutch with active torque control between the front and rear axles. The system has a wide range of torque distribution variability, tuned for conditions such as straight-line acceleration, medium and high-speed cornering, and hill starts.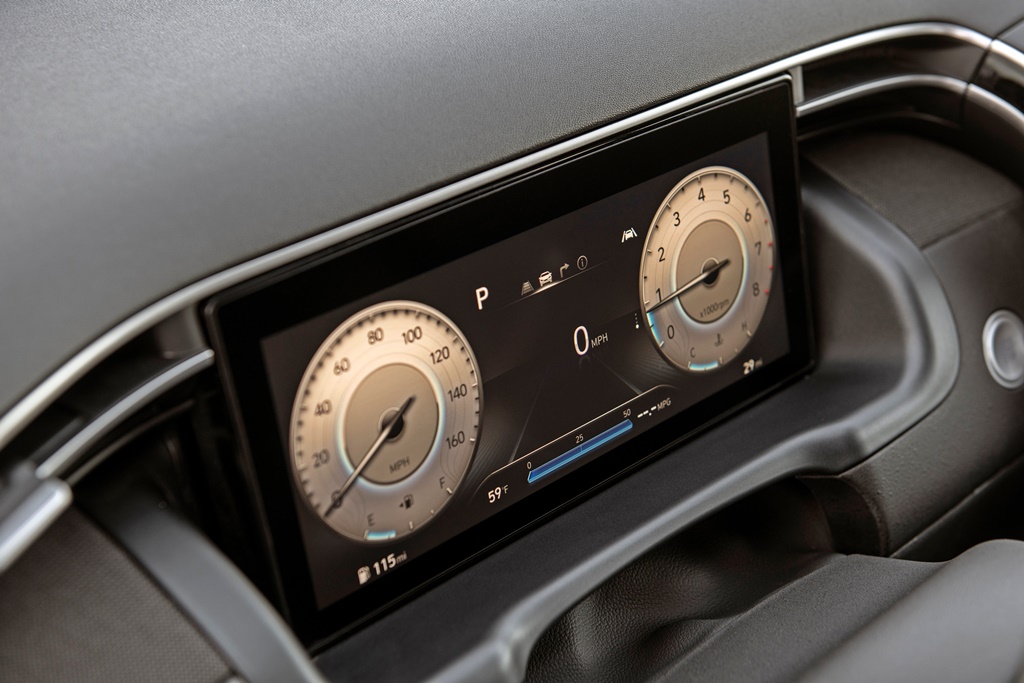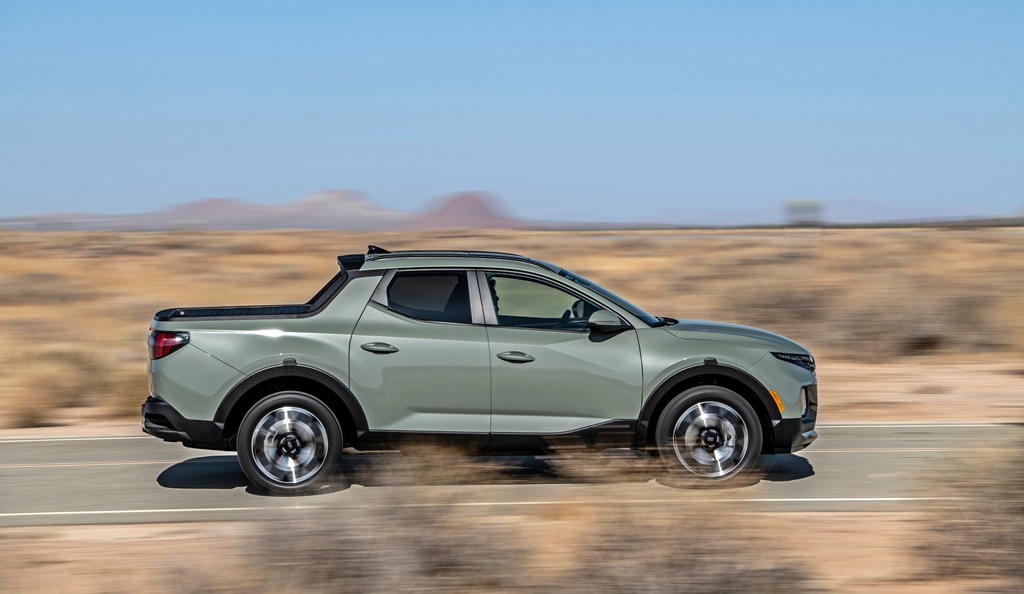 Smaller than a Toyota Hilux
Compared to a Toyota Hilux double cab, the Santa Cruz is a small vehicle as it is 4970 mm in length and 1905 mm in width, while the Toyota is 5325 mm in overall length and 1855 mm wide. The wheelbase is also 80 mm shorter, so the Santa Cruz is small by American pick-up standards.
The size of the vehicle was probably influenced by the target buyers which are mainly in urban areas, so a more compact size would be appreciated. Hyundai's studies found that ,any of these potential customers carry gear which would be more convenient to store in the large open bed of a truck, than an enclosed SUV.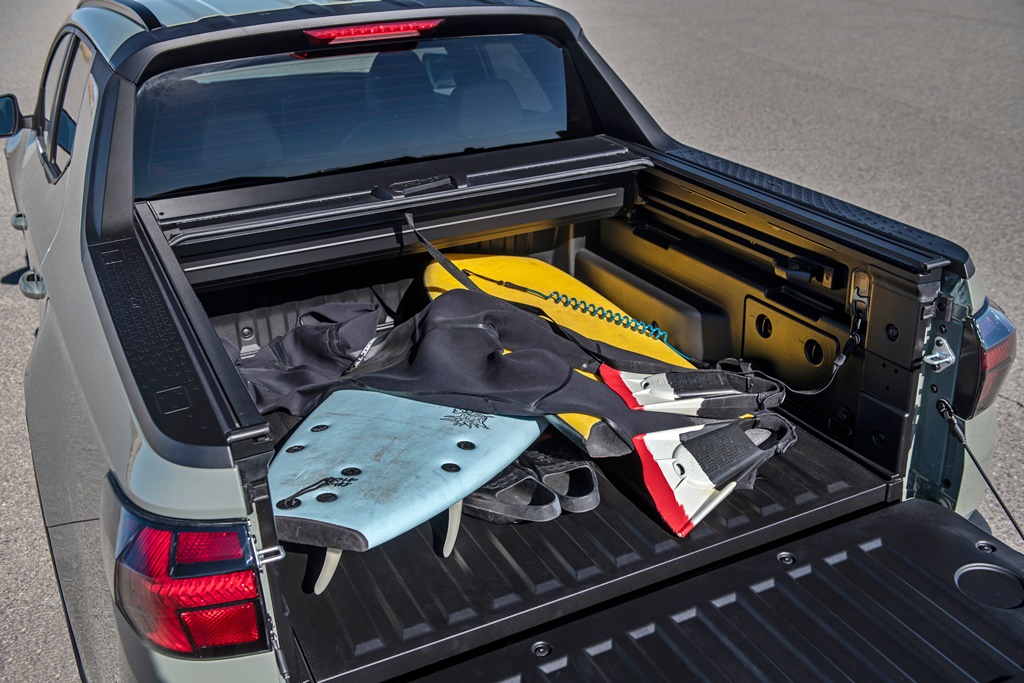 The  Santa Cruz has therefore been designed to offer versatile transportation that is equally flexible for urban, adventure, occupational or even home improvement gear. To keep the cargo safe, there is a lockable tonneau cover as well as a hidden bed storage.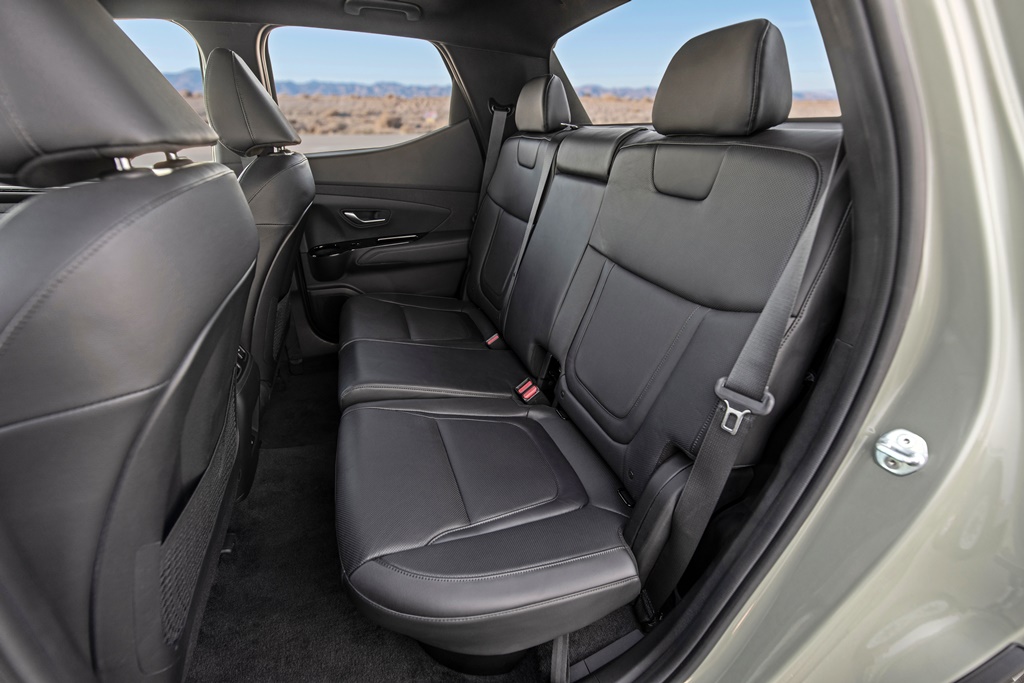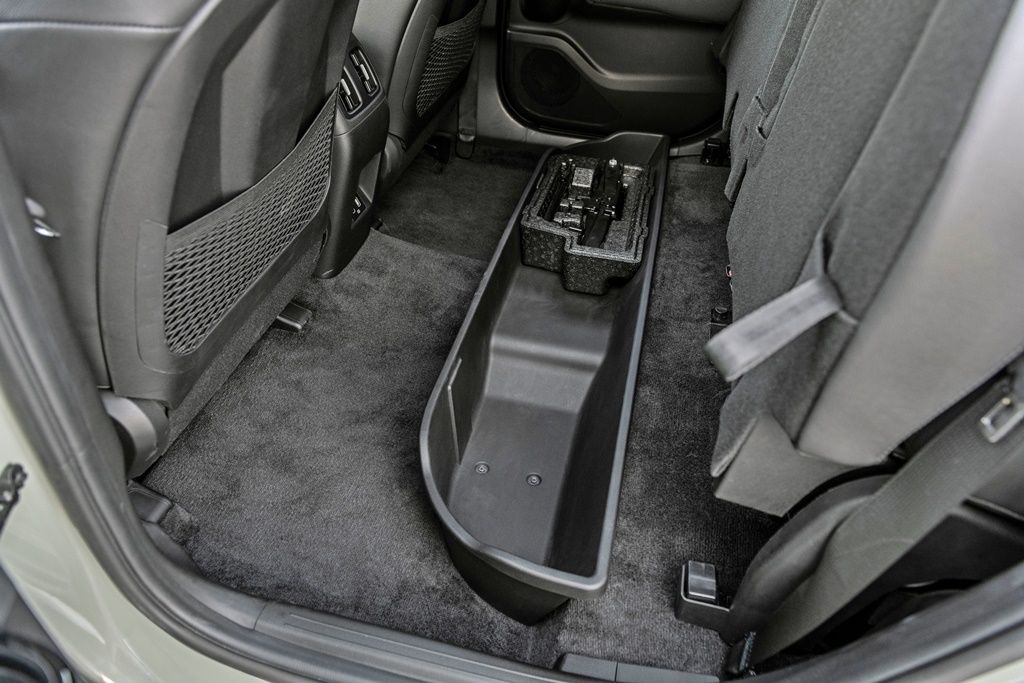 Dual cockpit design like a car
The interior of the Santa Cruz is designed like a passenger car with an enveloping dual-cockpit design that encapsulates each passenger. There is a rugged undertone to the cabin, with a modern the technical ambience that appeals to those who appreciate cutting-edge technologies in their daily lives. Under the rear seats is storage space to supplement the space on the open bed.
The Santa Cruz was primarily developed in the Korean carmaker's American design studio and to emphasise that, the rear tail lamps are embossed with tiny 'Designed in California' wording. The new model will be made in Hyundai's factory in America, with deliveries starting in the second half of this year.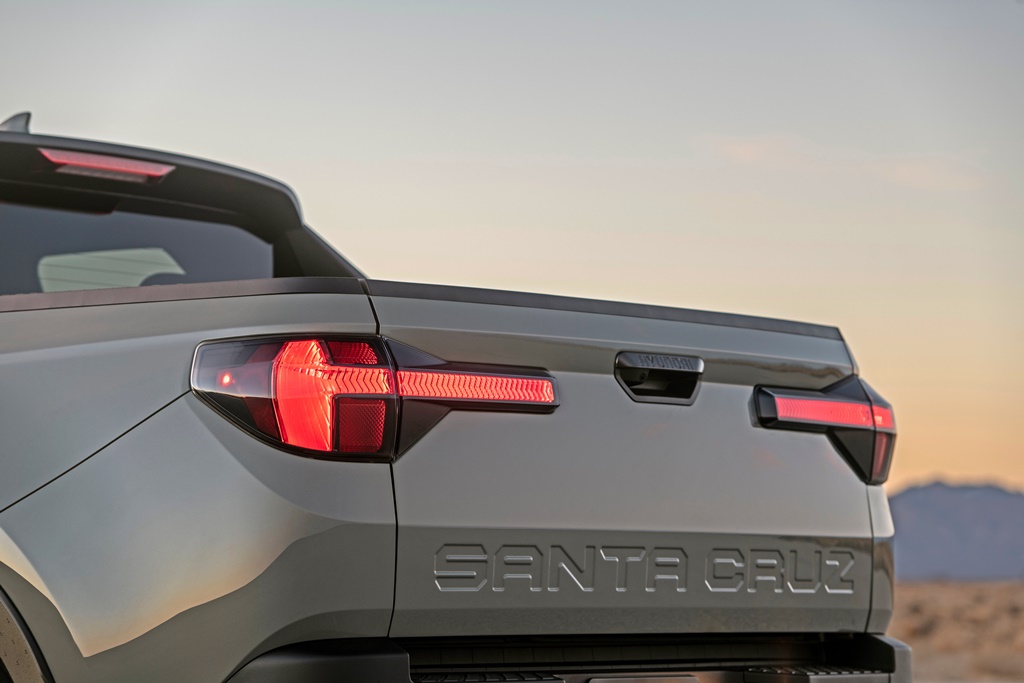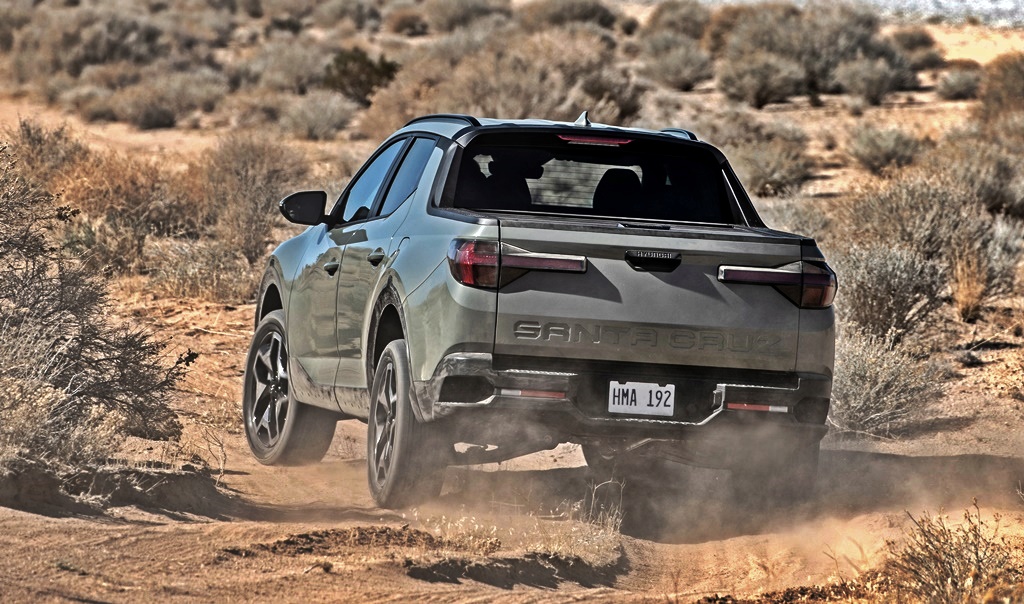 Hyundai Sime Darby Motors has a wide range of models already and we hear that some more are coming, but it is very unlikely the Santa Cruz will be one of them. The model will probably be only lefthand drive and with already established players in the segment, it would be hard for a newcomer to attract enough buyers to support a business case to sell it.
2021 Hyundai Kona goes on sale with two variants and one Smartstream engine choice