As part of its Beyond100 strategy, Bentley will pursue sustainability in every area of its business as well as the products it makes and sells. The journey has already begun and a limited edition of the Flying Spur Hybrid provides a preview of what will come.
The Flying Spur Hybrid Odyssean Edition uses an advanced hybrid powertrain which can prove that hybridization will not compromise luxury or performance. The new powertrain combines a 2.9-litre V6 petrol engine with an advanced electric motor, generating a total of 544 ps/750 Nm (significantly more power than the Bentayga Hybrid). While able to cover the 0 to 100 km/h sprint in a claimed 4.3 seconds, the limousine is also said to have a range of over 700 kms when fully fuelled.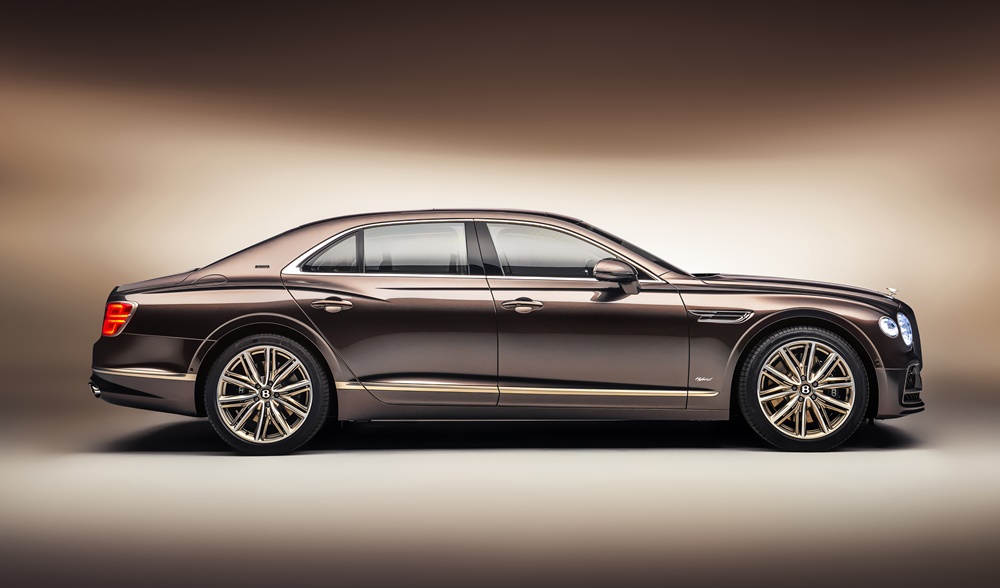 Sustainable materials throughout the cabin
New, even more sustainable materials are used throughout the cabin, directly reflecting design details showcased in Bentley's centenary concept car. The cabin features panels of beautifully crafted tweed made from 100% British wool, twisting a blend of tonal colours into a bespoke yarn to create a unique natural luxury textile especially for Bentley.
The open-pore Koa veneer fascias and waistrails use 90% less lacquer than high-gloss veneers, and allow the natural surface texture and aesthetic of the wood to be enjoyed. Selected from only the very best, most figured stock available, open-pore veneer is painted with just three ultra-thin layers of lacquer, together totalling only 0.1 mm in thickness.
The centre console is finished in a sleek, minimalist Piano Linen veneer, while a dedicated tri-colour leather scheme lends the whole interior new depth. Together with new materials, sustainable leather is used widely across the cabin, thanks to its long-term durability. Indeed, Bentley's own 1955 S1 Flying Spur was referenced during the design process, as the car still retains its original leather interior which, in spite of now being 66 years old, is still in immaculate condition.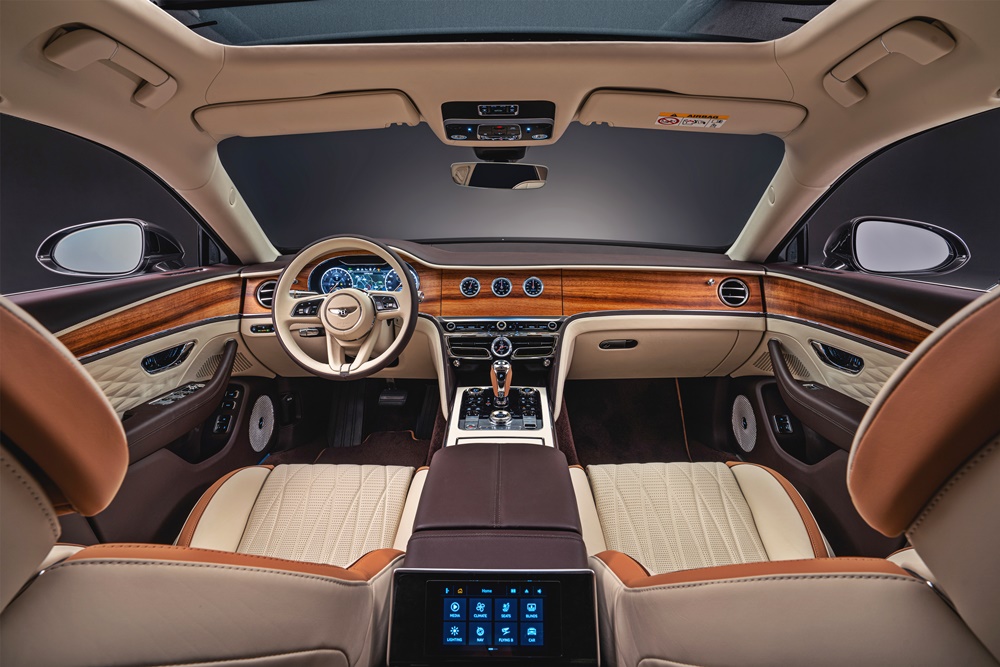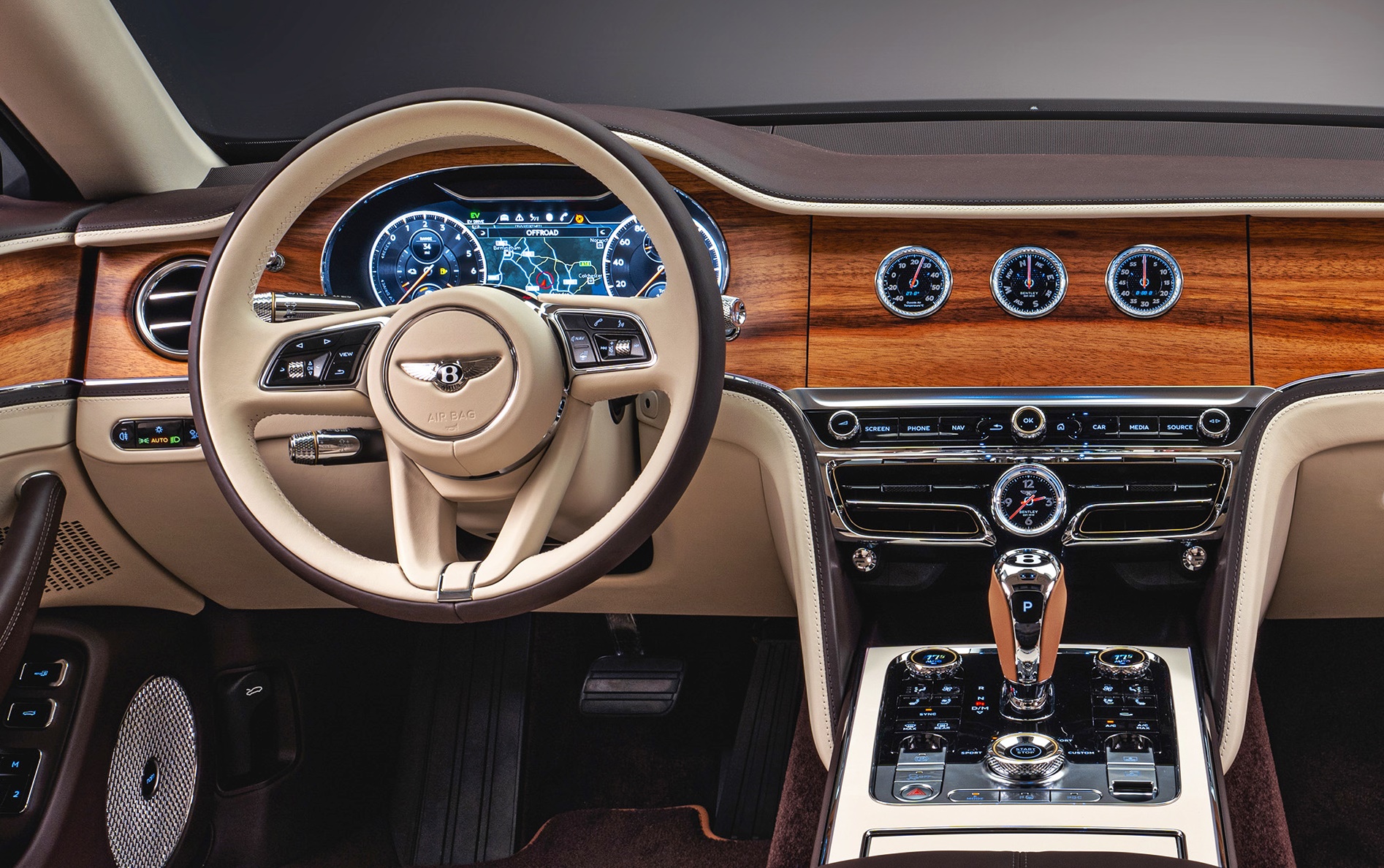 Accents to the interior are in a soft, warm hide called Autumn, with customers able to choose from 5 specifications that utilize Beluga, Porpoise, Cricketball, Brunel or Burnt Oak leather in tandem with light, modern Linen hide. A unique Odyssean Edition treadplate becomes apparent when entering or exiting the car, and is matched with exterior D-pillar badging.
In common with the finishes seen in the EXP 100 GT interior, an exclusive new embroidery style sees thread colours blend calmly into one another across the width of each seat, defining and accentuating the 'lofted diamond' pattern unique to the Flying Spur – together creating a stunning effect employed here by Bentley for the first time.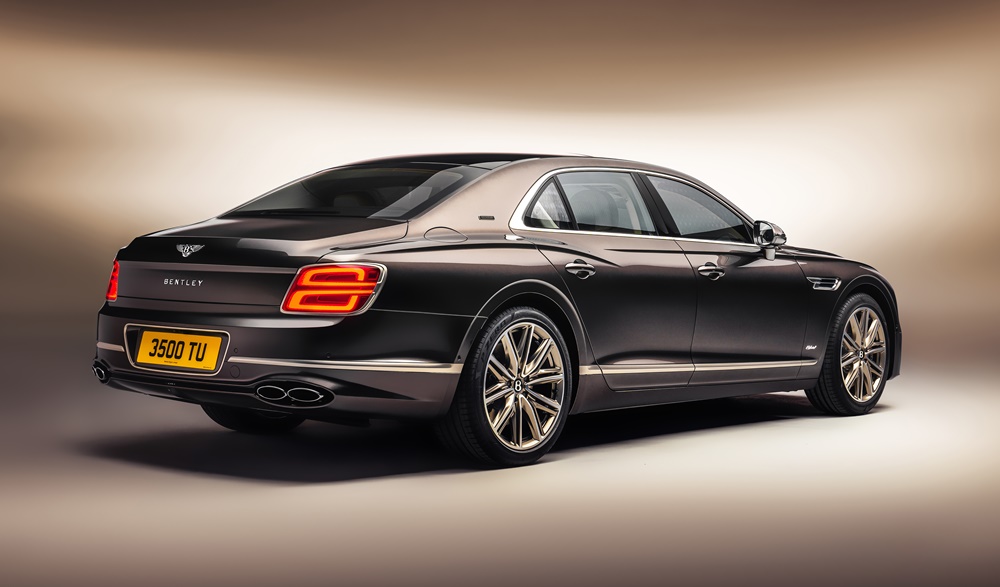 On the exterior, painted Pale Brodgar accents on the 21-inch 10 twin-spoke wheels and lower brightware (front and rear bumpers, headlight and tail light surrounds and lower body side chrome) give a unique visual character. A curated exterior palette of six colours have been recommended to harmonise with the Pale Brodgar accents, but the full Bentley palette can be chosen from.
Real-world usage of Bentley Hybrids
As part of Bentley's journey towards electrification and the Beyond100 strategy (delivering a product range composed entirely of plug-in hybrids or battery electric vehicles by 2026), a research activity has been undertaken to gain insights into customer usage of the Bentley Hybrid from owners.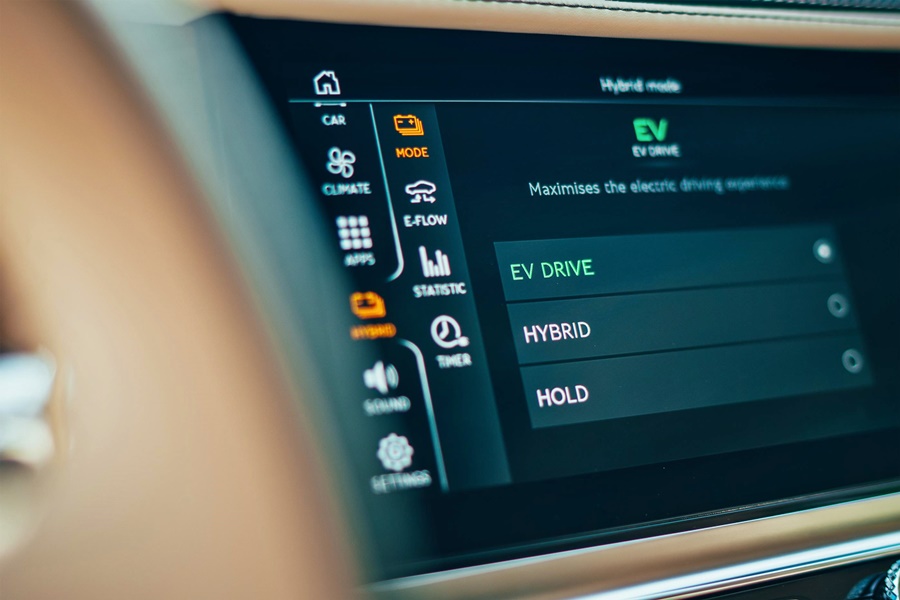 Over 90% of owners use their first generation Bentayga Hybrid on a daily basis or several times a week and nearly 100% make use EV mode, which means running only on electrical power with zero emissions. Half of them consistently have journeys of less than 48 kms. In real-world terms, this means that the majority of the journeys, whether office commuting or school runs, can be achieved predominantly whilst producing zero emissions.