Just like drivers of cars, motorcycle riders are also users of public roads and they also pay roadtax. However, things seem different for them as everything from infrastructure and poorly maintained motorcycle lanes to a lack of roadside assistance appears to ignore their needs which are no different from drivers.
Furthermore, we see most insurance companies giving all the extra benefits to car drivers but most of the time, motorcyclists get just the basic coverage. Not anymore as last month, Allianz General Insurance Company (Malaysia) Berhad introduced free roadside assistance for its policyholders who take comprehensive coverage for their motorcycles (below 250cc).

Nationwide value-added service
According to Allianz General's CEO, Sean Wang, the company's introduction of the roadside assistance service for motorcycles means that riders have everything to gain with heightened value-added service. The service, available to Allianz Motorcycle Plus (Comprehensive) and Allianz Motorcycle (Comprehensive below 250cc) policyholders nationwide, includes emergency towing assistance (free for up to 50 kms, round-trip), fuel delivery, battery, and flat tyre service. It will be provided by the Allianz Road Rangers.
"We have all seen motorcycle riders left stranded or worse, involved in an accident, and every single time, it is fellow riders that are at the scene offering assistance. Now, with our roadside assistance services, our own riders know that come rain or shine, we will be just a phone call away," said Mr. Wang at the 'Crash, Boom, Bang! Part II #Roger' Allianz Media Roundtable today.
"As an insurer, we should be there for our customers. It is as simple as that. While many others have shunned away from such a service simply for not being financially lucrative, sometimes, there is no harm in giving a little more. This is our way of saying thank you to our customers and letting them know that we are here for them in times of need," he added.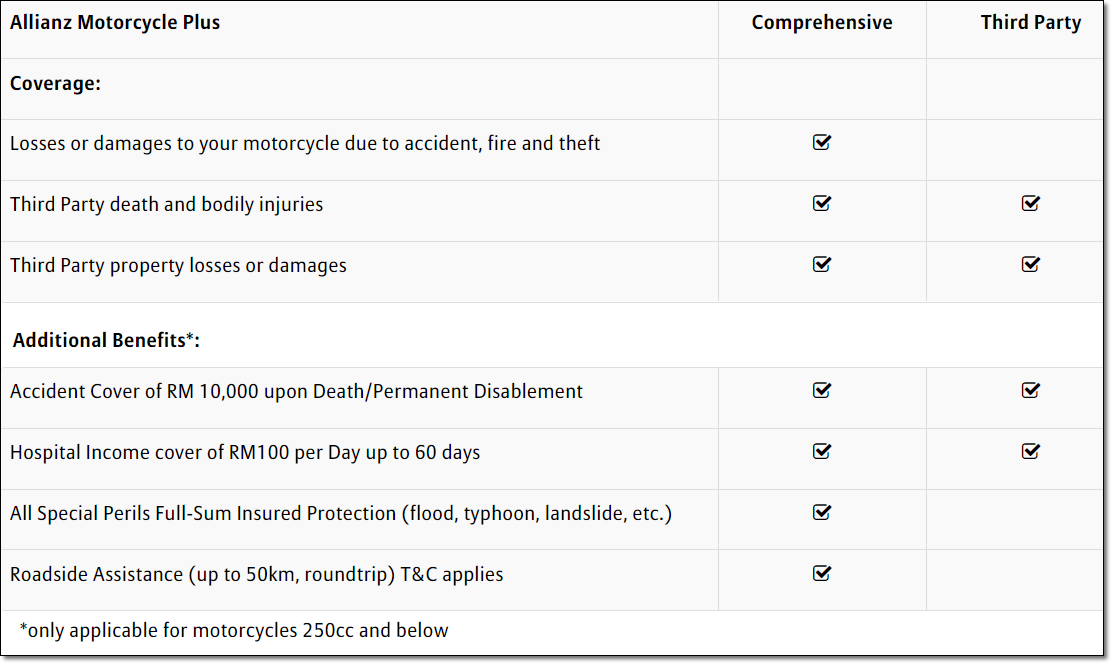 Allianz Road Rangers ready to assist
The Allianz Road Rangers service for motor comprehensive policyholders was introduced in the Klang Valley in 2017 as a first within the General Insurance industry. The following year, it was available nationwide.
Taking a leaf out of the existing Allianz Road Rangers service, Allianz General Head of Claims, Damian Williams, said there are the following touchpoints:
♦ 24-hour helpline assistance – in the event of an accident, policyholders can call 1-800-22-5542 to have a technician or tow truck dispatched to their location for assistance, repair work, or to provide towing services.
♦ Allianz Road Rangers Tow trucks – the Allianz Road Ranger will provide riders emergency towing assistance (free for up to 50 kms, round-trip), fuel delivery, battery, and flat tyre service.
♦ E-hailing vouchers –  the policyholder will also receive e-hailing vouchers that they can use to get home from the accident site and back to their home (where the service is available).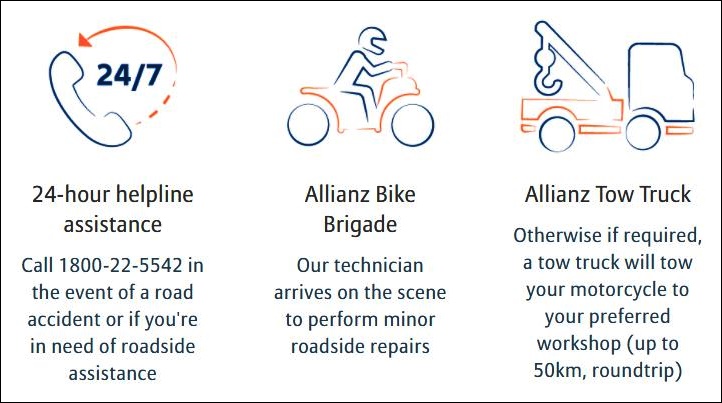 According to Mr. Williams, it was crucial that the service was able to nullify a rider's pain points and offer flexibility in terms of towing options. "Our goal was simple – provide quick solutions to common issues like fixing a flat tyre or delivering petrol that would allow riders to continue their journey and should the need arise, provide them with towing assistance to get them to a workshop or their preferred location and get them home safely," he explained.
"Everything that we do at Allianz General, at the end of the day, is about our customers, and this service is solely about taking care of the rider. So we took extra care in ensuring that our touchpoints offer thoughtful assistance," he added. "Plus, having an established towing assistance service in the Allianz Road Rangers meant we already have 190 tow trucks at our disposal and we could hit the ground running."
How to lower motorcycle accident numbers
At the roundtable, there was also discussion about the best way to curb the high rate of motorcycle accidents is with rider attitude and cultural change, according to the Malaysian Institute of Road Safety Research (MIROS). On top of being grossly underserved, motorcyclists also suffer the most accidents and fatalities in Malaysia. According to the Royal Malaysia Police (PDRM) statistics for 2020, while road accidents dropped by 26% last year, largely due to movement restrictions during the COVID-19 pandemic. Yet there were still 418,237 road accidents and 4,634 fatalities, with most accidents involving motorcyclists with 3,118 deaths.
MIROS Director of the Road User Behavioural Change Research Centre, Azhar Hamzah, revealed that on average, motorcycle accidents stood at around 20%, but motorcyclists and pillion passengers were most affected in terms of injuries, with more than 60% of the deaths each year. He also quoted a recent PDRM statistic which indicated that the highest percentage of motorcycle deaths, at 36% percent, involved riders aged 16-25 years old.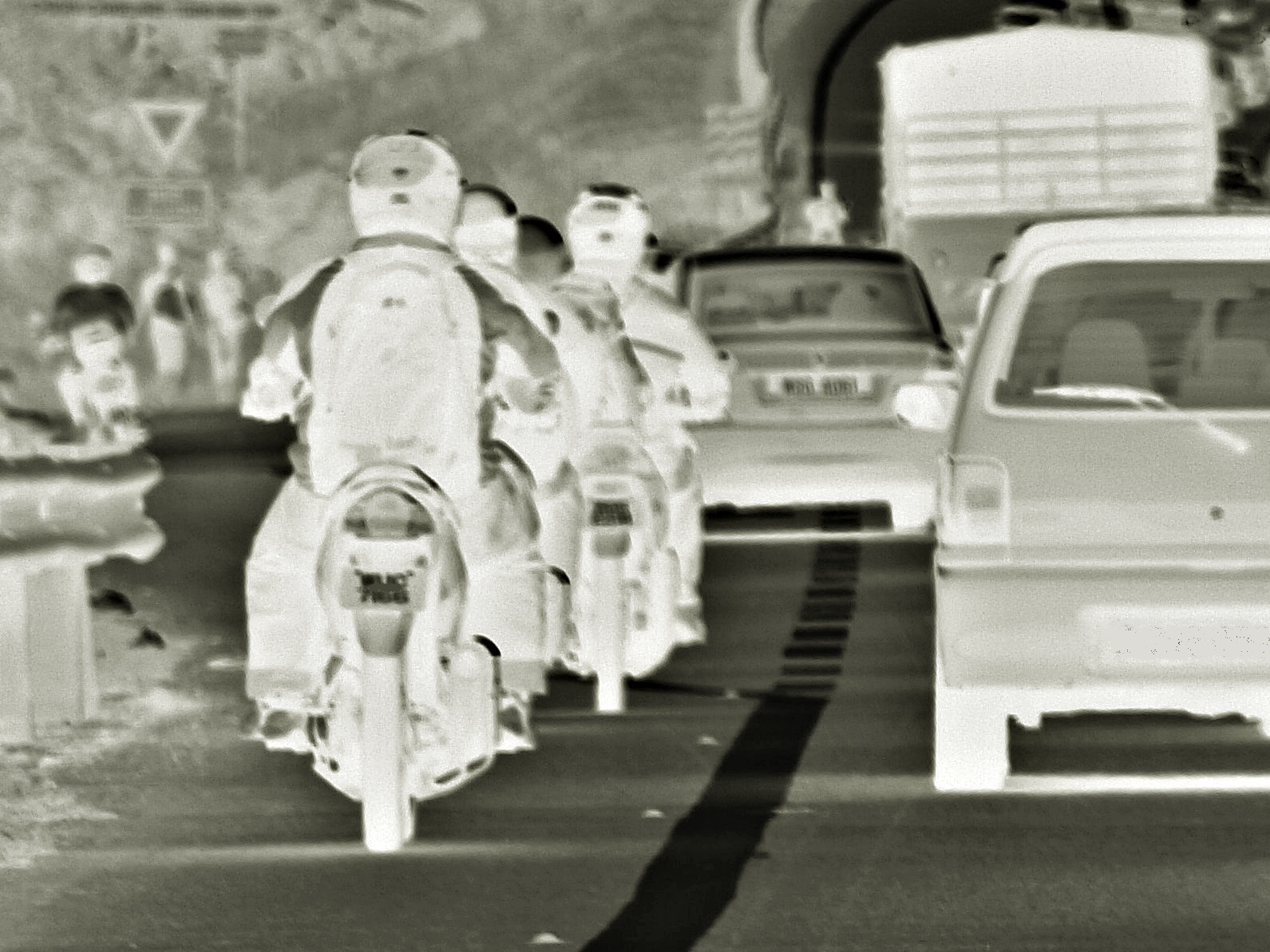 "Users (80.6%), the environment (13.2%), and vehicles (6.2% percent) are the three main factors involved in accidents. The changing of behavioural habits and heighten awareness of safety is the quickest way to get rides to be safer on the roads. Simple, doable changes such as speed control, adhering to traffic rules like stopping at red lights, and just overall riding etiquette can make a huge difference," said Encik Azhar.
"Motorcycles provide very little physical protection. So, for injury prevention, protective equipment like a proper-fitting, SIRIM-approved helmet can safeguard the head on impact while, riding jackets and closed-toe footwear can help reduce injury risks such as abrasion. These are readily available items that riders should consider incorporating into their ride to keep themselves safer," he said.