COVID-19 isn't going to disappear from our lives so quickly. Like many other diseases, it may have diminished presence but it will still be around and still infect people. In fact, few known diseases have been completely eradicated, smallpox being one of them in 1980. Thanks to medical advances and vaccines, we are better protected against diseases, even if we may not be totally immune to them.
Medical experts now suggest that we prepare to 'live with COVID-19' and that means continuing with most of the precautions that we have been practicing over the past year. You should know them by now – temperature scanning, social distancing, frequent washing of hands, and using facemasks in crowded areas.
In the business world, companies will also have to adjust to the New Normal and Honda Malaysia is taking a proactive step with a campaign to provide customers and associates with added confidence and safety assurance at its authorized nationwide. The campaign, known as 'I'm Vaccinated' ensures that only those who have completed their vaccination doses will be allowed to be on duty at the dealerships.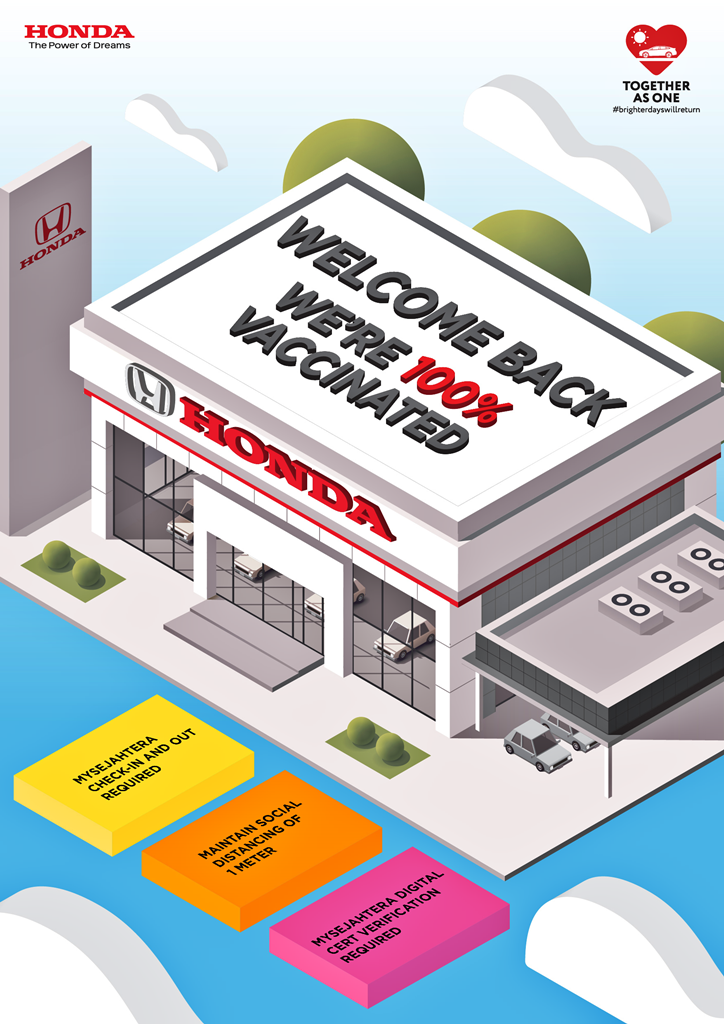 The company and its dealers are committed to ensuring that all the associates are getting their vaccination in a timely manner. To date, 80% of dealer associates in the country have been fully vaccinated and by October 2021, all of them should be vaccinated.
"We are thankful that our car production has resumed operations and Honda dealerships can carry out sales and aftersales services to serve our customers. Under the "I'm Vaccinated" campaign which kicks off this month at all our dealerships nationwide, our dealer associates who are fully vaccinated and have passed 14 days from the date of their second dose will be provided with a badge and facemask that have a specially-designed 'I Am Fully Vaccinated' logo for easy identification," said Honda Malaysia's Managing Director & CEO, Madoka Chujo
"We will not take the Standard Operating Procedures (SOPs) lightly and will continue to strictly follow all the necessary preventive and precautionary measures that we have been practicing since the emergence of COVID-19 in Malaysia," she assured.
"We believe this initiative can help to boost customer confidence during interactions with Honda dealer associates by showing that we are ready to meet and serve the customers in a safe environment as well as providing them peace of mind while being present at the dealerships. We also hope to encourage more people to get vaccinated, in addition to adhering to the SOPs at all times. Through this effort, it will not only protect themselves, but also to help the country to achieve its herd immunity as soon as possible," Ms. Chujo added.
In addition to safeguarding the safety of the customers and Honda dealer associates, the company will continue to ensure that the sanitisation and disinfection of all premises are undertaken on a routine and frequent basis at all its dealerships.
In connection with the resumption of sales activities, Honda Malaysia has initiated the 'Government Staff Program', an exclusive programme for government employees (including those in government-linked companies) and their spouses. The program, which is on until October 31, 2021, offers special discounts worth up to RM1,000 on top of the monthly promotion for the 7-Seater BR-V model.
For all customers, there is also a 'September Special Benefits' promotion throughout this month in conjunction with the Malaysia Day celebration. This promotion offers rewards worth up to RM6,000 and, of course, there is still the exemption of sales tax until the end of the year as well.
To know more about Honda products and services or to locate an authorized Honda dealer in Malaysia, visit www.honda.com.my.