Moving forward with the technology for New Energy Vehicles (NEVs) is vital for carmakers operating in China as the government's industry development plan from 2021 to 2035 aims to boost this segment of the world's largest automobile market. BYD (Build Your Dreams) has been among the leaders in electric vehicles (EVs) and is preparing for a new range of products with a dedicated platform.
Known as the 'e-platform 3.0', it will be used for vehicles of varying sizes and will be open to the industry to facilitate the development of intelligent EVs worldwide. Equipped with ultra-safe blade batteries integrated into the car body, the e-platform 3.0 is the basis of a special pure electric vehicle frame structure to increase the rigidity of the vehicle.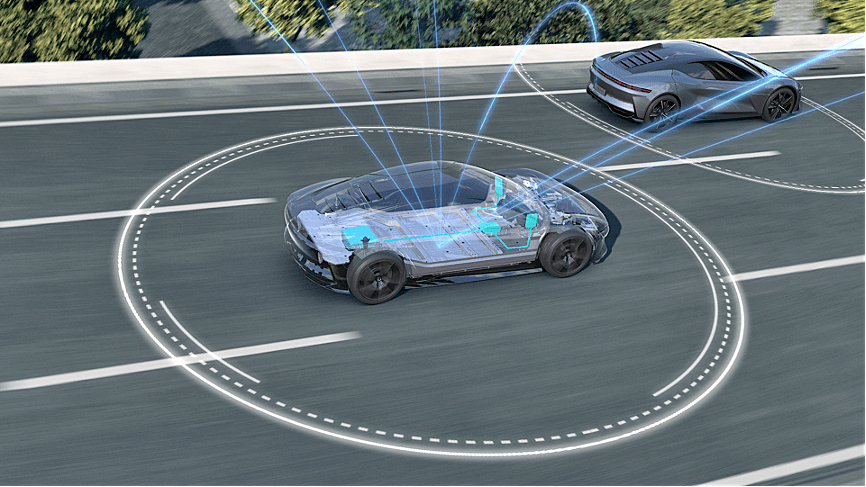 5-minute charge = 150 kms range
The new platform enables ranges claimed to be able to exceed 1,000 kms with the world's first 8-in-1 electric powertrain. In addition, the world's first fast charging technology enables a range up to 150 kms after just 5 minutes of charging. The original designed direct cooling and heating system for batteries increases the thermal efficiency by up to 20% while reducing energy loss.
Additionally, the heat pump system which can work at temperatures from -30℃ to 60℃, has increased the range by up to 20% in winter, since the system leverages the residual heat from surroundings, the powertrain, passenger compartment and even the batteries. Finally, there's an   electric AWD system that will enable a 0 – 100 km/h time claimed to be 2.9 seconds. The energy consumption is said to be comparable to that of 2WD vehicles.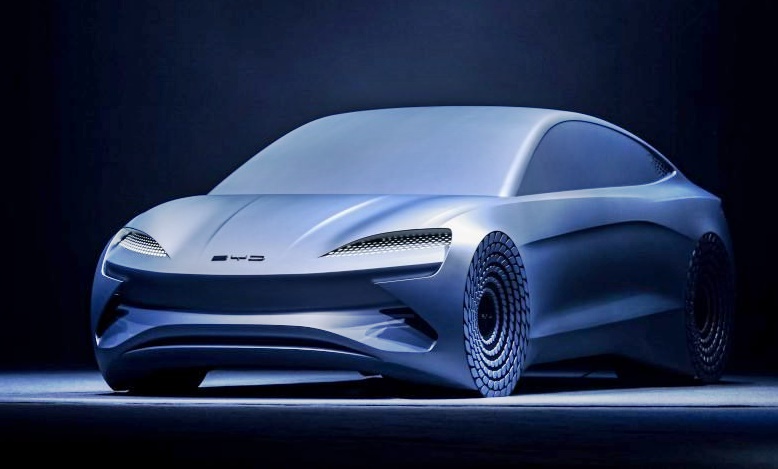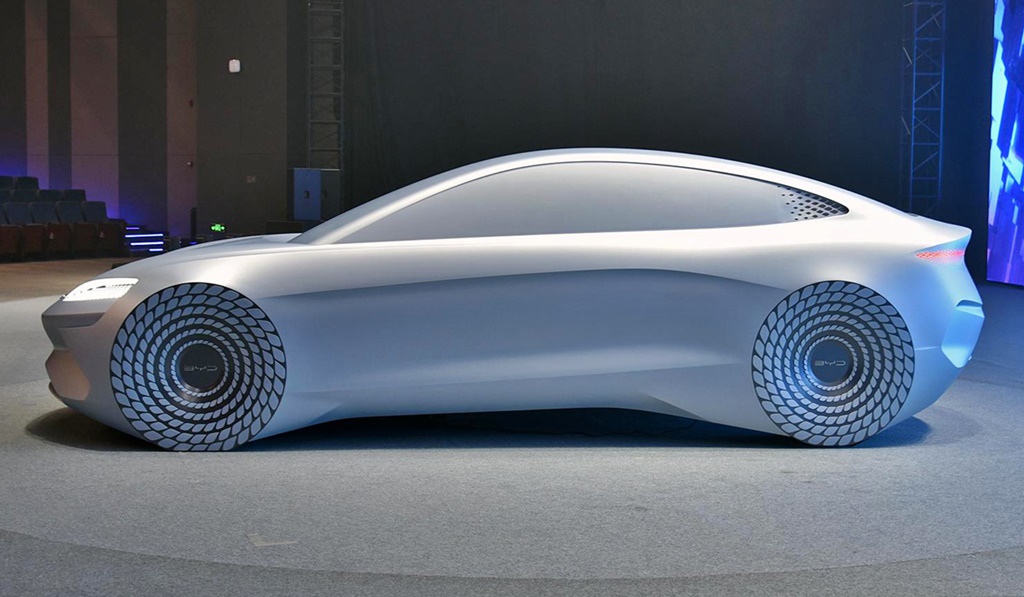 Ocean-X concept
To present the e-platform 3.0, BYD designers came up with the Ocean-X concept, a mid-size sporty sedan with high performance. Featuring short overhangs and a long wheelbase, the Ocean-X has generous passenger space, while the low body helps in aerodynamic efficiency, bring the drag coefficient down to 0.21 Cd.
The e-platform 3.0, which encompasses the drivetrain, braking, and steering systems, was originally developed in 2018. It uses the industry's first drive train domain controller which has been developed through the full utilization of the electric motors' fast response (already applied to the EA1 model). BYD has independently developed the BYD OS which decouples hardware and software, offering a superior collaboration system for high levels of intelligent driving.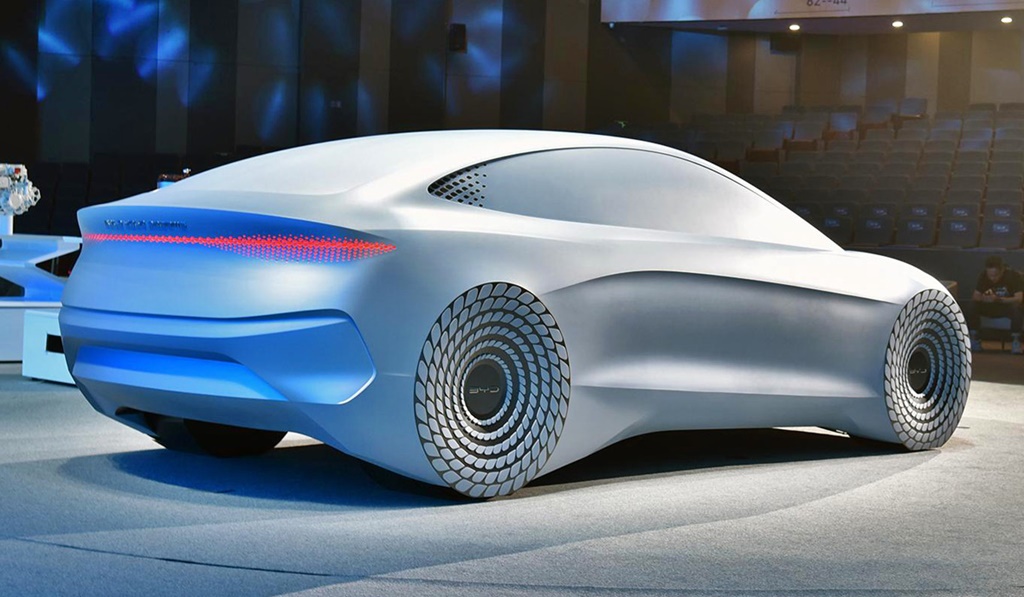 THE BYD STORY
Like many of the carmakers in China, BYD has a history that goes back only to the pate 20th century. It was established in 1995 with just 20 employees and focussed on rechargeable batteries. Its timing was good as demand or mobilephones and portable electronic devices began to rocket in the 1990s. By 2005, BYD was China's largest battery manufacturer and produced half of the mobilephone batteries on the world market.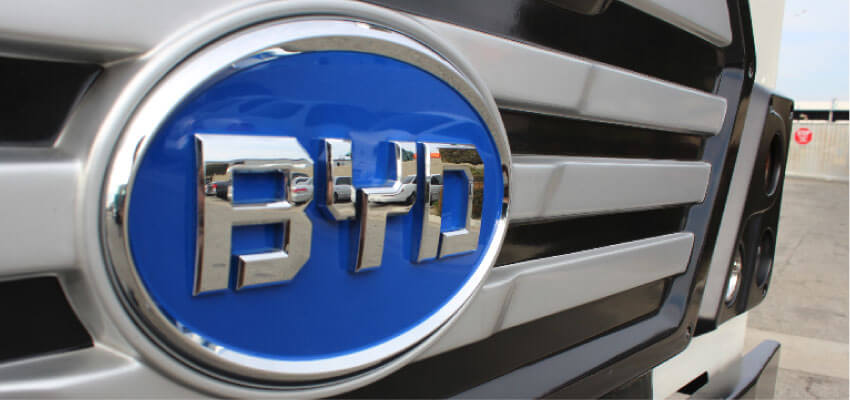 BYD describes itself as a high-tech company which has a presence in industries related to electronics, automobiles, new energy and rail transit. To enter the automobile market, it acquired Qinchuan Automobile Company in 2002 which became BYD Auto. Its focus on electrically-powered vehicles complemented its leadership in battery production, and in 2003, it produced its first car. 5 years later, its F3DM was the first commercially-produced plug-in hybrid in the world.
The carmaker got a boost in 2008 when one of the richest men in the world, Warren Buffett, became a shareholder, paying US$232 million for an 8.2% through his company Berkshire Hathaway. Its share in the Chinese company is even higher than in General Motors which is 3.7%.
Today BYD Auto's EV is very broad and includes buses, taxis, coaches and passenger cars, as well as logistics, construction and sanitation vehicles. Its products are sold in more than 50 countries and regions. In the USA, its 4-year old factory making electric buses is the largest of its type wholly owned by a Chinese company.
Last year, in support of the battle against the COVID-19 pandemic, BYD established the world's largest facemask factory in India. It can produce 5 million facemasks, as well as 3 million disinfectant bottles, every day.
According to available data for EV Sales, in July 2021, BYD returned to the top of the global NEV sales in a single month after 26 months, surpassing Volkswagen to claim third place in terms of cumulative sales from January to July. After hitting the 50,000-unit mark, BYD's monthly new-energy passenger vehicle sales continue to grow, positioning BYD as a dominant player in terms of market share.