Police forces on both sides of the Atlantic Ocean are showing interest in using the all-electric version of the Ford Mustang – known as the Mustang Mach-E – for patrol and other duties. In response to the interest, Ford specially built a concept unit that it is loaning for evaluations. Some seven police departments in the UK have either tested the new e-SUV, or will soon be doing so.
The Metropolitan Police Force has already assessed the standard Mustang Mach-E and has now requested a full evaluation of the marked concept. A full 'blue light' livery test car was built following enquiries from UK police forces looking for greener solutions to the vehicles currently available to them.
RWD and AWD available
The initial concept is a demonstrator Mustang Mach-E Standard Range with all-wheel drive (AWD). Subject to testing of this model, Ford is planning to offer Extended Range version of its rear-wheel drive and AWD versions. The extended battery types would give the police even greater range, and therefore versatility and capability, for police operations.
The new Mach-E, with an output equivalent to 480 ps, is claimed to be capable of 0 – 100 km/h in 3.7 seconds (GT version) and can reach a top speed of almost 180 km/h. Its instant and super-quick acceleration – and quietness – will be useful in a pursuit situation while it is also economical and environmentally-friendly in operation.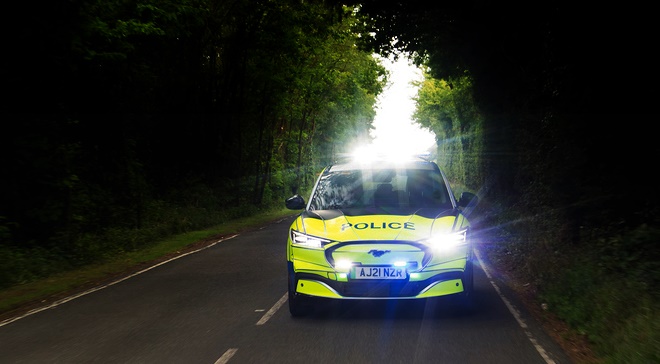 Lowest energy consumption
The Mustang Mach-E is already a Guinness World Record holder after having achieved the lowest energy consumption on a journey in an electric car. It's capable of travelling up to 610 kms between charges.
The issue of where the power to operate the concept car's blue lights, sirens and other high-tech equipment would come from, has been addressed by Ford technicians. "The vehicle range is uncompromised as the blue light equipment is being drawn from the vehicle's 12V battery and not the drive battery," said Terry Adams, Blue Light Direct Sales Manager, Ford of Britain and Ireland. "In future developments, we will look to increase this battery capacity to allow for additional equipment to be fitted."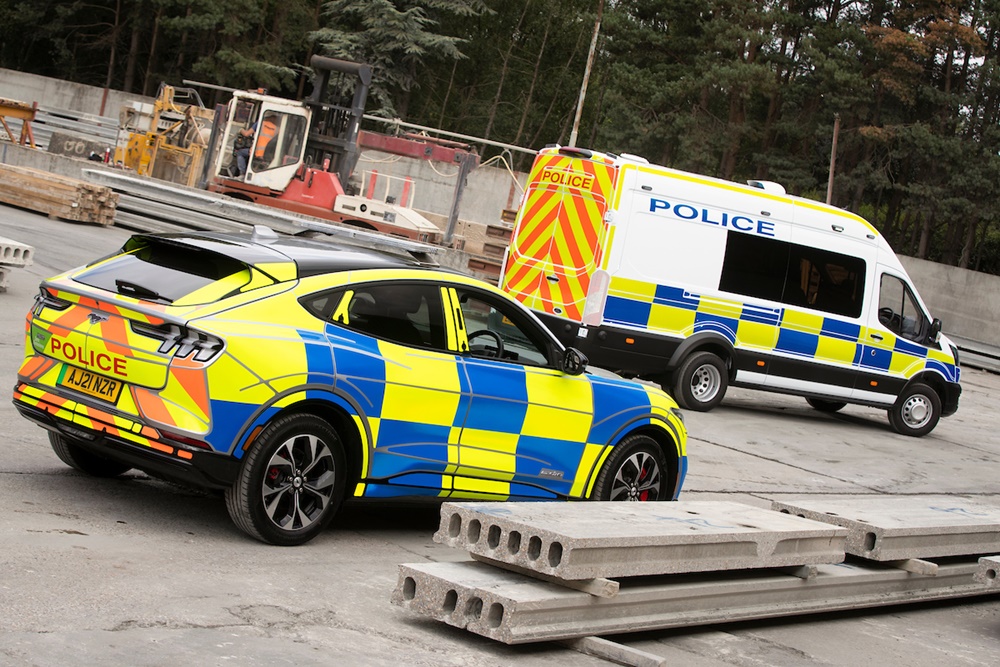 Some of the items in the equipment fitted to the concept car are bespoke mounting pods and brackets to ensure suitable locations are found for operational use, with minimal damage to the vehicle.  All lighting is LED with very low power consumption to reduce current draw from the vehicle's 12V power system. The 999 livery is a first-off design which utilises high specification material to maximise day and night visibility requirements.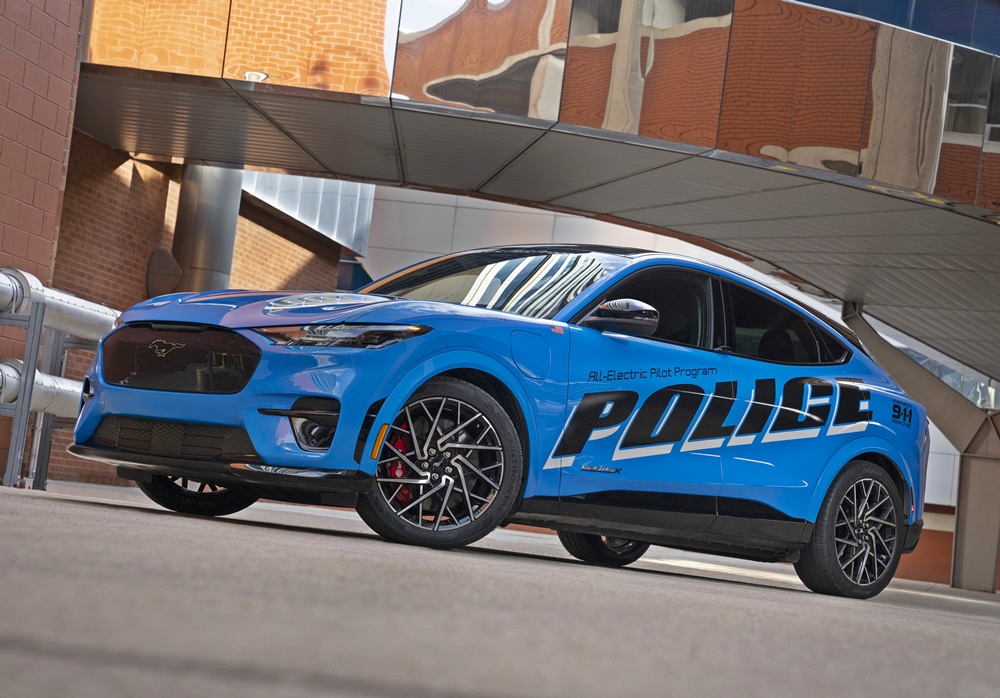 Tested by American police too
Over in the USA, Ford has been helping to pave the way for electric police fleets with all-electric, purpose-built law enforcement vehicles. To demonstrate that a vehicle with an electric powertrain can deliver strong performance and stand up to demanding police duty cycles, the company is submitting an all-electric police pilot vehicle (pictured above and below), based on the latest Mustang Mach-E for testing by police in the company's home state of Michigan.