It seems that Rolls-Royce Motor Cars either cannot contain its own excitement about its new fully electric car or pressure from its customers has persuaded it to reveal more about the new model. Until now, the company has said that the car will be launched during the decade, which can mean up till 2030. However, today CEO Torsten Muller-Otvos has announced that the finished product will have its global debut as early as the fourth quarter of 2023.
Another 'otherworldly' model name
The car's name has also been revealed: Spectre, which perfectly fits with the other 'otherworldly' model names like Ghost, Silver Spirit, Wraith and Phantom. "Spectre is a name given to otherworldly beings synonymous with great power and apparition; creatures of an alternative realm that make their presence felt through fleeting manifestation. A spectre forces the world to pause. It dominates the space it occupies. Then, as quickly as it appears, it dissipates, leaving a wake of exhilaration, energy, and intrigue," explained Muller-Otvos.
"This name perfectly matches the extraordinary Rolls-Royce that we are announcing today – a motorcar that makes its presence felt before disappearing into a world inaccessible to all but the very few. As a quintessentially British brand, we have selected the British spelling; however, the meaning is universal," he added.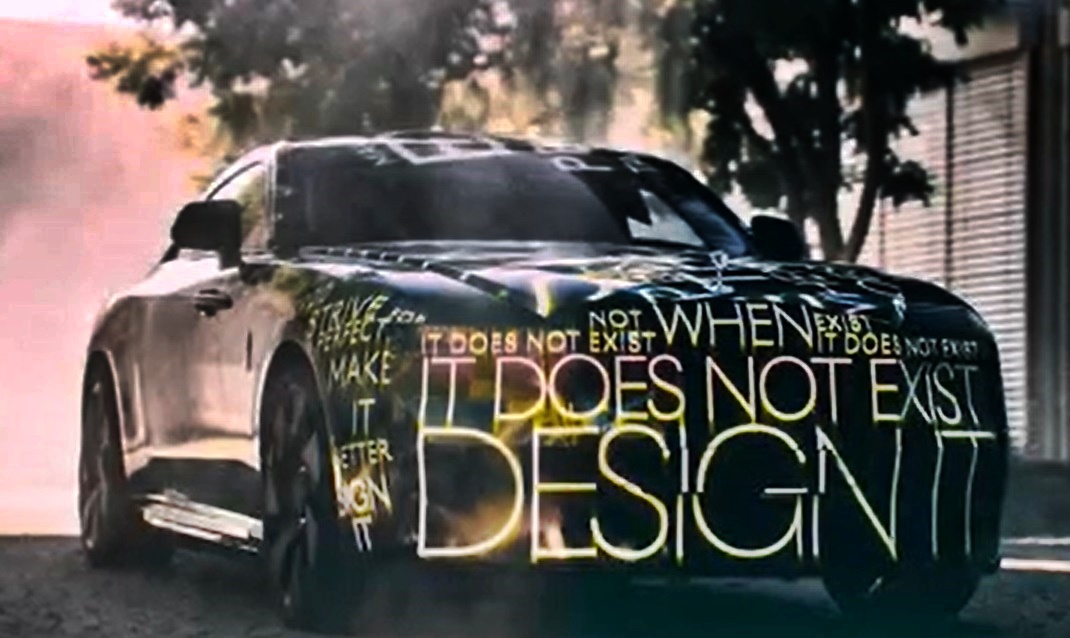 Road-testing to commence soon
Understandably, technical details are sparse at this time and the first two pictures of the camouflaged car do not reveal much although the side view does show a sleek form. Certainly, it will be nothing like the VISION NEXT 100 (103EX) concept shown earlier. The new car will begin testing shortly, which could explain why the company is making the announcement today. "This is not a prototype. It's the real thing, it will be tested in plain sight," he said. "We have conceived the most demanding testing programme in Rolls-Royce's history. We will cover 2.5 million kilometres – a simulation of more than 400 years of use for a Rolls-Royce, on average – and we will travel to all four corners of the world to push this new motorcar to the limit."
"You will see these test cars on roads, around the world. Look out for them – they will be in plain sight. They will be tested in all conditions and over all terrains on their multi-million-mile journey – that will literally accelerate Rolls-Royce into the future," he added. Of course, the cars are likely to be heavily camouflaged.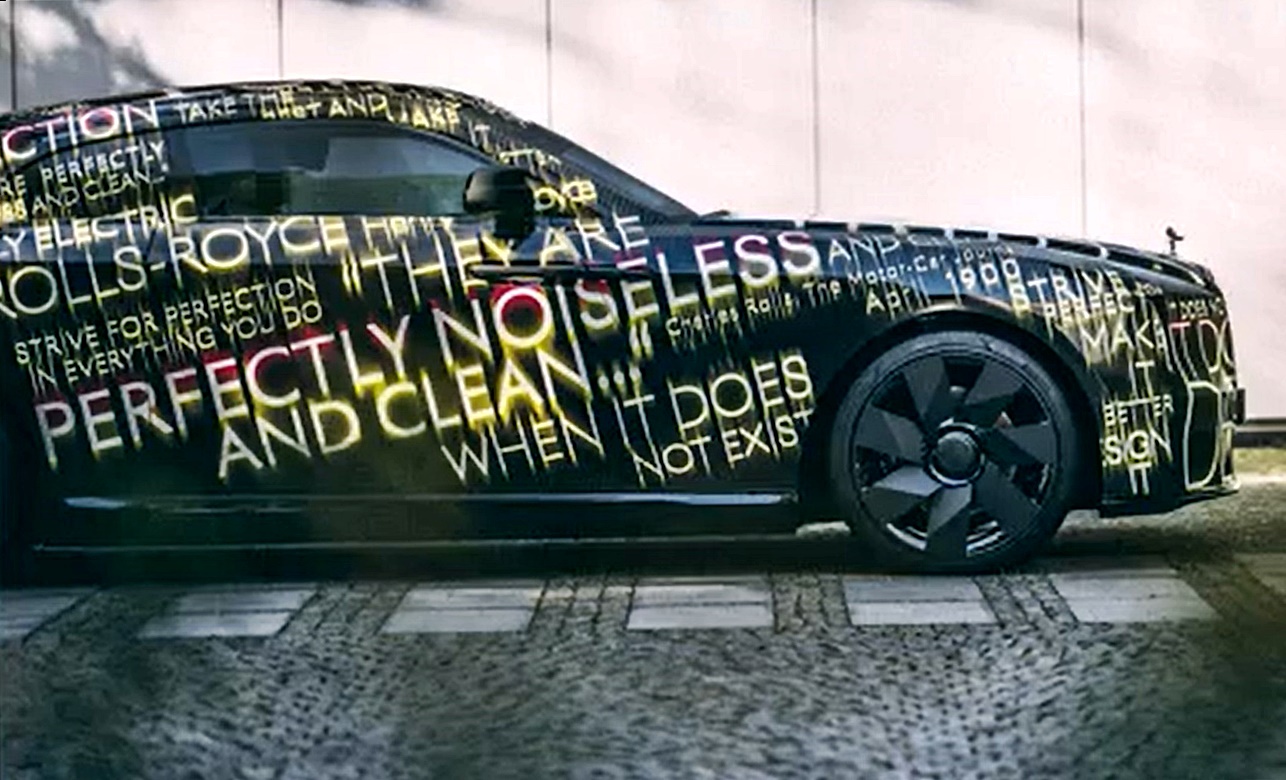 Building up expertise in electric cars
Besides the fact that the founders of the company – Charles Rolls and Henry Royce – were familiar and even experienced electric cars over 100 years ago, the company has also been building up its expertise in electric powertrains for some time. "At Rolls-Royce, we have been experimenting with an electric powertrain for some time. In 2011, we revealed 102EX, a fully operational all-electric Phantom. We followed this in 2016 with our fully electric 103EX, which represented our vision for the marque several decades into the future," said Muller-Otvos.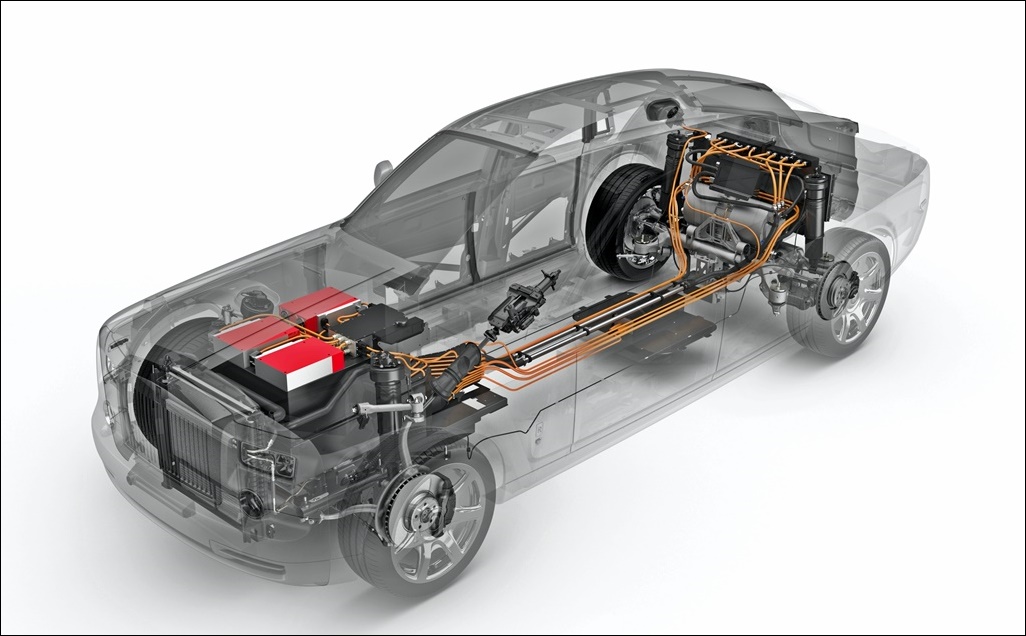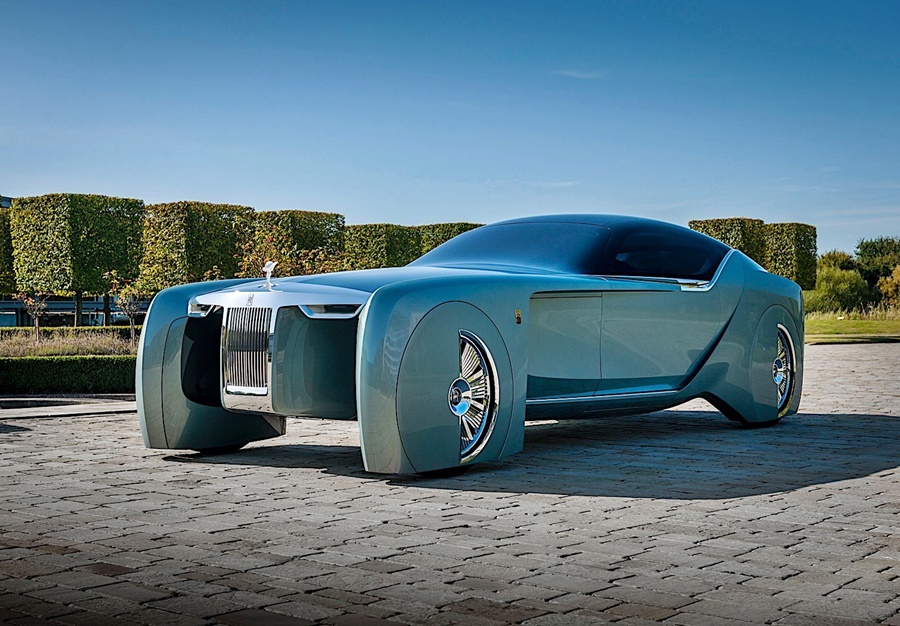 "We embark on this bold new future with a huge advantage. Electric drive is uniquely and perfectly suited to Rolls-Royce Motor Cars, more so than any other automotive brand. It is silent, refined and creates torque almost instantly, going on to generate tremendous power.  This is what we at Rolls-Royce call 'waftability'," he added.
Exclusive spaceframe architecture
"In 2016, we debuted Phantom and, with it, the marque's proprietary aluminium architecture: a scalable and flexible spaceframe that would underpin all forthcoming Rolls-Royce motorcars. This unique technology – developed for Rolls-Royce by Rolls-Royce and reserved for the marque's exclusive use – was created to form the foundation of not just different internal combustion engine models, as it now does with Cullinan and Ghost, but models with completely different powertrains."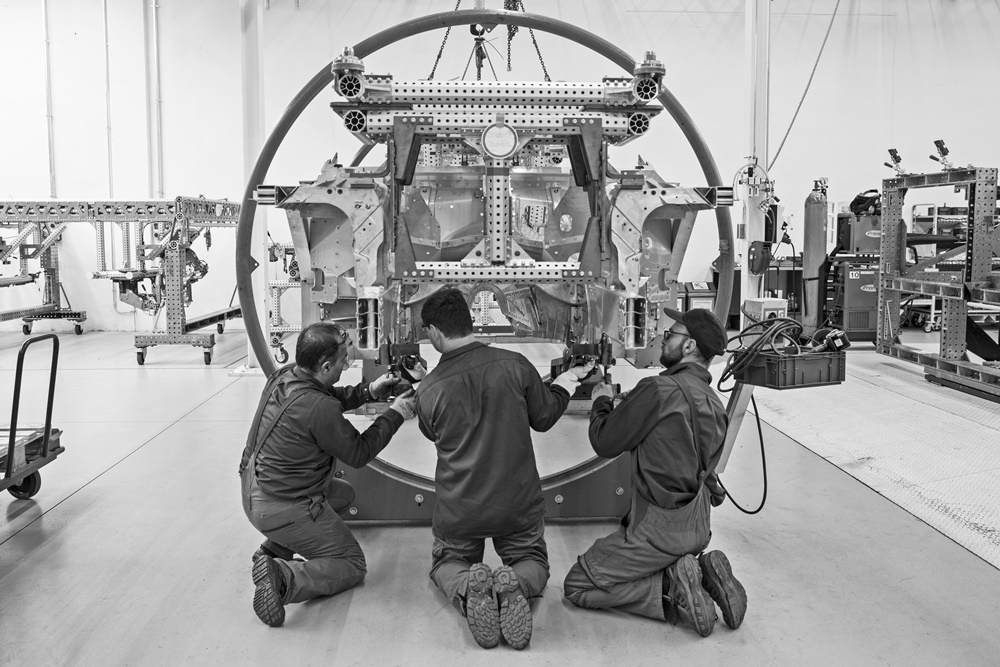 "To this end, our forthcoming electric car benefits from the Rolls-Royce architecture and therefore the extraordinary experience of a Rolls-Royce on the road. Free of any group platform sharing strategy, we were able to integrate our plans for an electric powertrain into the architecture's initial design and ensure that this extraordinary new product meets the extremely high expectations of our clients," he explained.
"With this new product, we set out our credentials for the full electrification of our entire product portfolio by 2030. By then, Rolls-Royce Motor Cars will no longer be in the business of producing or selling any internal combustion engine products," he declared.
Rolls-Royce founders experienced electrified vehicles even in the early 20th century