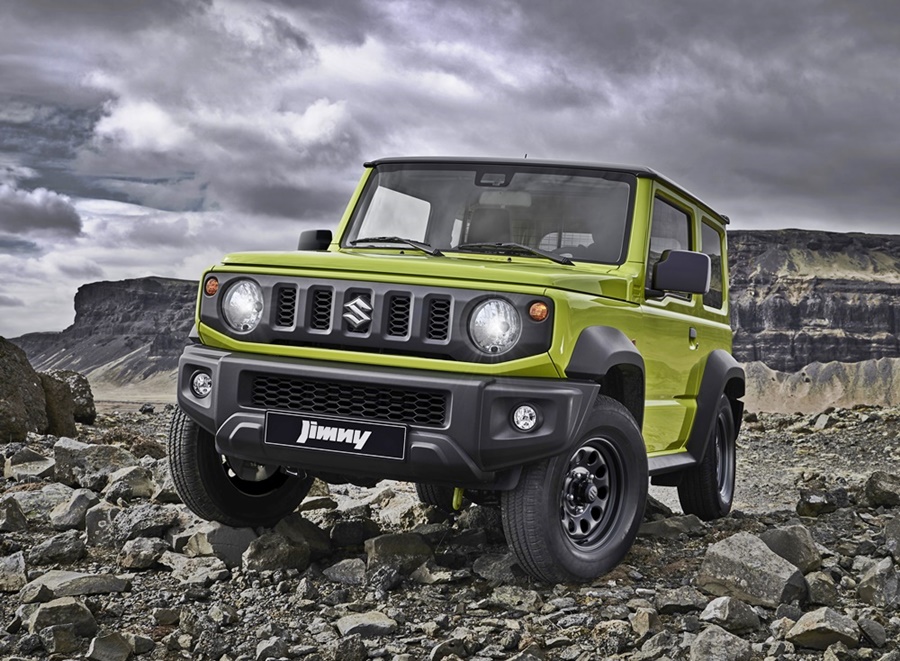 Following the Suzuki Swift Sport that marked the return of the Suzuki car brand to Malaysia, Naza Eastern Motors (NEM), the official distributor, has now begun importing the Jimny compact SUV. Equally iconic as the Swift, the Jimny has a long history and its first generation predecessor was on sale in Malaysia as far back as the 1970s.
The first generation Jimny was truly a mini SUV, measuring about 3.2 metres long and 1.4 metres wide. With an 800 cc engine, its kerb weight was only 787 kgs which was advantageous on soft ground. Contractors loved it as it was ideal for going around construction sites and could even take rough terrain with its simple 4×4 system.
Later versions of the first generation with various bodystyles, including a high roof, broadened the popularity of the model. However, by the third generation, the price had jumped significantly and although it was available, the numbers sold were very small.
The latest 4th generation has been around for about 3 years and when it was launched, many saw its appearance to be like a mini G-Wagen (the Mercedes-Benz SUV). In fact, there are aftermarket accessories to make it look like the German SUV. The price went up even more and NEM is offering it at RM168,900 (excluding sales tax) and for those who wonder, the price of the first generation was around RM17,500.
Of course, the Jimny has come a long way technically and has many modern technologies. It no longer uses a kei-class engine but a K15B 1.5-litre petrol engine. NEM is importing on the version with a 4-speed automatic transmission but you do get 4×4. And like the traditional SUVs, there's even a transfer case with 2WD/4WD high range and 4×4 low range that enables very low speeds in difficult terrain.
The construction also follows traditional SUVs with a body-on-chassis (BOC) frame. Suzuki could probably have used a monocoque approach but may have used the BOC method for 'traditional' reasons. There's nothing wrong with the BOC structure which is better for heavy loads though it may be slightly less comfortable. The coil spring suspension is a simple layout with a3-link rigid axle layout.

The size of the latest Jimny, which has only 2 side doors, has grown to 3.6 metres long and 1.6 metres wide. It has generous ground clearance of 210 mm, with good clearance angles for better off-road capability. It has also become heavier, with a kerb weight in the region of 1,095 kgs.
The original Jimny was a pretty bare vehicle with uncovered metal panels around the cabin. Today's Jimny is, however, as comfortable and well equipped as a passenger car (which partly accounts for why its costs so much more). The 4-seater space is snug but has air-conditioning, a leather-wrapped multi-function steering wheel and a touchscreen infotainment system which supports Apple CarPlay and Bluetooth, handsfree telephony and audio functions.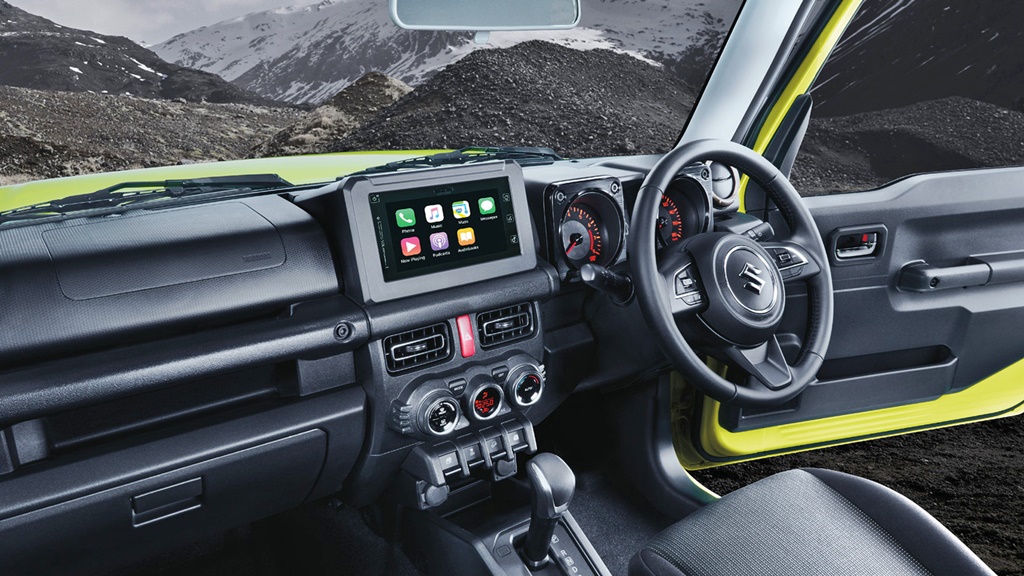 Like all SUVs, there are practical storage spaces but the compact external dimensions will already indicate that you can't have a lot of cargo space. Nevertheless, the rear seats can be folded to 830 provide up to 820 litres of volume.
The Suzuki designers chose to retain the side-hinged rear door as well as spare wheel mounted on the door, two elements which follow the classic 4×4 SUV look. Over the past 15 years, as SUVs evolved into more passenger-like vehicles, the styling changed and designers switched to a top-hinged door (partly also for safety reasons) and decided that there was no need to add engineering complexity with the spare wheel hung on the door.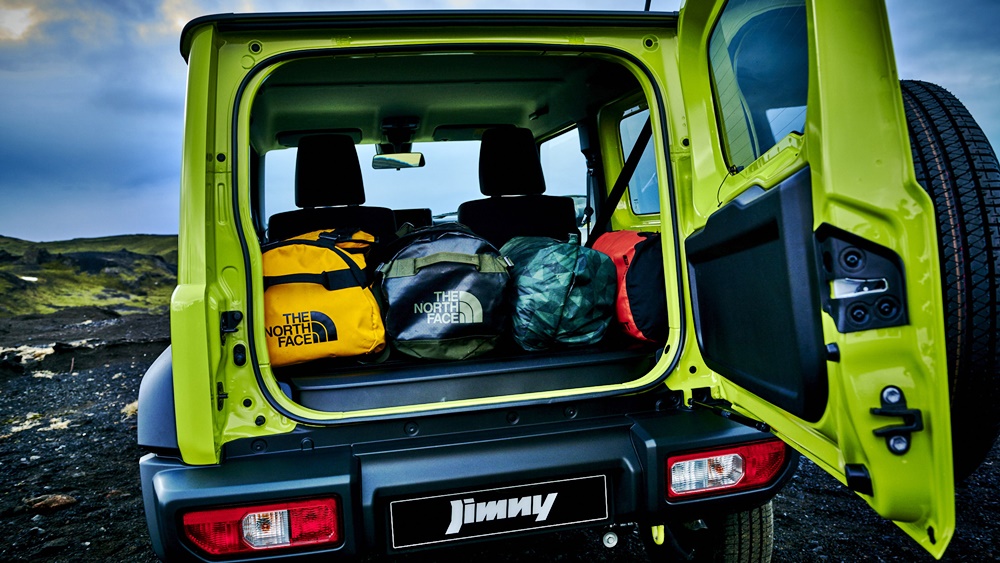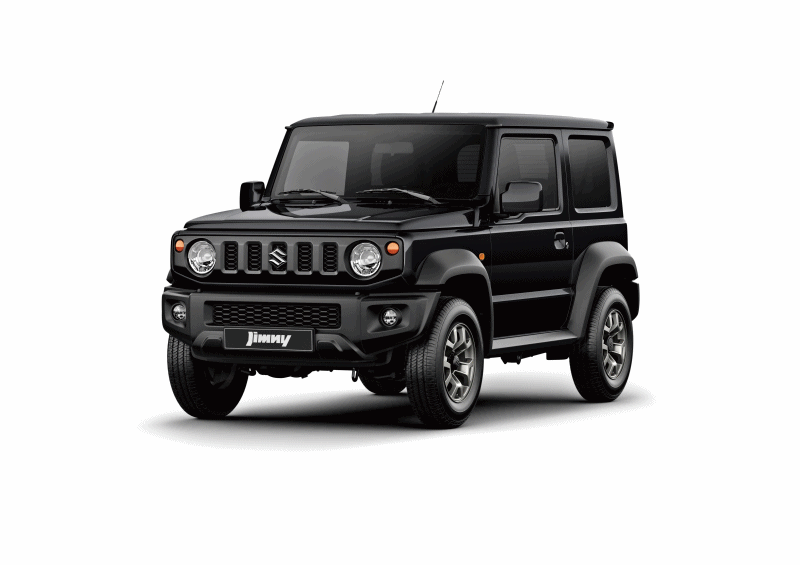 The Jimny also has all the safety systems expected of a vehicle today. Electronic Stability Control will be helpful in slippery conditions and of course, there's ABS and also hill-descent control, the latter letting the computer safely control the vehicle as it moves down a slope. Parents with small children will appreciate the ISOFIX points behind for ease of installing compatible childseats.