KINTO ONE is a car subscription program available exclusively to Toyota and Lexus customers globally. Introduced in Malaysia earlier this year, it offers the use of a vehicles without having to own it. Those who sign up for the program have only to pay a fixed monthly payment which includes registration fees, maintenance costs, insurance and even roadtax.
Originating from the Japanese word kinto-un, which means 'flying nimbus', as the future image of  mobility, the name is in line with the spirit of providing services that quickly appear when necessary, enabling mobility as per the user's wishes.
With the traditional hire-purchase (H-P) financing facility, the customer has to pay a monthly instalment to repay the loan amount and also all costs related to ownership and usage. KINTO ONE packages all the costs for convenience during the term selected which can be 2 years or 3 years. At the end of the subscription period, the vehicle is returned and everything else will be taken care of. There are no worries of residual value nor how to sell off the vehicle.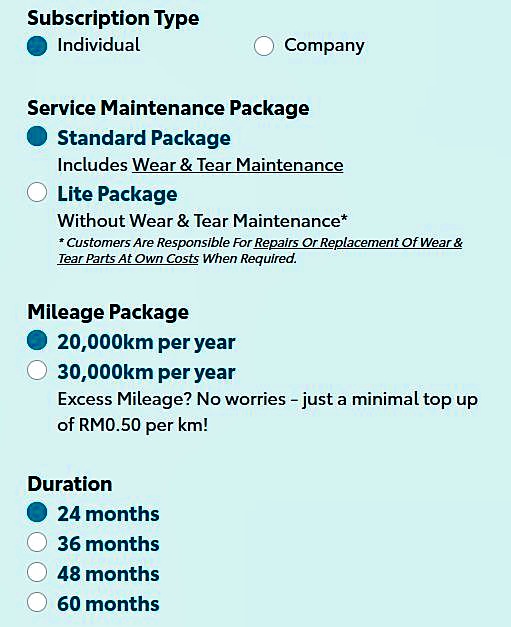 In Malaysia, KINTO ONE is offered through a joint strategic collaboration between Toyota Capital Malaysia Sdn Bhd and UMW Toyota Motor. It is available in Peninsular Malaysia and East Malaysia but not Langkawi and Labuan. The subscription program is Islamic-based and is part of the local early mover transition to realizing Toyota's ambition to become a mobility company.
"Soon after we launched KINTO ONE, the country was ushered into another major lockdown and  this has encouraged us to be more adaptive of the local happenings. Through our spirit of kaizen (constant improvement) and structured discipline in product development, we took advantage of the recent lockdown to improve our KINTO ONE features," said Thomas Chai, President of Toyota Capital Malaysia. "We listened closely to what the market needs and have come up with additional varieties of KINTO ONE to cater to the growing car subscription market."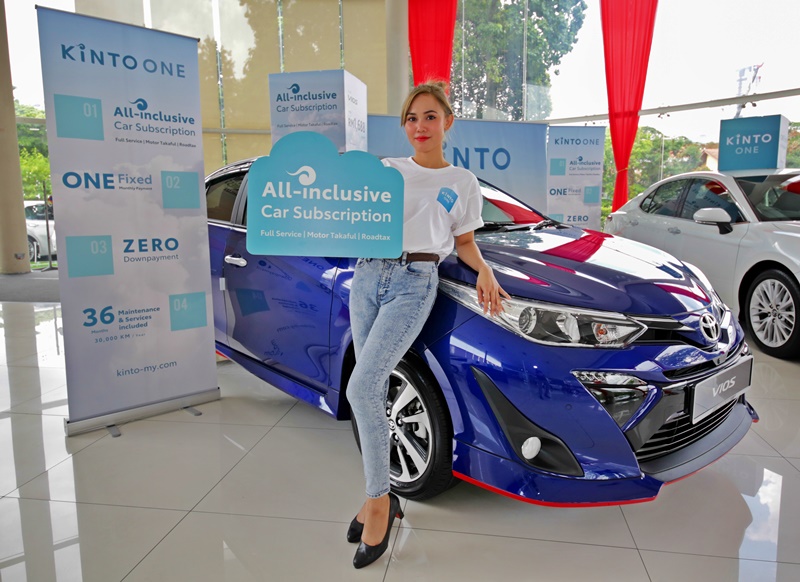 KINTO ONE now offers the option to choose from different yearly mileage packages starting from 20,000 kms to 30,000 kms and a longer subscription up to 5 years can also be chosen. Additionally, there is a Lite Package, conceived as a response to the reduced motoring by many people (due to working from home and limiting their travels). They may still require an easy and straightforward car  usership program. The Lite package has all the value propositions of a car subscription program but offers extensive flexibility to choose the package that suits each customer's needs best.
The corporate sector would also find KINTO ONE Business worth considering for company fleets. Formulated to appeal to companies who wish to be light on their assets and lessen the unnecessary  administrative works, KINTO ONE Business can help to improve the bottom line as it is a cost-effective solution for mobility needs. Furthermore, fleet managers can have an easier time as everything related to the vehicle throughout the subscription period is covered. KINTO ONE Business offers a range of commercial vehicles as well.

Current models available for KINTO ONE subscription include popular Toyota and Lexus and for KINTO ONE Business, vehicles for commercial usage as well. Vehicle inventories and subscription costs can be found at www.kinto-my.com.
Enhanced ownership experience with new Toyota Loyal-T Programme