After the long period of inactivity due to the Movement Control Order (MCO) lockdowns for over 2 months, the auto industry is quickly revving up again. Customers are visiting showrooms and the backlog of orders is quickly being fulfilled. For Mitsubishi Motors Malaysia (MMM), there has been a steady surge which led to a historic sales achievement in the month of September 2021.
During the first full month of business since the government permitted businesses to resume in mid-August, MMM delivered 1,521 units of its most popular model, the Triton. This volume also gave it the highest market share of 34% within the pick-up segment for September.
Brand among top 3 in non-national segment
In comparison to 2020, the volume of Triton sales increased by 5.1% within the first half of company's Financial Year 2021 (April – September 2021), while the overall sales volume saw positive growth with a total of 6,907 vehicles delivered. This raised Mitsubishi Motors market share from 1.7% (April – September 2020) to 3.9% (April-September 2021), maintaining the brand's position among the top 3 non-national brands in Malaysia.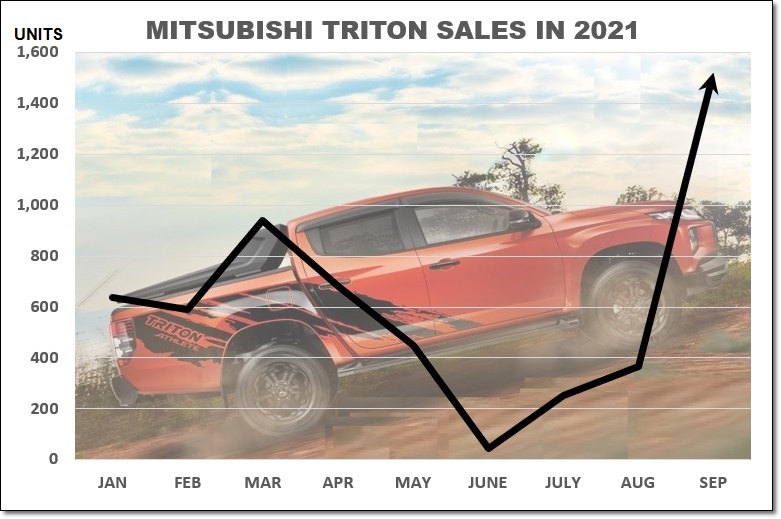 XPANDER MPV bookings close to 13,000
Besides the Triton, the XPANDER MPV has also been growing in popularity. It's unfortunate that, like a number of the latest models, it was introduced during a period when the pandemic restricted movements. Now, as the situation eases, it is clear that the model has strong appeal as it is the best-selling non-national MPV with close to 13,000 bookings since launch in November 2020. To date, MMM has delivered 5,756 units of the model, assembled in Pahang, to new owners around the country.
"After a few months of the challenging market situation due to the COVID-19 pandemic and lockdowns, the team at Mitsubishi Motors Malaysia is working with our best efforts to improve production, delivery timing, and to recover from backlog orders fulfilment for the XPANDER and Triton. We would also like to thank our customers who have shown us support and have been patient with us. As the nation moves towards the endemic era and with the resumption of the automotive supply chain and showrooms opening, we are confident for optimistic sales numbers over the second half of our Financial Year," said Tomoyuki Shinnishi, CEO of Mitsubishi Moors Malaysia.
Home Delivery Service soon
"In addition, we are continuously looking to improve and introduce new digital services. Soon, we will be announcing a Home Delivery Service for customers who have purchased a Mitsubishi vehicle to have their brand new car delivered to their doorstep. This is to ease customer's convenience in shopping using Mitsubishi Online Showroom. We are also working very closely with our dealerships to ensure full SOPs are in compliance and only fully vaccinated staff are allowed to be on duty and serve customers," he added.
To know more about Mitsubishi Motors models available in Malaysia and to locate a showroom for viewing and test-drives, visit www.mitsubishu-motors.com.my.
Mitsubishi Triton Athlete takes over as flagship of range from Adventure X