It's been a while since the pick-up truck segment saw a new competitor appearing. Although there have been some models from China and India purely for commercial use, there have been few targeted at the larger 'lifestyle' market that was born in the late 1990s when the regulations on ownership changed.
Now Angka-Tan Motor Sdn Bhd (ATM) will challenge the status quo with its new Vigus Pro from Jiangling Motors Company Ltd (JMC). Unlike other pick-ups from China, the Vigus Pro is stylishly designed and equipped like a passenger car. It is a full-fledged truck with 4×4 and the load-carrying capabilities if needed.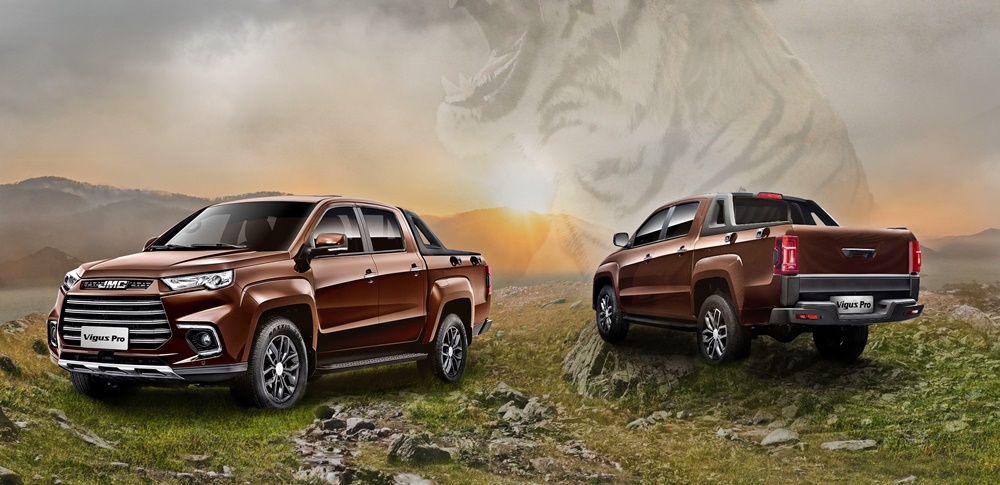 Assembled locally
ATM is not testing the market and seems to have enough confidence to jump straight in with the new model by committing it to local assembly. As ATM is affiliated with the Tan Chong Group, it is only natural that the vehicles will be assembled at Tan Chong's plant. In this case, it is the younger one in Serendah, just off the North-South Highway after Rawang, Selangor. This is also where most of the Nissan models are assembled.
For now, the Vigus Pro is available in just one variant which is priced from RM98,888 (without insurance) in Peninsular Malaysia. It will be sold through a network of dealerships which presently number 13, with an equal number of aftersales outlets also established. A warranty of 3-years or 100,000-km (whichever comes first after registration) is provided.
Speaking at today's launch, Tan Keng Meng, CEO of Warisan TC Holdings Bhd and Executive Director of ATM, said: "The JMC Vigus Pro is a stylish and versatile pick-up truck developed with premium engineering. Whether it's for work or play, the Vigus Pro is ready to meet the demanding requirements of pick-up truck users in Malaysia after proving itself as the second best-selling pick-up truck in the Chinese market."
Bold, distinctive looks
The styling of the Vigus Pro is certainly bold and distinctive, and it should stand out in a crowd of pick-ups. It has all the modern design elements like slim headlamps, LED daytime running lights and 3D taillamps. A sports bar in fitted behind the double cab and incorporates the third brake light.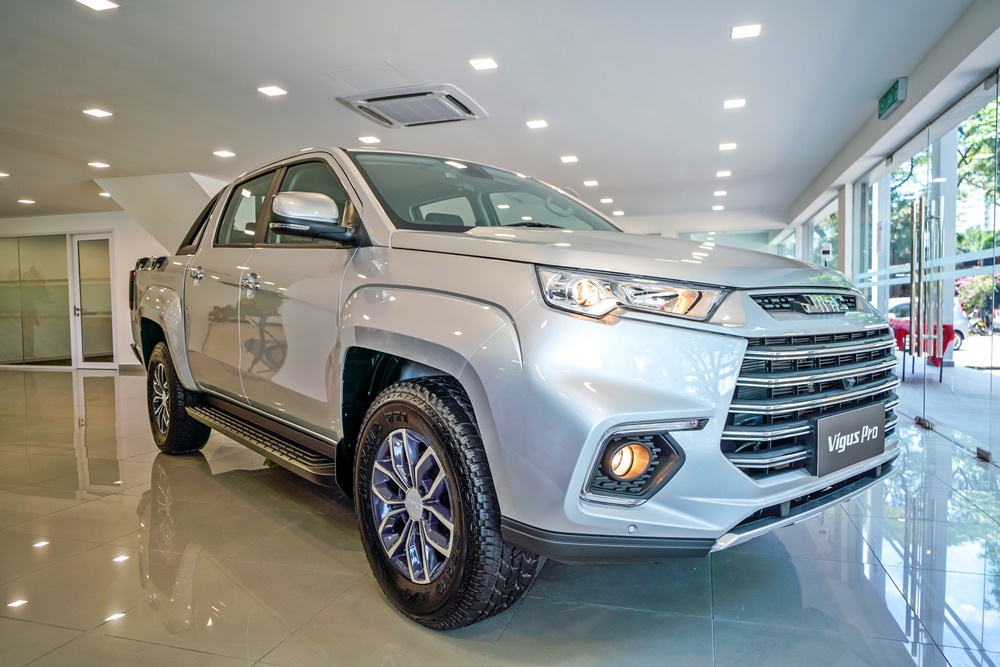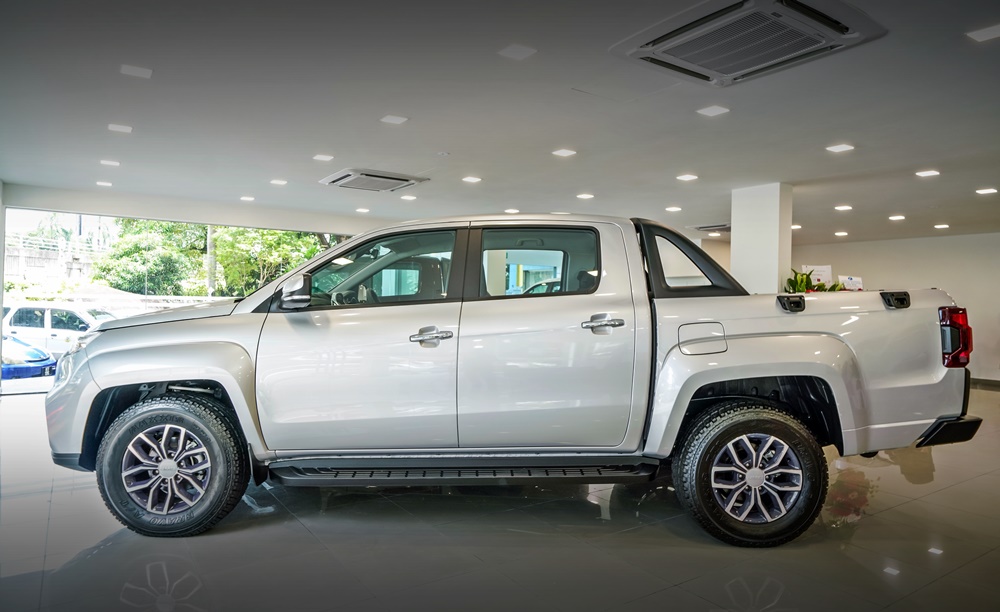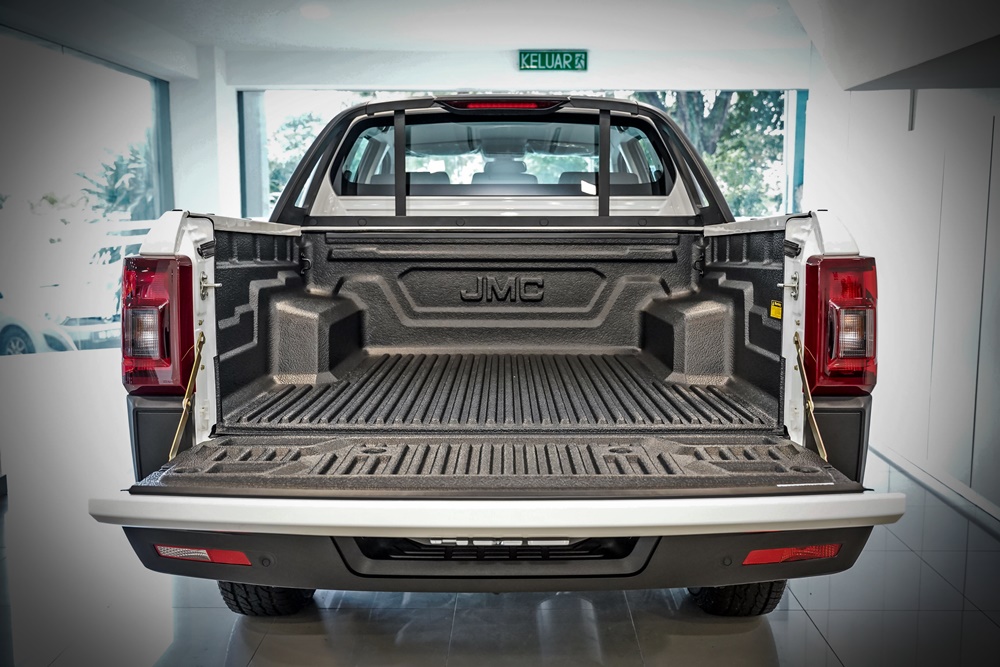 Size-wise, it's about the same as the Toyota Hilux, which has been the market leader for years. It has a bit more width, which could mean a bit more comfort within. It has traditional construction, meaning body-on-chassis, with the ladder frame chassis providing durability.
Ford-based TDCi engine?
While most of the vehicle has been developed by JMC, the Puma engine appears to have Ford involvement. It even has a 'TDCi' badge on it, which would be familiar to Ford Ranger owners. Ford is in the picture because the American carmaker has had a share in JMC since the mid-1990s, so there would be some technology-sharing and engines may be among them.
The engine in the Vigus Pro is a 2-litre unit with high-pressure common-rail fuel injection system and a variable geometry turbocharger and intercooler. It develops 141 ps/340 Nm and is mated to an 8-speed ZF automatic transmission with manual shift option and paddle shifters. The fuel consumption claim is pretty good at 12.8 kms/litre which should give a range of almost 900 kms with the 68-litre fuel tank.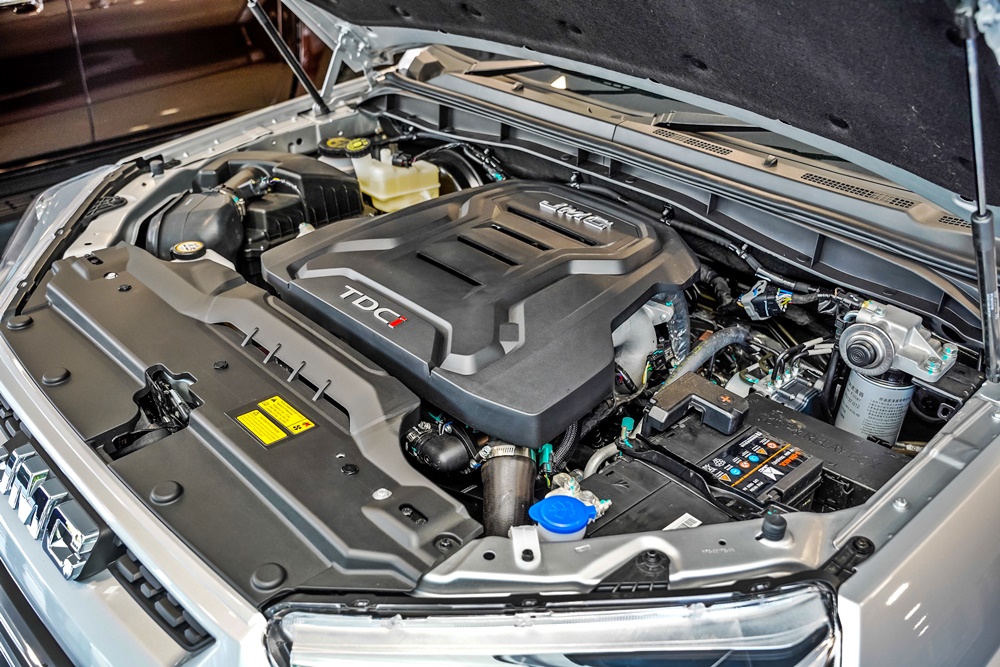 Full-fledged 4×4 BorgWarner system
The Vigus Pro has a transfer case to direct power to the front and rear axles. The 4×4 system comes from BorgWarner, one of the leading companies in drivetrains. There are High and Low ranges as well as 2WD which can all be selected with an electronic rotary dial – no more having to struggle with a secondary lever. The rear axle is also fitted with an Eaton limited-slip differential (LSD) lock for better traction in very slippery conditions.
Additionally, there's Hill Descent Control which is like having an experienced off-road driver handle driving downhill (which is not always easy in off-road terrain). The system maintains a safe speed by applying brakes when necessary and also adjusting engine power. All the driver has to do is watch the ground ahead and steer to avoid obstacles.
Other assistance features include Hill Start Assist, ABS with Electronic Brake-Force Distribution and Electronic Stability Program with Traction Control. So in as far as active safety is concerned, the Vigus Pro is comparable to an average passenger car of today.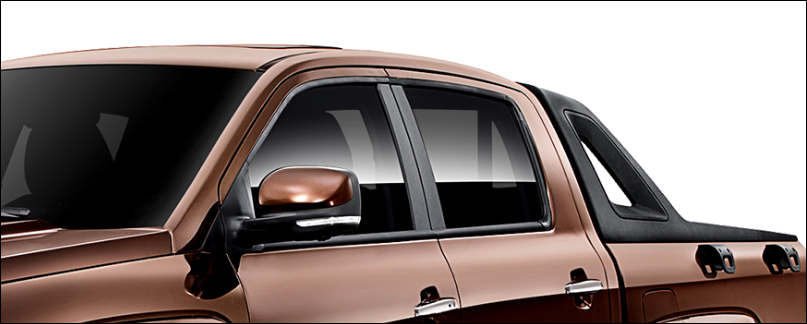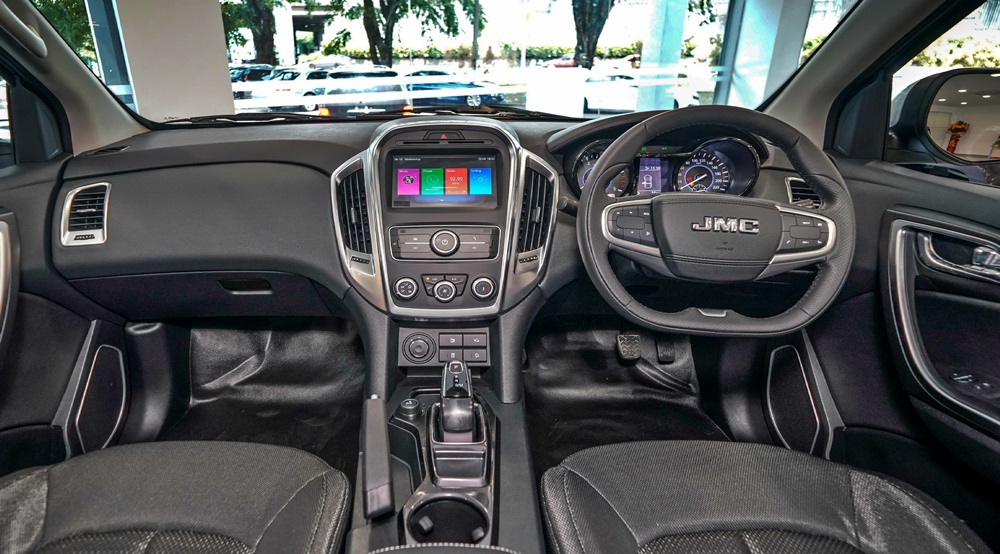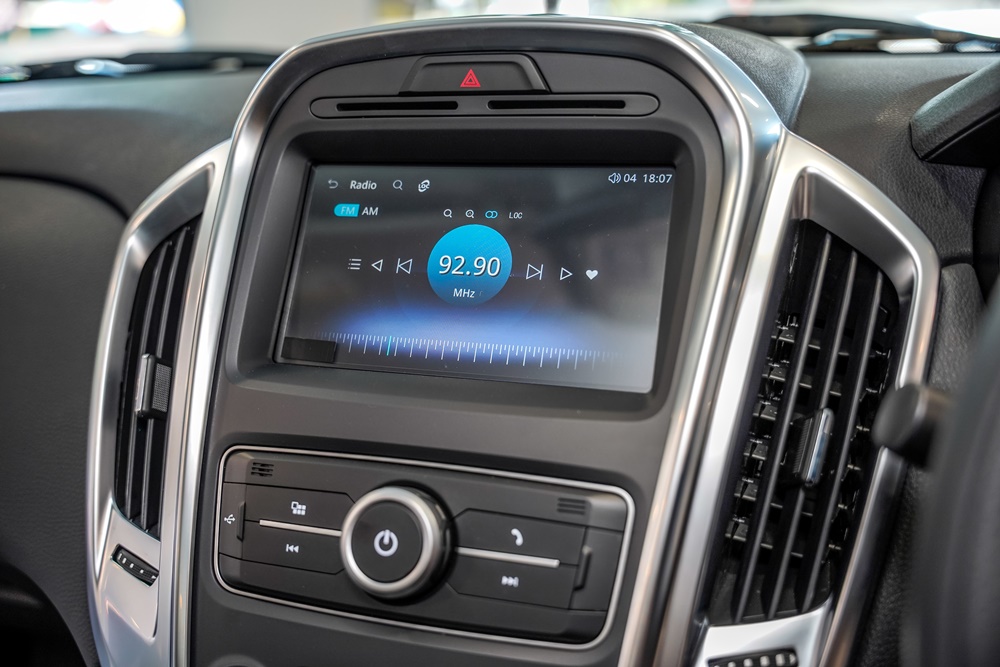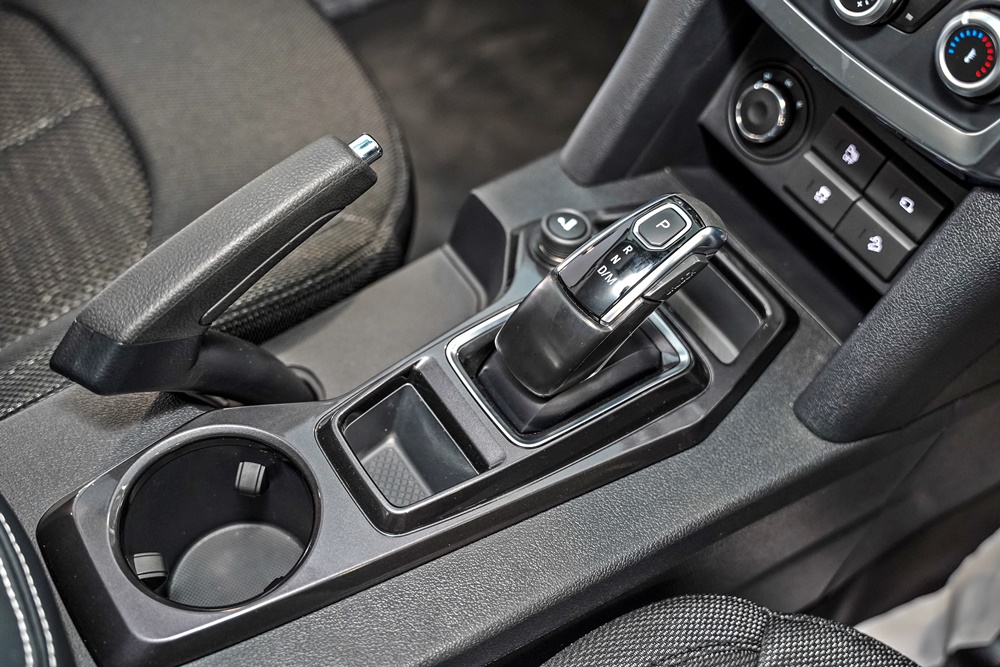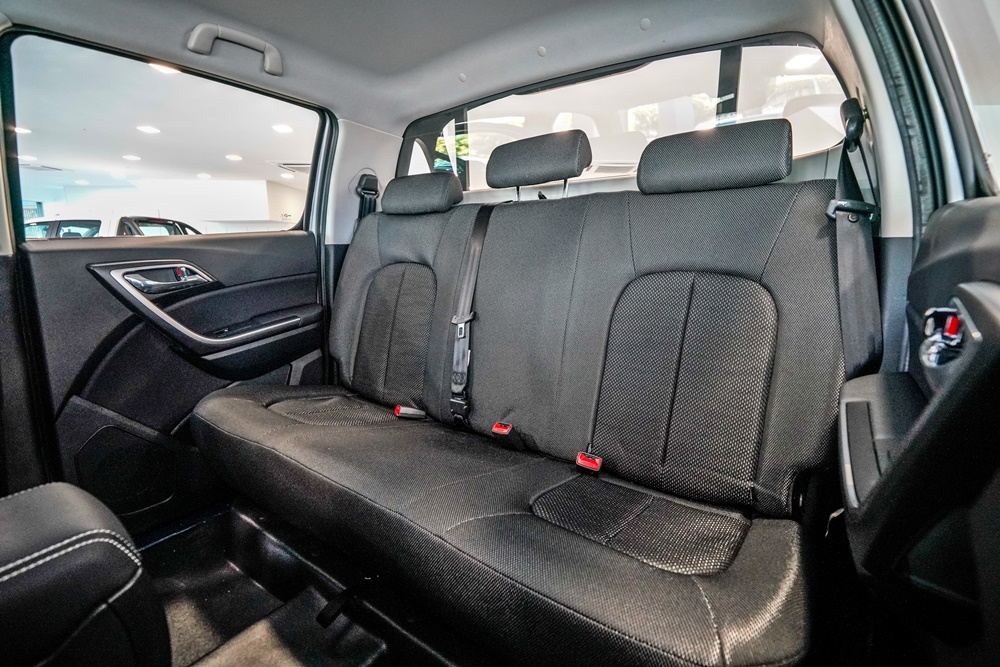 To ensure that it appeals to its target customers, ATM has specified a high standard for the cabin. There's a leather-wrapped multi-functional steering with steering controls for the infotainment system, cruise control and voice calls via Bluetooth connection. The infotainment system has an 8-inch colour touchscreen which also displays real-time images from the reverse camera.
First fleet customer
The first major customer to order the new model is Mayflower Car Rental Sdn Bhd, which will take 30 units of the Vigus Pro to add to its fleet of over 2,800 vehicles. The 30 units are about a tenth of the total number ATM expects to sell in the remaining months of 2021.