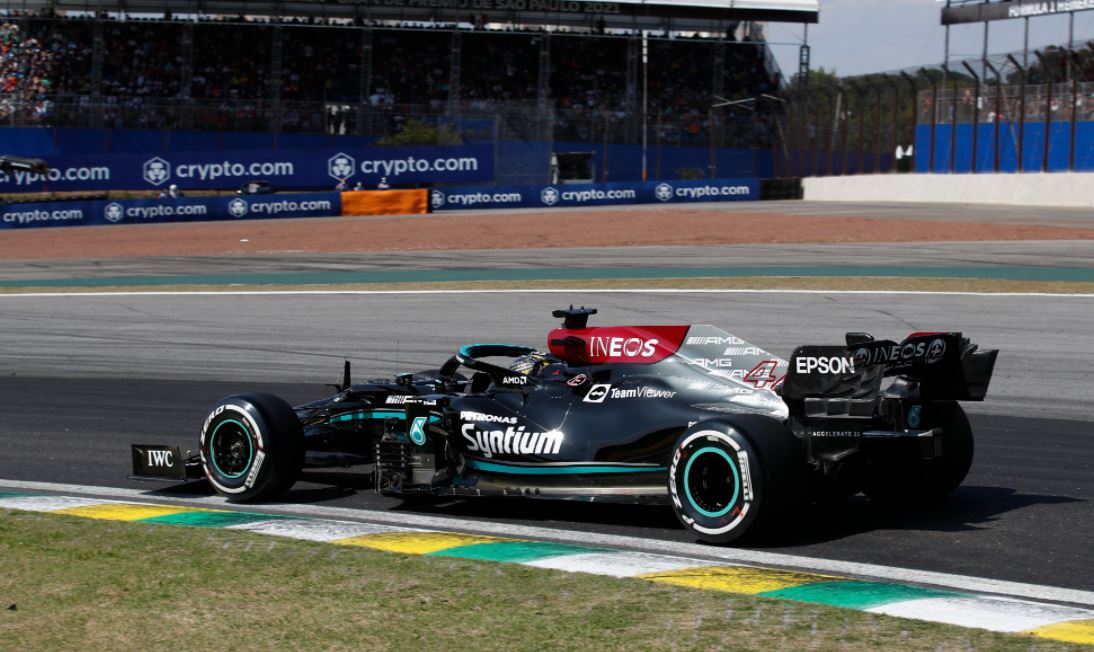 With the engine change, Lewis Hamilton's fifth place finish in the Sprint Race put him 10 places behind his team mate who was on pole position but that was at least better than the back of the grid that he had started from for the Sprint Race due to disqualification of his Qualifying times.
Valtteri Bottas was quicker off the start line and first into Turn 1 but by Turn 2, it was Max Verstappen who emerged in the lead. As Bottas had to run wide, an alert Sergio Perez immediately passed by to trail his team mate. Meanwhile, Lando Norris was struck with a puncture (after hitting Carlos Sainz' Ferrari's wing) and had to limp back to the pits.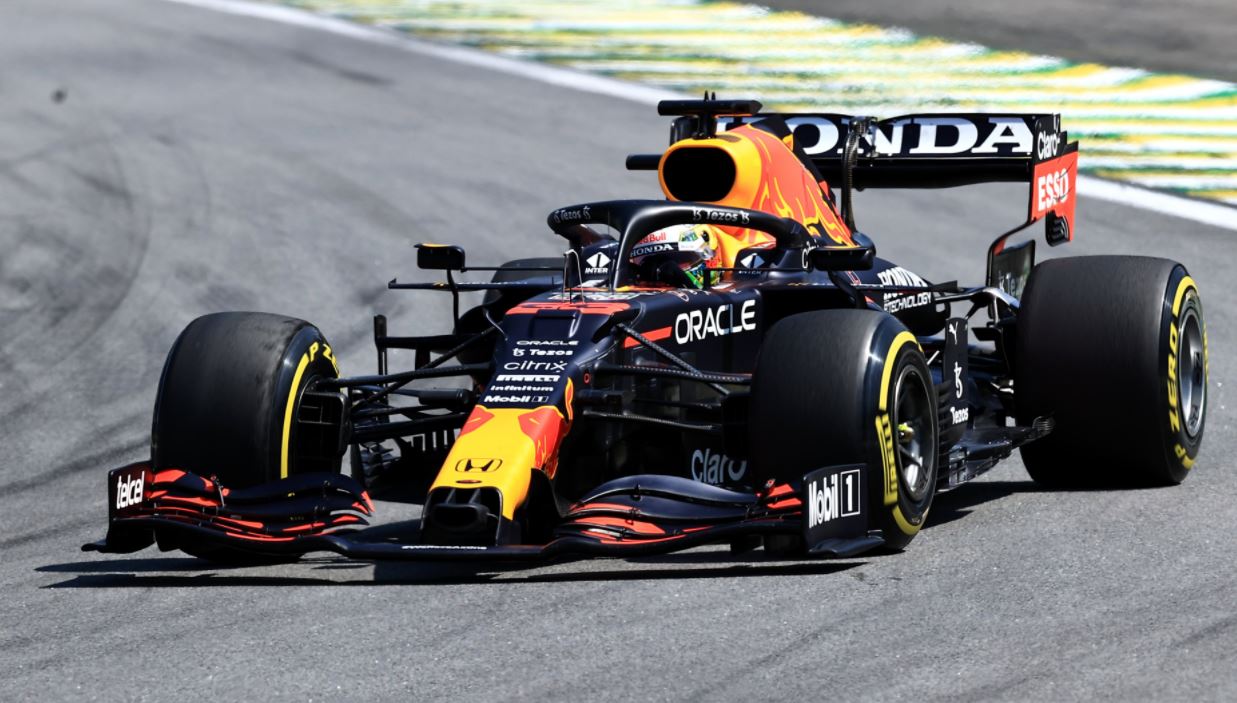 Within the first 3 laps, Hamilton was up to 5th and had Ferrari's Charles Leclerc to pass before reaching Bottas. Two laps later, he appeared behind his team mate and got past easily and into third place, ready to go for the two Red Bulls.
Further back, Scuderia AlphaTauri's  Yuki Tsunoda collided with Lance Stroll's Aston Martin and with much damage to the front wing, the Safety Car had to come out to control the field while marshalls cleared the debris. It stayed out for 3 laps before racing was allowed to resume.
Just as the drivers were starting to pick up speed, Haas F1's Mick Schumacher radioed that his wing was dragging under his car after contact with Kimi Raikkonen's Alfa. The Virtual Safety Car was activated as he crawled back to the pits. Only 13 laps had passed after about 20 minutes since the race had started.
When the Virtual Safety Car ended, Verstappen wasted no time in extending the gap and sped off to a 2-second lead from Hamilton, with his team mate Perez acting defence. Bottas meanwhile was doing the same thing behind his team mate but he wasn't under pressure like Perez was.
On lap 18, Hamilton made it past Perez but the Mexican managed to regain his position, The next time round, the Mercedes driver tried again and this time, he kept his position was prepared to do battle with Verstappen. Perez now had to focus on Bottas right behind rather than chase Hamilton and was falling back.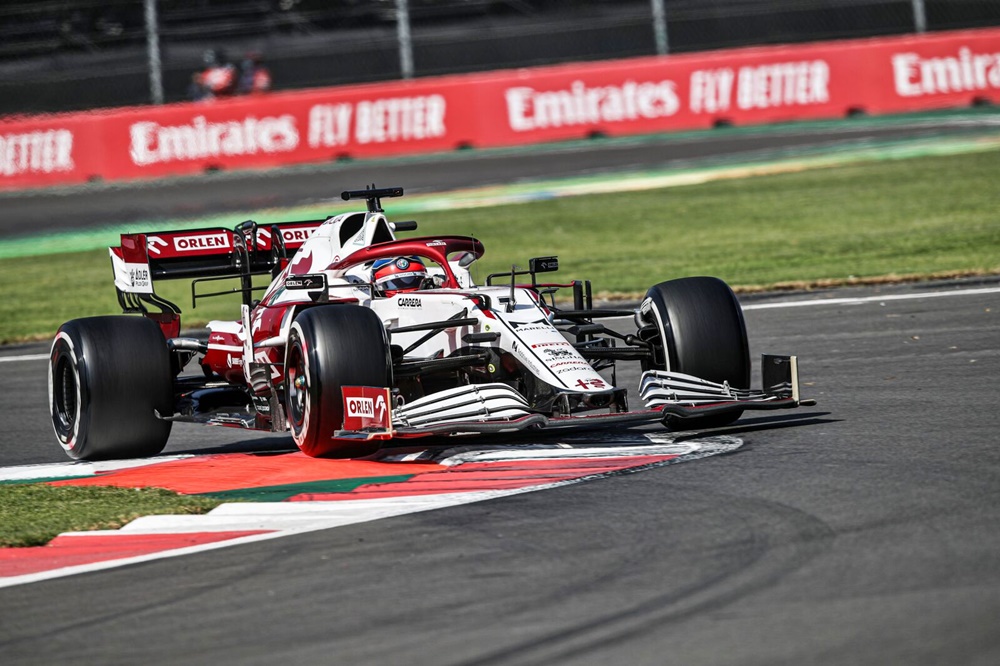 On lap 25, Verstappen was still holding on to his lead with a gap of almost 4 seconds from Hamilton. But the Red Bull driver was also starting to feel his tyres going, and the question was whether to come in for a single stop and switch to hard tyres for the rest of the race.
The first of the frontrunners to come in for a tyre change was Hamilton on lap 27, and Verstappen came in on the next lap. Both cars switched to hard tyres. Perez was also brought in but the Mercedes-AMG team decided to leave Bottas running for a while more. So the Finn took over the lead from lap 29, as Verstappen raced towards him with Hamilton not too far behind.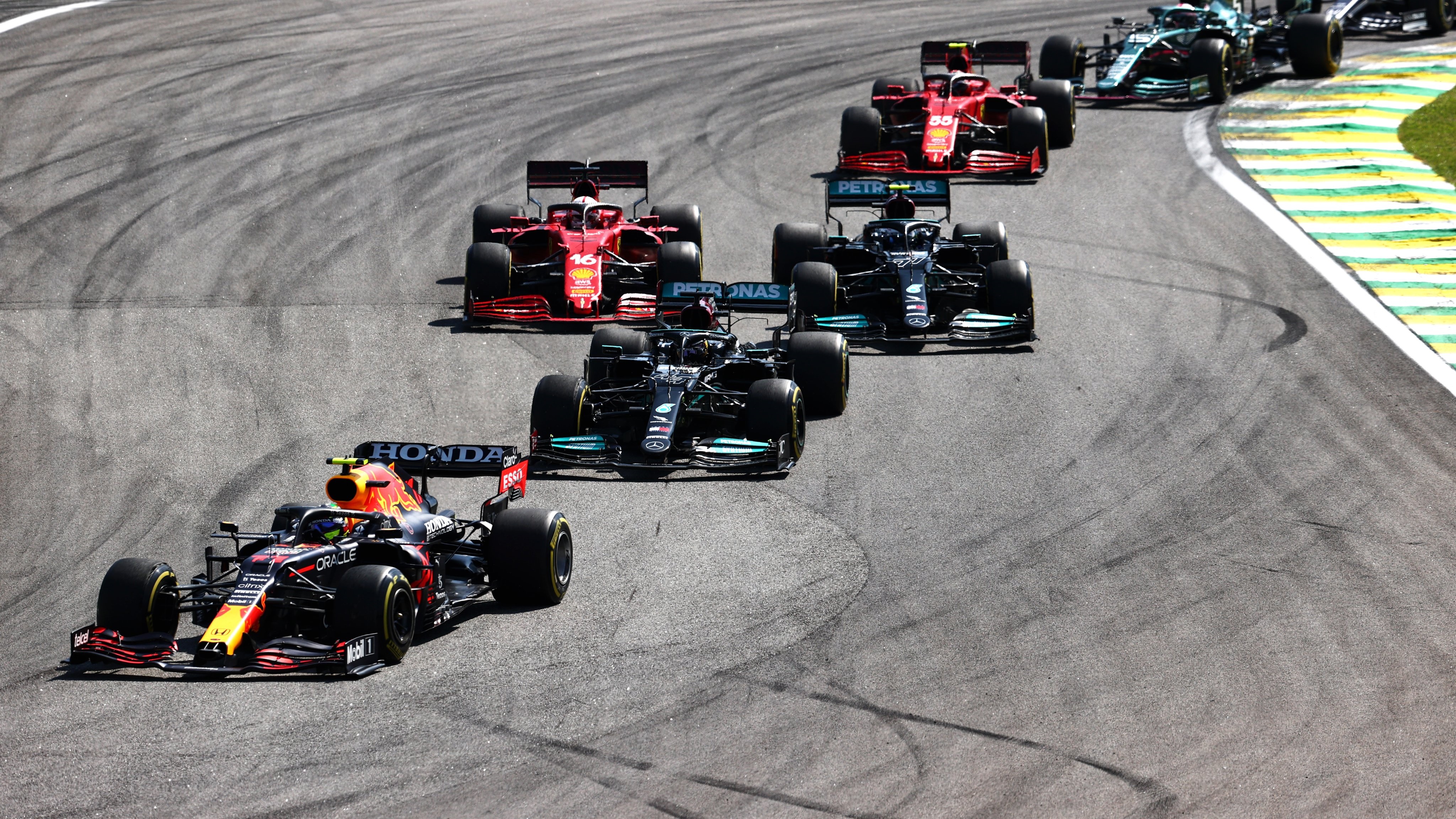 Stroll's car still had some loose bits that started to fall off on lap 31, activiting the Virtual Safety Car. Bottas was brought in for his tyre change but the VSC ended and when he rejoined, he just managed to get ahead of Perez. Verstappen meanwhile had taken over the lead.
At the halfway point in the race, many drivers were coming in. Pierre Gasly was trying hard to keep his 8th position as McLaren's Daniel Ricciardo kept snapping at him.
Hamilton took over the lead on lap 40 as Verstappen shot into the pits to make another tyre change. His return to the track was slowed down by Williams' Nicholas Latifi who was just reaching the end of the pit lane. Bottas was brought in but when he rejoined, he was down in 5th, over 25 seconds from the front so there was not much he could do to help.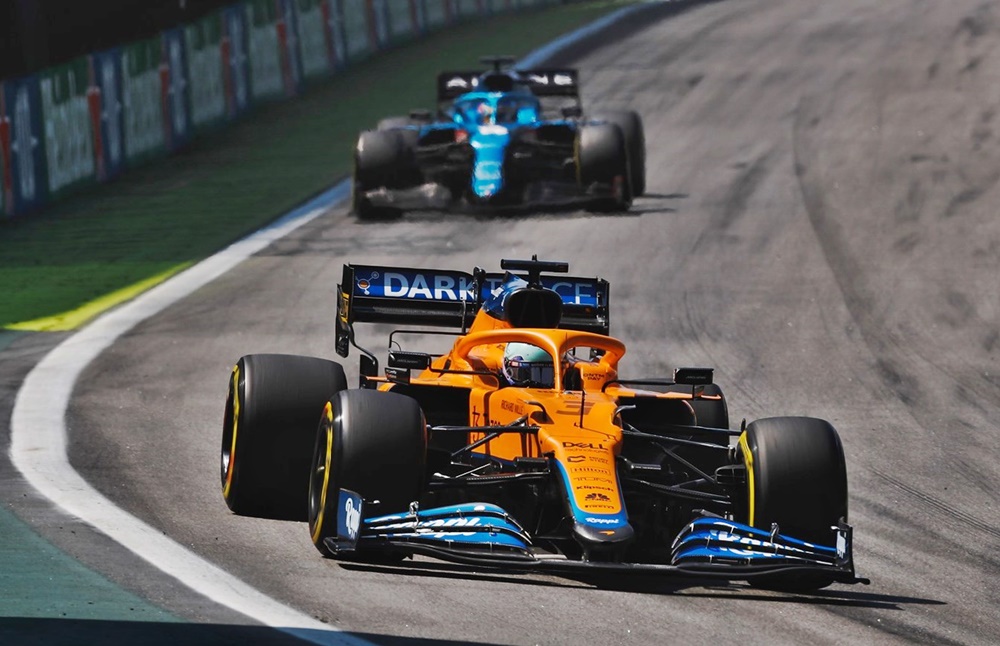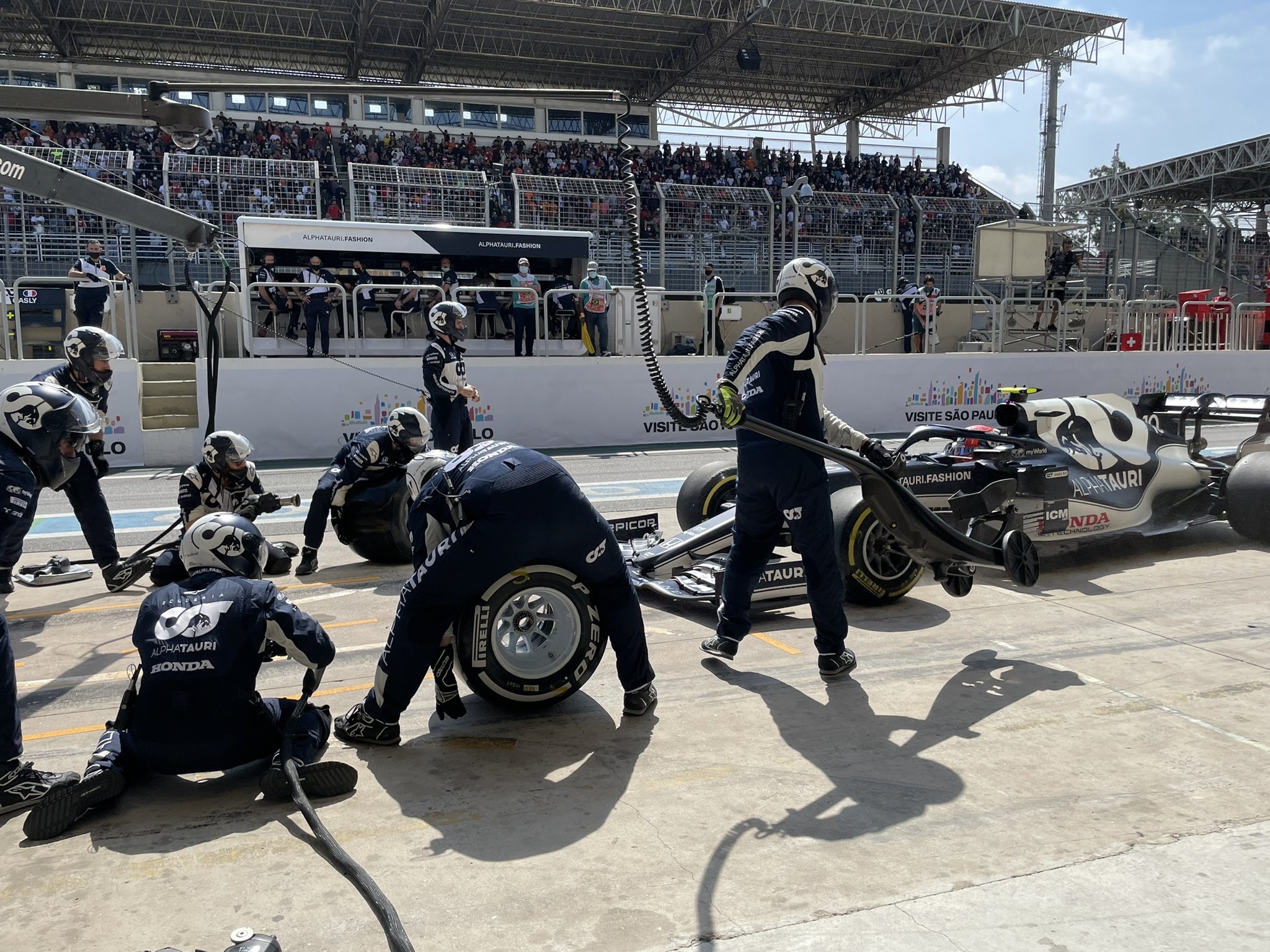 An incident between Verstappen and Hamilton on lap 49 attracted the attention of the Stewards. He had challenged Verstappen for the lead going into a turn but was unable to get past and forced to go wide. However, no irregularity was found and the Race Director told the teams that no action was going to be taken. The Mercedes-AMG team didn't like that as they believe the Red Bull driver had forced Hamilton to run wide.
In spite of the various collisions, no one retired until lap 50 when Stroll's car – which had earlier come in contact with Tsunoda's – had to pull out, making him the first driver to end his race early. Around the same time, Ricciardo also pitted and never came out again, becoming the second retiree of the day with a Power Unit problem.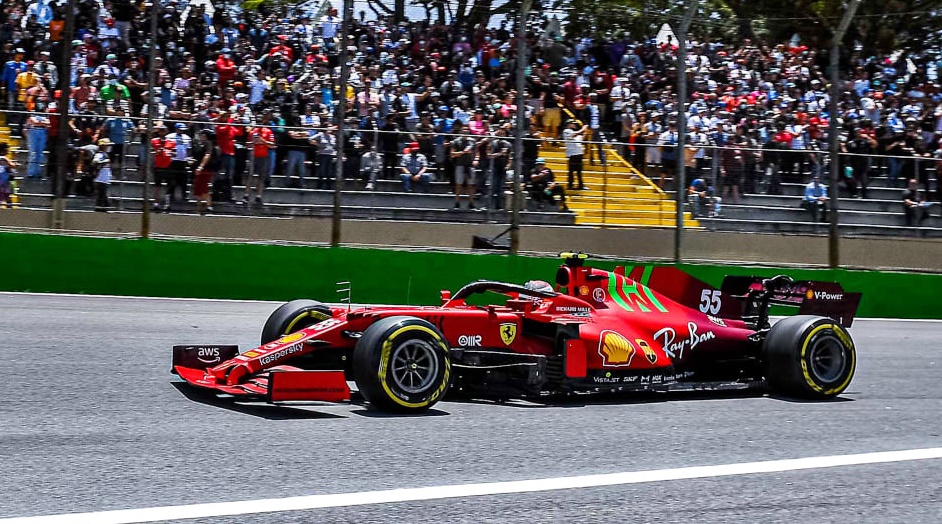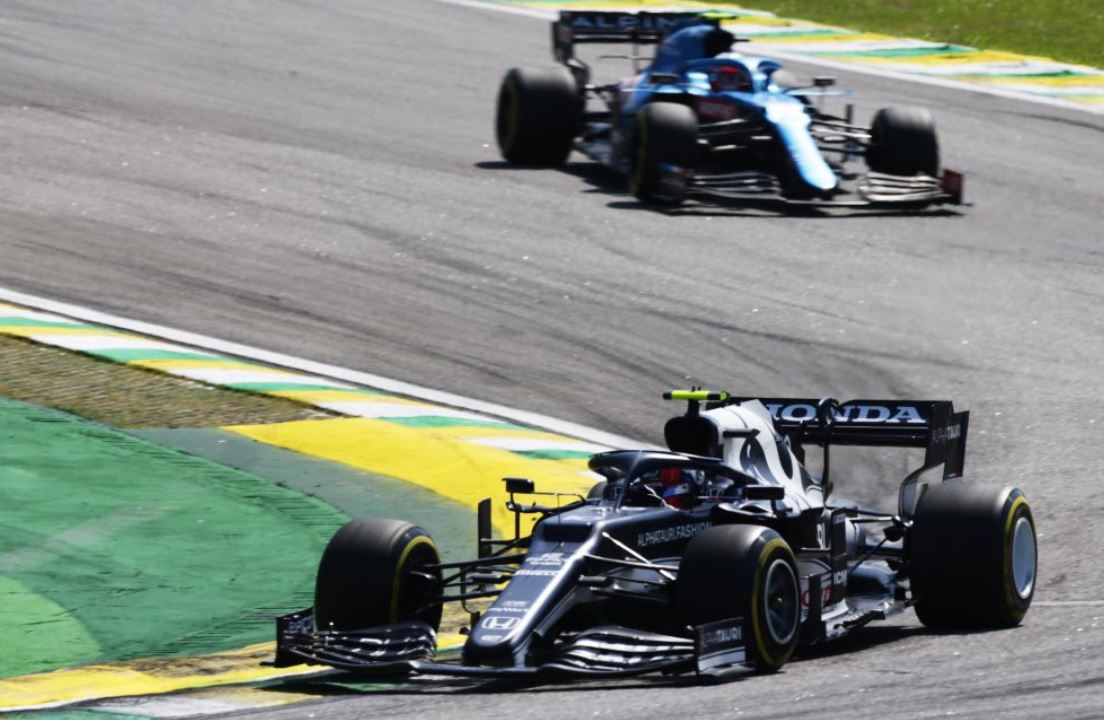 10 laps later, on lap 59, Hamilton finally moved into the lead at Turn 4. Verstappen had to work very hard to prevent his rival from collecting those 25 points, which would make it trickier for his championship chances. The Dutchman had also to watch out for Bottas who was running third by then.
With 3 laps remaining, Hamilton could still keep the lead and maintain a gap of about 7 seconds from Verstappen. Bottas has fallen back a bit but would be ready to take over if anything happened to the two duelling drivers ahead.
On the remaining lap, Perez was quickly brought into the pits and fitted with soft tyres to try to get at least one more point for fastest lap. Verstappen wasn't going to get by Hamilton who would be first to cross the line after 71 laps.