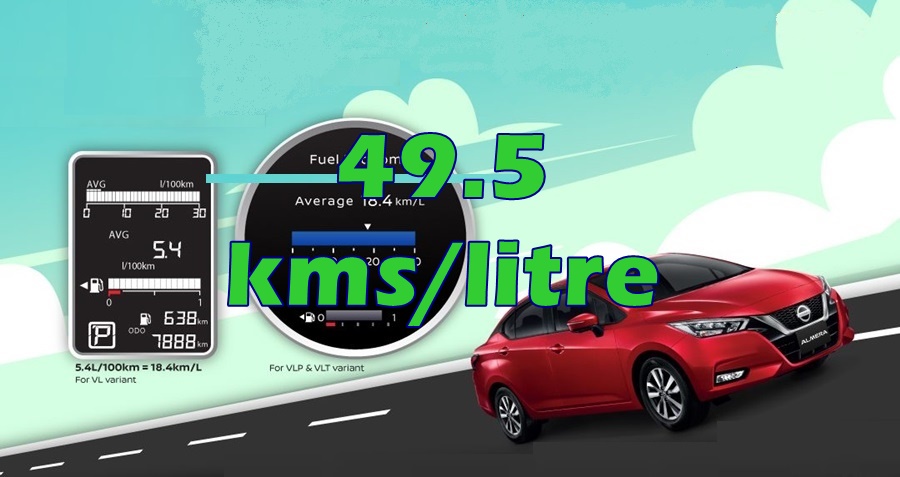 Organized by Edaran Tan Chong Motor (ETCM), the Nissan Almera Turbo Fuel Efficiency Charity Drive was unique way to raise funds for charity. Owners of the sedan were invited to submit the best fuel consumption figure they achieved and the total number of kilometres of all the entries would be converted to money for charity at the rate of RM1 per kilometre.
Almera Turbo owners throughout the country participated, trying their best to get the lowest consumption (which was shown on the computerized display) and when the entries were added up, the total distance was 12,841 kms. This meant that RM12,841 would be provided by ETCM which would be donated to few charitable organizations (to be announced soon).
2.7 times better than official figure
For the record, the lowest consumption achieved (owners had to send a picture of the Drive Computer display) was 49.5 kms/litre – almost 2.7 times the figure officially stated by ETCM (18.4 kms/litre). In fact, the top 10 drivers were able to achieve more than double the official figure.
To reward the efforts of the top 20 drivers (click here for the list of drivers), ETCM will send them an exclusive Nissan GT-R by LEGO while the next best 30 will receive a special edition Nissan Duffle Bag.
Keen to experience the Almera Turbo
If you're planning on experiencing this fuel efficient, yet powerful (152 Nm of torque) sedan, this would be a good time to do so as ETCM is having a 'Test Drive & Win' contest. 50 lucky customers will be rewarded with WATSONS vouchers worth RM500 each when they test drive the Almera Turbo at any authorised Nissan showroom nationwide. Alternatively, they can contact the nearest dealership and have a testcar brought to them.
For a limited period, the Almera Turbo also comes with a free Urban accessories package worth up to RM5,500 while sales tax is exempted, bringing to price down to as low as RM79,906. Two other variants, which also come with the free accessories package, are priced from RM85,715 and RM91,310. Purchasers can enjoy an attractive 1.88% Hire-Purchase interest rate (terms and conditions apply).
Other special offers
Other special offers are for the X-Trail (priced from RM139,643) which comes with an Aero Edition accessories package worth RM5,000, and the Serena S-Hybrid (priced from RM140,226) which comes with 3 years of free maintenance service, parts and labour included.
More information is available at any Nissan showroom or at www.nissan.com.my.
Edaran Tan Chong Motor opens Nissan Flagship Store on Lazada