"When people think of a Honda, there's a very good chance they will think of the Civic."
Words by the Head of Sales and Marketing of Honda Malaysia,  which I thought couldn't be more true.
The Civic has come to cement itself as the de facto go to car once a person makes enough money to afford moving up to a six figure sedan.
It is also a status symbol of sorts.
I once knew someone who did not want to marry her boyfriend until he bought a Civic.
Such is its appeal.
So when Honda announced that it was introducing an all-new Civic, naturally the media went into a frenzy.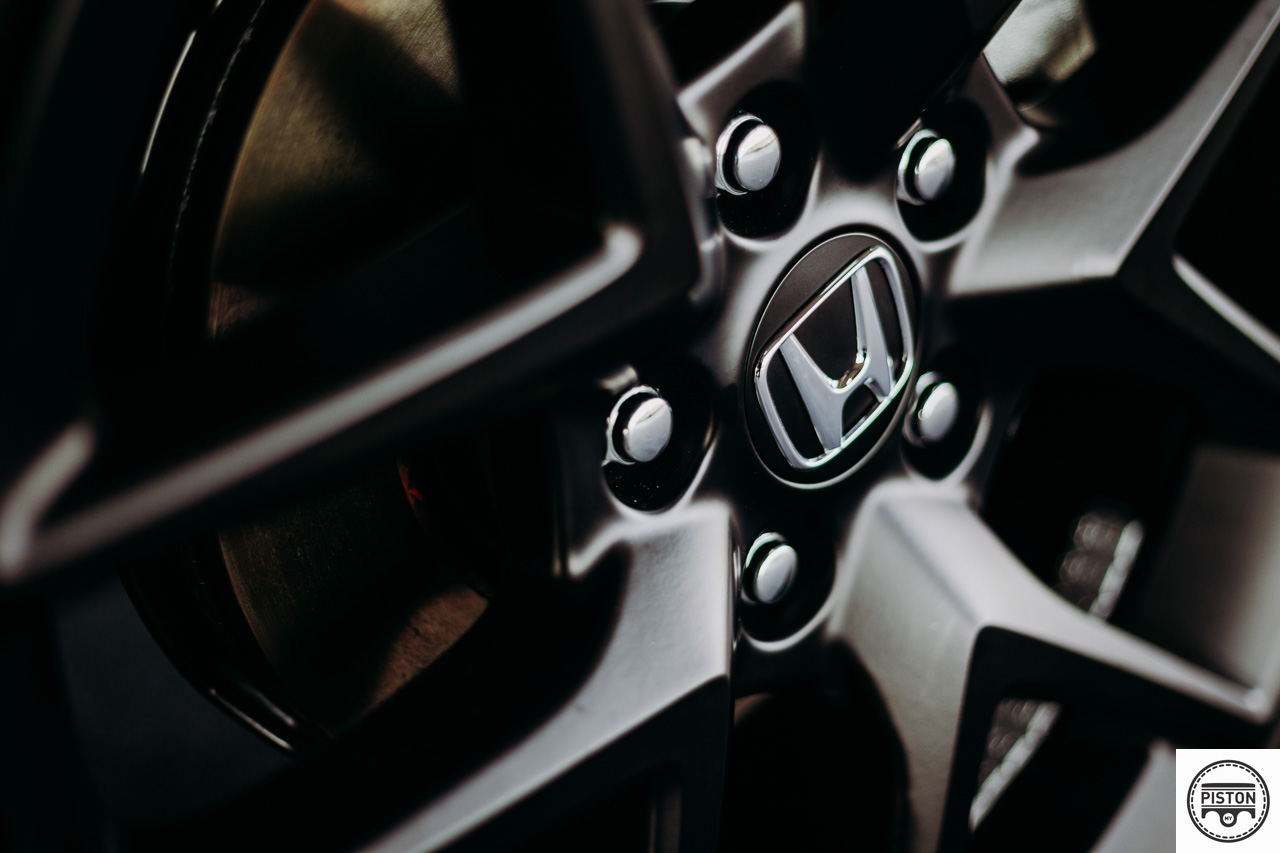 And when photos were published, Honda fanboys (and girls) simply melted.
The latest generation Civic is elegant in its design, more spacious than ever, and though we are not allowed to show you interior photos until after its launch, we can say that the interior is nicer that you can imagine.
Both in terms of quality and design.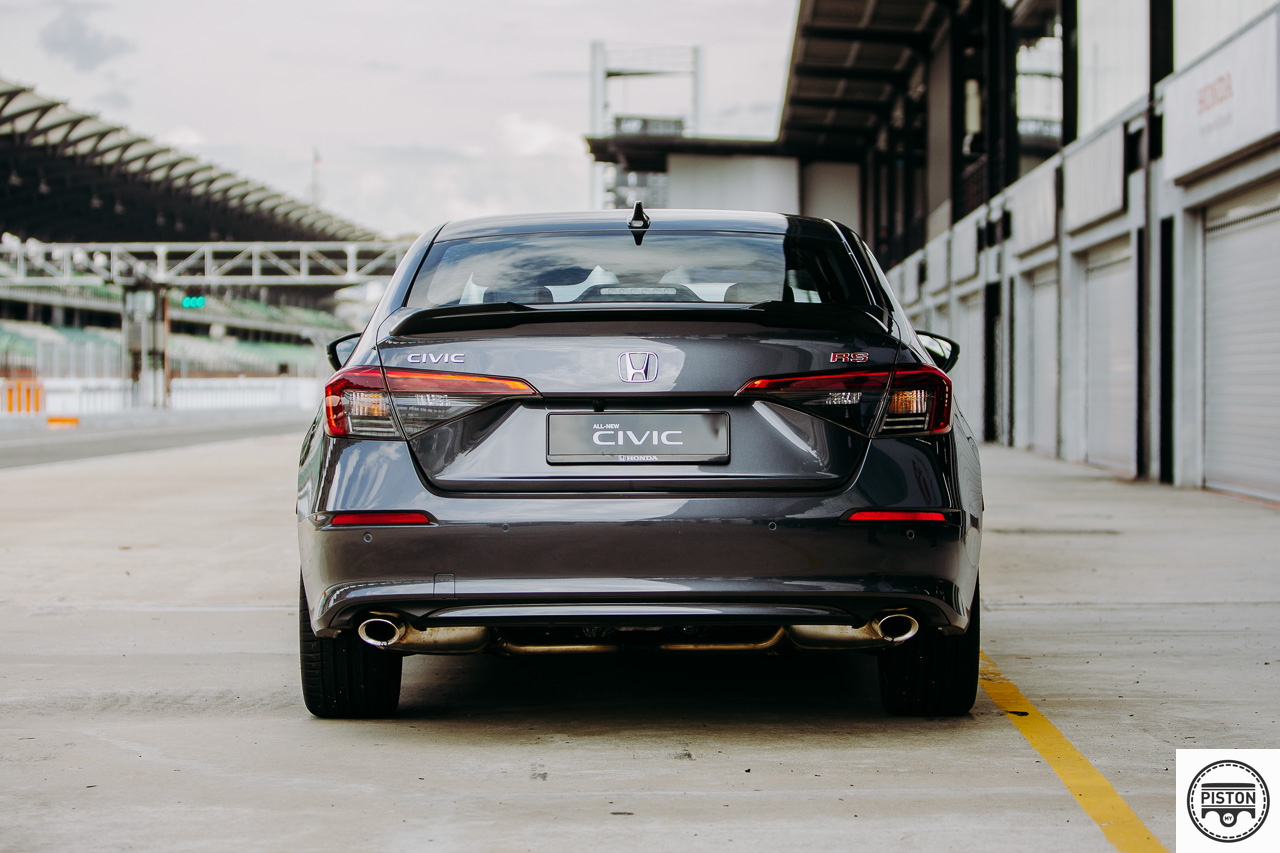 How does it drive?
Powering the new Civic is the same 1.5-litre turbocharged engine that is in the current generation Civic and CRV.
But this time it has been tuned up to produce 10PS and 20Nm more torque.
In total,  the Civic puts out 182PS and 240Nm of torque, which is plenty for a C segment car.
But it is the way the Civic puts down this power that is even more impressive.
Honda Malaysia invited a select group of journalists to drive the car around the South Track of the Sepang International Circuit.
But they also provided a Toyota Corolla Altis and the current generation Civic as a reference point.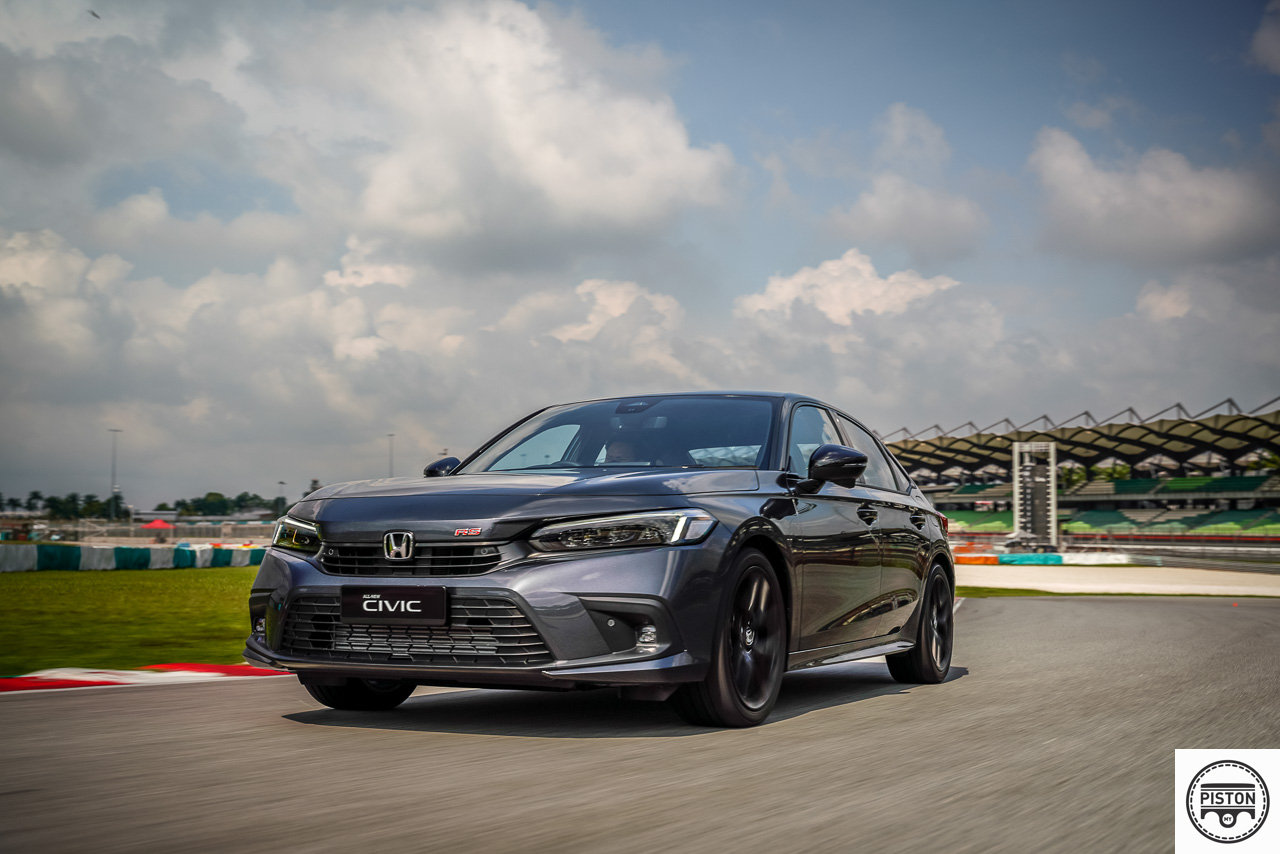 The new Civic felt more eager to respond to the throttle while the handling was sharper around a slalom test.
Body roll was obviously reduced over the previous generation Civic as well.
But what was truly impressive though was how refined the drive was.
The engine is mated to the same CVT gearbox as before, but this time the droning noise that is so typical of such gearboxes has been turned down a couple of notches.
The noise and vibration insulation is also a couple of notches better, and you don't feel any vibrations from the tarmac in the seats either.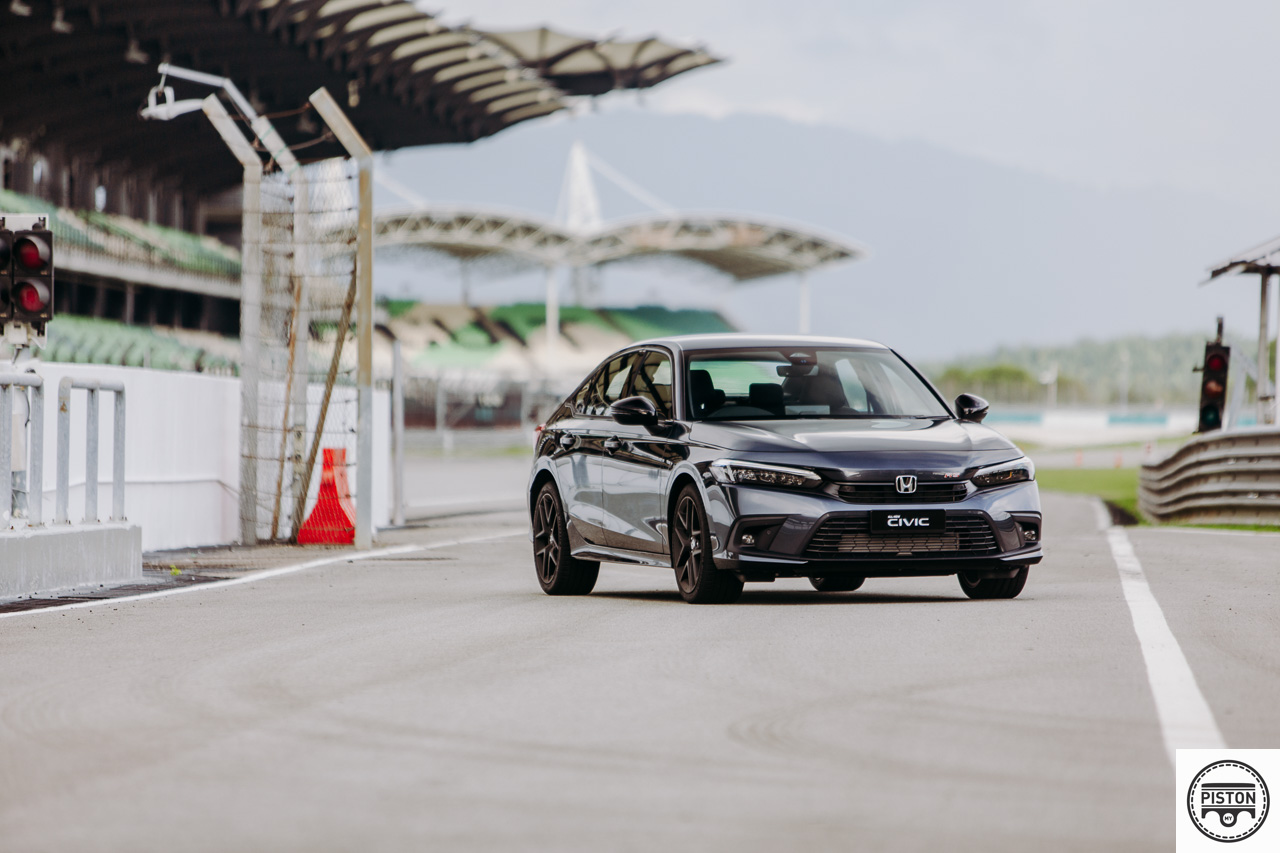 You could argue that the tarmac at Sepang Circuit is smoother and does not reflect real-world driving conditions, and you would be right.
And you would be right. But you can usually feel some powertrain vibrations in your bum from a C segment car, but that is no longer there.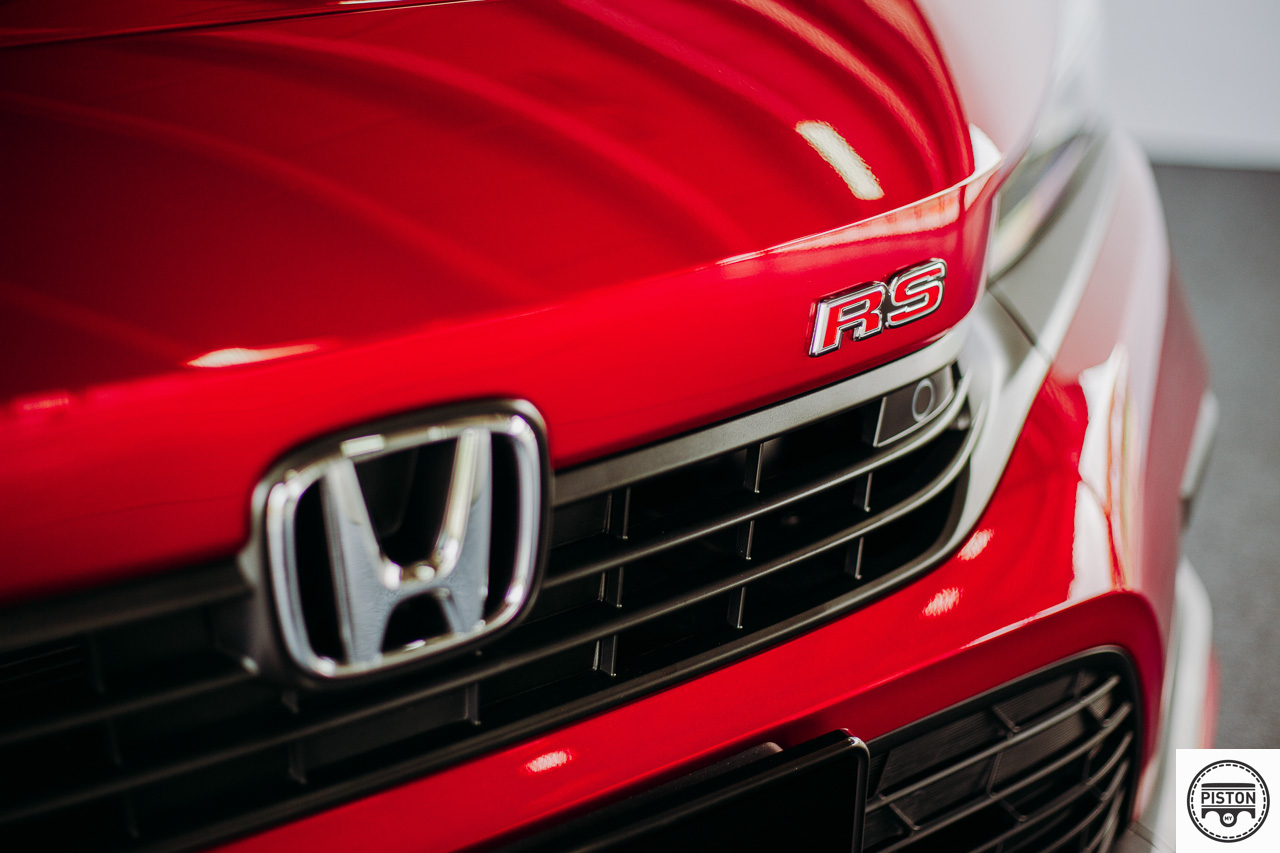 And this is proof that the Civic has matured into a more family oriented car without forgetting its sporting roots.
Very much like a 90s or early 2000s BMW 3-Series.
The new Civic is also a lot sportier in nature, and that is largely thanks to a new Drive Mode Selector – a feature that is available for the first time in a Civic.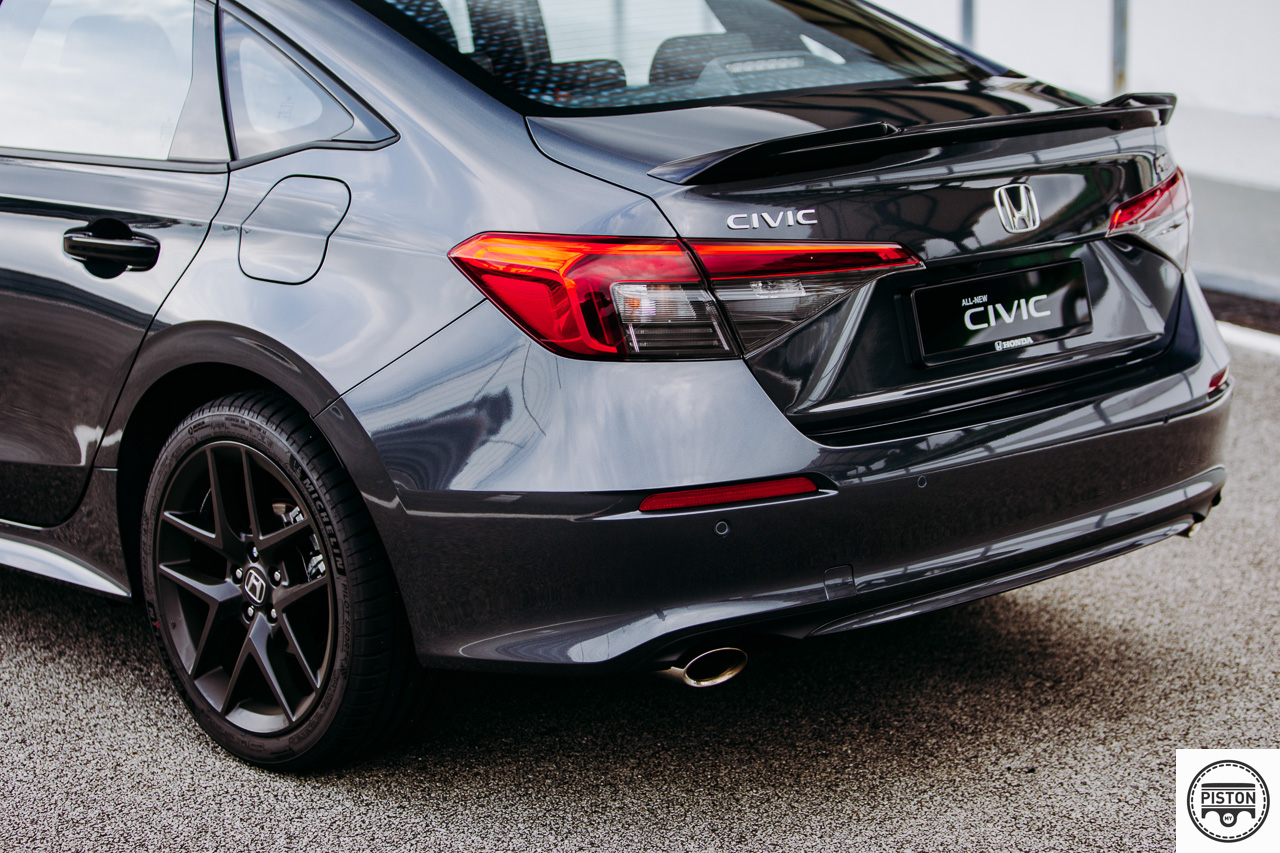 This gives you access to three different modes – Eco, Normal and Sport.
Each does what it is named after and controls things like throttle response, steering heft and the overall character of the car.
What's so nice about it?
I would say the interior and the way the powertrain is packaged.
The exterior design is also a much welcomed departure from the obviously aging design of the current generation Civic.
It isn't as dramatic as the FD was or the FC for that matter, but the new FE generation Civic is elegant and understated now.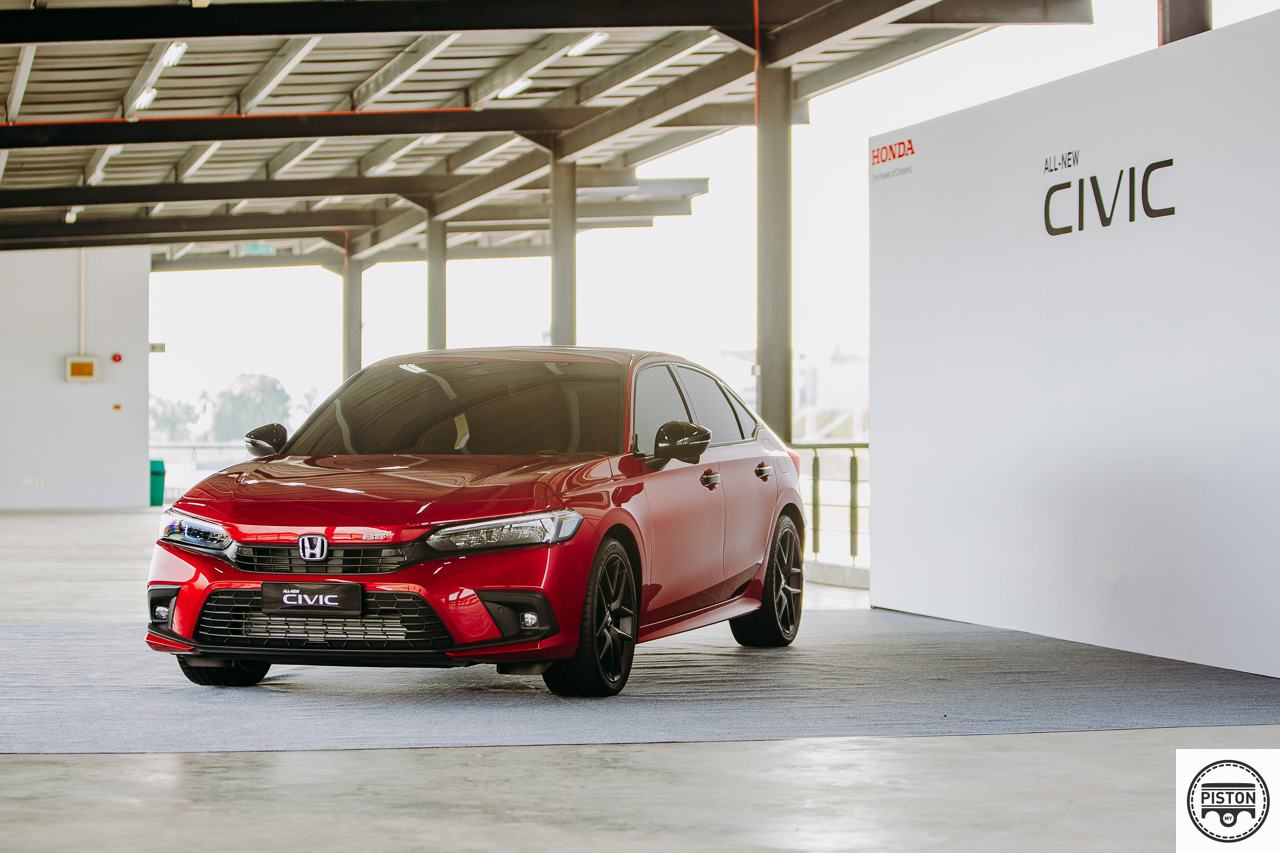 And those gorgeous daytime running lights will help it stand out from the crowd.
I know that looks are subjective, but I am quite sure thousands will love the interior of the new Civic.
The honeycomb design that spreads across the dash, subtly hiding the air-conditioning vents are an original touch unseen in any other car. Honda or otherwise.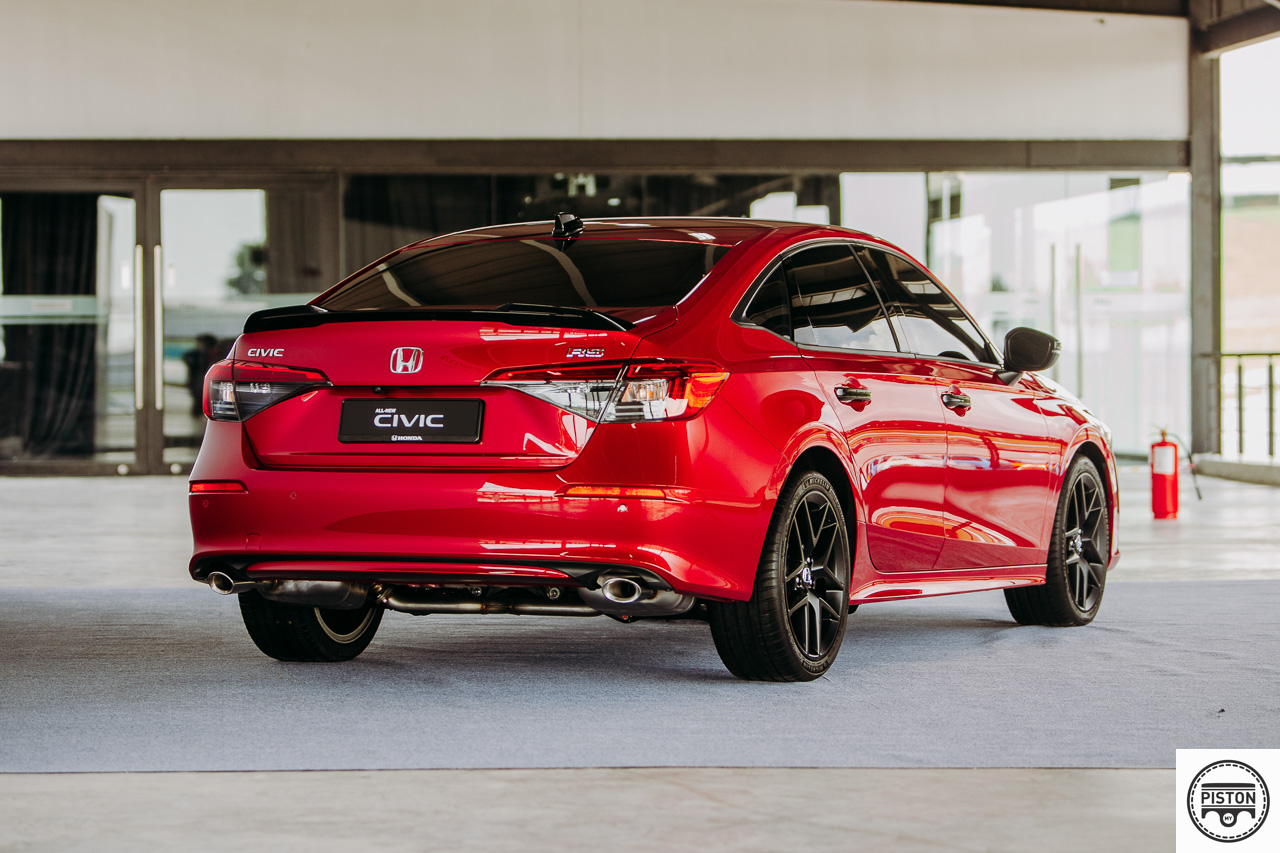 The steering wheel too is thicker and feels luxurious in your hands.
The quality of the switches feel like they belong in a continental car rather than an affordable mass-produced C-segment Honda.
The seats in the Civic have always been among the best in the segment, and still are. This time though the padding is supple for added plushness while overall support has been extended to the bottom of your thighs and shoulders.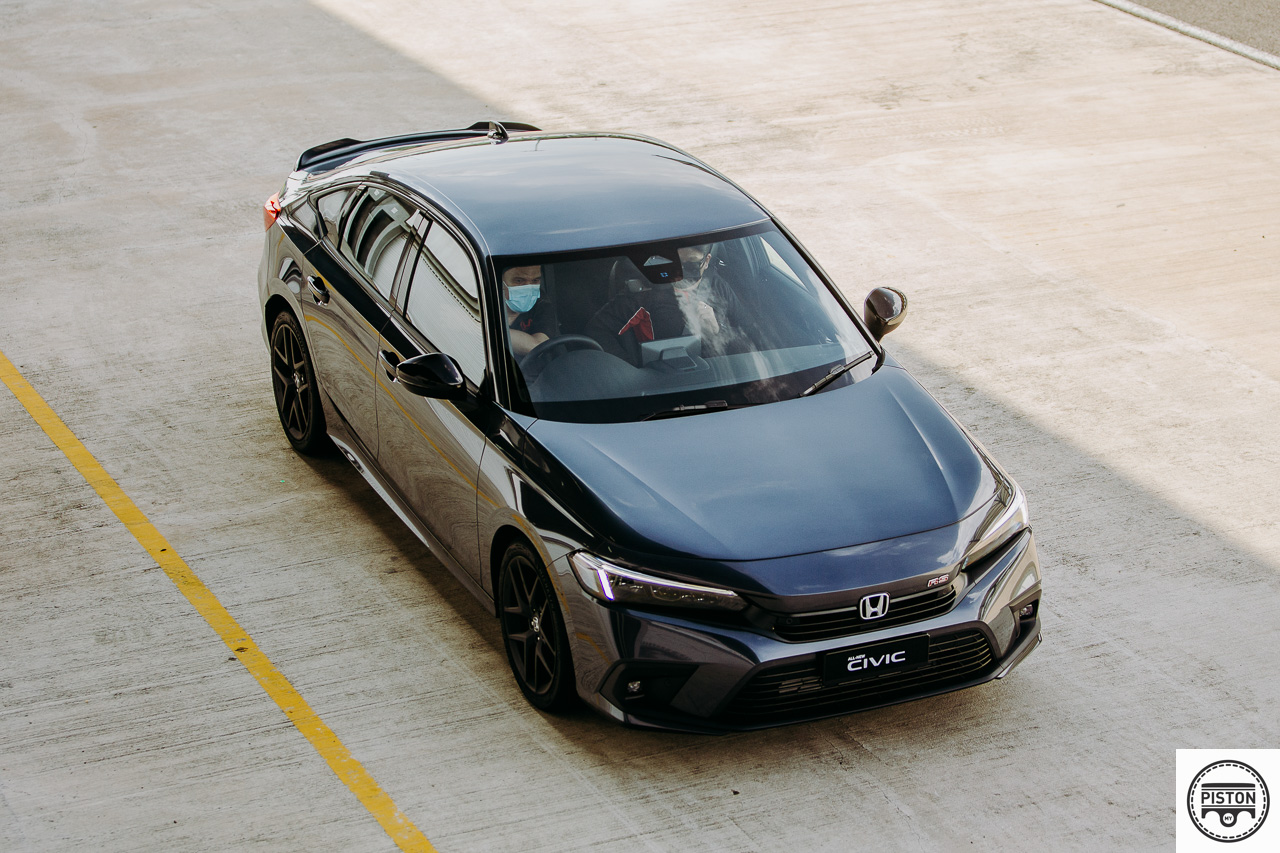 And because the car is now much bigger in overall proportions, the interior is spacious.
The dramatically rising a-pillars and the wider c-pillars allow more light into the cabin via larger windows, further accentuating the sense of spaciousness.
The spaciousness extends into the booth as well, which now seems like it can accommodate three golf bags.
What about technology?
You wouldn't expect anything lesser of a Honda, and so the Civic comes brimming with tech.
The RS variant we drove came with an updated Honda SENSING that now features something called Lead Car Departure Notification System.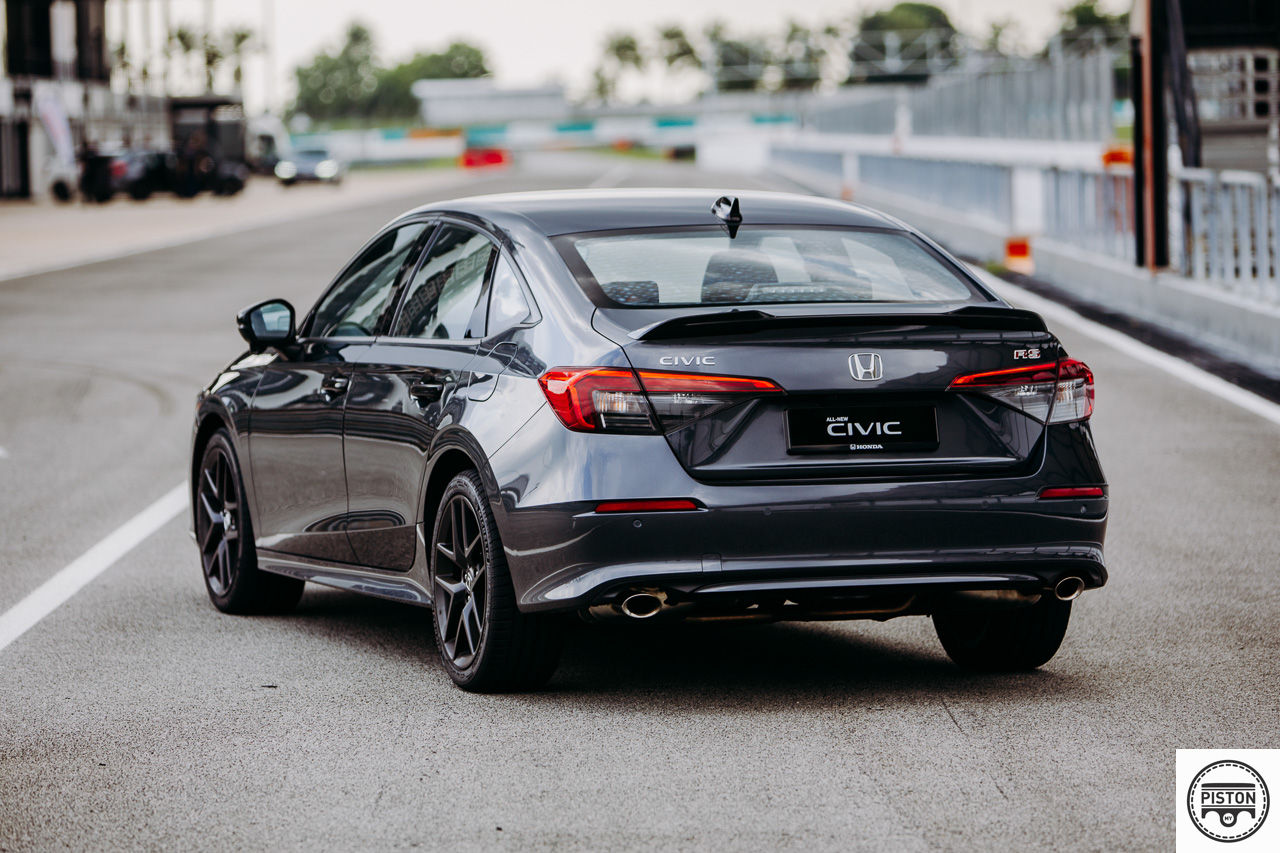 This system alerts the driver when the car ahead has moved ahead, perfect when in traffic or at a traffic light when most drivers are either on their phone or simply dreaming.
The full suite of enhanced Honda SENSING safety features in All-New Civic RS are as below:
Lead Car Departure Notification System (NEW)
Adaptive Cruise Control (ACC)
Low-Speed Follow (LSF)
Collision Mitigation Braking System (CMBS)
Forward Collision Warning (FCW)
Lane Keep Assist System (LKAS)
Road Departure Mitigation (RDM)
Lane Departure Warning (LDW)
Auto High Beam (AHB)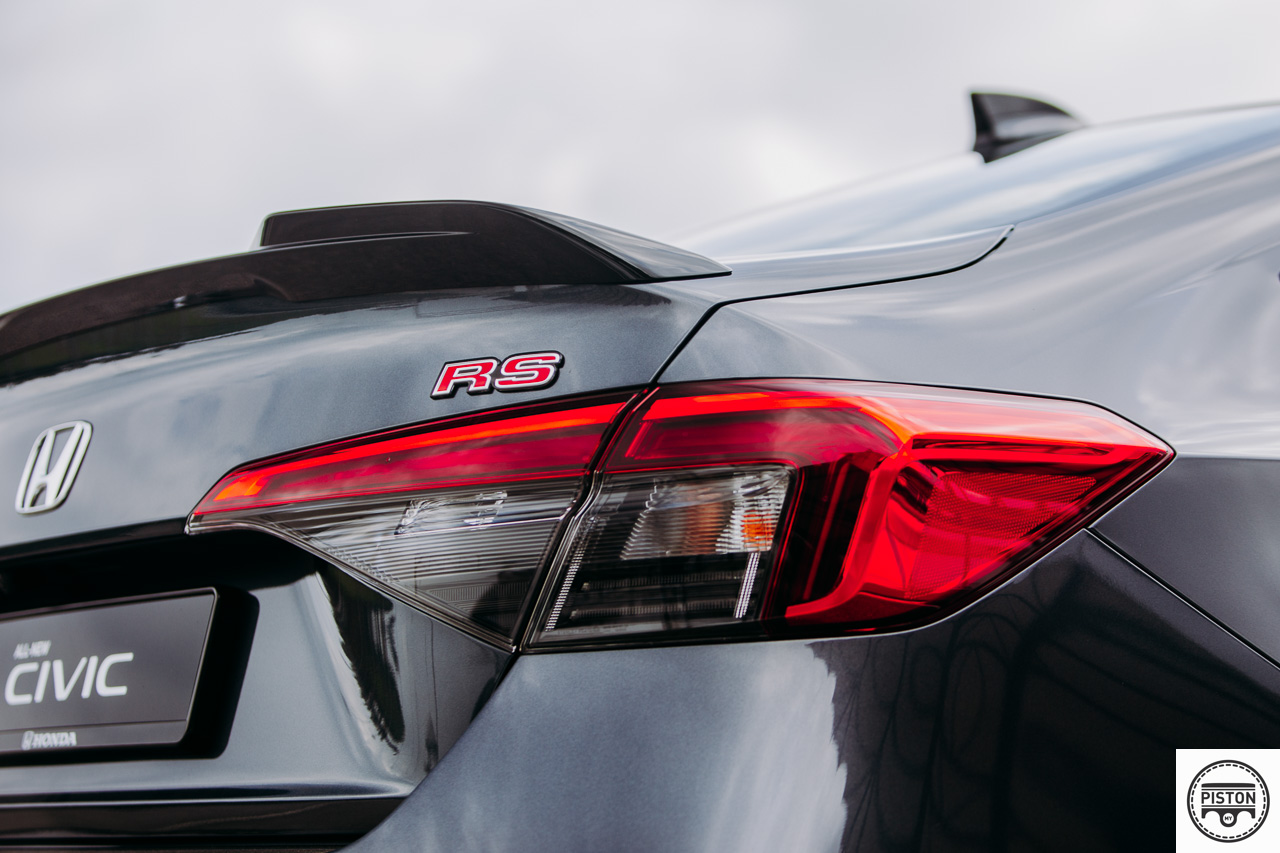 It is unclear if this will make it down to other variants of the Civic, but in typical Honda Malaysia fashion, only the top two models will receive Honda SENSING. And this will then trickle down to other variants as the model goes through its life cycle.
But of course, that's not all the new Civic comes loaded with, it also features plenty of other safety features as well, such as:
Honda LaneWatch
Six Airbags
Vehicle Stability Assist (VSA)
Agile Handling Assist (AHA)
Emergency Stop Signal (ESS)
Anti-lock Braking System (ABS)
Electronic Brake Distribution (EBD)
Auto Brake Hold (ABH)
Hill Start Assist (HSA)
Walk Away Auto Lock
Remote Engine Start
And a new safety feature for the Civic called Driver Attention Monitor that alerts the driver to take a rest if it detects erratic driving.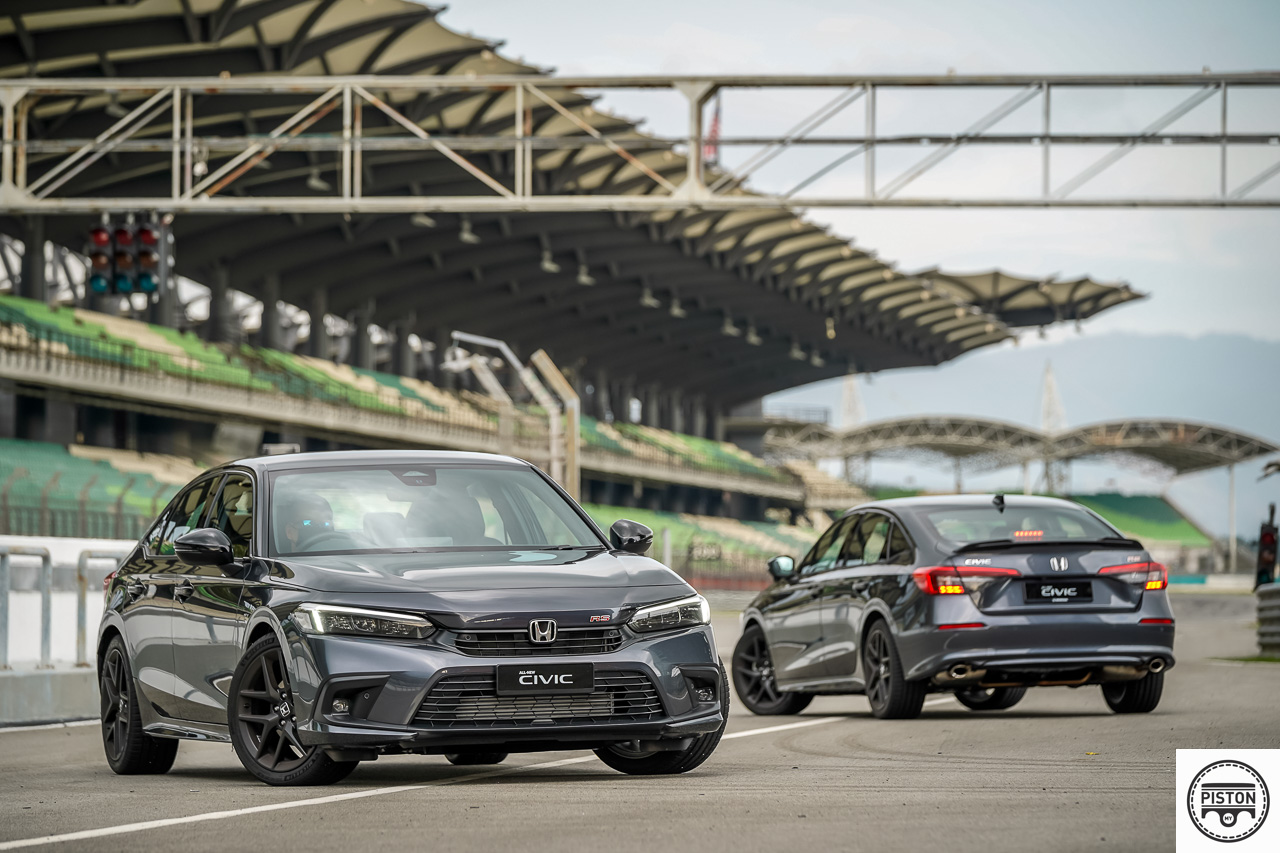 Should you buy it?
There is a shift in demand towards SUV's, hence why cars like the HRV are selling so well. But there is a huge appeal in cars like the Civic as well.
There was a time where people wanted an SUV because it offered more space. But with the amount of space the new Civic offers, that argument is no longer valid.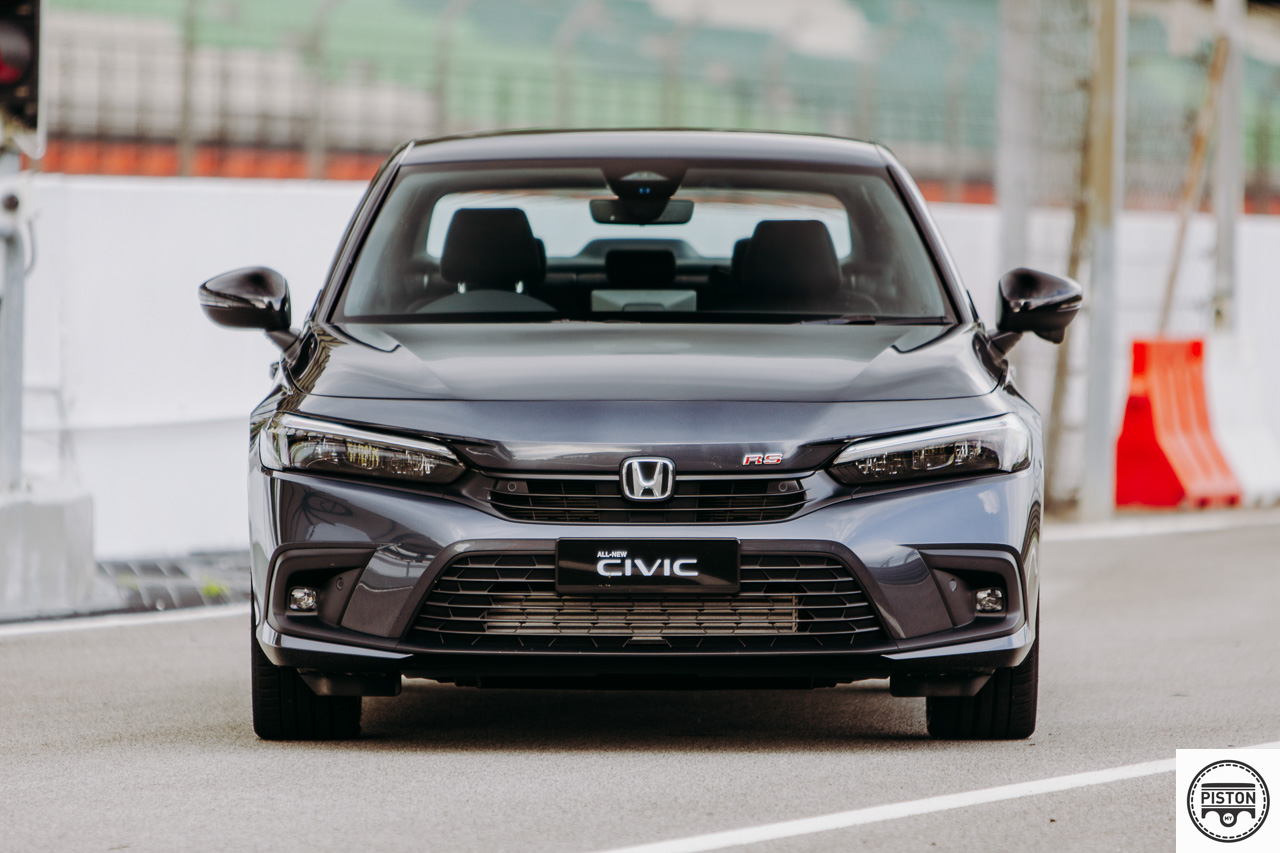 It may not offer the higher up sitting position of an SUV, but if you want a sporty sedan with a well-built interior and a drive quality that is similar to a continental car, then yes, you should buy the Civic.
We can't tell you anything about the price as Honda Malaysia did not reveal anything, but expect it to be similar in price to the outgoing model.
The order book opened today – more details here!