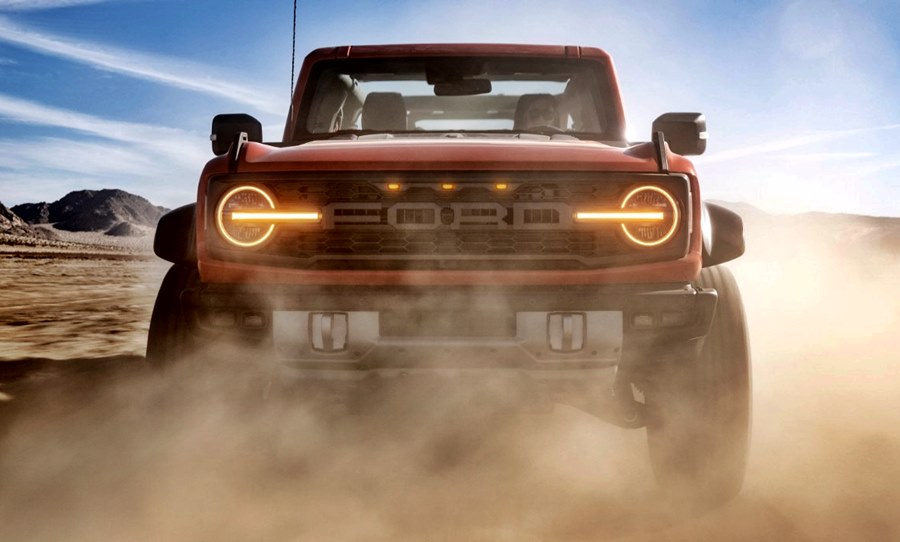 'Raptor' is the name Ford adds to its models when their performance is boosted to extremes. We've seen how Ford Performance, the carmaker's high-performance division, has transformed models like the F-150 and Ranger to become more hardcore as Raptor versions, and now they've done it with the new Bronco SUV.
Ultra4 Racing-inspired
The Bronco Raptor is the newest member of the Bronco outdoor brand of Built Wild SUVs and will be the most powerful street-legal Bronco ever offered. It is also the world's first Ultra4 Racing-inspired SUV, built for desert running and boulder crawling.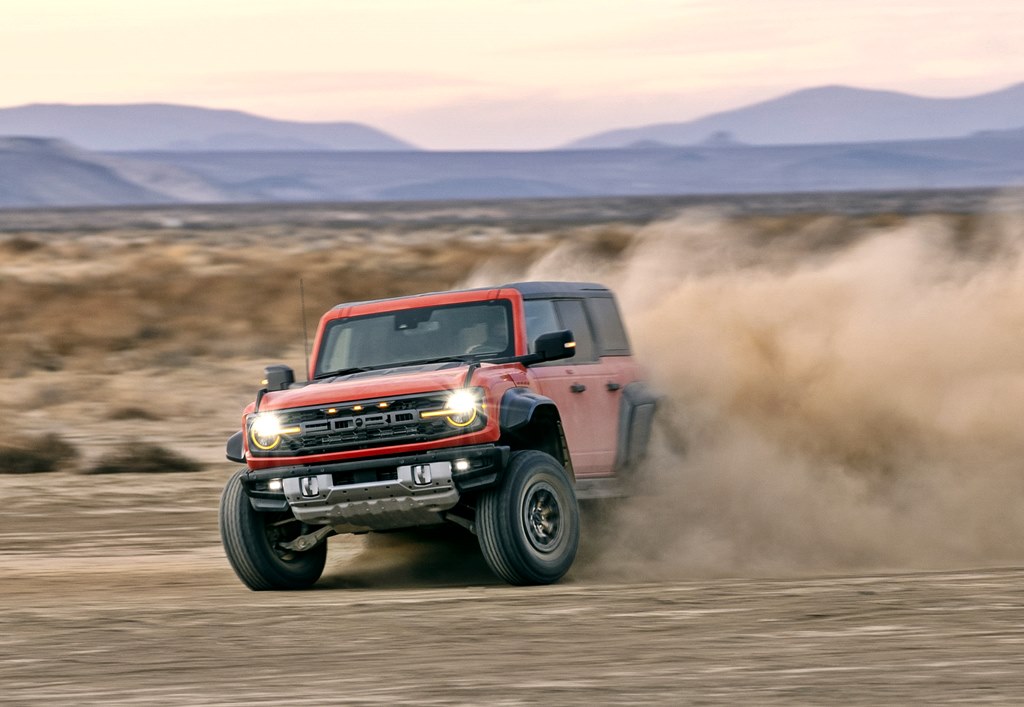 To build the world's first Ultra4-inspired SUV, Ford Performance had to make the Bronco even faster and bring more off-road capability, agility and maneuverability. "We had to build the Bronco Raptor – it's our ultimate vehicle for hardcore off-road enthusiasts who demand something more," said Carl Widmann, Ford Performance chief engineer. "Like the Ultra4 desert race trucks, the 'Raptor of SUVs' conquers desert dunes at highway speeds and is equipped with competition-level off-road technology and hardware."
Starting with the Bronco frame as foundation, the Ford Performance team added more suspension travel and track width for handling stability during high-speed desert runs. At the Raptor core is a fully boxed, high-strength steel frame with new shock towers that increase wheel travel and off-road durability.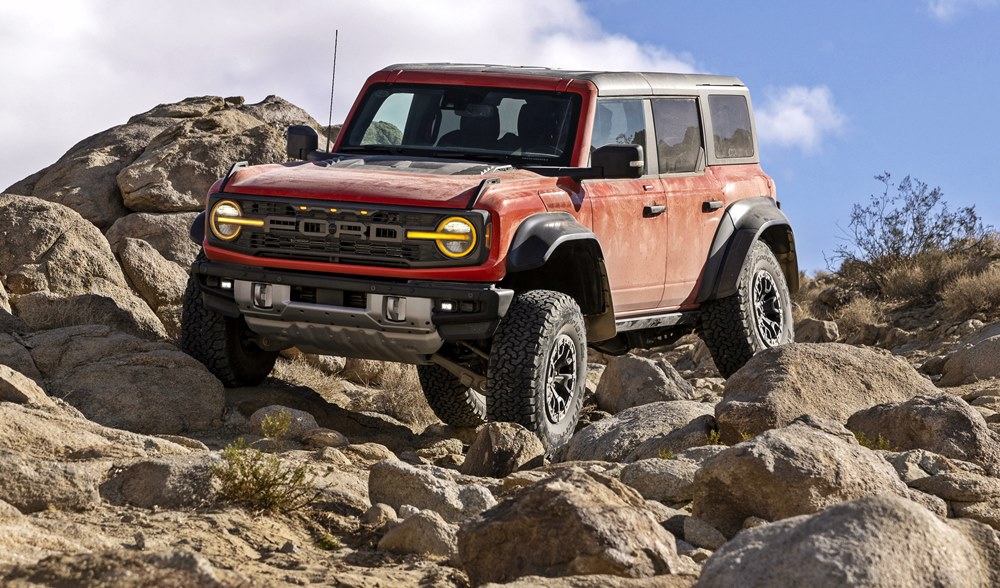 Heavy-duty hardware for desert events
Heavy-duty bash and skidplates provide continuous driveline coverage from the front bumper to the back of the engine, transmission and transfer case. In the upper body, B-pillar cross bar and C-pillar reinforcement help deliver a greater than 50% total body-in-prime torsional rigidity increase over a standard Bronco.
Competition-level, Ford Performance-developed axles further deliver on the Ultra4-inspiration. The solid rear axle is upgraded to a semi-float Dana 50 Heavy-Duty AdvanTEK with 235-mm ring gear, while the Dana 44 AdvanTEK front-drive unit includes upgraded half-shafts with 210-mm ring gear. These upgraded front and rear axles increase the track width, while larger front and rear driveshafts support increased wheel torque. An advanced 4×4 system with 3 modes includes a higher-capacity clutch designed to withstand the demands of high-performance desert events.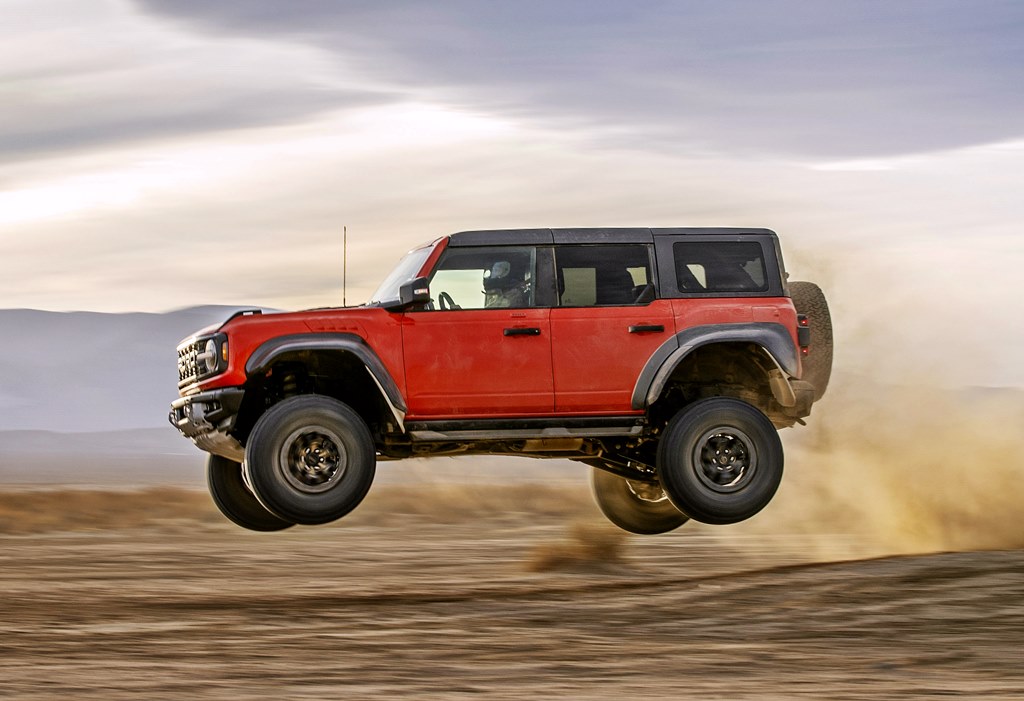 As with other Raptor variants, the Ford Performance team also installed FOX parts to upgrade the High-Performance Off-Road Stability Suspension (HOSS) system with Live Valve technology. Similar to the F-150 Raptor truck's position-sensitive damping design, the Raptor HOSS 4.0 system features FOX 3.1 Internal Bypass Semi-Active Dampers that are uniquely tuned at the front and rear and feature integrated reservoirs up front and remote reservoirs in rear.
Suspension height sensors and other sensors at each corner monitor terrain conditions independently hundreds of times every second and adjust suspension tuning accordingly. The Bronco Raptor also runs with a minimum ground clearance of 332 mm, 122 mm more than a regular model.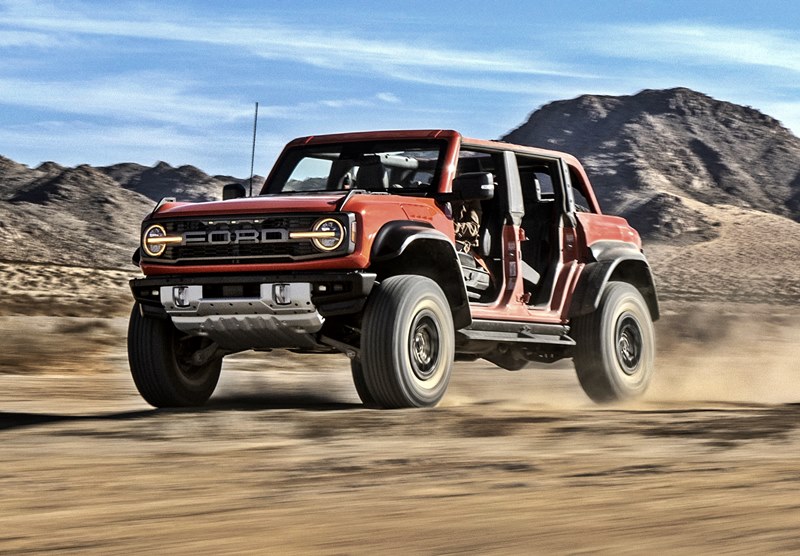 More power for desert running
To give Bronco Raptor even more desert-running power, the powertrain team developed the proven twin-turbo 3.0-litre EcoBoost engine with specific Raptor-level tuning to meet Ford Performance standards. With a target of more than 400 bhp, this would make the Bronco Raptor the most powerful street-legal Bronco ever. Intercooling and air-induction systems ensure that higher ambient desert temperatures can be endured for long periods.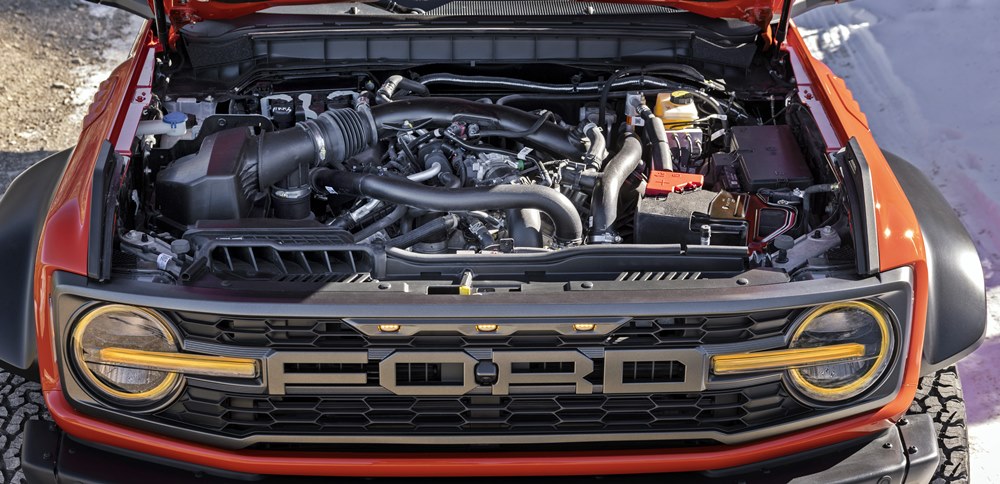 For higher-speed desert capabilities or crawling over rocks, the compacted graphite iron-block engine, which saves weight while providing strength for added durability, is paired with a 10-speed SelectShift automatic transmission tuned to meet Ford Performance standards. A true dual-exhaust system, featuring first-for-Bronco active-valve technology, uses near-equal-length pipes for an improved exhaust note. The system allows drivers to alter the sound of their Bronco Raptor with four selectable exhaust modes, including Normal, Sport, Quiet and Baja.
Extreme Built Wild design
"As the most badass Bronco yet, the Bronco Raptor design is extreme," said Paul Wraith, the Bronco's design chief. "It's muscular, while maintaining an underlying simplicity with performance-focused details added only for outstanding high-speed capability."
Familiar Ford block lettering at the front stretches across the signature two-piece rectangular grille. LED headlights with amber daytime running lamps and integrated amber marker lamps further tie in the DNA of the Raptor to provide a menacing look. A heavy-duty modular steel front bumper by Ford Performance includes tow hooks, removable bumper end caps for improved off-road clearance and rigid off-road lamps for greater illumination.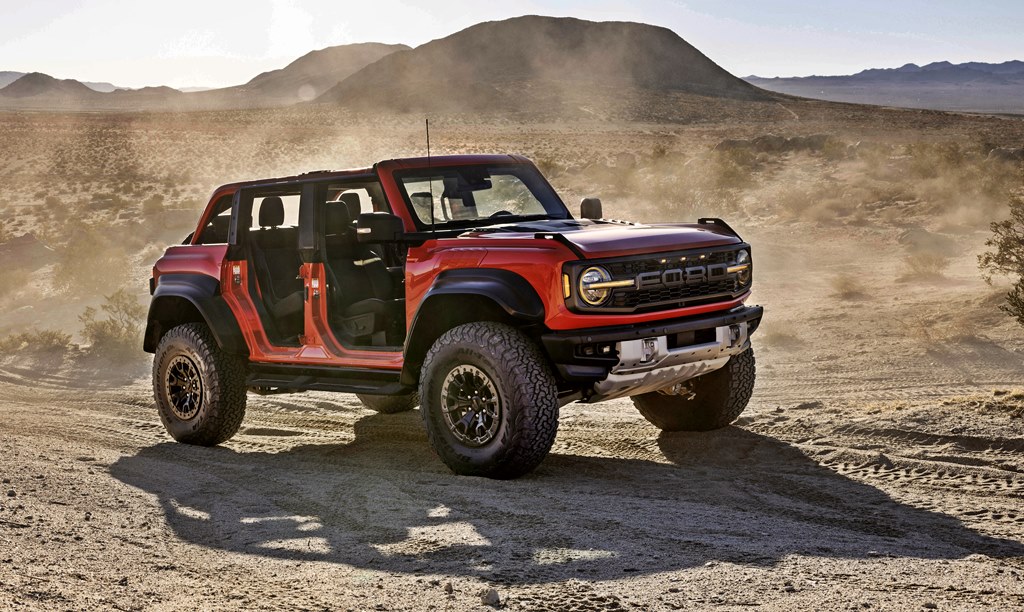 The bonnet is made of sheet-molding compound, which allowed the design team to dramatically sculpt its muscular shape. An integrated vent is molded-in-colour Carbon Black and fender vents are painted body colour.
The Bronco Raptor leverages on the Bronco's patented off-road modular design, stripped it to its base, and replaced components with unique-to-Raptor front and rear quarter-panels, fenders, fender flares and door appliques. Sheet-molding compound is once again used to sculpt the wider front fenders and integrated bodyside heat extraction ducts, which provide additional engine cooling.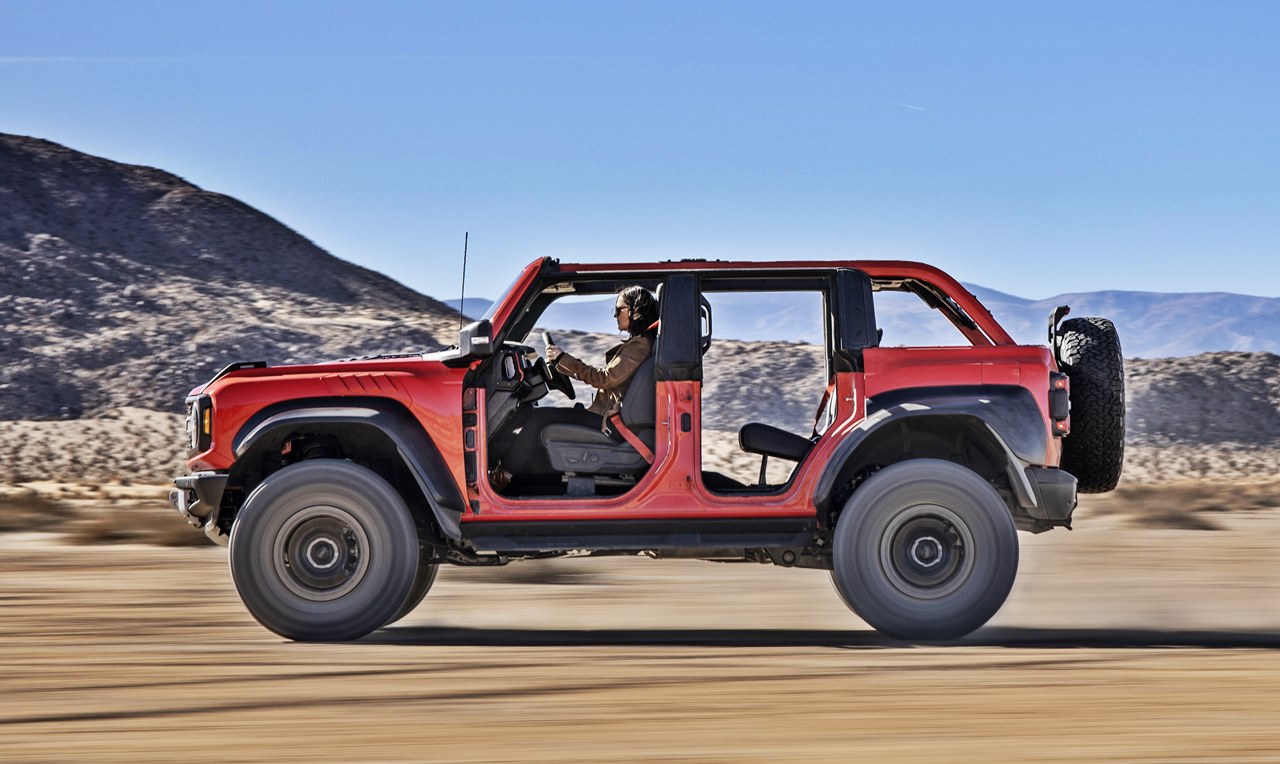 Race-focused interior
The driver gets the familiar heritage-inspired horizontal dashboard, integrating an all-digital 12-inch cluster. The cluster allows drivers to select from various views, including a Bronco Raptor-exclusive Performance View that emphasizes tachometer and gear readings and allows the customization of gauges.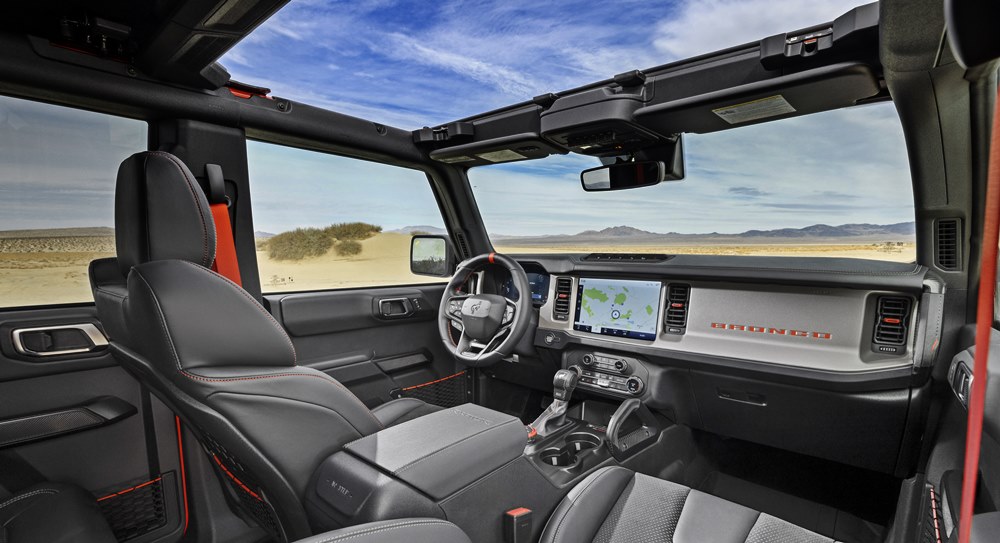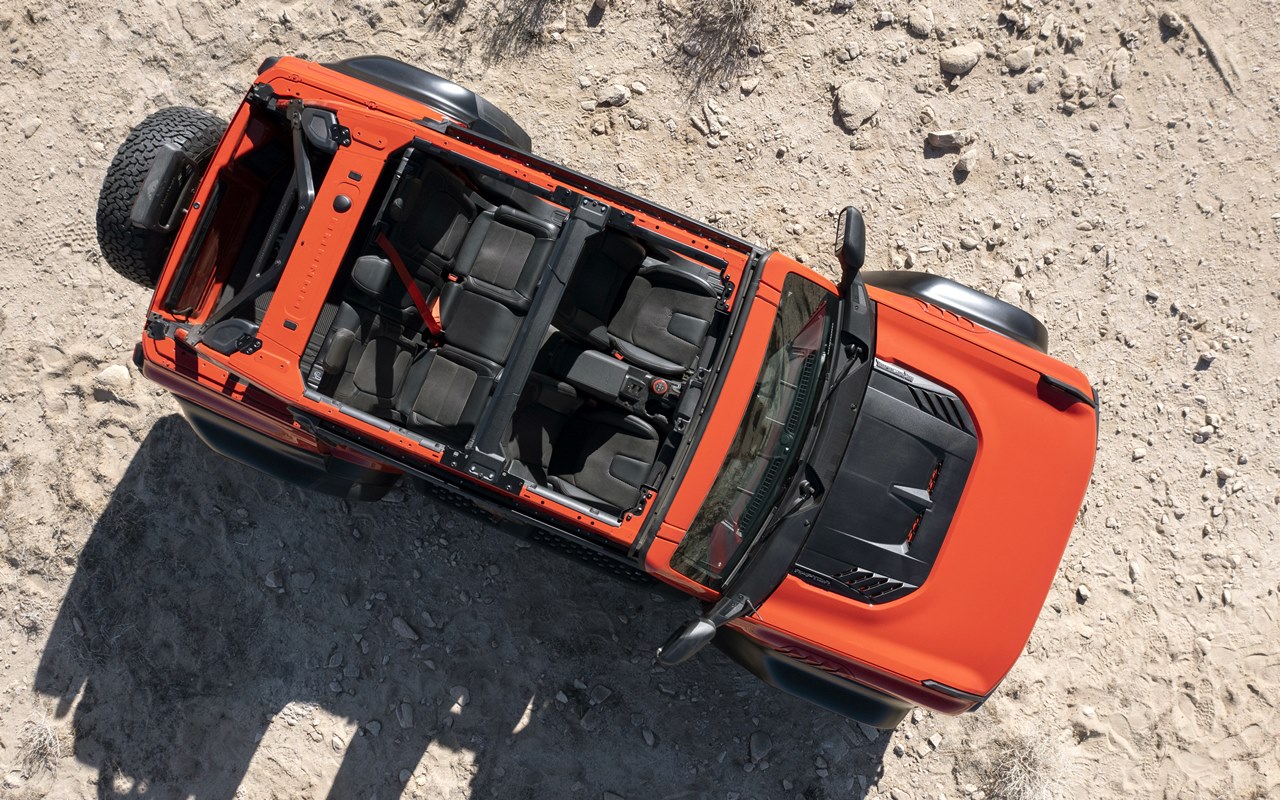 "The Bronco Raptor interior was designed around what we know hardcore off-road racers want in a vehicle," said Ryan Olsson, design manager. "From the all-new Performance View on the cluster and unique steering wheel with paddle shifters and fingertip access to Raptor-specific controls, to its race-ready, high-bolster front seats, Bronco Raptor leaves the factory ready for the starting line."
As standard, it has SYNC4 with a 12-inch touchscreen, information on-demand panel and enhanced voice recognition. Other technology features include an exterior camera with 360-degree viewing capability. The Lux Package is available for customers looking for even more human-centered technology, such as an optional 10-speaker B&O audio system and Adaptive Cruise Control.