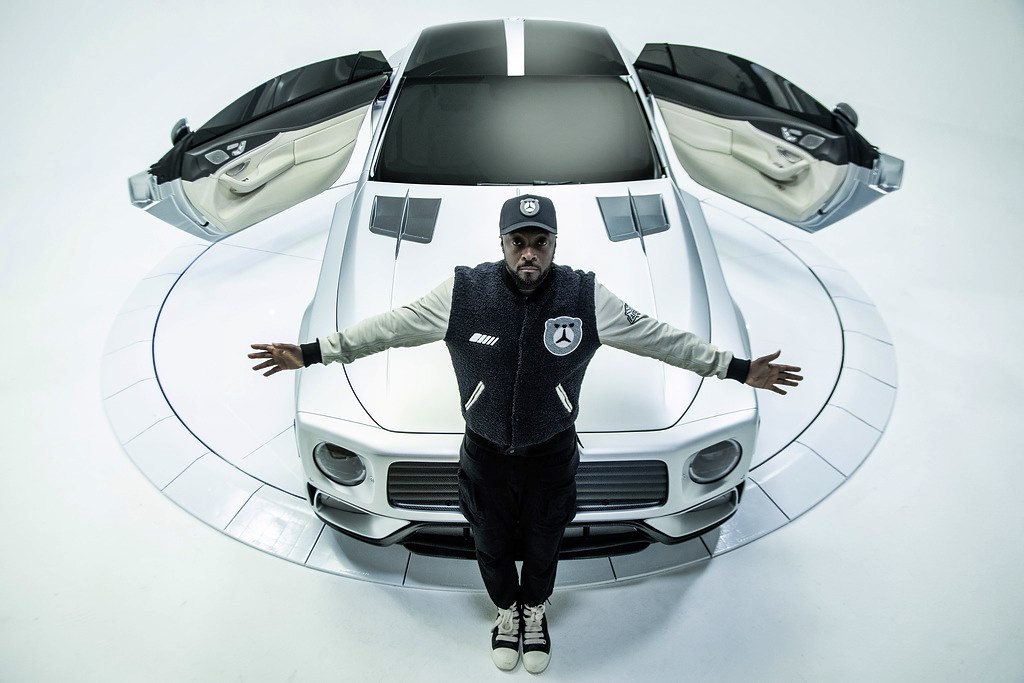 will.i.am, well known for his association with the Black Eyed Peas  which he also founded, is more than just a singer and musician. Today, he's a tech entrepreneur, philanthropist and was even chosen as the TIME 100 IMPACT Award winner. Recently, he's been working on a special project with Mercedes-AMG under strict secrecy which will culminate with the presentation of the WILL.I.AMG at the Miami F1 Grand Prix this weekend.
It's also the sixth collaboration that he is having with West Coast Customs, a customisation outfit in California, to create the one-off vehicle for the project which is known as 'The Flip – – Innovation for Purpose'. The Flip is intended to give more students from disadvantaged communities access to STEAM (science, technology, engineering, arts and math) education in order to be equipped with the skills required for future-focused jobs and to invent new technologies.
"I grew up in a ghetto. I grew up with hip hop. I watched legendary hip hop artist rap about Mercedes, so it was always a dream to own a Mercedes. For a lot of inner-city kids, owning a Mercedes is a symbol of progress and advancing out of struggle," explained will.i.am. "Now I've reached my goal and pushed even higher by re-imagining and creating my own vision of an AMG model. But I didn't touch the engine, because AMG really does make the best engines. The story of the founders of AMG truly inspires me and it is energizing to collaborate with like-minded people who also seek continuous improvement."
Inspired by the Mercedes star logo and the vehicle sound, will.i.am created a bear-like face icon, which has been dubbed 'BEAR WITNESS'. This icon is also the focal point of the BEAR WITNESS collection that features limited-edition apparel and accessories available at the Mercedes-AMG Experience Centre in Miami and online.
The elaborate conversion and construction of this car, based on Mercedes-AMG GT 4-Door Coupe,  has been captured in an extensive 6‑part documentary series, 'DRIVE' that will sneak preview at the May 5 reveal event.
All the activities surrounding this one-of-a-kind vehicle influenced by design elements of the G-Class and the legendary SLS Gullwing will benefit will.i.am's i.am/Angel Foundation to help build a STEAM-ready talent pool that will lift families and communities out of poverty.
Mercedes-AMG is supporting this project because it also fulfils a lifelong dream of 47-year old will.i.am: he is a car guy through and through and a Mercedes-AMG enthusiast who has always dreamed of making his personal Mercedes-AMG vehicle a reality.