There was a while when it seemed that if you owned an electric vehicle (EV), you were free of having to buy petrol (or diesel) and all you had to do was plug in to a charging point and get the battery pack recharged. While electricity, wherever it is supplied, still costs something, it didn't seem that way as no one really asked for money – at that time.
You can still charge 'for nothing' if you can install a charging station at your own home but with charging facilities now commercialised as the number of EVs goes up, getting the battery pack recharged will just be like buying liquid fuel – you have to pay for it.
As public usage of charging stations keeps growing, the charges will be adjusted according to demand. DC Fast Chargers, which shorten charging time (if the EV is able to accept such charging), are expensive to set up so the charges for using them will be higher.
Standardised prices
To ensure a fair and standardised experience for all EV owners in Malaysia, BMW Group Malaysia has released an official pricing structure for BMW i Charging facilities across the country. The Pay-Per-Use pricing structure for charging at any authorised BMW dealership listed below is as follows: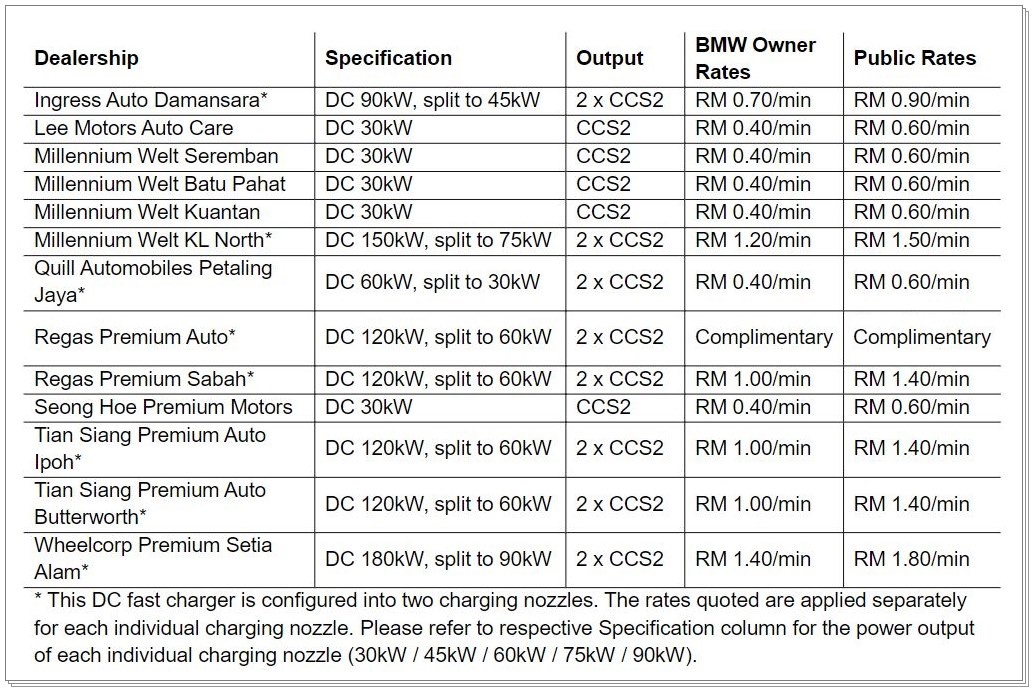 BMW and MINI EV owners can also expect greater accessibility to charging facilities across the country as BMW Group Malaysia partners with multiple key EV charging providers such as JomCharge and Tenaga Nasional Berhad, in addition to chargEV. This strategy will ensure that owners of our BMW electrified vehicles will have access to the widest range of charging facilities no matter where they are in Malaysia. Customers and members of the public can therefore expect to see many more BMW i Charging facilities located in key areas.
Over 400 charging stations
In partnership with chargEV, BMW Group Malaysia has successfully provided access to a comprehensive network of over 400 charging facilities across Peninsular Malaysia, as well as in Sabah and Sarawak. The infrastructure network comprises of AC Chargers located strategically to enable peace-of-mind when travelling, whether intercity or out of state.
BMW EV owners who use chargEV-powered BMW i Charging facilities can register as a member at RM240 per annum to enjoy preferential Pay-Per-Use charging rates, as well as complimentary usage of all their AC Chargers nationwide. With the chargEV mobile application, users can also locate charging facilities at over 250 locations nationwide and are also able to reserve chargers, start and stop charging remotely, as well as view their vehicle's charging status in real time.
Removing the worry of EV owners
"Our vision for an Electric Future spans beyond just the expansion of our EV portfolio and infrastructure here at BMW Group Malaysia. We have long been working on fostering a viable ecosystem that is future-ready and one that electrified mobility can thrive in, knowing that the main roadblock to EV adoption remains to be range anxiety and a worry that there may not be enough charging facilities in place across the country. Through our many partnerships with local tech and EV industry leaders over the past few years, we have been able to continuously grow our network of charging facilities where the needs are highest," said Hans de Visser, Managing Director of BMW Group Malaysia.
"With an official pricing structure in place, we are taking the next step in the ever-maturing EV ecosystem in Malaysia, by endeavouring to provide fair and adequate access to these facilities for all EV users in Malaysia – regardless of make and model, as electrification remains a shared responsibility amongst automakers in solving climate change," he added.
Malaysians understand merits of EVs but misconceptions remain, BMW survey finds