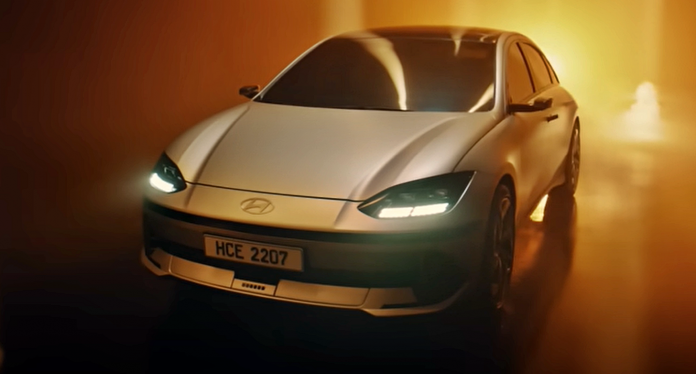 These days, there's a new electric vehicle (sometimes even more than one) being launched or previewed every month and the technical aspects sound pretty much the same. The technologies to are generally similar with each company having some advancements of its own to shout about.
So with the new IONIQ 6, Hyundai Motor seems to skirt the technical parts and instead draws attention to the inside of the first sedan in its EV sub-brand. The interior of the 'Electrified Streamliner' is developed to serve as a comfortable and personalized 'hideaway', providing a unique and distinctive experience for drivers and their passengers.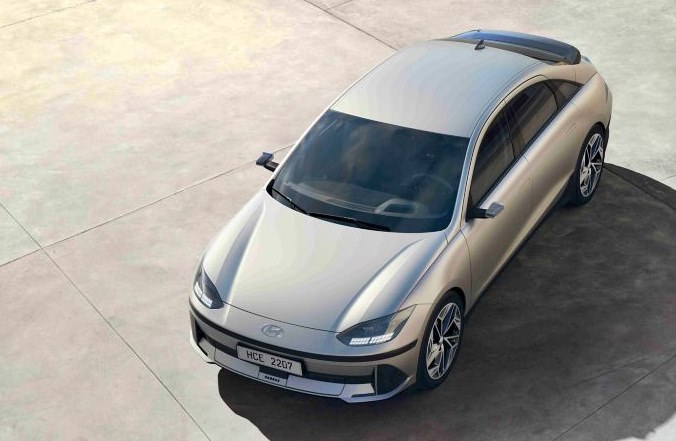 "IONIQ 6 is designed and engineered to seamlessly enhance our daily lives as space to awaken your potential," said Thomas Schemera, Executive Vice-President, Global Chief Marketing Officer and Head of Customer Experience Division, Hyundai Motor Company. "The innovative interior is meticulously thought out as a cocoon-like personal space, enhanced with the latest technologies to create a safe, fun, and stress-free driving experience. The spacious interior, with sustainability and usability at its heart, once again represents a step forward for electric vehicles, in line with the values of our customers."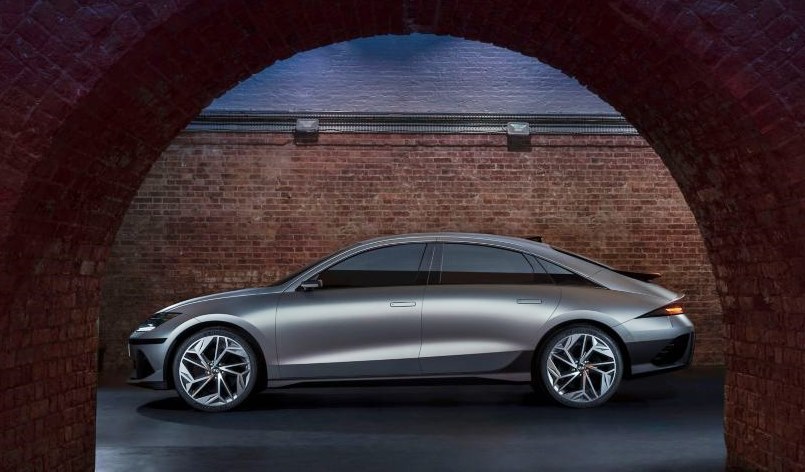 The cabin takes advantage of the E-GMP (the Hyundai Motor Group's Electric Global Modular Platform) which allows an extremely long 2950 mm wheelbase, supported by a choice of 20-inch or 18-inch wheels. The E-GMP supports a streamlined body with an overall length of 4855 mm, 1880 mm width and 1495 mm height, which puts it in the D-segment.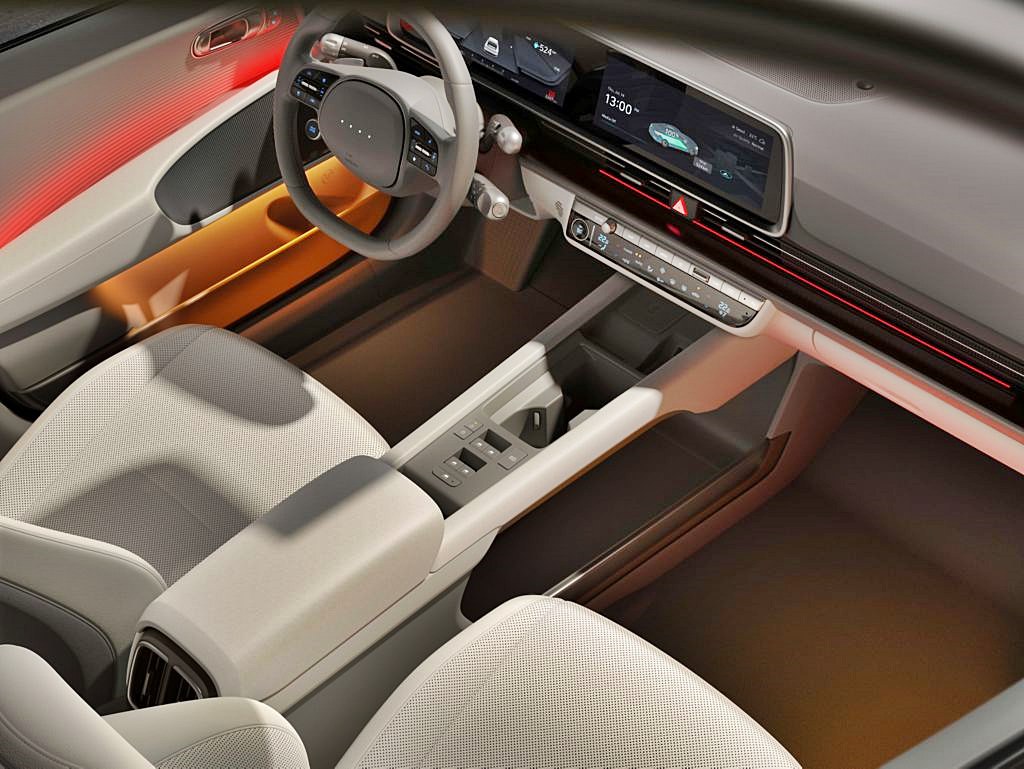 A modular touchscreen dashboard integrates a 12-inch full-touch infotainment display and 12-inch digital cluster that houses advanced technologies for an enhanced digital user experience that can be customized to meet their needs. The infotainment system provides real-time travel radius mapping based on the current state of charge, while connected car services help search and plan the best route to include a charging station along the way.
Apple CarPlay and Android Auto bring favourite smartphone apps to the widescreen display. For those without compatible smartphones, there's also Bluetooth multi-connection support available. Two devices can be paired at the same time — one for phone calls and one for music streaming.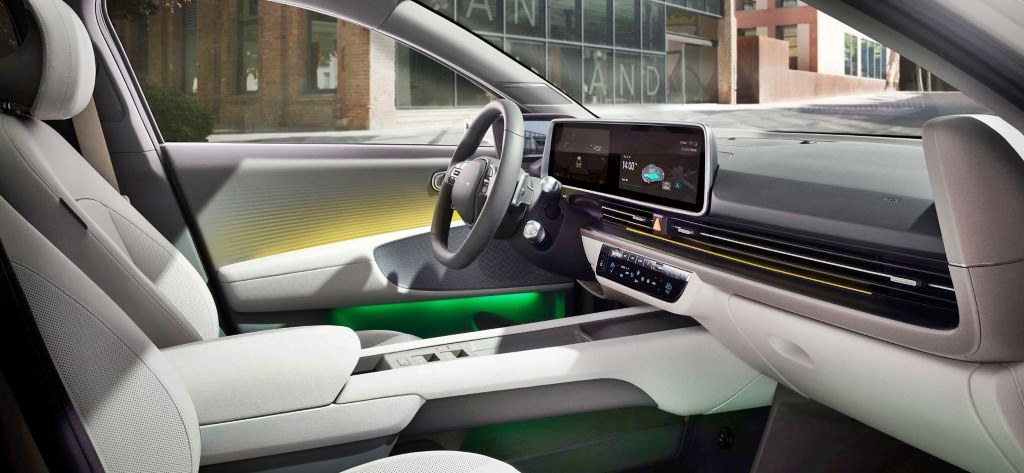 The premium Bose sound system's 8 speakers, including a subwoofer, are strategically placed throughout the vehicle for a high-quality listening experience. Complementing this is a 'spaceship-like' sound with a sound texture that changes based on the vehicle's driving status. How this will be received by the occupants of the car remains to be seen. Perhaps the new generation of car-buyers brought up in the digital age will appreciate such sounds!
The optional Relaxation Comfort Seats in the first row promote leisure by simply adjusting the seat angle. In addition, all of its seats are specifically-manufactured for all-electric models, and they are approximately 30% thinner than those in other conventional models, providing more space for passengers.
Dual Colour Ambient Lighting allows a driver to customize the look and feel of the interior space by selecting from a spectrum of 64 colours and 6 pre-selected themes. The Speed Sync Lighting mode adds emotion to the driving experience by changing the brightness of the interior lighting in the first row based on the car's travelling speed.

The IONIQ 6's personalized driving experience is further enhanced by the EV Performance Tune-up system. This allows the driver to freely adjust steering effort, motor power, accelerator pedal sensitivity and driveline mode. Drivers can create a variety of different combinations with just a few button clicks to meet their individual needs.
Of course, we still need to tell you something about the technical aspects and here, the powertrains are varied. Customers can choose a long-range 77.4-kWh battery with 2 electric motor layouts, either rear-wheel-drive (RWD) or all-wheel-drive (AWD). The top-of-the-line dual motor set-up is an AWD option producing a combined power output of 325 ps/605 Nm, with a claimed 0 to 100 km/h of 5.1 seconds.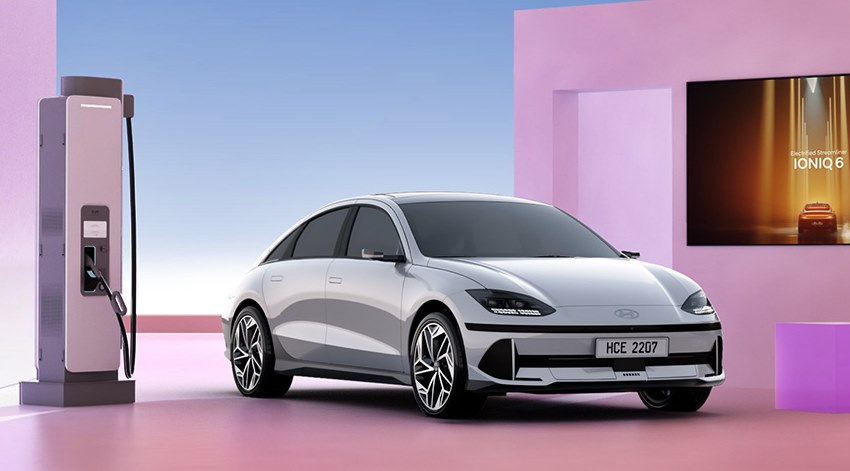 Hyundai Motor claims an impressive energy consumption rate of under 14 kWh/100 kms, with the 53-kWh standard battery pack, 18-inch tyres and RWD. It supports 400V and 800V charging infrastructures and with a 350 kW charger, the recharging time from 10% to 80 percent is said to be within 18 minutes. A fully charged battery pack should be good for over 610 kms.
The IONIQ 6, like the IONIQ 5, is also able to function as a mobile power station to charge electric devices. This would be ideal not only for camping but also when there is a disruption to power supply. In addition to the external power outlet, there is a second outlet under the back row seat which can be used for charging laptops, phones and other devices.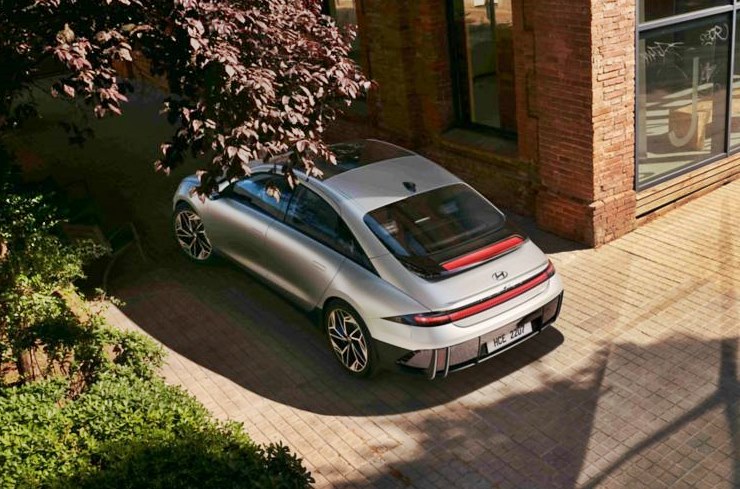 This EV Is Hyundai Motor's first model to offer the Over-the-Air (OTA) Software Updates for various controllers. This allows owners to upgrade the car's controllers for electric devices, autonomous driving, battery, maps (and more) without having to go to a service centre. As such, the systems will be kept up to date and optimised.
In the Korean market, the IONIQ 6 is priced between 55 million – 65 million won (about RM185,000 – RM218.000). Production is to begin production in the third quarter of 2022. Sales are expected to begin before the end of the year with exports to selected markets starting in early 2023.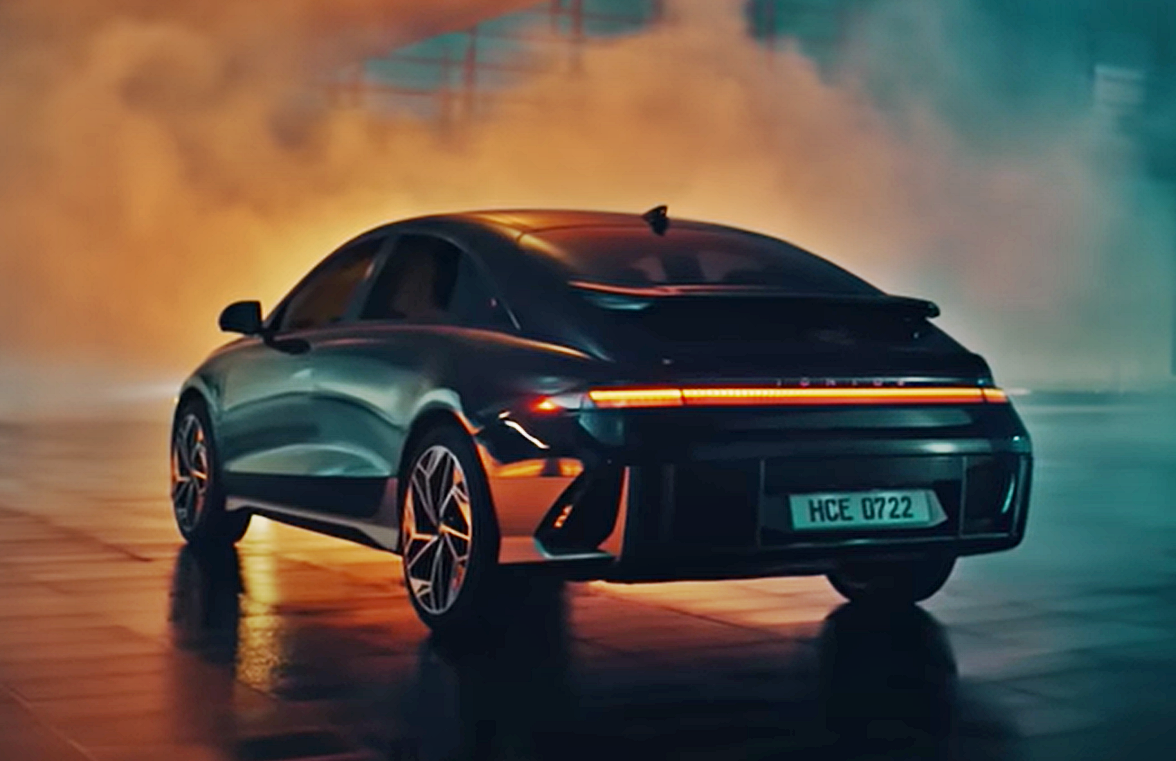 Hyundai to use new Integrated Modular Architecture for all future BEV models