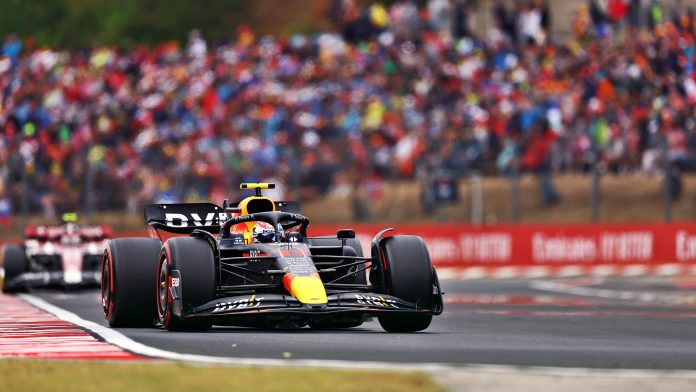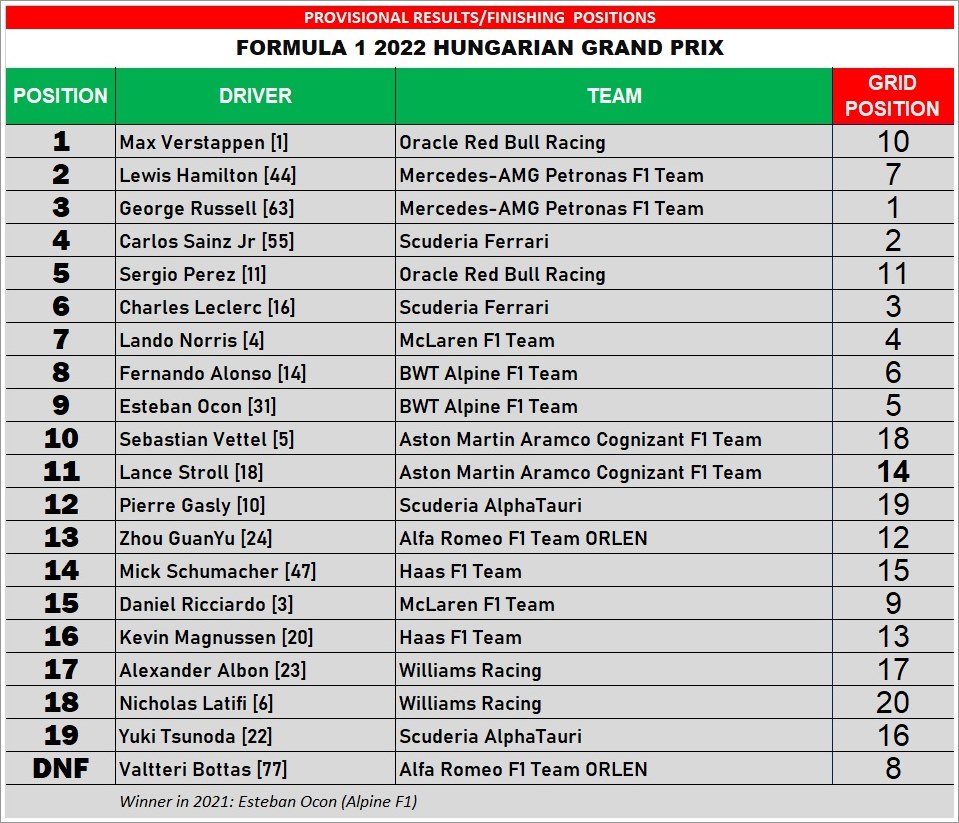 A new name was on pole position for F1 Round 13 – George Russell – and in his mirrors were two red Ferraris ready to outrun him to the first corner. But the young Mercedes-AMG F1 driver was ready and although Carlos Sainz was able to come up alongside as the cars moved off, Russell held on to his slight lead.
His team mate, Lewis Hamilton, starting from was able to slip past both on the first lap to move from seventh to fifth. The two Red Bulls also moved up two positions before the first turn. However, further back, there was an incident between Aston Martin's Sebastian Vettel and Williams Racing's Alex Albon which brought out the F1 Virtual Safety Car (VSC) for a while. The moment the VSC was deactivated, Russell was able to take advantage of the lull to open up a gap with Sainz.
Haas F1's Kevin Magnussen had contact with McLaren's Daniel Ricciardo and the former's car sustained damage to the front wing. It was severe enough that Magnussen got the black and orange flag which required him to return to the pits to fix the damage.
By lap 11, Verstappen was up to fifth and taking on Hamilton for the position. McLaren's Lando Norris was just ahead but both drivers were able to get past him and continued their duel for the fourth place Norris was displaced from. However, Verstappen was heard to be asking questions about an issue with his car which was alarming him. 8 seconds ahead, Ferrari's Charles Leclerc was shadowing his team mate who was looking for a way past leader Russell.
Cars were being called in and on lap 17, Russell came in for mediums but Sainz, though called in, did not do so right away and stayed in the lead that the Mercedes-AMG driver had given up. But on the next lap, Sainz came in and Leclerc took over the lead with Hamilton in second and Russell in third, both not within striking distance. Hamilton too would come in on lap 20 for a change of tyres. The forecast for rain was 60% at that point.
On lap 22, Leclerc finally came in, and Russell was back in the lead. When the Ferrari driver rejoined, he managed to slot in ahead of his team mate, which can't have been a happy moment for Sainz. Leclerc was around 2 seconds behind Russell, while Sainz was 5 seconds and having to watch out for a hard-charging Verstappen. At the back of the top 10, Ricciardo had passed two cars to get back into the points.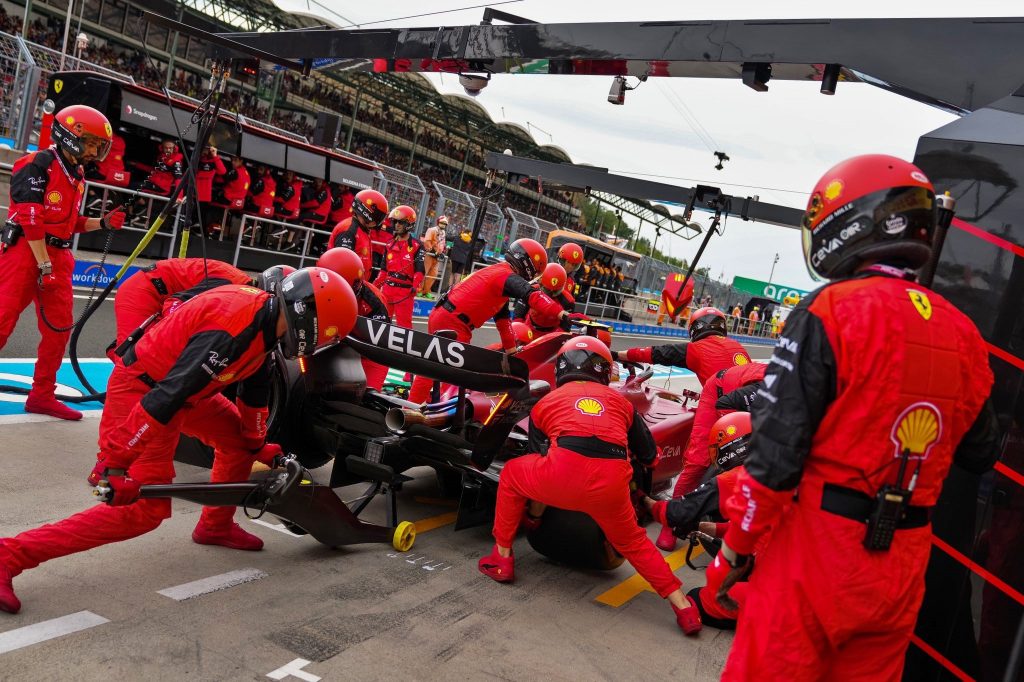 On lap 28, Leclerc was close enough to challenge Russell in each corner but the British driver remained calm and held his lines. It took 3 laps for the Ferrari to pass and take the lead but Russell did not give that up easily either.
Leclerc didn't waste time pulling away and left Russell to be dealt with by Sainz, who was getting closer. Verstappen was still a threat to Sainz but the Dutchman did not have to worry about Hamilton who was some distance behind.
As the 70-lap F1 race passed the halfway mark, all 20 cars were still running which was not always the case. Rain was also coming down lightly and could change things dramatically for the remainder of the race.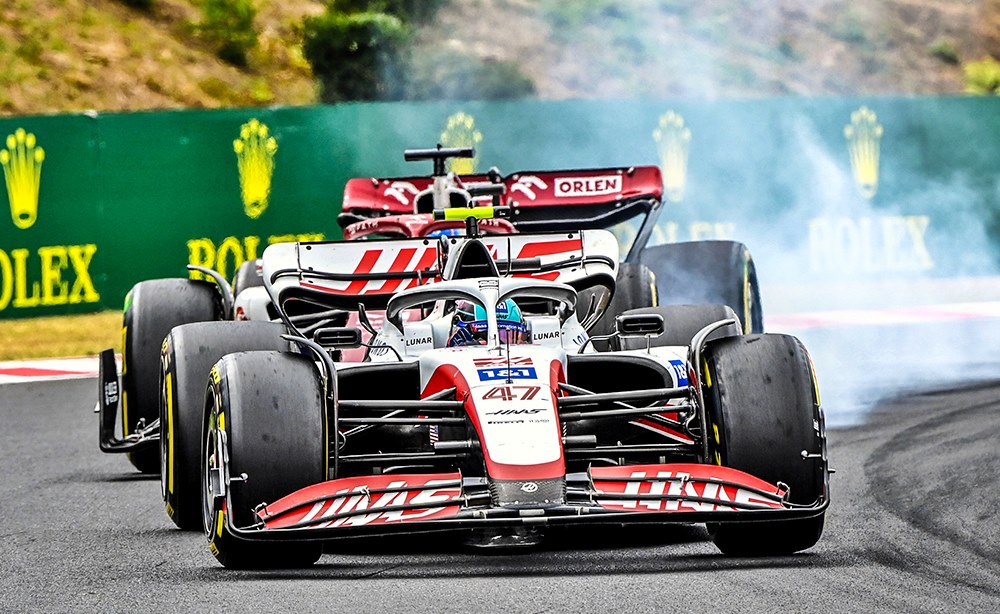 Scuderia Alphatauri's Yuki Tsunoda spun at the chicane on lap 36, bringing out the yellow flags. But he was not immobilized and continued going but was in last place. Pirelli was expecting who went from medium to hard to probably do a one-stopper while everyone else would have to stop again.
Although he was within reach of Russell, Sainz had to go from attack to defence as Verstappen came up behind him. The second position would have to wait first while he held on to his third place. And then Sainz got a break when the Red Bull team called Verstappen in to put on mediums. When he rejoined, he was down to sixth behind his team mate, Sergio Perez. It was still drizzling and heavier rain was forecast by lap 62.
Leclerc gave up his lead on lap 40 to pit, and Russell followed him off the track as well, giving Sainz the lead. With the fresh tyres seemingly warmed up, Verstappen thought he was ready to fight and went flat out – and spun. He was able to recover quickly before Russell could take advantage and held on to his fourth place as he headed in pursuit of Leclerc, whom he passed on lap 45.
Hamilton took over the lead on lap 48 when Sainz came in to switch to soft tyres. It remained to be seen if that was the right move for Ferrari. With Red Bull pitting so early, they should have stayed out and put the soft tyres on later.
It was now Verstappen going after Hamilton in the lead, trying to close the gap of 6 seconds. Leclerc was 3 seconds behind the Dutchman with Russell in fourth and Sainz in fifth. On lap 51, it was Russell's turn to try to displace Leclerc but the Ferrari driver was making it very difficult.
Hamilton rushed into the pits on lap 52 to get onto softs, rejoining in fifth between Sainz and Perez. Verstappen was now in his more familiar position at the front with a 6-second lead over Leclerc.
The F1 Stewards had finally decided on the Ricciardo – Stroll incident and it was deemed that the Aussie driver was at fault and he received a 5-second penalty.
Leclerc finally had to give way to Russell on lap 53 and the Mercedes-AMG driver took over second, with the 6-second gap behind Verstappen that wasn't going to be easy to close. Having lost his position, Leclerc came in on lap 54 to get rid of the hard tyres and run on softs for the rest of the race. At that point, the top 5 were spaced many seconds apart and the order was likely to stay till the end. Barring unexpected incidents, the only battle for positions was likely to be between Russell and Sainz.
As 10 laps remained of the 13th F1 round, Verstappen looked comfortable in the lead and if rain came down, he could even benefit from it. It was an achievement coming into the lead from tenth at the start, and he did not have to worry about Russell being an immediate threat.
No more distractions for Hamilton as he pushed forward past Sainz and moved into third and a place on the podium right behind Russell. Now the question was whether Russell would let his team mate past but it did not seem to be so, although it would be Hamilton eventually finishing second. With two Mercedes-AMGs chasing him, Verstappen could not afford to make any mistakes – and also pray his car would not fail.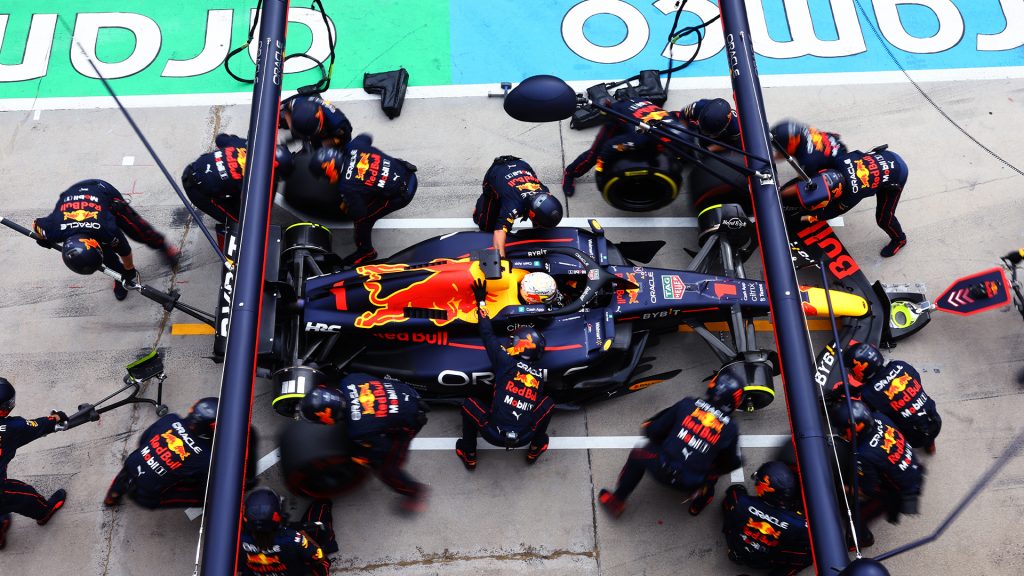 As 5 laps remained, rain slowly started coming down. At the end of the top 10, Vettel had managed to take over the last points-paying position from his team mate, Lancer Stroll.
And then on lap 68, Alfa Romeo's Valtteri Bottas went off on Turn 11 as his car lost all power. The yellow flags came out, followed by the VSC. It was active for just 1½ laps and then it was a rush to the finish. The rain was heavier and Verstappen was doing his best not to lose it. And he didn't, taking the eighth chequered flag of the F1 season at Hungaroring.