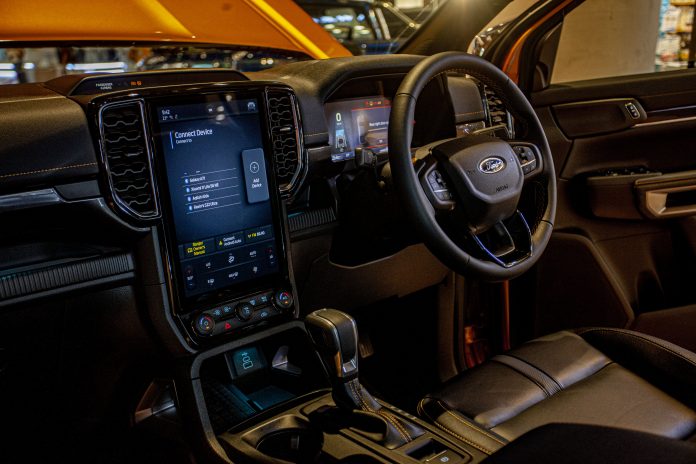 After conducting more than 5,000 interviews and dozens of customer workshops around the planet, Ford designers had a good idea of what was required and expected from the next-gen Ranger. Customers and owners told them that they wanted a flexible, modern cockpit that would cater to both work and family duties, with smart and connected features and a high level of well-integrated technology.
The result is the smartest Ranger ever, with an enhanced user experience that means owners can transition seamlessly from home or work to their vehicle. With customer focussed technology, the next-gen Ranger pushes the boundaries of what a smart pick-up should be.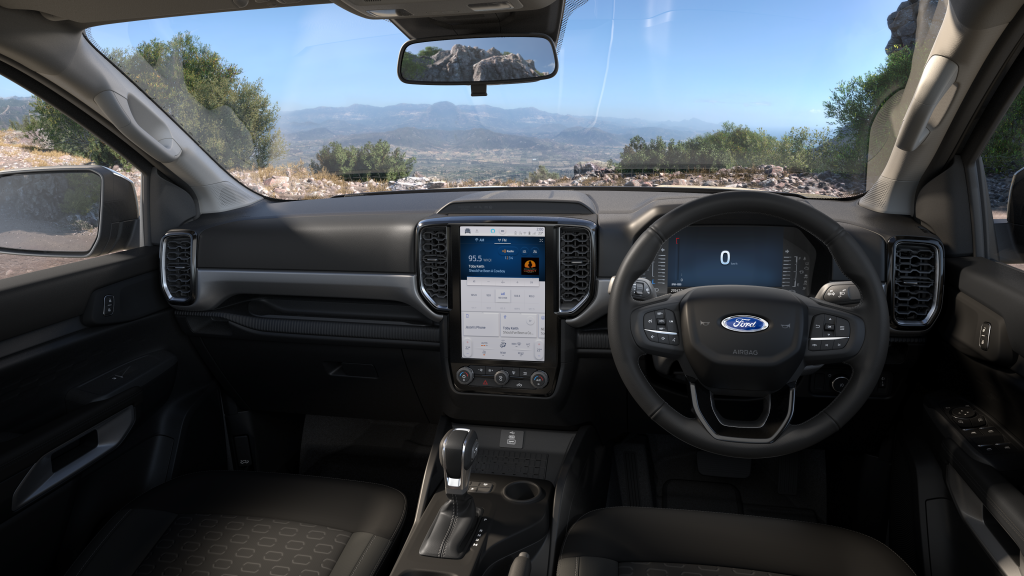 Key Technology Features
Digital Display
The physical instrument panel that used to house things like the speedometer and tachometer was always limiting in the amount of information it could provide the driver. With the next-gen Ranger, that's replaced by an 8-inch digital instrument panel that can be customised.
These displays show a start-up and farewell animation and a digital speedometer and tachometer, while the graphics feature realistic body-style avatars. Depending on the variant, the driver can switch between layouts to show additional information like the driver-assist technologies. And for those times when he or she wants to focus on driving, there's also a 'calm view' which minimises the information shown to the minimum necessary for safety.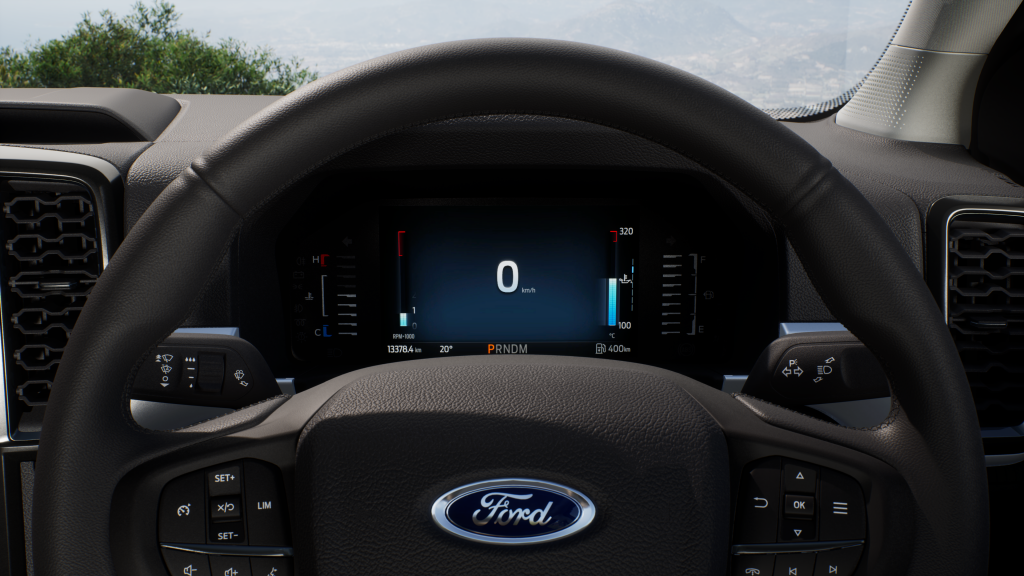 The panel is also matched to the various on-road and off-road driving models, showing a different theme so the driver knows at a glance what's been selected. The mode changes also have animations as the driver scrolls from one to the other.
Smarter, Intuitive Connectivity
At the heart of the next-gen Ranger's technology story is the SYNC 4A communications and entertainment system. SYNC 4 brings new levels of connectivity and voice recognition seamless for a personalized driving experience while delivering easy smartphone integration. Wireless Apple CarPlay and Android Auto enables favourite apps (eg Waze and Spotify) from compatible smartphones to be transferred onto the display where they can be used.
Big Screen
The centrally located infotainment screen is mounted portrait style, with a 10.1-inch or a best-in-class 12-inch size (depending on the variant). The design team chose a large-format tablet screen because it allowed for a good depiction of navigation with room to spare lower down.
Its extra height allows a customisable split-screen set-up with an information-on-demand panel always visible at the bottom of the screen. This displays key information, the user's connected smartphone and more.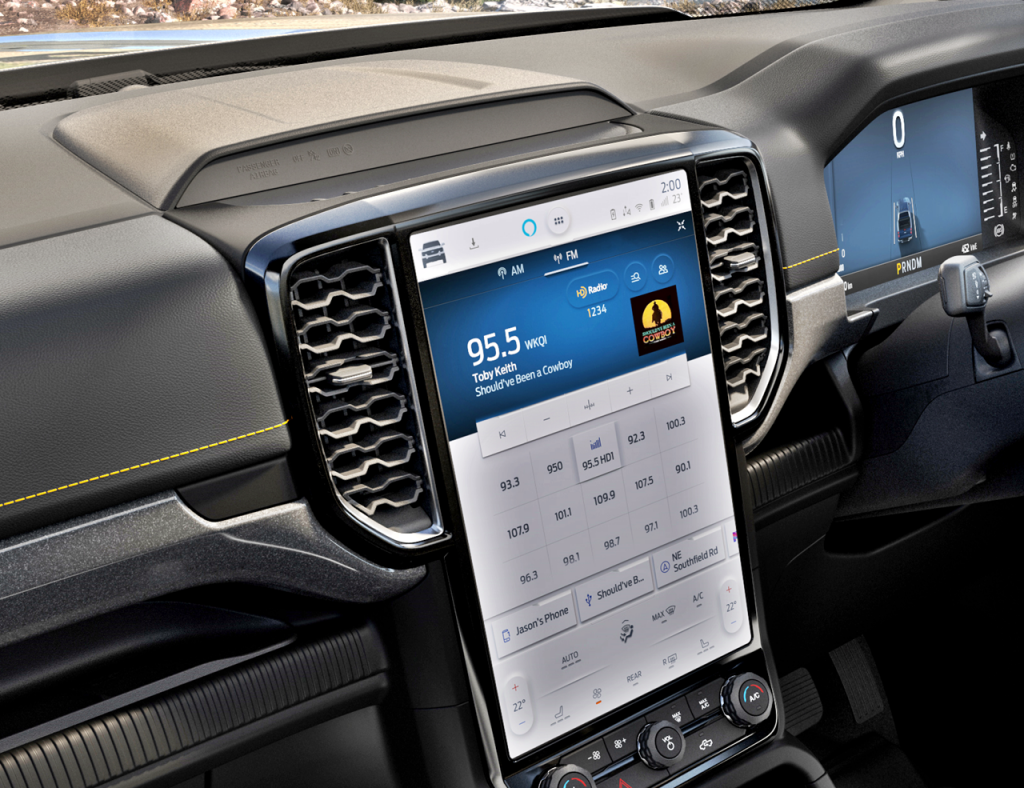 Fewer Buttons, More Capability
In line with the digital instrument panel, many of the traditional driving mode controls have been moved from the dashboard and centre console to a dedicated display on the SYNC screen. Depending on the variant, for example, with one button press, the driver can go to Ranger's dedicated off-road screen where he can monitor the driveline, steering angle, vehicle pitch, roll angles and other controls.
The cabin temperature and ventilation as well as entertainment can be controlled via the SYNC screen too. Additional physical controls mounted just below the screen allow for quick and easy adjustments.
Look All Around
The next-gen Ranger is long and large but that's no issue as a 360-degree camera allows the driver to see all round and even from above with a simulated view. This makes parking easy in tight spots or even when moving over tricky terrain while travelling off-road.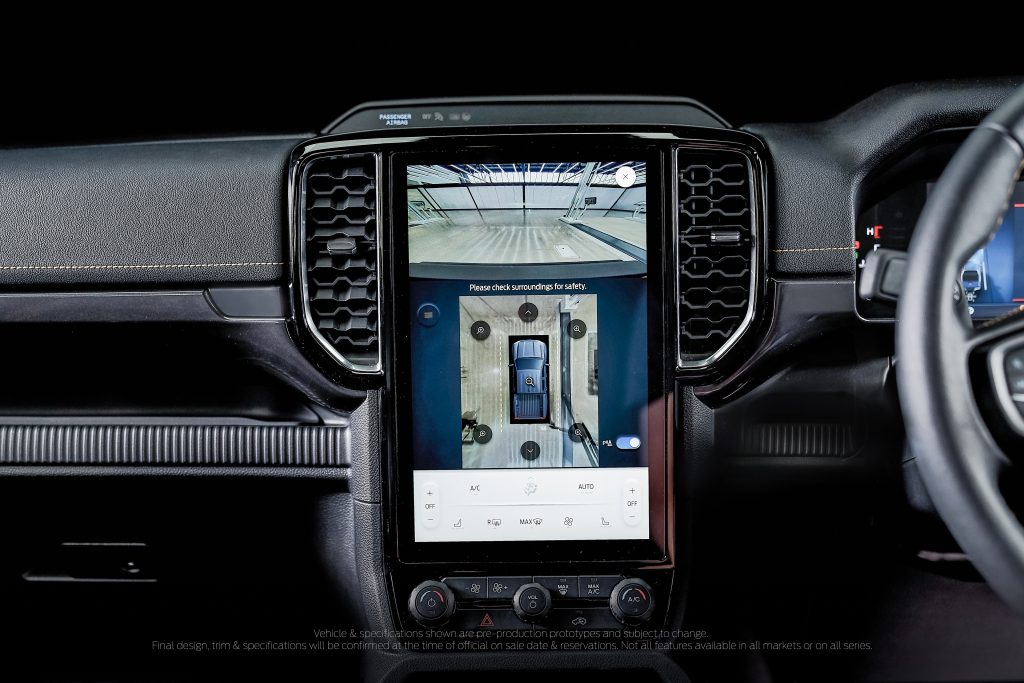 Electric Parking Brake
Along with other mechanical elements, the traditional handbrake lever is also gone in the next-gen Ranger Wildtrak. In its place is a first-in-class electric parking brake for a more high-tech feel. Not only does it free up space on the centre console but it also requires very little effort to use (just one finger).
Charged And Ready Always
The next-gen Ranger comes with power sockets to charge or supply electricity to many different devices. Compatible smartphones with wireless charging capability can be placed on a charging pad at the base of the centre console, or connected via a cable to a USB port. There are also 12V/240V sockets and a 150W inverter to provide power for laptops and other devices. Depending on the variant, located at the side of the cargo deck, there are 400W and 12V sockets to power camping gear.
With more and more drivers using dashcams to keep a record of their journeys, the designers thoughtfully installed a USB port at the top of the windscreen. It's located adjacent to the rearview mirror so there's no cable dangling down. This Type-A USB outlet converts 12V power into 5V USB output suitable for an external GPS or dash camera. It also can be used to charge a smartphone (but isn't connected to the SYNC 4A system).
Let There Be Light
The segment-first Matrix LED headlights (on the Ranger Wildtrak) not only have the high-tech look but also many clever features. These include auto dynamic levelling and speed-dependent lighting that can adjust the intensity of the beam in front of the vehicle depending on the speed at which you're travelling.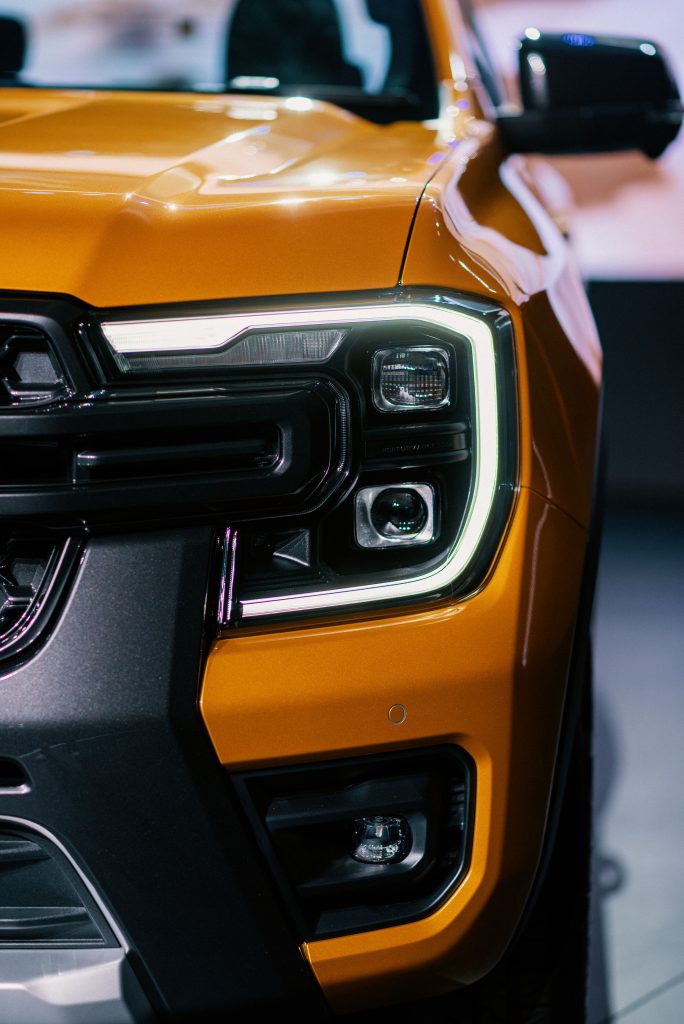 The headlights also offer both static and dynamic bending capability as well as glare-free high-beams, which help block light that could otherwise temporarily blind other drivers and cyclists. That means maximum illumination is provided whenever it is possible without disturbing other road-users.
Join the Debut Tour
The next-generation Ranger has been making a debut tour since its first public appearance last month. Sime Darby Auto ConneXion (SDAC), the sole distributor for Ford in Malaysia, is offering previews at a series of events around the country over 5 weekends. These include events in Kuching on September 7 -11 at Vivacity Megamall, and at the Suria Sabah Shopping Centre, Kota Kinabalu on October 5 – 9.
Don't miss out on the upcoming preview events of the next-generation Ranger debut tour. Sign up here to get an exclusive invitation to a venue close to you. Or if you want more information about the next-generation Ranger, follow the Ford Malaysia Facebook, Instagram, Twitter and YouTube channel or visit www.sdacford.com.my.