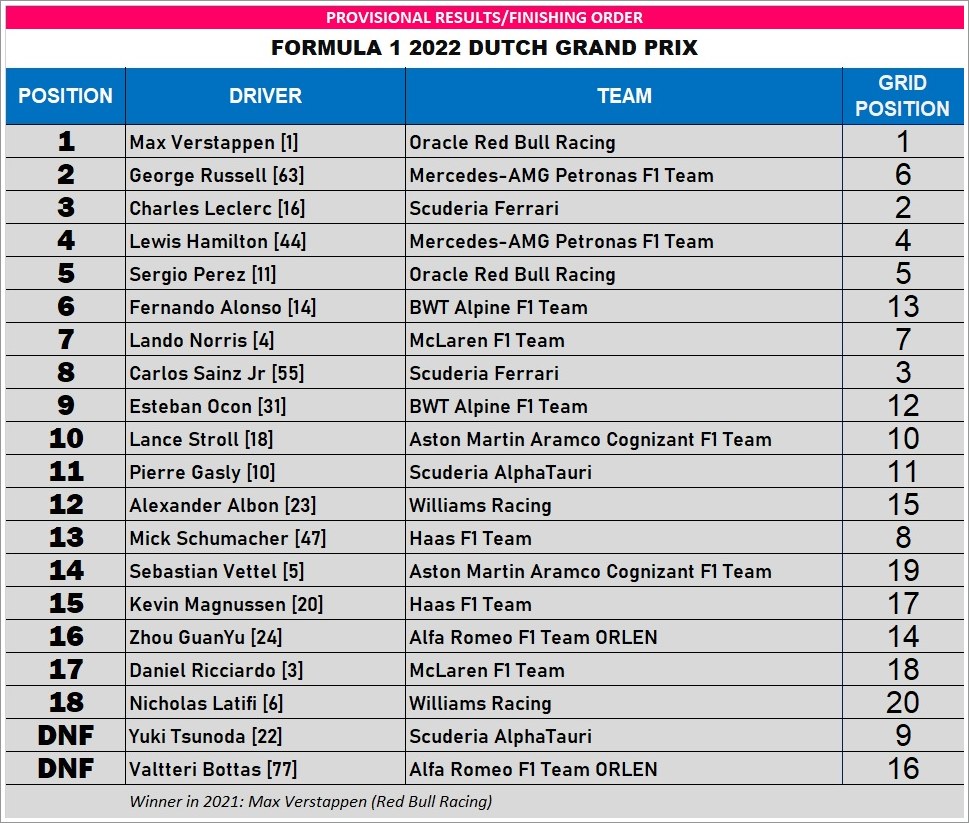 As the drivers left the grid for the first of 72 laps, the home crowd filled the air with orange for their countryman – championship F1 leader Max Verstappen. Both Verstappen and Ferrari's Charles Leclerc got a good start but it was the Red Bull driver who had a slight edge. Further back, Mercedes-AMG's Lewis Hamilton also sliced through the grid and had just a tiny bit of contact with Ferrari's Carlos Sainz who had been one slot ahead of him on the grid.
With Zandvoort having very short laps, the cars raced across the starting grid again within a very short time. Haas driver, Kevin Magnussen, provided some drama in the opening lap as his car went wide into the gravel and although he bounced off a barrier, he managed to remain in the race but in last position. His team mate, Mick Schumacher, was not doing well either, having slipped two positions back from eighth on the grid.
Within the first 12 minutes, 6 laps had already been completed and Verstappen was already setting the fastest time. But just one lap later, Leclerc pushed hard and did an even faster lap, gaining a bit on the Dutchman. Hamilton was less than a second behind Sainz who was dropping back from the front two.
Tyre degradation was appearing and Scuderia Alphatauri's Pierre Gasly went into the pits for new tyres, followed by McLaren's Daniel Ricciardo. They had started on softs which did not seem to be a good choice. Alpine F1's Fernando Alonso also came in on lap 13 for tyres. Schumacher's pit-stop was frustrating as it took a while before he could be released.
Lap 15 saw Sainz and Sergio Perez, the other Red Bull driver, pitting. It was messy as Sainz could not shoot back out straight away due to Perez coming past and the Ferrari driver was still for 11 seconds – which is a long time in the pitlane.
As Leclerc headed off to the pits, Hamilton inherited second place, 12 seconds behind Verstappen. When the Ferrari driver got back to the race, he was fourth with Mercedes-AMG's George Russell ahead.
When Verstappen finally came in on lap 19, Hamilton took the lead, followed by Russell. Switching to mediums, the Dutchman had a very quick stop as usual, returning in third place and about 8 seconds behind Hamilton, and 5 seconds ahead of Leclerc. Up to that point, both Mercedes-AMG drivers were still on their original tyres – a one-stop strategy?
The Alfa Romeo ORLEN team must have been grateful that their cars remained in the race, Zhou Guan-Yu in 13th and Valtteri Bottas in 15th place. But Zhou picked up a 5-second penalty for exceeding the speed limit in the pit lane.
On lap 28, Verstappen closed in on Russell and speeding along the main straight with DRS open, he easily slipped past the Mercedes-AMG into second as he powered his way around on the outside. One lap later, Hamilton left the lead to Verstappen as he rushed into the pits. While changing tyres, Russell, Leclerc and Perez passed by so he rejoined in fifth, 11 seconds ahead of Sainz.
It was Russell's turn on lap 31 which gives second place to Leclerc, who has a 7-second gap to close with Verstappen. He's comfortably ahead of Perez who has to keep an eye out for Hamilton sneaking up on him. It was hard to say which Mercedes-AMG driver might have a chance at winning the F1 race as Russell was faster than Hamilton at times.
Halfway through the F1 race, Verstappen looked steady in the lead with an 8-second gap from Leclerc, with Perez around the same time gap from the Ferrari driver. This meant his focus could be entirely on Hamilton who was in his mirrors. Hamilton gets past on lap 37 but Aston Martin's Sebastian Vettel is in the way and the Mercedes-AMG driver cannot pull away from Perez quickly enough. Perhaps too focussed on Hamilton, Perez is caught by surprise as Russell slips past him as well into fourth place.
On lap 45, there was confusion when Scuderia Alphatauri's Yuki Tsunoda pulled to the side as he seemed to have tyre problems. He was able to make it back to the pits where his wheels were checked. He rejoined and then had problems again after 3 laps and pulled over between Turns 4 and 5. but the Virtual Safety Car (VSC) was activated as the Japanese driver left his car.
This triggered a flurry of activity in the pits and on lap 49, Verstappen pit from the lead! The Mercedes-AMG drivers also did the same, but the Red Bull driver got back out and still kept his lead. Racing resumed on lap 50 as the VSC was deactivated. Hamilton was then 12 seconds behind Verstappen, with his team mate 3 seconds away. Instead of being able to keep the lead, Hamilton had been forced into working for the win again due to the VSC.
Alfa Romeo lost a car again as Bottas came to a stop on the main straight while he was in 18th place. The F1 Safety Car came out on lap 56 and Verstappen shot straight to the pits for softs. But the Mercedes-AMG duo did not do the same, so Hamilton was back in the lead with his team mate shadowing him. However, on lap 58, as the cars diverted along the pit lane because the marshals were clearing the Alfa Romeo, Russell did a stop and got soft tyres. That dropped him to third behind Verstappen.
The F1 Safety Car ended its duty after 3 laps. Mercedes-AMG had a buffer between Hamilton and Verstappen but lost it. They had a good chance of Hamilton winning but if he could not, then Russell was ready to take over. As the race started, the Dutchman pulled out and swooped past the Mercedes-AMG easily. The Dutchman regained the lead in the Dutch Grand Prix with 11 laps remaining.
Within a short while, Verstappen had already opened the gap to 2 seconds. As the cars charged through Turn 1, Russell passed Hamilton who was very frustrated at having mediums while his British team mate had softs that worked a lot better. From being in the lead, Hamilton now had to deal with a determined Leclerc who passed him on lap 66.
Verstappen had the speed to stay ahead no matter how hard Russell tried, while Hamilton struggled with his tyres to try to keep Sainz from also displacing him. How quickly his fortunes had changed.
Clocking a fastest lap, Verstappen again won in front of his home crowd which went crazy as their hero sped across the finish line. He had pretty much led from pole position on the grid and got it right again.