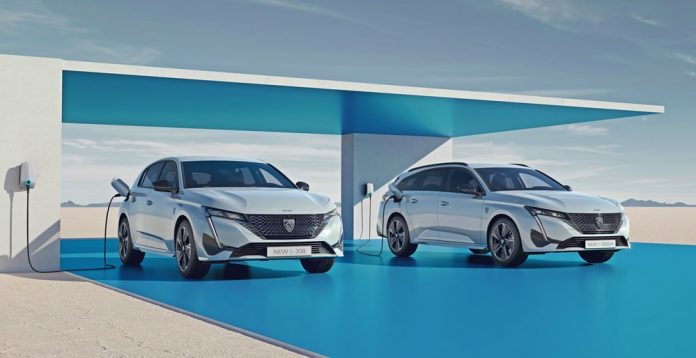 Continuing with its electrification drive forward, Peugeot has added battery electric versions of the latest 308 generation to its line-up. To be available in 2023 in Europe in hatchback and stationwagon bodystyles, the e-308 and e-308 SW join the plug-in hybrid versions already available. The e-308 SW is one of the first fully electric stationwagons from a European carmaker.
The new cars have the latest Peugeot design language with the brand's new badge proudly displayed in the centre of the grille. However, the bonnet is longer, with fang-shaped light signature framing the Matrix LED headlamps and the 3-claw LED lights at the rear to identify the models as part of the Peugeot family.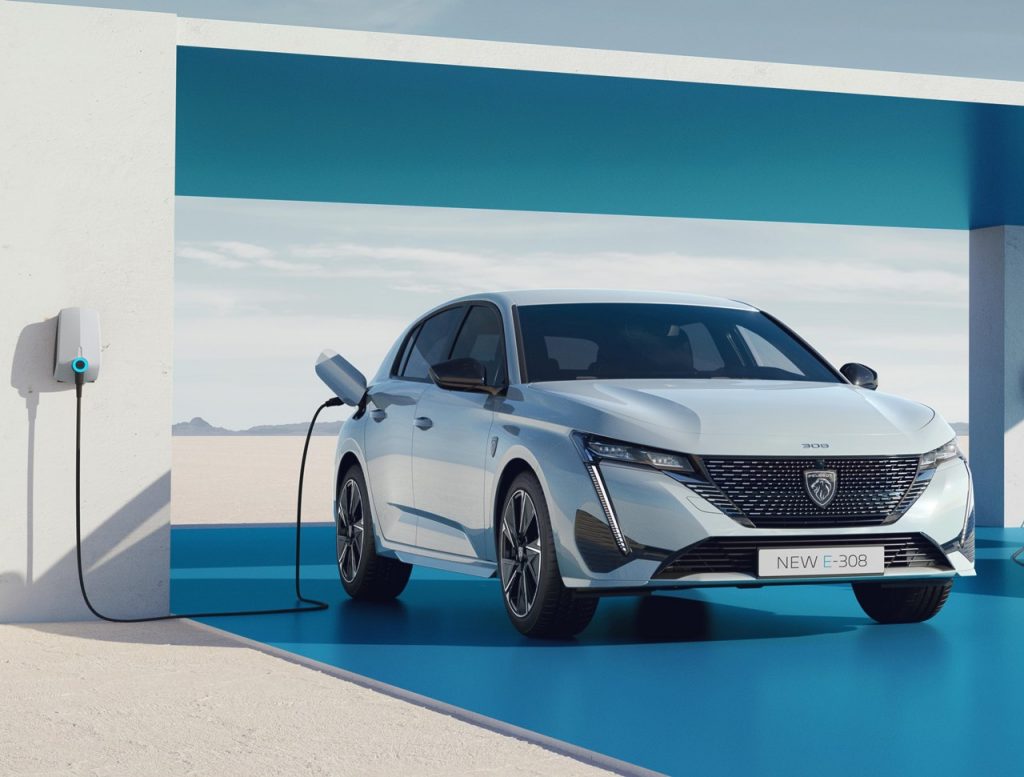 Both new models will have a brand new electric powertrain with a 115 kW (156 bhp) motor powered by a new high-voltage battery pack with a 54 kWh capacity. Full technical details are not available yet but Peugeot is giving a range of up to 400 kms on a fully charged battery pack.
With an on-board 3-phase 11 kW charger provided with the car as standard, rapid charging is possible from stations with 100 kW supply. This allows recharging from 20% to 80% in less than 25 minutes, it is claimed. The charging port is at the rear end but not in what is normally a fuel tank lid.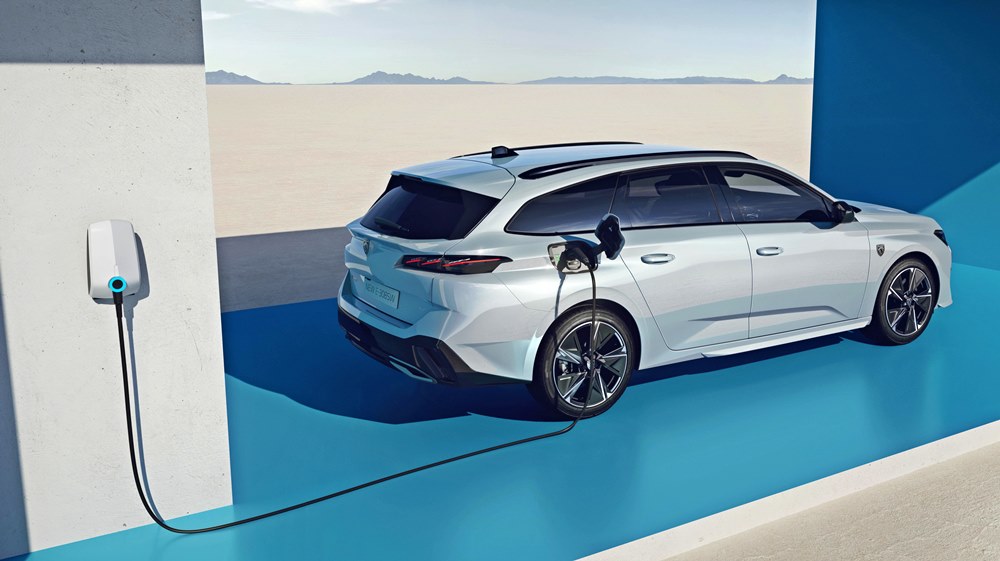 As with many cars today, drivers will have a choice of three driving modes – Eco, Normal or Sport – to suit personal preferences or driving conditions. However, the way the performance changes is obviously different from similar modes in combustion powertrains. There is also a 'BRAKE' mode which can improve range by optimising energy recovery when the accelerator pedal is released.
To further improve range, much attention has been paid to aerodynamic efficiency. There are also different 18-inch aluminium wheels specifically developed for these electric versions. The tyres are also low-friction types to reduce rolling resistance.
Inside, the new e-308 and e-308 SW share many similarities with the current 308 generation, including the i-Cockpit which its compact steering wheel, customisable digital head-up display, and central 10-inch colour touchscreen. The interior designers have come up with fully configurable virtual i-toggles and connectivity includes the latest Peugeot i-Connect Advanced technology for the infotainment system. Depending on markets, there will be two trim levels.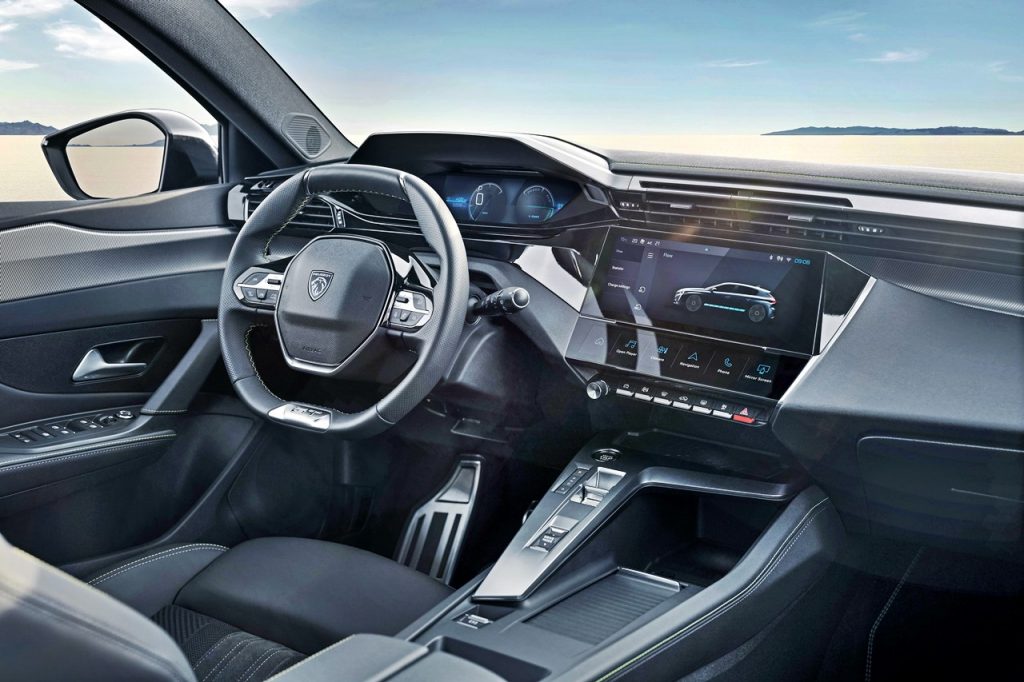 Advanced safety technology is provided with the latest generation of driving aids to improve make motoring safer. Active systems include Adaptive Cruise Control with Stop & Go function, long-range blind spot monitoring (up to 75 metres on both sides) and Rear Traffic Alert, which warns of danger when reversing.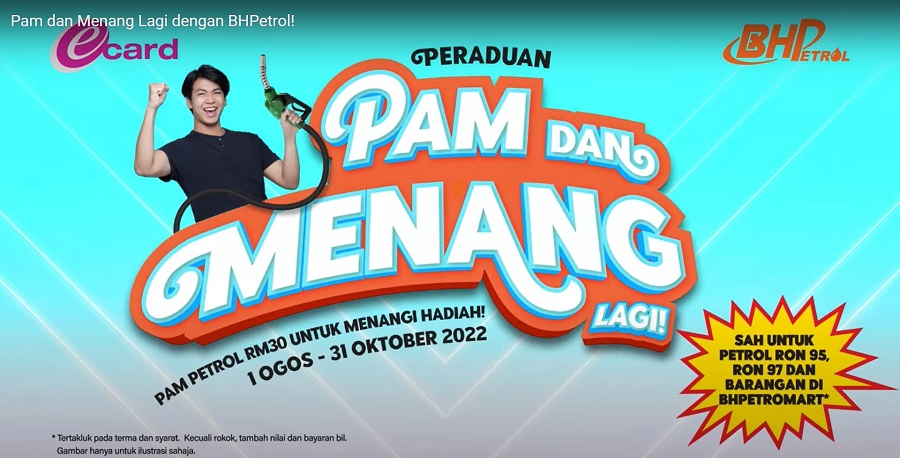 In European markets, owners will be able to enjoy a range of services from Peugeot to add convenience to their motoring. A MyPeugeot app is available for use with smartphones which communicates with the car. Using this app, the owner can schedule a remote charge, or launch a thermal pre-conditioning remotely.
There is also the Free2Move e-solutions smartphone app which allows users to plan their journey by anticipating the recharging stages, thanks to the integration of the recharging stations present on the route.
The introduction of the new e-308 and e-308 SW are the latest development in Peugeot's aim to offer every model line with an electrified variant by 2025.