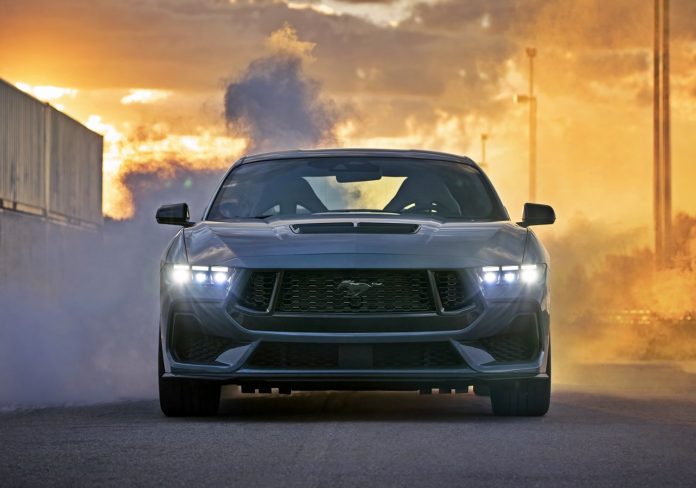 For the seventh time since 1964, Ford has launched a new generation of the bestselling sports coupe in the world – the Ford Mustang. As always, there is the promise of better performance and more advanced technologies but also significant is that Ford continues to invest in a product with a combustion engine, instead of going electric (although there is already the Mustang Mach-E).
"Investing in another generation of Mustang is a big statement at a time when many of our competitors are exiting the business of internal combustion engine (ICE) vehicles," said Jim Farley, CEO of Ford Motor Company. "Ford, however, is turbocharging its ICE growth plan, adding connected technology, opinionated derivatives, and hybrid options to our most profitable and popular cars – all in the Ford Blue family – on top of investing US$50 billion in electric vehicles through 2026."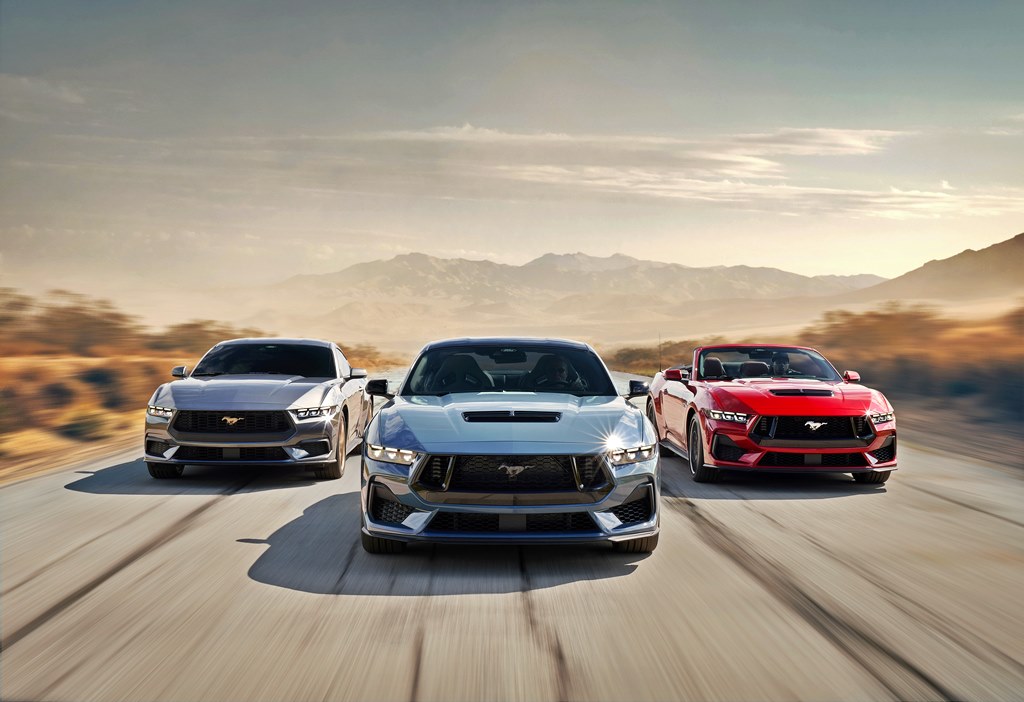 For the new chapter of the 'pony car', which goes on sales in the second half of 2023, Ford designers took inspiration from past generations. There are elements like the upper grille design shape which is influenced by the original 1960s design. The broad sprinting stance and shortened rear overhang share the authentic proportions of the first generation. At the front and rear, the Tri-Bar lighting units also continue the Mustang's classic lighting signature.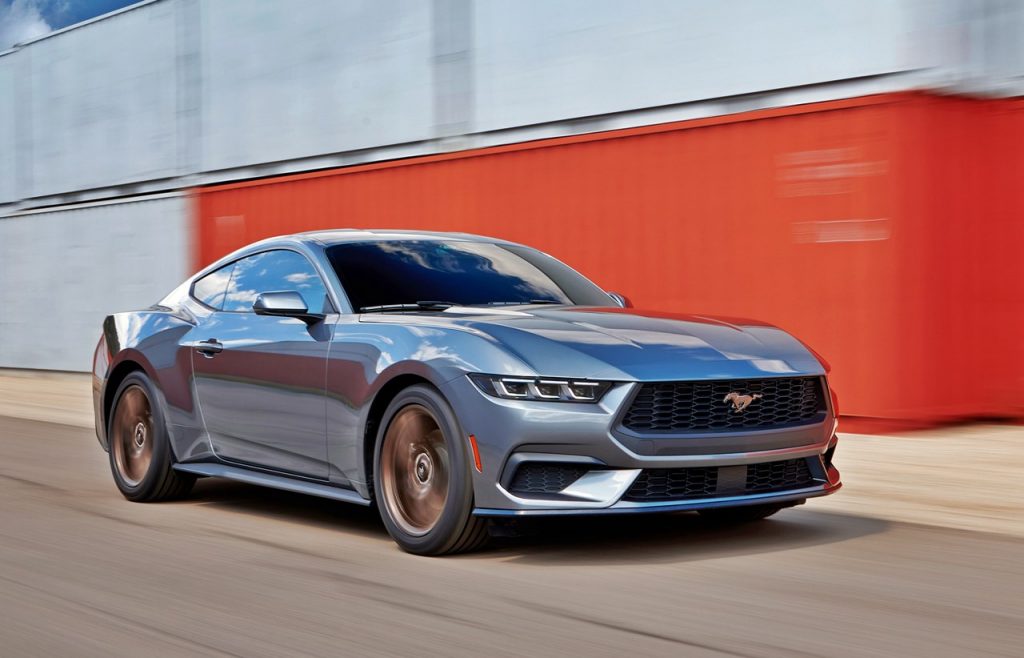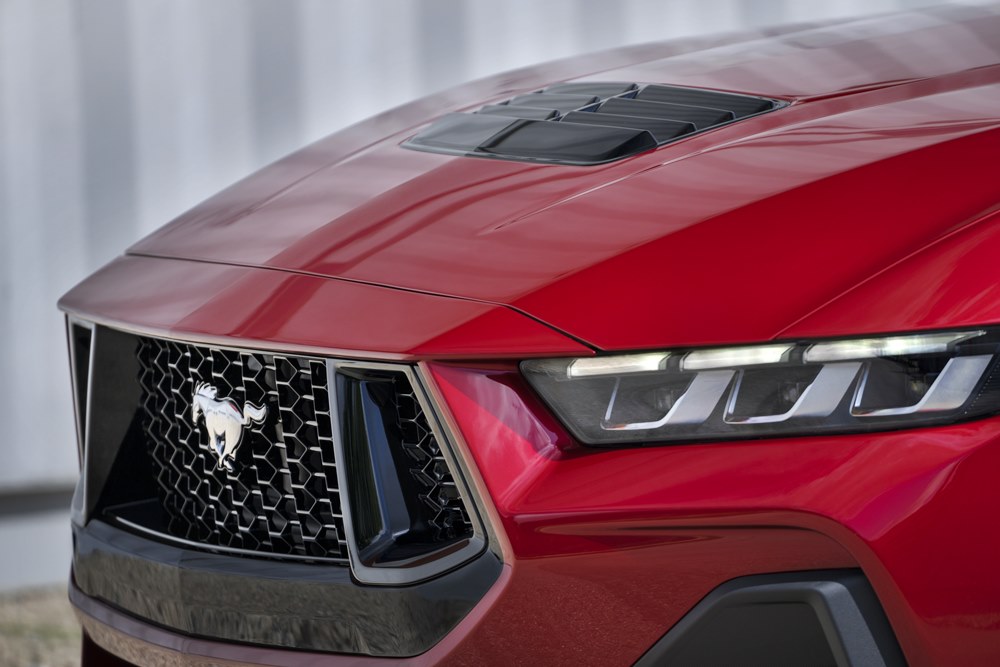 The roofline is optimized for driver entry and exit without removing their helmet on the track – possibly a suggestion by the Ford CEO who is also a racing driver. He's probably also the one who brought back the Mustang performance series for the first time in 21 years.
There's also a new Mustang convertible to continue its drop-top. A simple, one-touch activation with a single-handle centre latch opens and closes the fully lined and insulated fabric roof. The compact roof design and independent rear suspension also contribute toward segment-leading boot space that can accommodate up to two golf bags.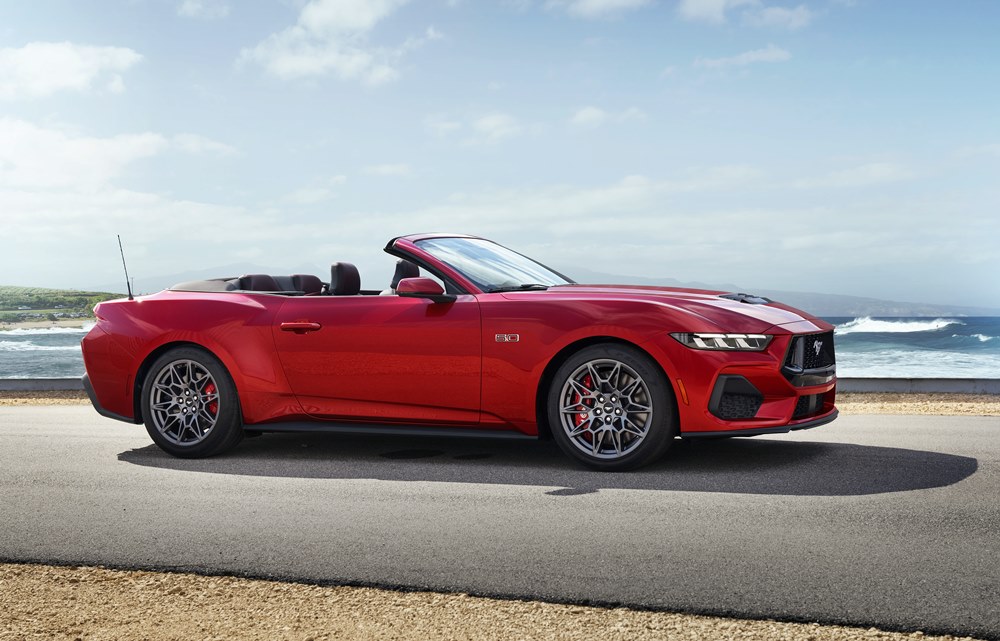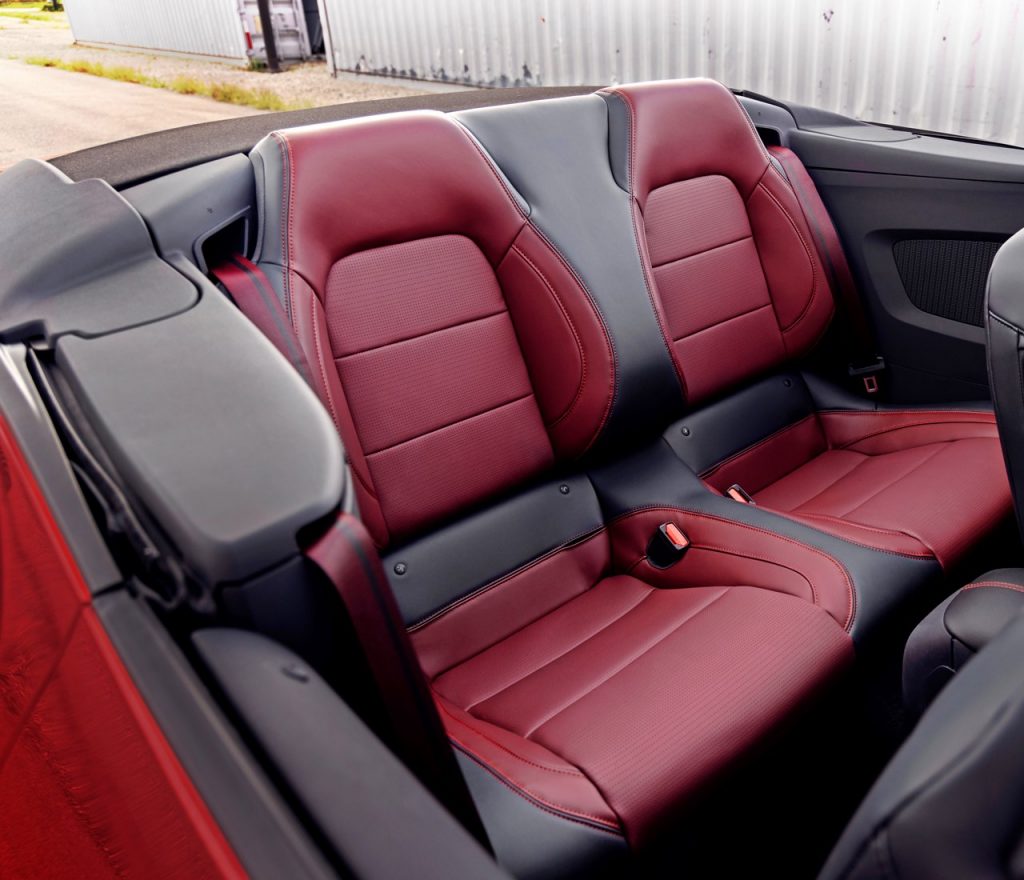 Two engine options
Over the years, the Mustang has been powered by many different engines, with up to 8 choices in the fourth generation. The previous generation had 5 options, including an EcoBoost unit for the first time. For the new generation, Ford is offering only two engine choices for showroom models – a 5-litre V8 and 2.3-litre EcoBoost 4-cylinder unit. Both are basically carried over although they would have received improvements to increase efficiency and performance.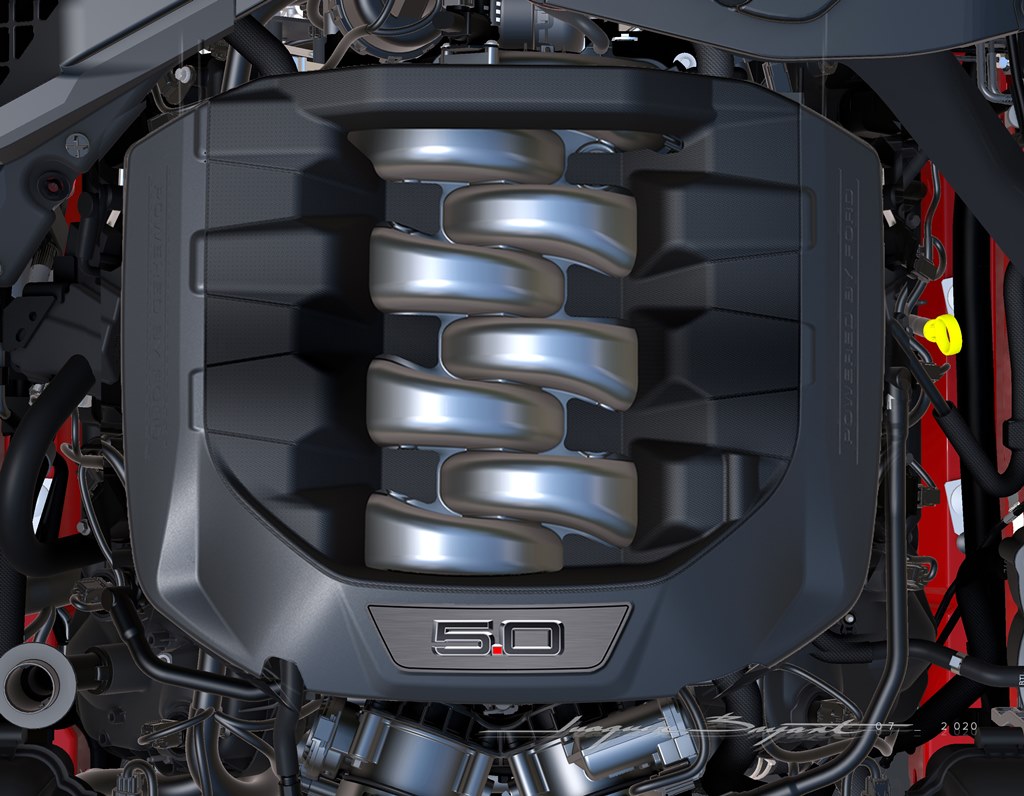 The new Mustang GT will have the muscular 5.0-litre Coyote V8 engine which is in its fourth generation. It has an innovative dual air intake box and dual-throttle body design that helps minimize induction loss by enabling higher air flow rates. The output has not been revealed but shouldn't be less than 450 bhp, which is what the engine in the current generation produces.
Ford will still offer a manual transmission, a 6-speeder, with the Mustang GT so drivers can fully enjoy the performance. For those who prefer convenience, there's a 10-speed automatic transmission available.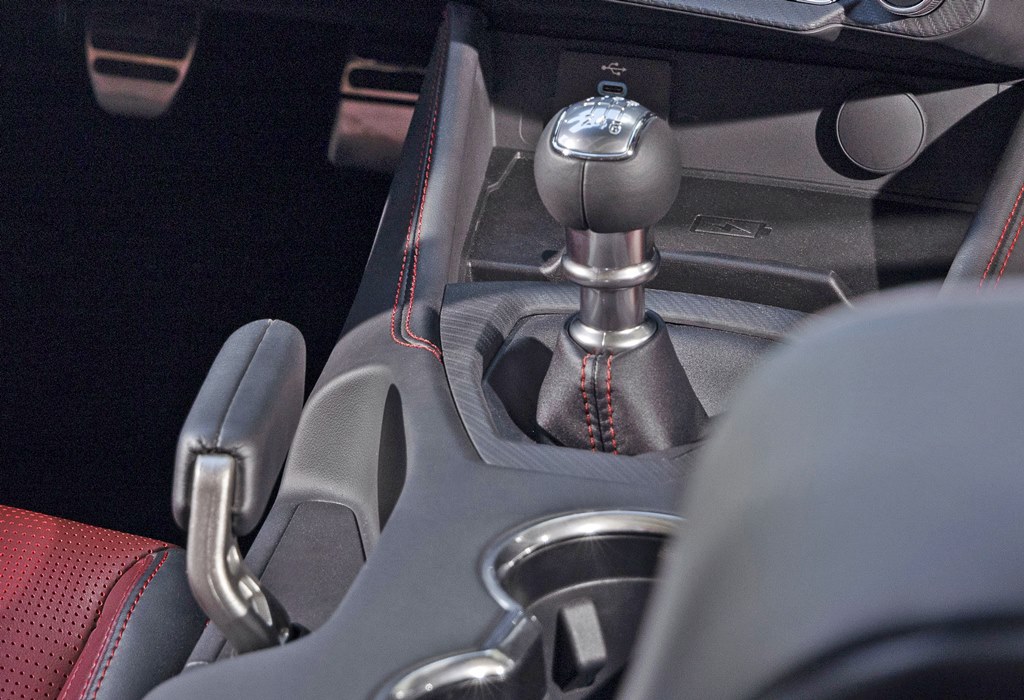 Though efficiency-oriented, the 2.3-litre EcoBoost engine has not had a lack of buyers and in 2019, the engine was in about half of all Mustangs sold in the USA. Outside North America, however, it was not so popular as people who bought it probably still wanted the big engine that it was always associated with.
Nevertheless, even with the turbocharged EcoBoost engine (which produces around 310 bhp), the new Mustang should remain an enjoyable drive, as a Ford engineer promises. "This is the most athletic and confidence-inspiring Mustang EcoBoost and GT to drive yet. Whether driving an automatic or manual transmission, thanks to drive modes combined with fine-tuned digital engine, suspension and steering controls, we're now able to give drivers peak performance everywhere, from their favourite roads to their local track," said Ed Krenz, Ford Mustang chief nameplate engineer.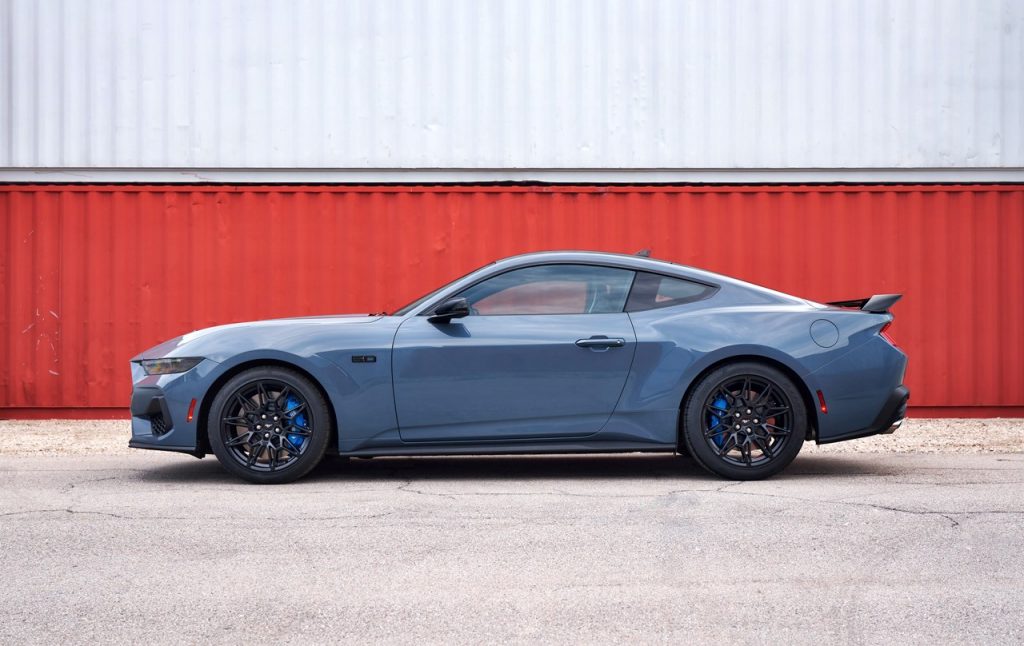 The Drive Modes referred to adjust steering effort, engine response, and transmission and electronic stability control settings. Besides modes for Normal, Sport, Slippery, Drag, Track, there is also one which has a customizable setting for drivers who know what they want.
Customers can also order their Mustang with an optional Performance Pack if they want to go racing or just want enhanced handling and braking performance.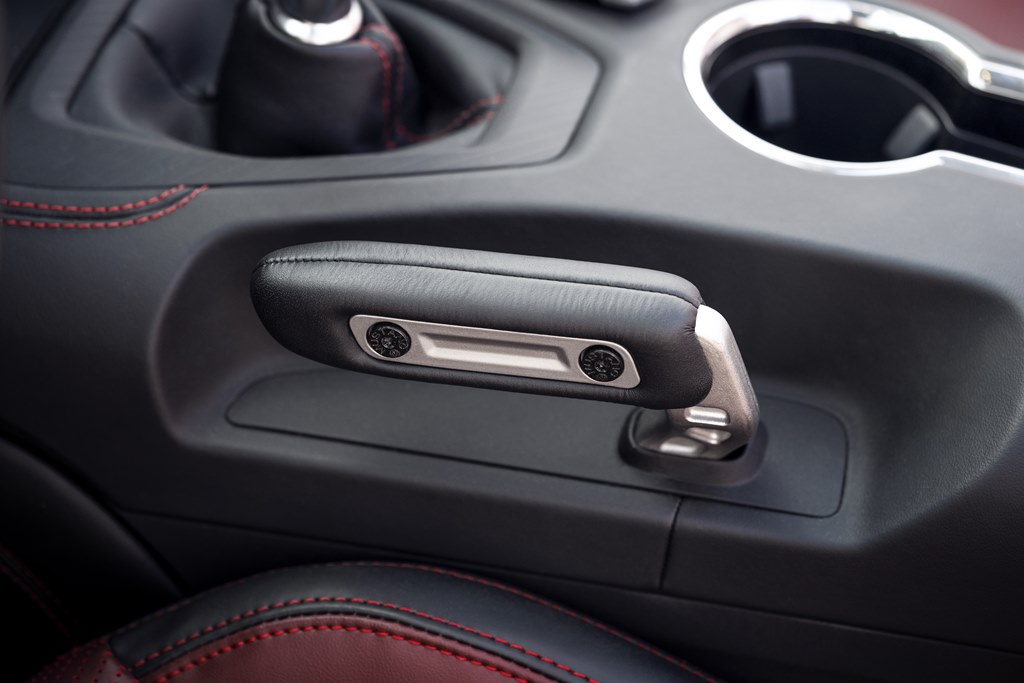 For those who want to drift
A segment-first electronic drift brake takes new technology to the racetrack, unlocking the rear-wheel-drive drifting capability of the Mustang with the visual appeal and functionality of a traditional, mechanical handbrake. The Performance Electronic Parking Brake comes standard with the Performance Pack on all Mustang models, engineered for novice drivers to learn and improve their drift skills while also providing expert drivers with a competition-ready system.
---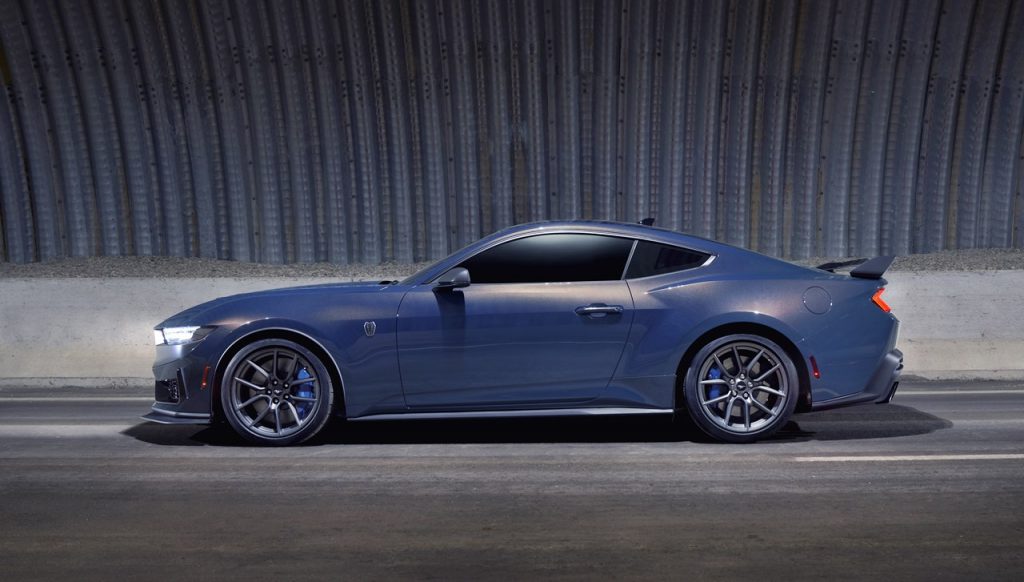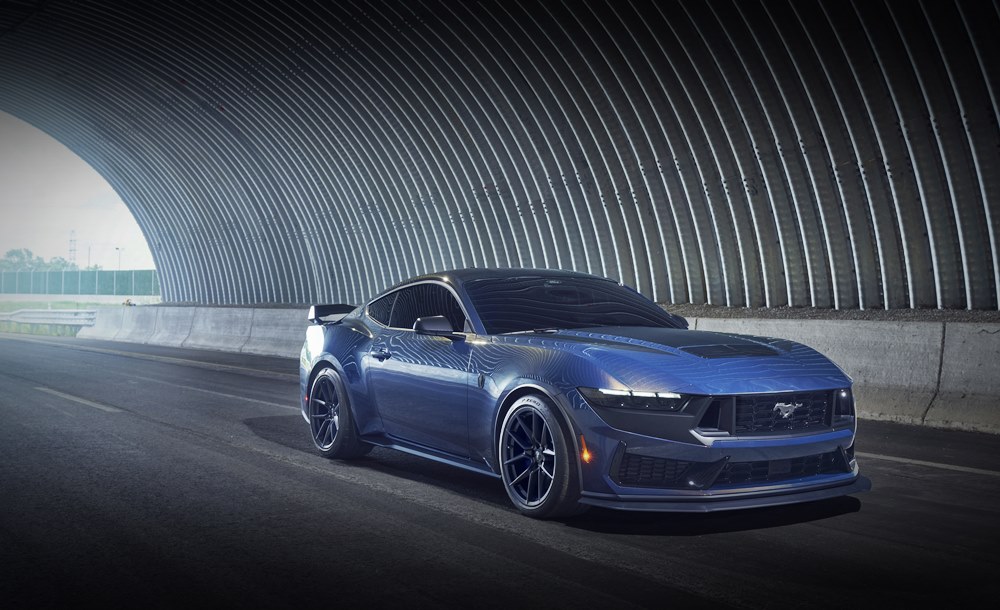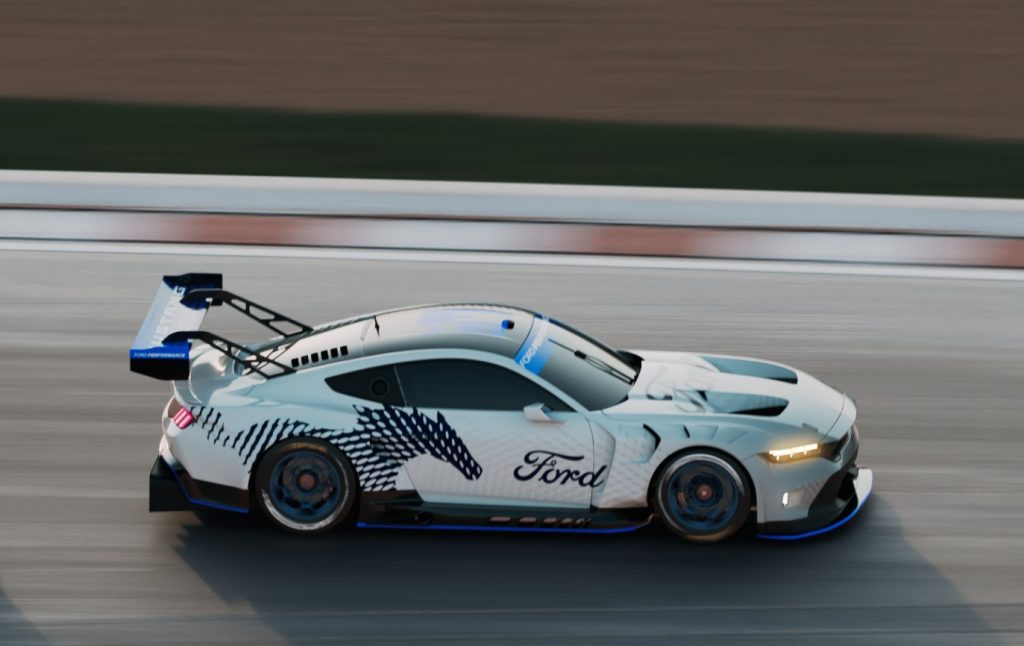 ---
Driver-centric cockpit
This generation of the Mustang is said to have the most technologically advanced, driver-centric cockpit of any Mustang to date. The cockpit, inspired by a fighter jet, offers the driver two flowing and curved displays that can be quickly customized to show information the driver wants or needs to see. An all-new race-inspired flat-bottomed steering wheel provides more space when getting seated.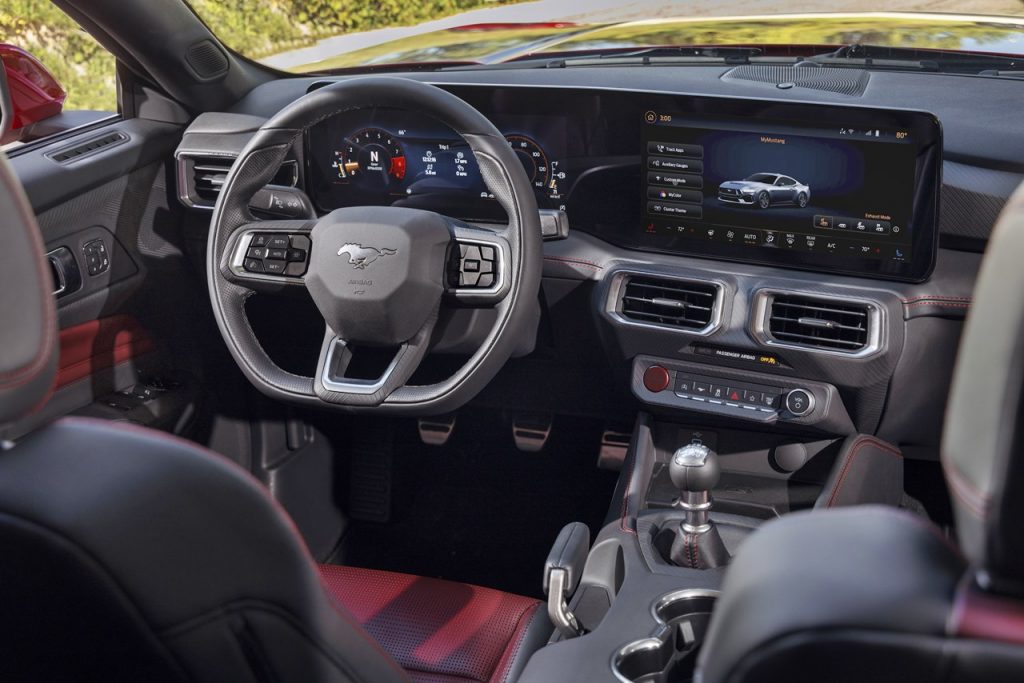 A 12.4-inch digital instrument cluster can be customized to display different animated designs and new drive-mode dependent visuals. Based on the same Unreal Engine 3D creation tool used in modern videogames, when choosing personalized drive mode settings, the car's current setup is displayed on the centre stack as real-time graphical renderings. Settings can be adjusted by simply swiping the graphic to rotate the car virtually in a true gamified style
"We're taking advantage of every pixel," said Craig Sandvig, Ford Mustang interaction design Manager. "We can be creative in showing necessary driving information and give the driver control of selecting colours, classic Mustang gauges or even a 'calm' screen where only minimal details are displayed."
The default instrument panel setting has shifted from traditional, cool blue and light grey tones to an ultra-modern, copper appearance theme also shared with electric Mustang Mach-E. From there, almost everything in the displays – and the ambient interior lighting – can be configured to selected tones, while instrument clusters adapt to drive mode selection.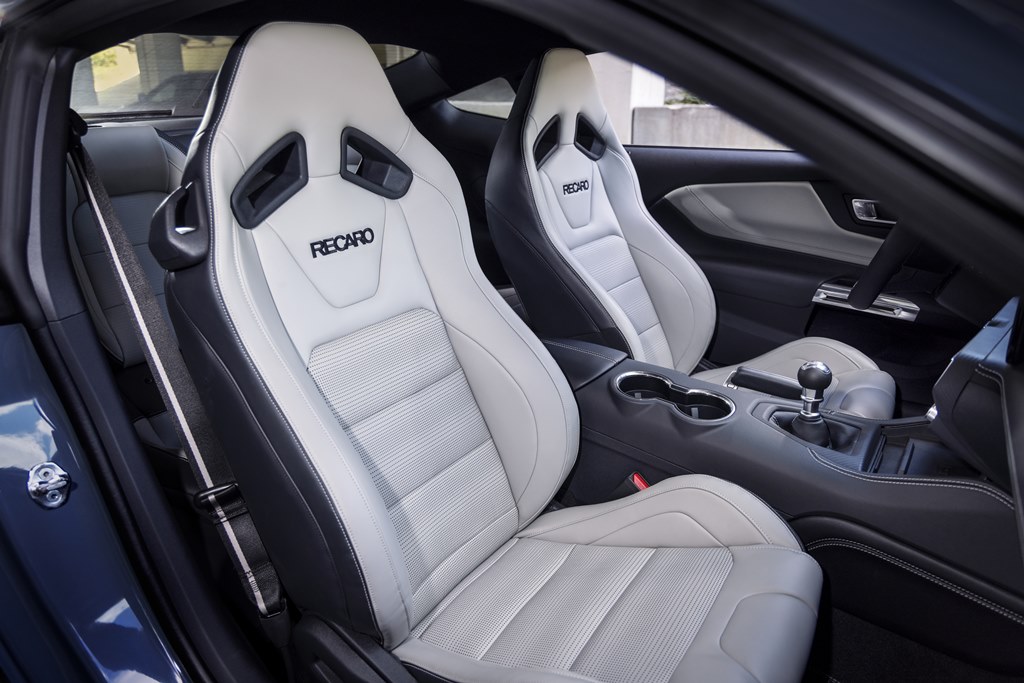 More Advanced Driver Assistance Technologies
Since the previous generation was developed, a lot of new safety technologies have become available, so the new Mustang also gets upgraded in this area, especially in Driver Assistance Technologies.
There's Ford Co-Pilot360 which features Speed Sign Recognition, Intelligent Adaptive Cruise Control with Stop-and-Go, Lane Centering Assist, Evasive Steer Assist and Reverse Brake Assist. Another key feature is Active Pothole Mitigation which continually monitors suspension, body, steering and braking input and adjusts suspension response accordingly. Yes, even in America, they have bad roads…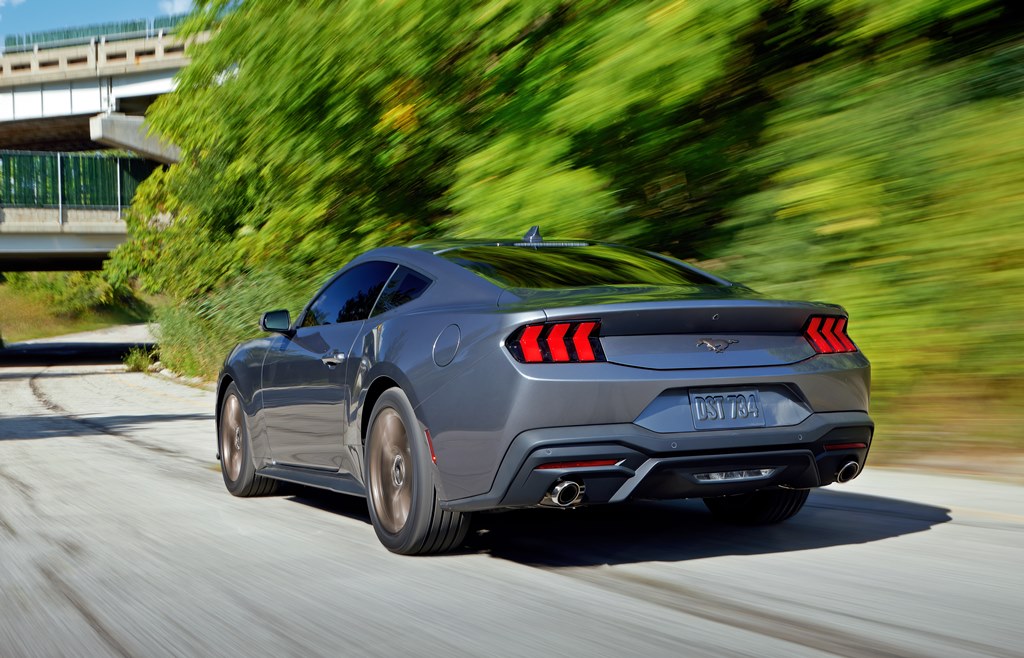 Owners can stay connected with their car via the FordPass app. This allows them to remotely start/stop the car, lock/unlock doors, scheduled start time, locate the car, and stay informed of its health and status. And for those who enjoy the sound of a revving engine, Mustang introduces a rather gimmicky 'Remote Rev' feature which provides the ability to rev the car's engine remotely using the key fob.
Will we see it in Malaysia?
The current sixth generation of the Mustang was the first one to have a righthand drive variant engineered and built at Ford's factory. It was much welcome by Mustang lovers in RHD countries who previously could only own one that was modified by an independent company. With the RHD variant, the Mustang could officially be sold in many more countries, including Malaysia.
Whether there is a RHD version of the new generation is not known but in any case, Ford decided to focus only on the Ranger and Everest products (which it makes in Thailand) for ASEAN markets after 2016. So we may not see this new Mustang here, at least not through Sime Darby Auto ConneXion which has to go through a process of getting Type Approval from JPJ even if they import one unit.