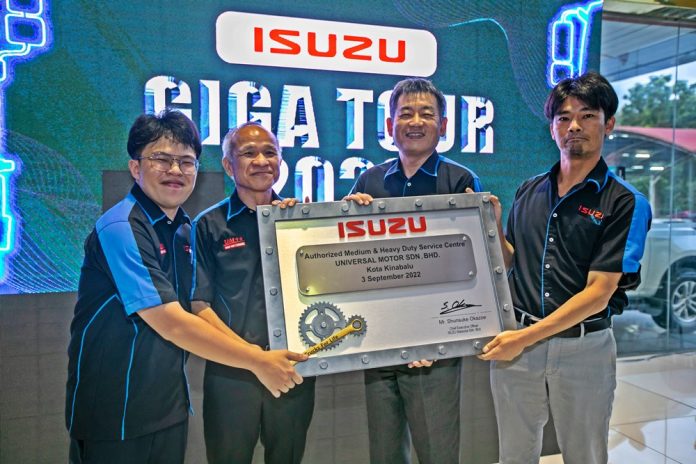 Isuzu Malaysia Sdn Bhd now has a medium and heavy-duty (MHD) truck dealership in Sabah to provide a complete range of sales and aftersales services to customers. The first MHD truck dealer is Universal Motor Sdn Bhd which is located in the state's capital city of Kota Kinabalu. With this new MHD dealership, Isuzu Malaysia now has 12 MHD dealerships nationwide.
The dealership, which occupies a land area of 3.5 acres, has a total of 20 service bays, 13 of which are for light-duty trucks, medium, heavy-duty trucks and prime movers. The remaining 7 bays are for the D-MAX pick-up truck, a popular Isuzu model with multi-role capabilities for business and personal use.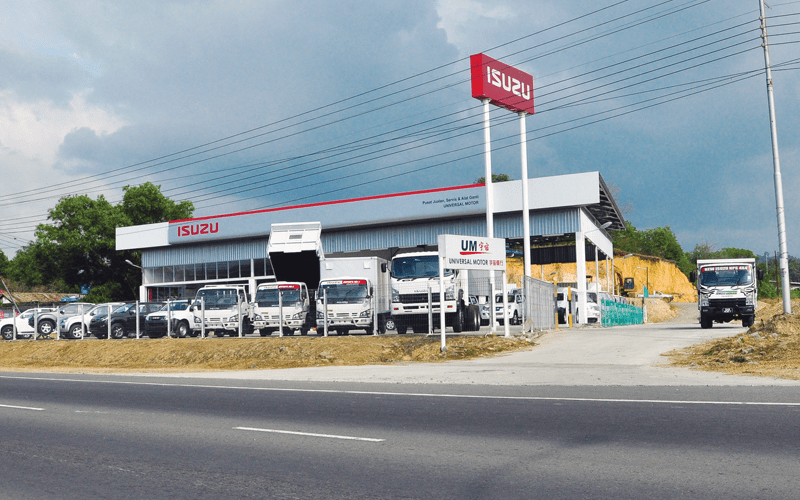 The service centre is equipped with Isuzu's latest diagnostic tools to accurately detect any technical issues with the vehicles. A team of skilled technicians provides professional services to maintain or repair vehicles.
Customers who bring their vehicles to the service centre are welcome to use the amenities provided in the family-friendly customer lounge which has complimentary snacks and beverages. There is also a prayer room available.
"We are extremely excited for Universal Motor Sdn Bhd becoming our first Isuzu Malaysia's MHD truck dealership in Sabah, demonstrating our commitment to expand our MHD customer reach in East Malaysia, as well as strengthening our Aftersales services and maximizing our customers' satisfaction and trust in us," said Shunsuke Okazoe, CEO of Isuzu Malaysia, at the Isuzu Malaysia GIGA Tour 2022 event.
"Isuzu Malaysia believes that with the newly launched Heavy-duty and Prime Movers, Universal Motors will further contribute to these two market segments in Sabah and provide full support to all their customers who purchase our Medium, Heavy Duty and Prime Mover. As a MHD Dealership, they are required to have high levels of skill and knowledge relating to Isuzu products, as well as sophisticated aftersales services," added Mr. Okazoe.

The Isuzu Malaysia GIGA Tour 2022 is an event to introduce Isuzu Malaysia's newly launched Heavy-duty and Prime Movers across Peninsular and East Malaysia. Instead of customers having to travel to showrooms, Isuzu Malaysia is bringing the new models to them so they can have the chance to examine and know more about the vehicles.
Klang-based Xinsteel Sdn Bhd, a steel sheet manufacturing company, is among the companies that purchased the GIGA EXZ460 6×4 prime mover. The company ordered three units and the first unit was handed over at the regional GIGA event in Puchong, Selangor. Present at the handover ceremony were senior management members of Xinsteel, Isuzu Malaysia and SV Prestige, the dealer involved in the sale of the vehicles.
Xinsteel, which was founded in 2011, is already familiar with the qualities of Isuzu vehicles as it has been using a previous GIGA truck model. It has purchased the additional units to transport Xinsteel's metal sheet to customers nationwide as the company's business scales up.
"The GIGA GXZ360 model we bought from SV Prestige in 2020 has been serving us very well. Being in the steel business, most of the time the cargo that we transport is extremely heavy, requiring truly robust and powerful heavy-duty trucks that will not break down easily," said Chester Kua Swee Leong, Director of Xinsteel.
"We are glad to know that the latest GIGA trucks offer even higher horsepower engine, greater safety features and better cab design, ergonomics and operability. Combine all these with the quality and timeliness of Isuzu's aftersales support, we have no doubt that the new GIGA trucks are the obvious choice for meeting our requirements effectively and efficiently," Mr. Kua said.
He believes that the vehicle drivers will be especially pleased with the comfortable cab interior and a host of new exciting features like the LCD information display to ease their daily driving journeys.
"We look forward to putting our new GIGA truck to productive work as our business in the steel industry has been picking up pace since the economy started operating in full force again in the endemic phase," said Mr. Kua.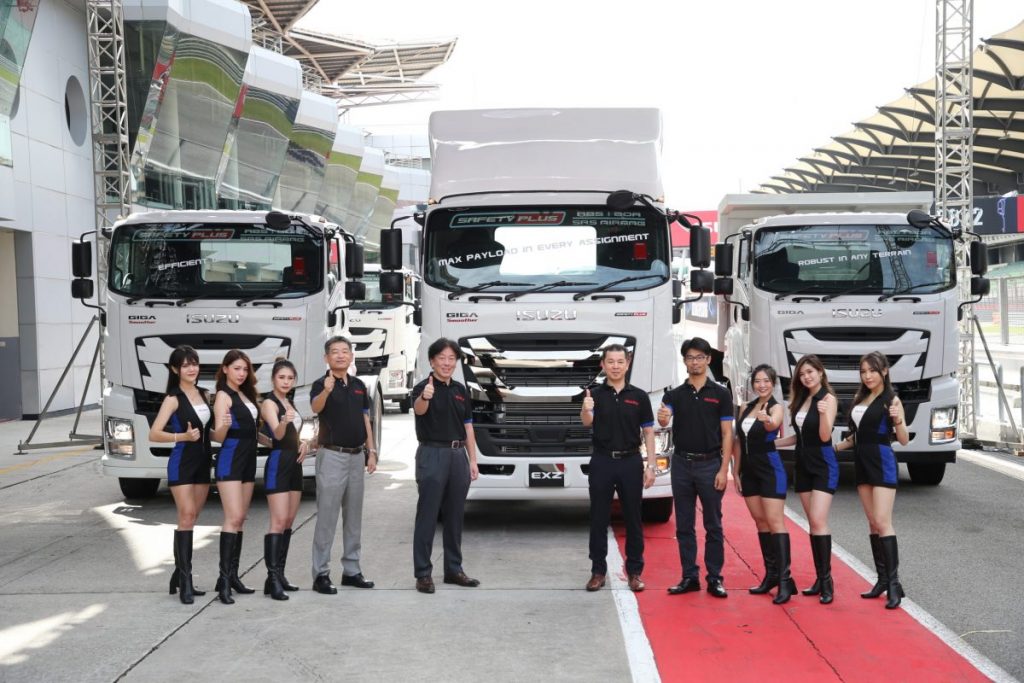 Launched over a month ago, the GIGA EXZ460 is from the new generation of Isuzu prime movers with greater horsepower, performance and efficiency as well as the ability to handle heavy and demanding operations.
"The new generation Isuzu GIGA truck range is a very significant product line which represents the first full model change since Isuzu launched the first generation in 1994 in Japan. This new range is our response to the challenging demands in today's heavy logistics industry, where businesses are continuously seeking ways to achieve higher efficiency whilst maintaining cost effective measures," said Mr. Okazoe.
"We trust the new Isuzu GIGA will bring ample efficiency and productivity for Xinsteel Sdn Bhd's business. Rest assured too that our teams are always committed and ready to help our customers to achieve a positive impact on business bottom line," he promised.
To know more about the Isuzu range of vehicles in Malaysia and the locations of showrooms where they can be viewed and tested, visit isuzu.net.my.