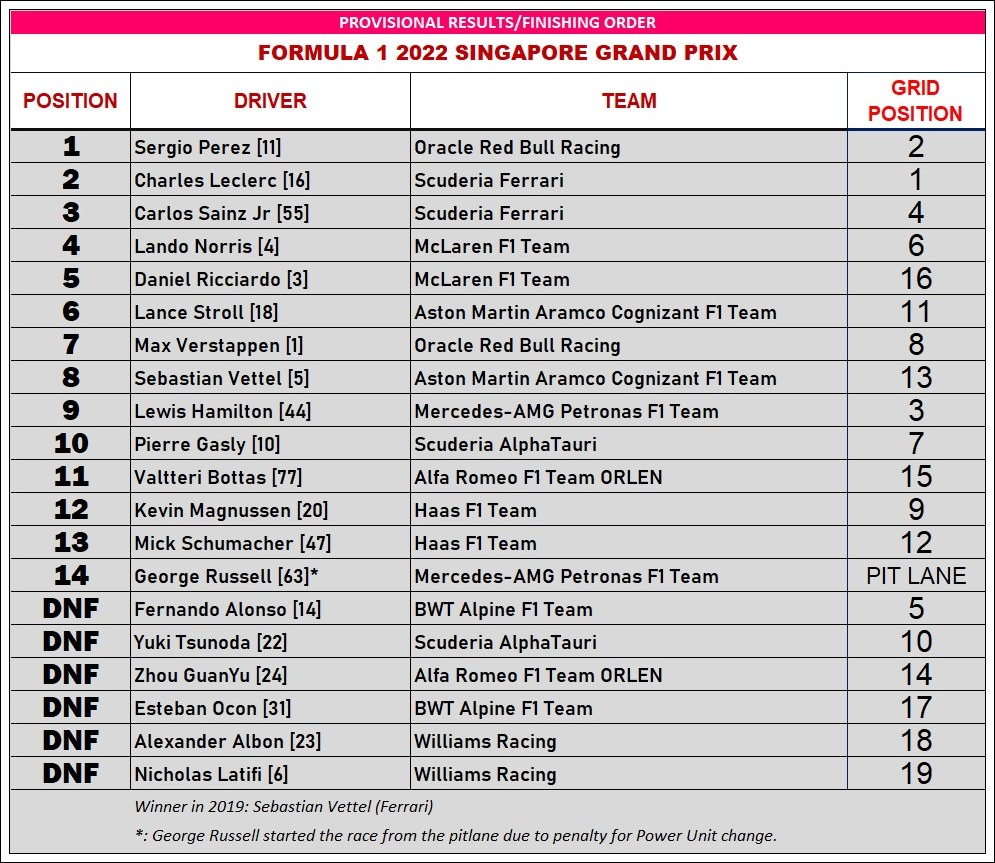 It's Singapore, so rain was not unexpected and in the hours before the F1 race started, commentators were saying things like 'buckets' and 'dumped with enough water to sail a small boat'. Due to the heavy rain, the scheduled 8 pm start was delayed for an hour to 9:05 pm. Even though the rain eased about 20 minutes before the start time, at least 24 mm of water had fallen on the track.
Heavy rain notwithstanding, the fans turned up in the biggest number in the 13-year history of the event, with attendance of 302,000 spectators. That was 2,000 more than the first F1 race in 2008 and according to Singapore's Transport minister, about 50% were from overseas.
Finally, at 9:09 pm, the 61-lap (or maximum of 2 hours) F1 race got underway on the wet and slippery track. Red Bull Racing's Sergio Perez got off to a better start than Charles Leclerc, reaching Turn 1 first. Mercedes-AMG's Lewis Hamilton went a bit wide through that turn, letting Ferrari's Carlos Sainz slip by (Hamilton would say that the Ferrari had his him).
As for Max Verstappen, a weak start saw him drop 4 places from P8 on the grid. Conditions were still slippery and Williams Racing's Alexander Albon went off at Turn 7 momentarily. Hamilton was unhappy with his tyres as well having started on intermediates rather than full wets that he had asked for. Further back, Hamilton's team mate, George Russell, who had started from the pit lane was only able to get up to 17th after 5 laps.

Verstappen was still down in 9th and on lap 6, began to go for Aston Martin's Sebastian Vettel, a past winner in Singapore. Perez meanwhile was still maintaining his lead about 1.5 seconds ahead of Leclerc.
Lap 8 saw the first retirement as Alfa Romeo's Zhou GuanYu and Williams Racing's Nicholas Latifi cut across the Chinese driver's path. The Alfa Romeo went into the wall at Turn 5 while Latifi limped back to the pits with a puncture, and ended his race as well. Latifi would later receive a 5-place grid drop for the next race for the incident.
Further back, at about the same time as the Latifi-Zhou incident, Russell and Alfa Romeo's Valtteri Bottas also had contact. Both cars suffered some damage. The Safety Car had come out and would circulate for 2 laps. Its appearance meant that the race would be unlikely to reach 61 laps before 2 hours so it could almost predictably end at 11:09 pm.
As the Safety Car left the track, Perez got off to a smooth and quick start again to start opening the gap with the Ferrari. On the next lap, Leclerc tried to reduce the gap and put in the fastest lap. One-fifth of the 61 laps was completed, with about 90 minutes remaining.
Verstappen was working very hard to move up the field and by lap 13, he was up to 7th and looking at the rear end of Alpine's Fernando Alonso. The Spaniard, incidentally, clocked his 350th race start today. Hamilton was holding 4th behind Sainz without worrying too much about McLaren's Lando Norris who was about 5 seconds behind. The McLaren driver had also been asked to stretch his tyres as long as possible, so he wasn't pushing as hard as he might have wanted to.
Just as Verstappen seemed to be easing off the pressure on Alonso on lap 21, the Alpine came to a stop at Turn 10 with Alonso shouting 'engine problem' over the radio. The Dutchman wasted no time in passing and moving another position closer to the front – if not a win, at least a place on the podium.
Although Alonso had managed to stop at a slip road off the track, the Virtual Safety Car (VSC) was still activated for one lap. Russell quickly came into the pits for mediums, sliding a bit as he departed. Being further back, his stint on the mediums would provide useful information for Hamilton.
Lap 23, when the race resumed, saw Perez having a 3-second gap from Leclerc, while Hamilton was still duelling with Sainz. 7 seconds behind, Norris was keeping an eye on his mirrors for the Red Bull, Russell was struggling with his tyres but could not afford to go back in.
Three laps later, the yellow flags appeared again, this time to warn of the Williams of Alexander Albon having crashed at Turn 8. Though losing his front wing, Albon was able to make it back to the pits. As there was no obstruction, the VSC was activated for a while again. Although the wing was changed, the Williams engine could not start properly and that was the end of the Singapore GP for the second of the team's cars.
On lap 28, the drivers were again frustrated to have VSC back on again. This time, Alpine's Esteban Ocon had smoke coming from his car which had stopped – and then rolled backwards. Perez didn't use the opportunity to pit and although the Ferrari crews were ready, their drivers did not come in either. The first hour had passed around that time and slightly less than half the 61 laps had been completed.
The drivers were waiting for the moment VSC went off and when it did, Verstappen tried to outrun Norris but didn't make it and had to hit the brakes. Hamilton was trying to get past Sainz but his tyres were not gripping well. In fact, grip was so poor that he crashed into the barriers on lap 33! However, he managed to reverse and the damage did not seem so serious. His crash allowed Norris to move forward and he now had to deal with Verstappen instead.
On lap 35, Leclerc came in and took on medium tyres but Sainz continued to circulate. The next lap, Perez came in and was still able to get back into the lead when he rejoined the race. However, he was greeted by news that Scuderia Alphatauri's Yuki Tsunoda had crashed at Turn 10, and that brought out the Safety Car to complicate things.
Norris used the chance to get into the pits for a change of tyres, and his team mate, Daniel Ricciardo also did likewise although Norris took on mediums whereas the Aussie wanted soft tyres. 23 laps and about 35 minutes remained as the Safety Car led the F1 racing cars.
It departed on lap 39 and racing resumed – and that's when Verstappen skidded off at Turn 7 in his effort to get a quick start. But he didn't crash and quickly rejoined the race, dropping to 8th in front of Hamilton. The skid had been due to locking the brakes, which caused his tyres to flat-spot so he had no choice but to get them replaced. When he got back to the race, he was right at the back. But he quickly moved on position up as he passed Russell who had a puncture due to contact with Haas F1's Mick Schumacher.
On lap 43, with about 23 minutes remaining to the 2-hour cut-off time, Perez still had the lead but was beginning to report concerns about the engine. Leclerc was less than a second behind and just waiting to grab the lead. There was tremendous pressure on the Mexican and at one turn, he even locked up his wheels. Plus, he was aware that after the race, the Stewards were going to review an incident during a restart. He might win and celebrate… but it could also be taken away from him.
Verstappen had managed to get up to 12th but it was tough getting through the traffic. He had no chance to win this race but he was trying his best to get up far enough to at least collect some points. He managed to get past Bottas on lap 51 to the first of the point-paying positions.
In the closing laps of the F1 race, Verstappen started to chase Hamilton to take his 8th place. Hamilton was intent to passing Vettel ahead and made a mistake on lap 58, allowing the Red Bull driver to flash past him.
As 5 minutes remained, Perez was trying to get a gap of at least 5 seconds in case he received a penalty for the Safety Car infringement (not keeping within 10 car lengths of the Safety Car). But he was still in the lead at the 2-hour limit ended the race on lap 59, with Leclerc crossing the finish line 7.6 seconds behind.
UPDATE: Sergio Perez Gets 5-second Penalty But Still Wins Singapore GP
Sergio Perez got to keep his win at the 2022 Singapore Grand Prix last night following an investigation by the Stewards relating to infringement of regulations. At the conclusion of the race, he received his trophy on the podium but was then summoned to a meeting with the Stewards just before midnight.
The investigation was into a Safety Car infringement where he was seen not being within 10 car lengths, as required, of the Safety Car while it was active. There were in fact two similar infringements on separate occasions during the 59-lap race (shortened from 61 laps due to the 2-hour time limit).

For the first offence, he received a reprimand but for the second, he was given a 5-second penalty and two penalty points on his licence. The team had been preparing for the time penalty and were believed to have indirectly urged him to get the biggest possible gap to Ferrari's Charles Leclerc who was running second.

Perez managed to extend the gap to 7.595 seconds as he crossed the finish line, so even with the penalty, he still won the race which was the fourth in his F1 career.