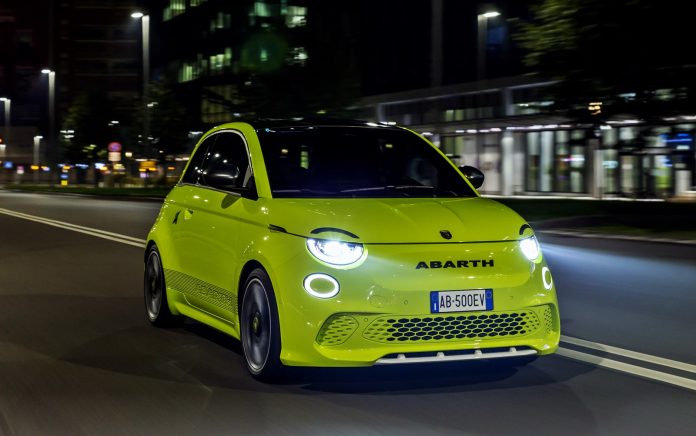 Abarth, part of the Stellantis Group, was originally the performance brand of Fiat, which had acquired the company in 1971. From then on, the company (which was established in 1949) adapted Fiat models to be higher performance variants which were sold under its own brand name. An exception was the 124 Spider produced between 2015 and 2019.which was adapted from the 4th generation Mazda MX-5.
Like AMG and M GmbH, the performance brands of Mercedes-Benz and BMW, Abarth has also to start its electrification journey as the auto industry as a whole has committed towards carbon neutrality over the next few decades. Even companies like Ferrari and Lamborghini have been forced to start switching to zero emissions powertrains whether they like to or not.
With the new 500e, Abarth offers its first battery electric vehicle (BEV) which is adapted from the Fiat 500e which went on sale in early 2020. However, being a performance brand, Abarth has not just taken the Fiat model and out on its badge, which is characterized by a scorpion. Just as Porsche and BMW M made sure that their electric models have high performance worthy of their badges, Abarth has also given its version an extra measure of performance.
Where the Fiat's electric motor can generate only up to 118 ps, the Abarth's has been raised to 153 ps with a similar peak torque of 235 Nm. This gives it a claimed 0 to 100 km/h time of 7 seconds, which is quicker than the Abarth 695, its hot hatchback.
The improved acceleration, especially at the lower speed range, is due to the characteristic of the electric motor which delivers maximum torque from almost standstill. So responsiveness is quicker than what combustion engines can achieve.
Additionally, there are 3 driving modes which enhance performance in different ways. The Turismo mode allows for smoother acceleration and lower power (max power 100 kW instead of 113 kW, torque 220 Nm instead of 235 Nm) for more efficiency. The Scorpion Street mode offers stronger performance while maximizing regenerative braking to recharge the battery pack. And for maximized performance, there is the Scorpion Track mode.
The 42-kWh lithium-ion battery pack can be recharged quickly with the 85-kW fast-charging system. A time of less than 5 minutes is claimed to be sufficient for around 40 kms, a range that would be okay for daily urban commuting. For longer range, 80% can be charged in 35 minutes. Charging can also be done using a Wallbox at home, and with a Bluetooth connection, an app allows the owner to monitor the charging status.

For Abarth, sound has always been important. Beyond a simple technical feature, it has been synonymous with hardcore fun and excitement when driving an Abarth. Going electric means that sound – provided by a combustion engine – is not available but the 500e driver will still hear the famous and unmistakable Abarth roar. This comes from a Sound Generator that is synchronized with the engine performance, faithfully reproducing the sound of an Abarth petrol engine. D
Furthermore, each time the car is turned on or off, the Key On-Off system reproduces a guitar inside the cabin. Even the AVAS (Acoustic Vehicle Alert System) gets a specific 'jingle', transforming a cold homologation and normative constraint into a sound recognizable by Scorpion fans. Each time the car exceeds 20 km/h for the first time after start, a 'strumming guitar' will be heard.
To differentiate the Abarth version from the Fiat version, there are design elements that give a unique and bold style, taking inspiration from the past. These elements include a sporty bumper, lateral skirts, front airdam, rear diffuser inserts, dedicated alloy wheels and Titanium Grey mirror caps.
The full LED front lights flank the new Abarth signature, with an electrified Scorpion signature logo, and a black capote with an integrated sporty spoiler for the cabrio. The hatchback version is also equipped with rear privacy glass.