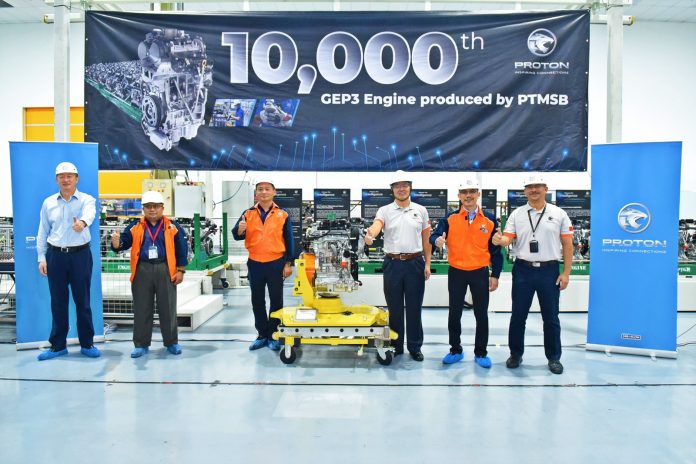 Just seven months after commencing operations, the Proton engine plant in Tanjung Malim, Perak, produced its 10,000th 1.5-litre TGDI engine. The engine is used in X50 and X70 SUV models, further increasing their localisation which has always been an important mission of Proton as a Malaysian carmaker.
The engine assembly plant is part of the company's commitment to invest RM1.8 billion to upgrade its facilities in Tanjung Malim (also referred to as Proton City) and the culmination of a journey that began in 2019 that was taken under challenging conditions. The operational expansion plan is in line with the first strategic thrust of the DRB-HICOM Automotive High Technology Valley (AHTV) programme that aims to maximise manufacturing activities in the region.
Having made the decision to build the new assembly line in Tanjung Malim, construction and the delivery of parts was delayed by the onset of the COVID-19 pandemic. Nevertheless, a decision was made to move forward while the country was still having restrictions under the Movement Control Order.
"PROTON's new engine line is testimony to the grit and determination of our workers to overcoming obstacles and achieving our goals. It is one of the most advanced engine assembly lines in Malaysia with a high level of automation, a climate-controlled environment and multiple testing gateways to ensure the high quality of its output," said Dr. Li Chunrong, CEO of Proton, adding that in 2023, the company aims to produce 60,000 engines, for use in several models.
Another good month
With 11,316 vehicles delivered in November, Proton achieved its best sales volume since 2014. This volume, added to that of the previous 10 months, takes the cumulative volume of the brand to 126,682 units with one month remaining in 2022. By year's end, the total volume is expected to be the best annual figure since 2013.
The November volume was 13.1% lower than October's due to some supply issues but comparing the same period of 11 months this year to that of 2021, there is a growth of 10.4%. Proton estimates that the Total Industry Volume of new vehicles delivered will be close to 700,000 units , with its market share almost 20%.
Model sales
Individually, 5 Proton models have already exceeded their total volume from 2021 with two models – the X50 and Exora – leading their respective segments the whole year.
Export sales have also increased by over 2,000 units from the previous year and total 5,028 units after 11 months; for the whole of 2021, the number was 3,018 units

Fourth year of sales growth
"November was an eventful sales month for Proton as we experienced some temporary supply issues that prevented us from achieving our full potential. We are confident of being able to rectify them in December and remain positive about closing out the year strongly, ending 2022 with a fourth consecutive year of sales growth," said Roslan Abdullah, Deputy CEO of Proton.
"Aside from benefitting the company, the increase in sales has also increased the volume of parts purchased from local vendors, increased our number of dealers, and created jobs for the automotive ecosystem. With new model introductions in the pipeline for 2023, we hope to be able to increase our contribution to the Malaysia economy by making more local investments, selling more vehicles, and further growing our export markets," he added.